Caleb Westphal hasn't missed a Friday fish fry since 2013. Follow along with his never-ending adventures here.
The Packing House (900 E. Layton Ave., 414-483-5054) is a Milwaukee institution. Like Leon's Frozen Custard, Bryant's Cocktail Lounge, or the Oriental Theatre, it's almost inconceivable to imagine the city without it. Keith and Margaret Wiken opened it on Layton Avenue across from the airport in 1974. For a period in the 1980s and early '90s, they even had two additional Packing House locations: one was in Mt. Pleasant (it is now the location of The Summit Restaurant and Cocktails), and the other was at the intersection of N. 76th and Good Hope Road. After Keith passed away in 1993, Margaret continued ownership of the Layton Avenue location, which she still has today. Her son Chris is the general manager.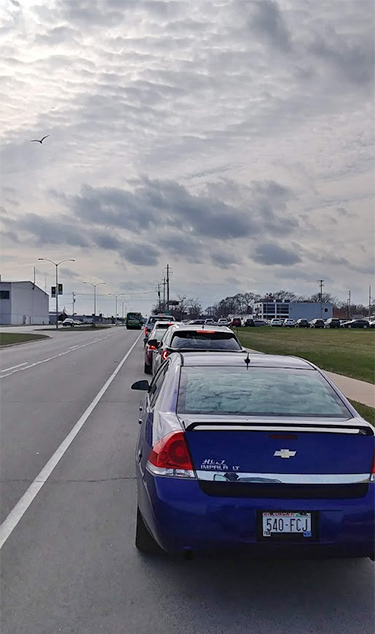 While much could be said about the dine-in qualities of the restaurant, we are living through a time when dining in is not possible. But if the pandemic was thinking it was going to stop people from having a Friday fish fry from The Packing House, it had another thing coming. The restaurant is like two Milwaukee institutions in one, and its second part—and secret weapon—is its unshakeable drive-thru. On any given Friday throughout this ordeal, cars have been lining up for blocks for fish frys. For Milwaukee fish fry goers, The Packing House drive-thru is a ritual and a rite of passage. Whether there is a pandemic or not really doesn't make a difference.
Just seeing that line should be enough to stir your heart, but The Packing House is not merely sitting back and letting drivers come to them—they are being proactive. Chris has been walking the line thanking customers. The restaurant is giving out fish frys to 200 healthcare workers on the COVID-19 front lines. When someone bought fish frys and banana cream pie for five shut-in seniors, others started donating as well and The Packing House responded by starting "Fish Fries for Seniors." And, perhaps most importantly, when some people started talking about it being time to reopen dining rooms in the state, The Packing House held the line and put out a statement saying that the health of staff, guests, and the community comes before anything else.
While driving down Layton Avenue towards the restaurant from the east, I could see the line of cars backed up for the drive-thru. I figured it was probably a shorter line than in previous weeks, since Lent was over, but it was anything but short. It was still a few city blocks long and stretched into the span of road adjacent to the green space of Mitchell Airport Park. The sign from The Packing House was barely visible over the cars in front of me. It was 4:46 p.m.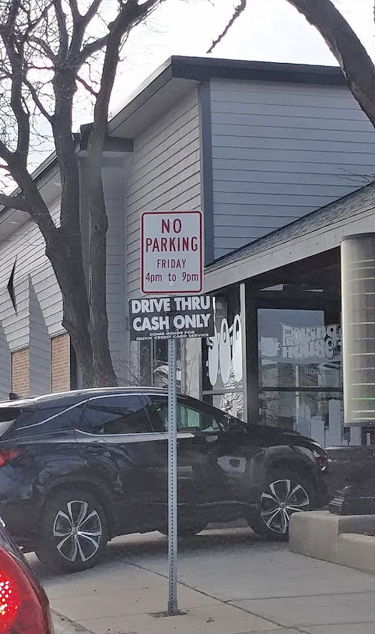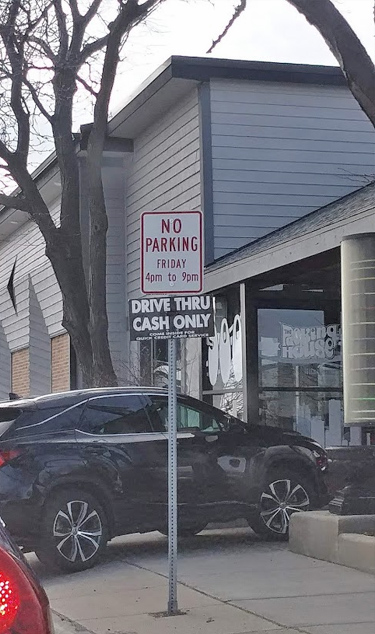 As I got closer to the restaurant, I started seeing signs that said there was no parking on the side of the street there on Fridays from 4 to 9 p.m. Yep, there are official Milwaukee street signs that say "no parking" because of a Friday night fish fry. Glorious! As I got close to the driveway, I saw that one of the signs had another sign underneath it that said the drive-thru was cash only. (This wouldn't help someone who was already in line for 20 minutes.) As I waited to be next to turn into the driveway, I looked ahead and could see the Coca-Cola sign out front of Nite Owl, and part of Amelia's.
Fish frys at The Packing House are $13.95 and come with breaded cod and either french fries or potato pancakes. The restaurant's online menu says a limited amount of perch and baked cod is also available. Not only are fish frys served from 11 a.m. to 9 p.m. on Fridays, they also are available from 3 to 8 p.m. on Wednesdays. For those who don't wish to pay with cash or wait in the drive-thru line, orders can be taken over the phone and picked up curbside. Korbel Old Fashioned kits are also available for $34.99.
The drive-thru window is located towards the back part of the building, and if a person isn't paying attention, they might mistake it as being its own building. I arrived at it at 5:16 p.m., exactly a half hour after I had gotten in line. I could see two people inside, both wearing masks and gloves. After one of them slid open the window, I held up a "1" and said I wanted one fish fry with potato pancakes. I gave them a $20 bill and told them to keep the change. Seconds later I was given a paper bag. Even though I was wearing the mask I had been given the previous week, I still could smell the fried fish.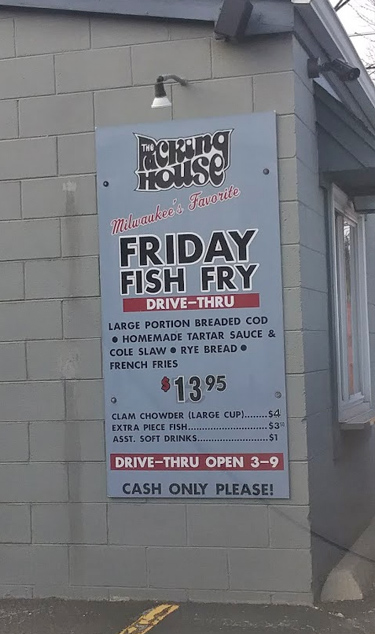 After arriving home, I did a double take when I took out the container, as it almost looked like my name was scribbled on it. (I still can't figure out what it said.) A card with well wishes from the restaurant also came with the meal. Not only were the coleslaw and tartar sauce in their own containers, but along with the bread, they were loosely wrapped in tinfoil to prevent them from touching the fish and pancakes. However, the fish and pancakes were a bit cold, so I popped them into the microwave for just shy of 30 seconds.
The three pieces of cod were some of the meatiest I've ever had, being cuts of outstanding quality. This more than anything else is what I will remember about them. They weren't completely uniform in shape, and the breading that covered them held on well but wasn't the least bit crunchy. Instead, it was soft, being lightly textured and delicately flavored. A few of the pieces seemed a little too soft on their bottom, which could have been because they had been sitting in a container for a bit. The tartar had an almost jello-like consistency and appeared to be made primarily of mayonnaise. There was a pleasantness to it, and beyond some relish it had some small square chunks of red and green bell pepper.
When it comes to potato pancakes, I almost always use a bit of ketchup with them. With these, I almost had the first one gone before I even thought about using any ketchup. That's how good they were on their own. They were thick and soft, with tiny green onion slivers and a subtle dill flavor. I topped the two oval-shaped, salt-edged marbled rye slices with some butter from my fridge. The average-sized cup of creamy slaw was juicy and had small pieces of cabbage as well as the same red and green bell pepper cuts that were in the tartar.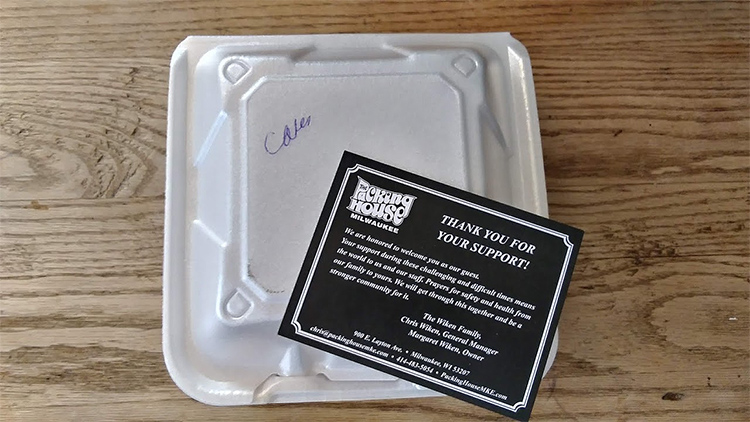 When I finished eating I blurted to myself, "All that for ten minutes of pleasure!" Was the drive and wait worth it for something that so quickly was gone? Absolutely. The Packing House has memorable fish and potato pancakes, and the drive-thru itself is part of the whole experience. On top of all that, they've been doing positive things with their fish frys during the pandemic, whether it be giving them out to healthcare workers or helping to get them into the hands of shut-in senior citizens. This is how we do it, Milwaukee. The Packing House Forever.
Takeaways: Drive-thru open for fish from 11 a.m. to 9 p.m. on Fridays and 3 to 8 p.m. on Wednesdays; cash only but you can pay with a card if you call ahead and order for curbside pickup; there are "no parking" signs because of fish frys; you can get an Old Fashioned kit at a drive-thru; meaty fish with a soft breading; flavorful pancakes; you can participate in "Fish Fries for Seniors"; if you go there tonight, keep an eye out for the Drink Wisconsinbly truck.