Caleb Westphal hasn't missed a Friday fish fry since 2013. Follow along with his never-ending adventures here.
For the past five years, my roommate and I have hosted a Christmas party each December. As the years have progressed, the makeshift house band we assembled for it has expanded its membership and turned into a real band: The Holiday Spirits. Well, maybe it's not a real band, but it's pretty darn close. Besides having a name, the band also has its own holiday standards. "Eggnog" is set to the tune of "Tequila" by The Champs, and "You Can't Always Get What You Want (For Christmas)" is a take on the Rolling Stones classic. This past year, the horn section grew, when my friend Zack joined the band on trumpet.
Zack forgot his trumpet and a Santa bag at my place on the night of the party and I've been meaning to get them back to him since. Recently, at a time when many people are looking for things to do to pass the time—like playing music—Zack asked if he could get his trumpet from me. He offered to come down to my place, and I said I could leave it out on my deck for him. He later asked if he could pick it up on Good Friday, and then suggested that we have a fish fry and that he could eat his on my deck. I told him that sounded like a great idea, but that he would have to bring his own chair and beers. I also said he had my permission to piss in my backyard if need be, because I wasn't going to let him in my house. Zack told me that all sounded all right to him, and that his wife, Jessica, would be coming along as well.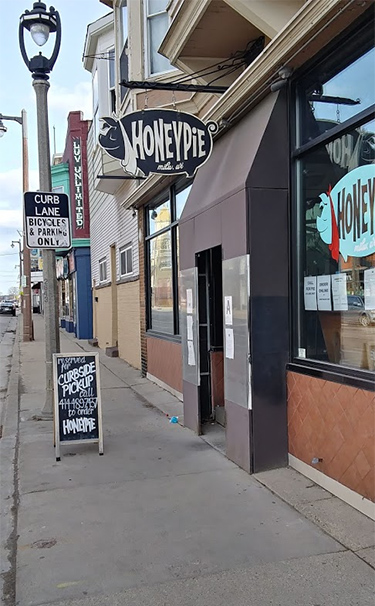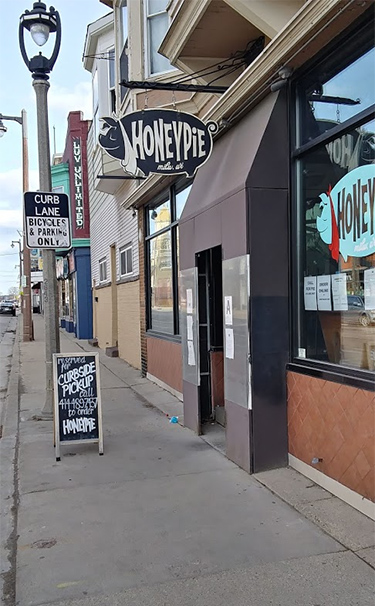 I called Honeypie (2643 S. Kinnickinnic Ave., 414-489-7437) in the afternoon and ordered a fish fry for my roommate and myself. They offer breaded haddock for $15. (Palomino, one of Honeypie's sister restaurants, is also offering a $15 haddock fish fry, but according to their menu, their haddock is PBR beer battered instead of breaded, and it comes with comeback sauce instead of tartar sauce.) I've gotten fish frys with Zack and Jessica on multiple occasions. To name a few, they were with me for the fish frys I wrote about at Romey's Place Bar & Grill, Bilda's Friess Lake Pub, and Juice's Ghost Town. They returned to Juice's Ghost Town this past Friday to pick up their fish frys. They put their order in for 4:30 p.m., while I put mine in for 5 p.m.
Shortly after 4:30, I got a card table from my basement, put it on the deck outside of my kitchen window, and washed down its top. The timing going forward had to be precise. I needed to pick up the fish and get home in time to put the trumpet and Santa bag on the deck before my friends arrived. But it also was hoped that we would arrive at close to the same time, so we could start eating before the food got cold.
At around 4:50, I started walking towards Honeypie. Although I was wearing a bandana fashioned similarly to the way that the U.S. Surgeon General has suggested wearing cloth masks, I could still smell fried fish—likely from Crafty Cow's "Fish And Chip"—as I approached Kinnickinnic Avenue. I crossed to the east side of the main drag to take a picture of the restaurant and then crossed back again, and arrived outside of Honeypie a few minutes before 5. I called and was told my food would be out shortly. Within two minutes, someone came out with food, I confirmed my name, and a swift handoff took place, where I grabbed onto the bag's string handle and swooped back to the side of the road where I had been waiting, so I wouldn't get too close to two people who were approaching on the sidewalk.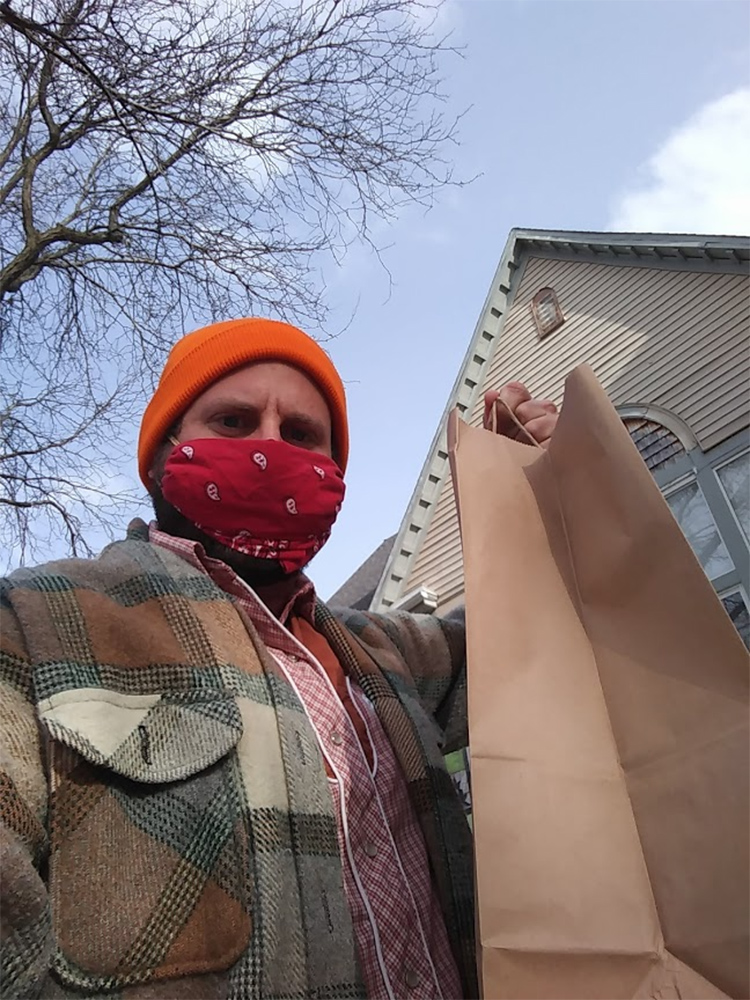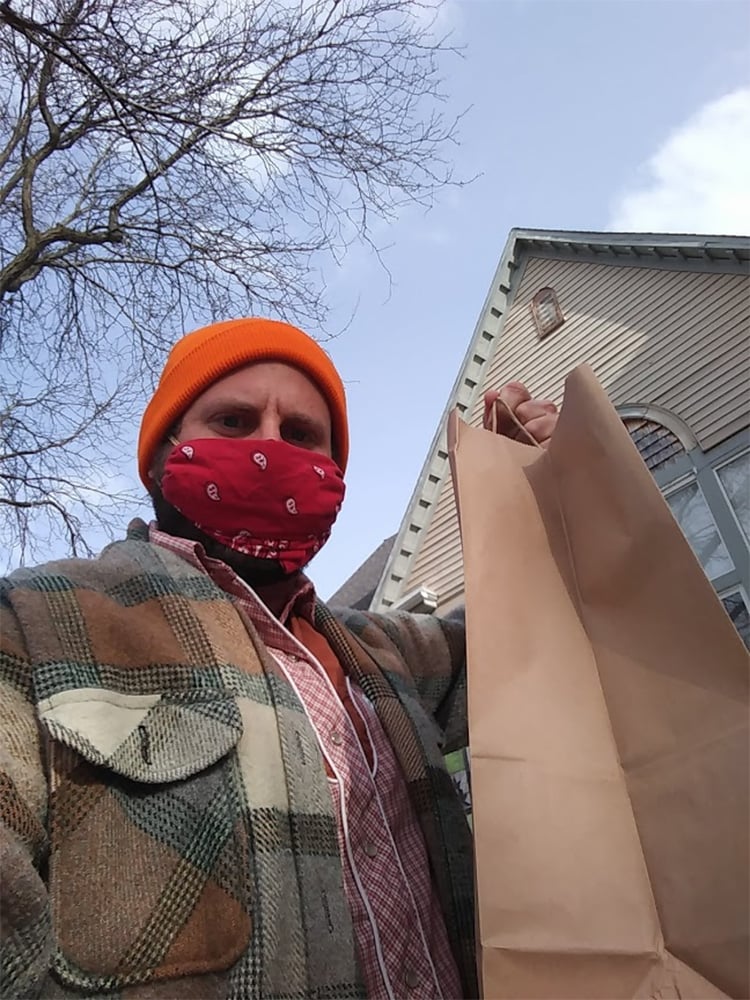 I rushed home and put the trumpet and Santa bag on the deck. As I started to get set up inside, my guests arrived. We gave each other nods through the glass and continued to prepare for our meals. I did what is starting to feel like a usual routine, which this week once again ended with opening up a Hamm's. They opened a few bottles of Lakefront's recently returned Wisconsinite beer and set out a bottle of port wine and a few glasses. Then began the first dinner party I've ever had where my guests were outside of my kitchen window.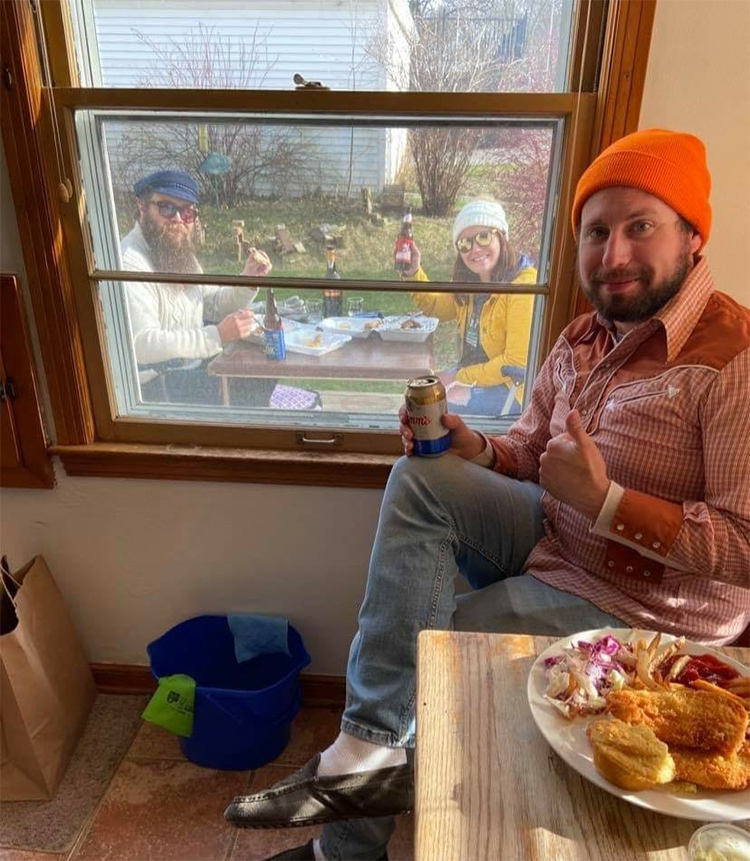 There are a few things that I quickly realized. First, even with the main door cracked open about a third of the way (I kept the screen door shut, of course), it was still necessary to talk somewhat loudly to have a conversation. Second, extra focus had to be put on listening. Pauses had to be placed after someone talked, because if someone was talked over, the person on the other side of the glass wasn't able to hear what was said. Third, and likely most importantly, there was a great struggle between facing the table to examine and enjoy the fish and turning to the side to converse with my friends. (In hindsight, it may have helped a bit if I would have lined up my kitchen table with the one outside. Next time, eh?) After not having any face-to-face contact with friends for weeks, it was hard to not stay glued to the window and engaged in conversation. I tried to study the specifics of my food, but I kept turning away, wanting that human connection.
But this was no lousy fish fry. No, Honeypie knows how to put one together. The meal came with three fine pieces of haddock covered with a breading of character and purpose. The breading was full of texture—looking like low grit sandpaper or three-day-old stubble, but much more appetizing—and it held the fish together so that it could easily be eaten by hand. Although the fish and breading were moderate in flavor, the tartar was bursting with it. Besides relish, some seasonings were visible in it, but I couldn't infer what they were.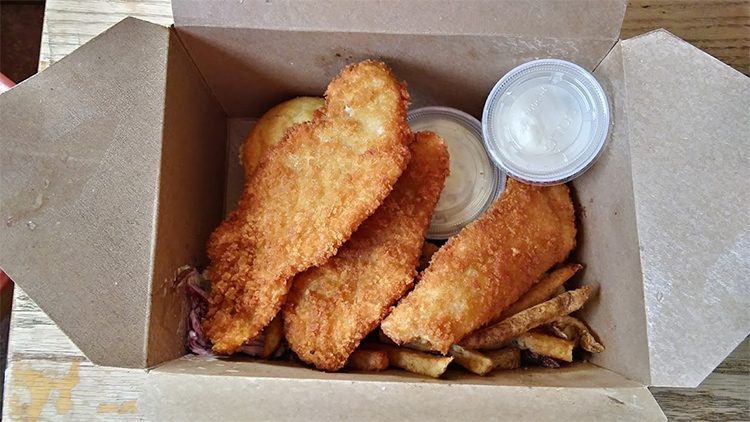 The skin-on french fries were on the softer side, with a light greasiness and a balanced saltiness. Nothing seemed remarkable about them on their surface, but they were quite wonderful. When eating the coleslaw, I thought to myself, "I might actually be getting some nutrition from this stuff." Large chunks of fresh and crunchy red and green cabbage were covered by a light, unembellished cream. The only real drawback to the slaw was that it was thrown in the takeout box with everything else without being in its own container. (This particularly was an issue for my roommate, who didn't want to eat coleslaw, or anything that touched it—I'm assuming there are others who feel similarly.) Although rye bread once again was absent, appearing in its stead was a fresh cornbread muffin. A container of whipped honey butter came with it. I didn't order a piece of pie to go with my fish fry, but after having cornbread and honey butter, it would have been superfluous anyway.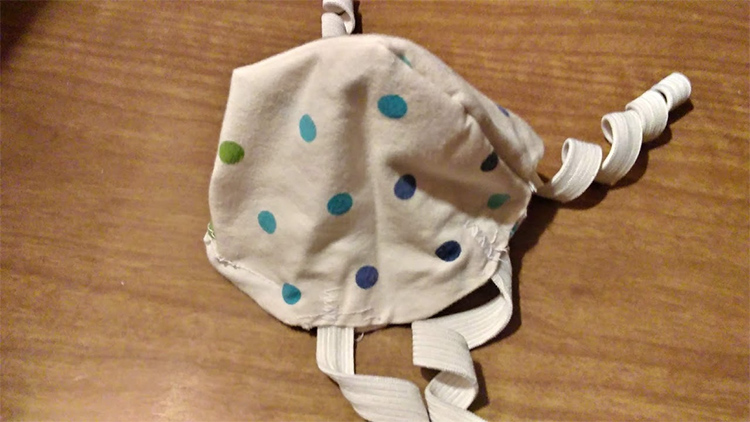 The fish frys were finished on both sides of the glass. Zack brought out two battery-operated candles and poured two glasses of port wine while Jessica disposed of their garbage. I cracked open another Hamm's. The conversation continued. Eventually it was time for my guests to be on their way. They took the trumpet and the Santa bag, but in its place, Jessica left me a mask she made, one of much higher quality than the bandana I had worn earlier in the evening, being fashioned with two layers of a cotton sheet and a HEPA filter. I now will be keeping others and myself a little more safe when I venture out every Friday. I'm not sure if the mask will stop the smell of fish frys from coming through, but one thing's for sure, it isn't going to stop me from eating them.
Takeaways: Honeypie offers haddock fish frys on Fridays for delivery and curbside pickup for $15; appetizing and memorable breading; flavorful tartar sauce; fresh and crunchy coleslaw; the french fries were not just filler; comes with cornbread and honey butter instead of rye bread; if your friend leaves a trumpet or Santa bag at your house, it's okay for them to stop by to get those things and then eat a fish fry outside of your window.