Caleb Westphal hasn't missed a Friday fish fry since 2013. Follow along with his never-ending adventures here.
In Mike Nichols' 1966 film adaptation of Edward Albee's Who's Afraid Of Virginia Woolf, George and Martha—a couple played by the then-married-in-real-life Richard Burton and Elizabeth Taylor—find themselves battling repressed emotions as their marriage unravels. At one point, the feuding partners and their "guests" end up at a roadhouse on a two-lane road on the outskirts of town. Some dancing twists into violence, tensions continue to rise in the parking lot, and Martha tears away into the night in the couple's Ford Country Squire station wagon, leaving George standing alone, staring blankly.
Like the roadhouse in the film, Romey's Place Bar & Grill (7508 S. North Cape Rd.; 414-425-9913) is a drinking establishment located on a two-lane road on the outskirts of town. In this case, it's on the outskirts of the city of Franklin (although, it isn't too far from the village of Hales Corners, either). But, unlike the roadhouse in the film, tensions don't rise while you are there—they diminish. The building and those working in it exude an unpretentious, unassuming quality, which welcomes you in. Romey's Place isn't trying to be anything, it just is.
But the most obvious difference between the two places to me, of course, is that it appears Woolf's not-so-effective roadside refuge does not serve a fish fry—the thing that really could have eased the tension. Maybe if George and Martha could have sat down for a few fillets of bluegill, perch, or cod, things would have turned around. And perhaps a few potato pancakes at a roadside bar and grill could have helped Richard and Elizabeth hold on a little bit longer as well. Maybe if they could have just made it to Romey's Place, everything would have been okay.
Romaine "Romey" Denk opened Romey's Place as a bar two years after the release of Woolf. Although it is apparent that there have been some updates over the years, the establishment retains the charm and feel of what it may have been like a half-century ago. Romey was at the helm for close to 40 years, and then his daughter and son-in-law, Laurie and Nate Fabry, took over the business. It hasn't always been a restaurant—it wasn't until a half-dozen years ago that the kitchen was added. Upon walking inside, I found the place to be quite small, which clues one in that it wasn't originally designed to be a restaurant. It is one of those places where the kitchen is so inconspicuous that if you hadn't gone in knowing they had one, you probably wouldn't even think they did. From what I could tell, there were two people working in the kitchen and one person working behind the bar. The bartender took orders from the tables, and the kitchen staff brought them out.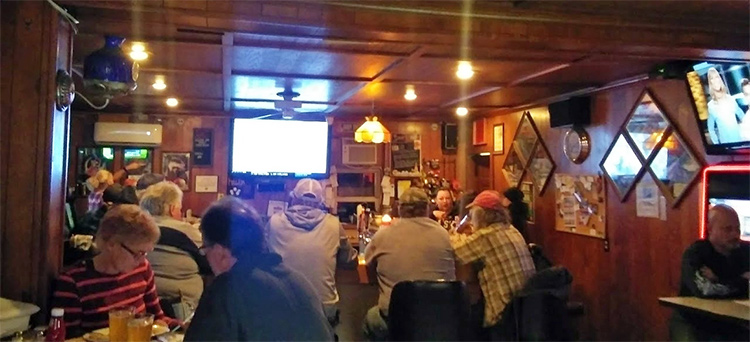 Besides the 20 or so seats at the horseshoe-shaped, three-sided bar, there are only six small tables for dining. It was around 6 p.m. when I arrived, and most of the bar was full, although more people appeared to be at it for drinking rather than for eating. Almost all of the tables were empty. Comically, the people I was meeting were sitting at one of the two occupied tables, but I didn't even realize it was them, so I took a seat at another table to wait. After glancing over the menu and looking around the room a bit, I realized they were already there.
With a place with so few tables, you'd expect a meager menu, but that's not the case at Romey's Place. Besides appetizers, burgers, and sandwiches available at all times, they have specials every day of the week. Saturdays and Sundays are for wings, on Mondays you can order gyros or a prime rib dinner, with Tuesdays comes spaghetti and meatballs or BBQ ribs, fried chicken dinners are served on Wednesdays, and Thursdays are decked with tacos, nachos, burritos and enchiladas. Oh yeah, and on Fridays they serve fish frys.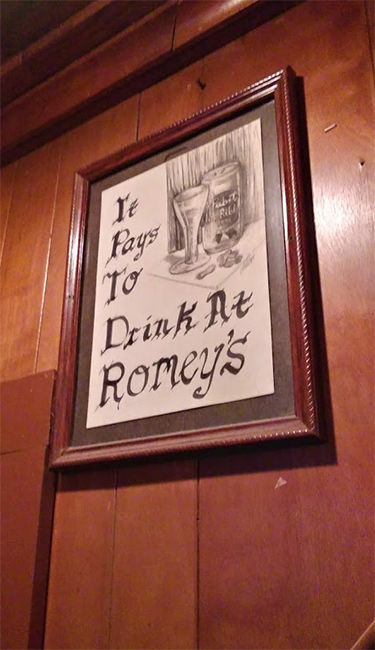 The Friday seafood options are fried cod ($10); baked, parmesan crusted, or blackened cod ($12); fried perch ($12); fried walleye ($12); fried bluegill ($12); a shrimp basket ($7); and shrimp scampi ($12). All meals come with french fries, but homemade potato pancakes can take their place for two dollars more. There is also the option for swapping fries for pasta if you order the baked, crusted, or blackened cod. Romey's Place has soups, but clam chowder was not an option. I went with the fried cod with potato pancakes.
The Old Fashioned came in a textured glass that your grandma probably had in 1968. It was perfectly muddled, its ingredients were well-balanced, and it was topped with two stemmed maraschino cherries. If you aren't a fan of ice you might not have liked this one, as it was loaded with it, but overall I thought it was an excellent drink.
The fish arrived in no time. I was a little disappointed that there were only two pieces, but they were of a respectable size, and I then remembered that the meal was reasonably priced as well. (One of my friends got the bluegill, and received five pieces, and later I saw someone else receive a large plate of perch, so it seems some types of fish are given out in larger portion sizes. My friend also gave me one of the bluegill pieces, and I was not disappointed.) The cod fillets were a bit above average in quality, and flaked well and had a favorable composition for the most part. The breading was light and relatively thin, but had a texture a bit similar to fried chicken. I imagined the fish may have been batter dipped and then rolled in a dry breading, perhaps containing a bit of cornmeal, but I didn't get to the bottom of seeing if that was the case. The fried cod's flavor was compelling enough to stand on its own, without tartar, and really, I almost preferred it that way. The tartar had perhaps more relish in it than any tartar I've ever had. If you would have put a little more relish in it, it perhaps would have crossed the threshold back to being considered relish instead of tartar. Okay, that may be a bit hyperbolic, but you get the point.
The potato pancakes were excellent. Thick, hearty, meaty, comforting, mild, and like a meal on their own are a few of the words I'd use to describe them. Halved, buttered, and sandwiched together, the bread was a contrast of caraway seeds that packed a punch and light rye. When I ordered my meal, I was asked if I wanted creamy or vinegar coleslaw. The question is so rare that I didn't know what to do, and froze. Eventually I snapped out of it, and went with the vinegar slaw, doing so because it is not found as often as creamy slaw. It seemed rather standard to me, but was still good, although I tried some of the creamy slaw one of my friends had, and did like it more.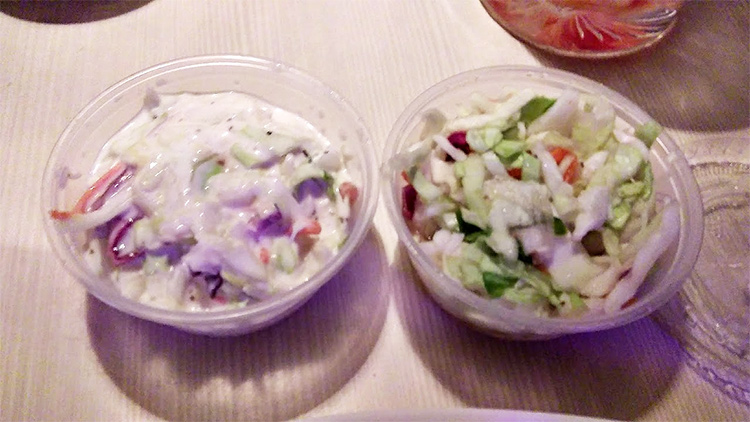 If you find yourself looking for refuge while on the road, Romey's Place might just be what you need. There are enough positive components to their fish fry to make it worth a stop. The Old Fashioned and potato pancakes are the standouts, and the fish isn't too far behind. Having two types of coleslaw is a nice touch as well. The only drawbacks? I thought the tartar was too relish-heavy and I wanted more fish. Being that the fish fry is reasonably priced, one could easily dispel any extra hunger by ordering a second one. This actually crossed my mind, but I restrained myself. There are perhaps other ways you could get more fish, like asking if you could buy some à la carte, or going with the perch or bluegill. But the bottom line is Romey's Place has a solid fish fry. It may be just what is needed to pick yourself up at the end of the week, or to help you chill out, or—as in George and Martha's case—to help repair a fractured and crumbling marriage.
Takeaways: Over 50 years in business; positive vibes from the staff; there are more seafood options than tables; superb Old Fashioned and potato pancakes; satisfying fish, but I could have gone for another piece or two; choose your own coleslaw adventure; there was a lot of relish in the tartar sauce.