Do you like fun facts? Here are nine fun facts about that time (October 14, 1912) former U.S. President and then-presidential candidate Theodore Roosevelt was totally shot outside the old Gilpatrick Hotel (now the Hyatt Regency) in downtown Milwaukee.
1. Roosevelt was running for a third, non-consecutive term
The presidential election of 1912 was a strange one. Roosevelt had already been president from 1901-1909 (he was William McKinley's vice president for all of six months before McKinley was assassinated), and was up against Republican incumbent (and former protégé) William Howard Taft and Democrat Woodrow Wilson. Unable to secure the Republican nomination, Roosevelt was running as part of his own Progressive Party, nicknamed the "Bull Moose Party" after the candidate told journalists he felt "fit as a bull moose" after forming the party. Though presidential term limits had been kicked around since the inception of the country, it wasn't until 1947 that the Twenty-second Amendment—inspired by Roosevelt's fifth cousin, Franklin D. Roosevelt—made them a constitutional reality.
2. Roosevelt's would-be-assassin, John Schrank, said McKinley's ghost made him do it
John Flammang Schrank was born in Bavaria in 1876, and emigrated to America at age 9. He was traveling the East Coast when, on an anniversary of President McKinley's assassination, he had a dream in which the dead prez rose from his coffin and pointed to Roosevelt, who was wearing a monk's robe for some reason. "This is my murderer!" the ghost apparently said. "Avenge my death!" On September 14, 1912, McKinley's ghost returned, telling Schrank, "Do not let a murderer sit in the president's chair." Schrank packed his bags (and a .38 pistol), and set out from New York City on a month-long Roosevelt-stalking train trip that would eventually lead to Milwaukee.
3. Schrank got drunk before he shot Roosevelt, and asked a bar band to play "The Star-Spangled Banner"
Roosevelt arrived in Milwaukee on October 14, 1912. Scheduled to make a speech at the Milwaukee Auditorium (now the Milwaukee Theatre) later that night, he napped and dined beforehand at the Gilpatrick Hotel on 3rd and Kilbourn. Schrank, meanwhile, was busy tying one on at the saloon of Herman Rollfink, located immediately across the street at 215 3rd St. He reportedly downed six beers throughout the night. A bartender, Paul Thume, would later testify:
"Schrank came into the saloon at 3 o clock in the afternoon and drank five or six beers. He told me he was a newspaper man, and to prove it, he pointed to the newspapers in his pockets.

"We got to talking, and I told him I was going out west to earn some money. He advised me to go south to make money. He wanted a place to room, but when I recommended a room for $1 a day, he kicked. Said he was willing to pay 75 cents.

"He came in again at 7 o clock in the evening and we talked some more. He then asked the bar musicians to play some song, something with stripes in it, and then he bought each one a drink."
That song, according to Gerard Helferich's Theodore Roosevelt And The Assassin: Madness, Vengeance, And The Campaign Of 1912, was "The Star-Spangled Banner" "Odder still was the jig the portly stranger danced during the anthem," Helferich adds.
4. Roosevelt survived the shooting, thanks to his steel eyeglasses case and a copy of his speech
At around 8 p.m., Roosevelt exited the front door of the Gilpatrick and made his way into a waiting open-air car. A large crowd was there to greet him. Roosevelt settled in his seat, but got out and stood on the car's floorboard to acknowledge the cheering masses. It was then that Schrank, no more than five feet away, took his shot. The bullet pierced Roosevelt's chest, though his steel eyeglasses case and a 50-page copy of his Auditorium speech tucked into the pocket of his overcoat took the brunt of the damage, likely saving his life. "Officers, take charge of him, and see that there is no violence done to him," Roosevelt said as Schrank was dragged away by police.
5. Roosevelt just went ahead and made his speech with the bullet still in his chest
Surmising the bullet hadn't pierced his lungs by noting he wasn't coughing up blood (and by discovering the damaged eyeglasses case and speech), Roosevelt decided to just go ahead and make that damn speech. "I know I am good now," Roosevelt said on the way over. "I don't know how long I may be. This may be my last talk in this cause to our people, and while I am good I am going to drive to the hall and deliver my speech." A crowd of about 9,000 greeted him at the Auditorium. With blood still flowing from his wound, Roosevelt began his 90-minute speech:
"Friends, I shall ask you to be as quiet as possible. I don't know whether you fully understand that I have just been shot, but it takes more than that to kill a bull moose. But fortunately I had my manuscript, so you see I was going to make a long speech and there is a bullet—there is where the bullet went through and it probably saved me from it going into my heart. The bullet is in me now, so that I can not make a very long speech, but I will try my best.

"And now, friends, I want to take advantage of this incident and say a word of a solemn warning, as I know how to my fellow countrymen. First of all, I want to say this about myself: I have altogether too important things to think of to feel any concern over my own death, and now I can not speak to you insincerely within five minutes of being shot. I am telling you the literal truth when I say that my concern is for many other things. It is not in the least for my own life. I want you to understand that I am ahead of the game, anyway."
6. The bullet remained in Roosevelt's chest for the rest of his life
Following his speech, Roosevelt was quickly taken to Johnston Emergency Hospital at 320 W. Michigan St. (now the Courtyard by Marriott Milwaukee Downtown hotel). He was later transferred to a hospital in Chicago. There, doctors determined that it would be safer to leave the bullet in Roosevelt's chest than to take it out. The candidate ended up losing the presidential race to Woodrow Wilson, though he did net more votes (4.1 million) than Taft (3.5 million). Roosevelt died less than seven years later, on January 6, 1919, at the age of 60, with the bullet still intact.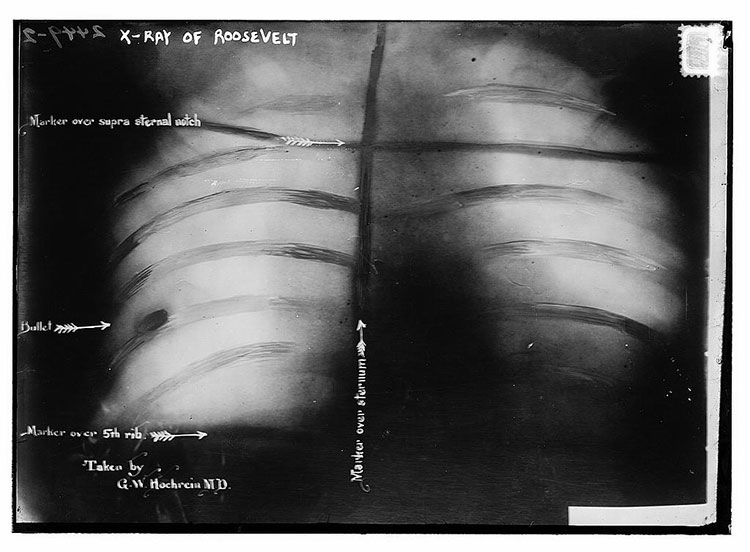 7. Schrank was declared insane and was committed to two hospitals in Wisconsin
Roosevelt's failed assassin was never tried for his crime; instead, he was sent to the Northern State Hospital in Oshkosh, and later the Central State Mental Hospital for the Criminally Insane in Waupun. Schrank maintained that his failed act of political assassination had little to do with "the citizen Roosevelt," but was instead meant as a message to "Roosevelt, the third-termer," and any other future third-termers. Forbidden any contact with the outside world for 30 years, Schrank died from bronchial pneumonia on September 15, 1943, at the age of 67. His body was donated to the Medical School at Marquette University (now the Medical College of Wisconsin).
8. There was a reenactment of the shooting, 100 years later, in 2012
From the Milwaukee Journal Sentinel:
Teddy Roosevelt took a .38-caliber bullet to the chest Sunday in a striking re-enactment of the Oct. 14, 1912, assassination attempt in Milwaukee on the life of the then-former president and Bull Moose Party candidate for president.

Staged in period costumes by historical re-enactors at the downtown location where the real Roosevelt was wounded, the drama unfolded once again. Scott Paulson played the part of TR with relish. Smiling and greeting a small crowd, he exited the east entrance of the Hyatt Regency Milwaukee hotel with a "Hotel Gilpatrick" banner put up to remind onlookers of what stood there a century ago.

Only a dozen or so others were dressed in period clothing, including several police officers in the long navy blue coats and hats that now seem oversize and women in long dresses and elaborate hats.

Still, the sound of a stage pistol fired by re-enactor playing would-be assassin John Schrank at Paulson was jolting. The fake Roosevelt staggered a bit from where he was standing in an open car as smoke from the shot hung briefly in the air, then quickly assured the crowd he was fine.

"He just pinked me," the candidate said.
9. A historical exhibit—complete with an original plaque from the Gilpatrick Hotel—hangs in the Hyatt's 3rd Street entrance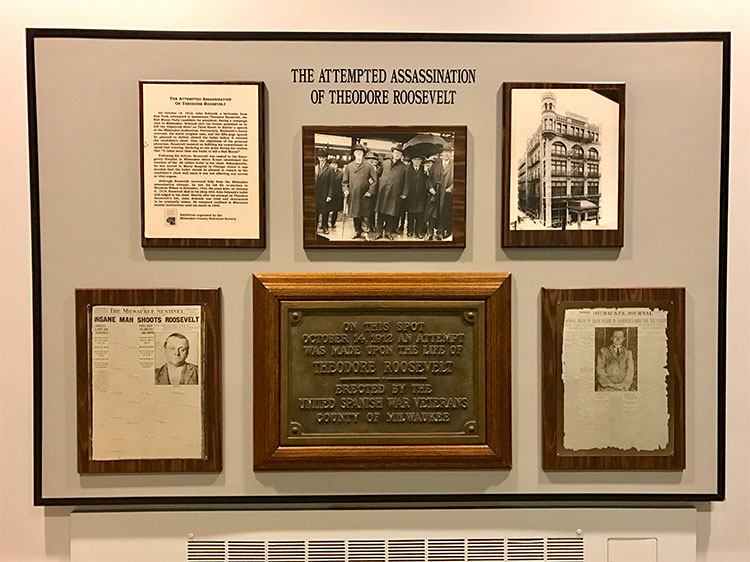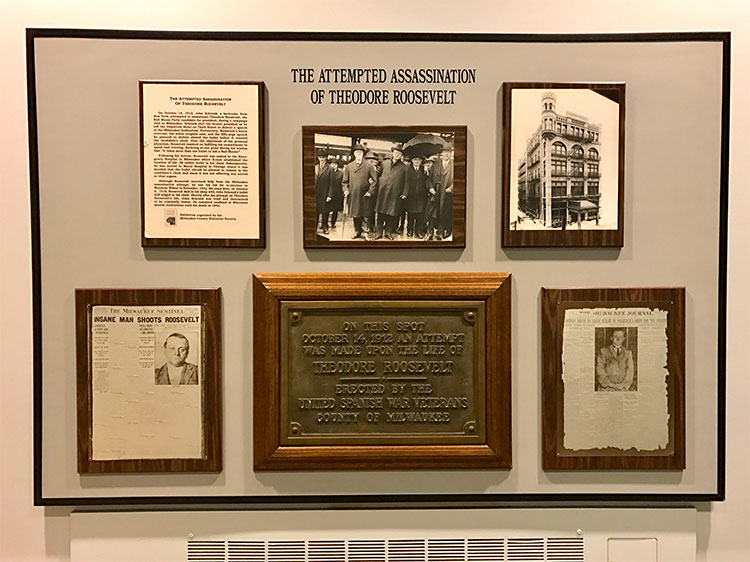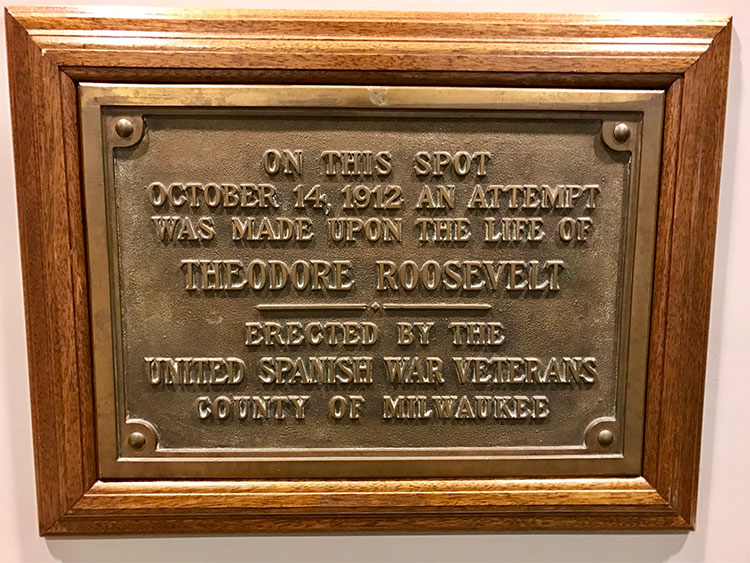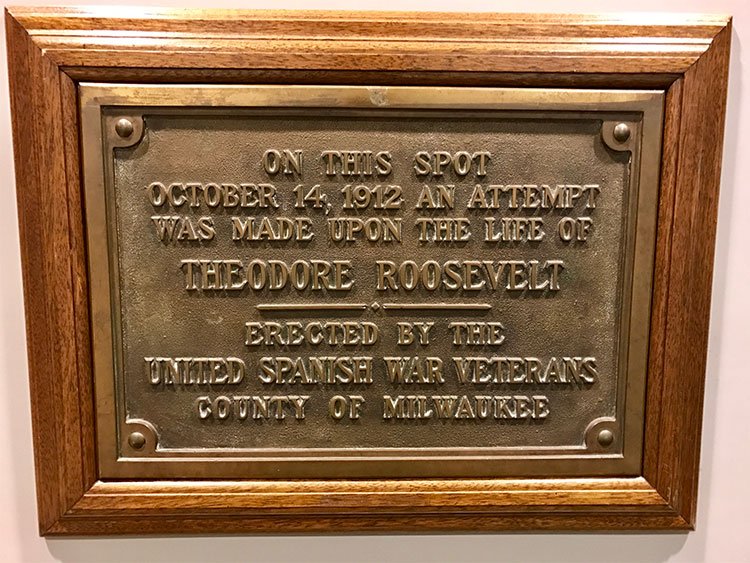 Exclusive articles, podcasts, and more. Support Milwaukee Record on Patreon.
---
RELATED ARTICLES