Caleb Westphal hasn't missed a Friday fish fry since 2013. Follow along with his never-ending adventures here.
Being in a club with those who have shared interests, similar values, or common life experiences helps fulfill the human need to belong. Around the world, people belong to clubs such as the Association for Renaissance Martial Arts, the Association for Graveyard Studies, and the Ejection Tie Club. Closer to home, one can join the Milwaukee Bicycle Collective, the Milwaukee Lionel Railroad Club, or the Milwaukee Bonsai Society. At Bilda's Friess Lake Pub in Hubertus (4493 WI-167, 262-628-3454), they have the Mug Club.
After buying a mug for $20, a member gets to keep it on a hook on one of the ceiling's support beams or on the wall. Members personalize their mugs with stickers, and they receive 25 cents off each drink they have in it. Mug Club Day is on Mondays, where the second mug drink is free. I'm not a member of the Mug Club, but lucky for me, Bilda's itself belongs to a club—the unofficial club of places that serve all-you-can-eat fish frys.
Owned by Vickie and Bob Bilda, who opened it in 2007, Bilda's sits at the southeast corner of the intersection of Highway 164 and 167, not far from Holy Hill and Friess Lake. They have a large selection of craft beer on tap, and serve many types of food, much of which is made from scratch. Some menu items include homemade pizzas, broasted chicken, Saturday prime rib, Wednesday all-you-can eat barbecue ribs, Wisconsin pasties, and sliders, sandwiches, and burgers. Their Friday specials options are all-you-can-eat cod, either beer battered, potato crusted, or both ($14) (the AYCE is available every day); baked cod—traditional or cajun ($15); lake perch ($17); walleye ($19); and a chef's special, which varies by week.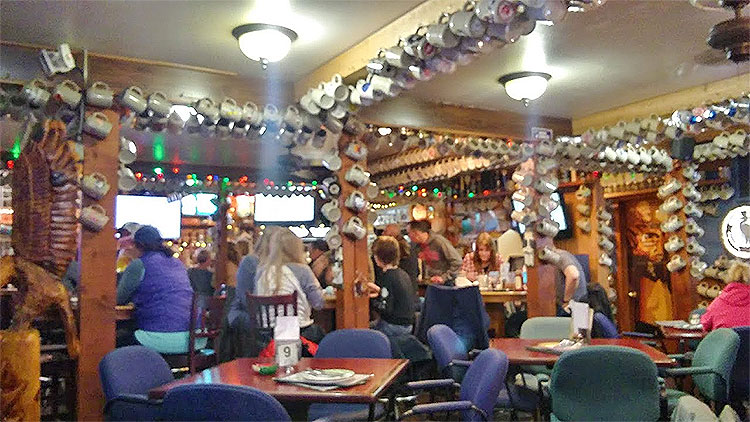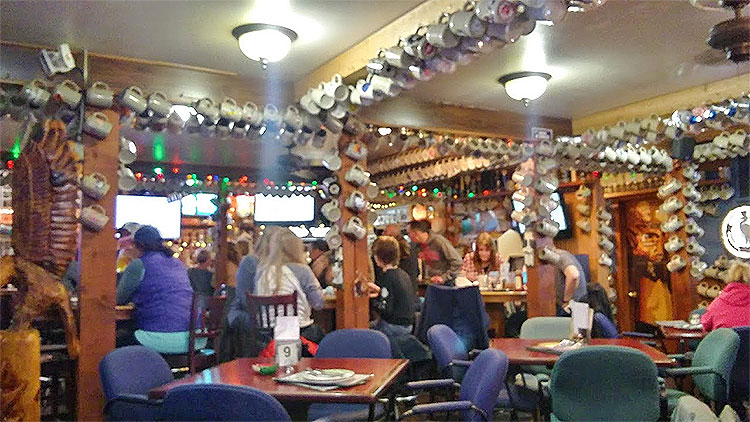 Shortly after ordering an Old Fashioned (bitters-forward, poured with Korbel, served in a pint glass) at the bar and securing a table, I walked up to the checkout counter to put in my food order—at Bilda's, the waitstaff doesn't come around to take orders, you have to order at the counter or the bar. I went with the combo AYCE and homemade potato pancakes (they have numerous potato options, although none are listed on the menu). They didn't have any clam chowder, but one of their soups was mushroom and crab, and I ordered a bowl.
I don't often see a restaurant taking on crab and mushroom soup, but it's not something I keep an eye out for either, so maybe I've been missing it. The textures of the mushrooms and imitation crab complemented each other, although the two don't exactly have the most inviting textures to begin with. Ultimately, the soup was pretty unremarkable, and just held me over while I waited for the rest of the food.
The meal I had been waiting for all week soon arrived. The potato pancakes were thick and rather large in circumference. Onion flavor could be detected—perhaps from green onion or onion powder—but the preeminent flavor made me think of stuffing. I'm not sure what spices were used here (possibly sage or thyme?), but something in the pancakes placed me at a Thanksgiving dinner table. Overall, they were respectable and well worth being listed on the menu.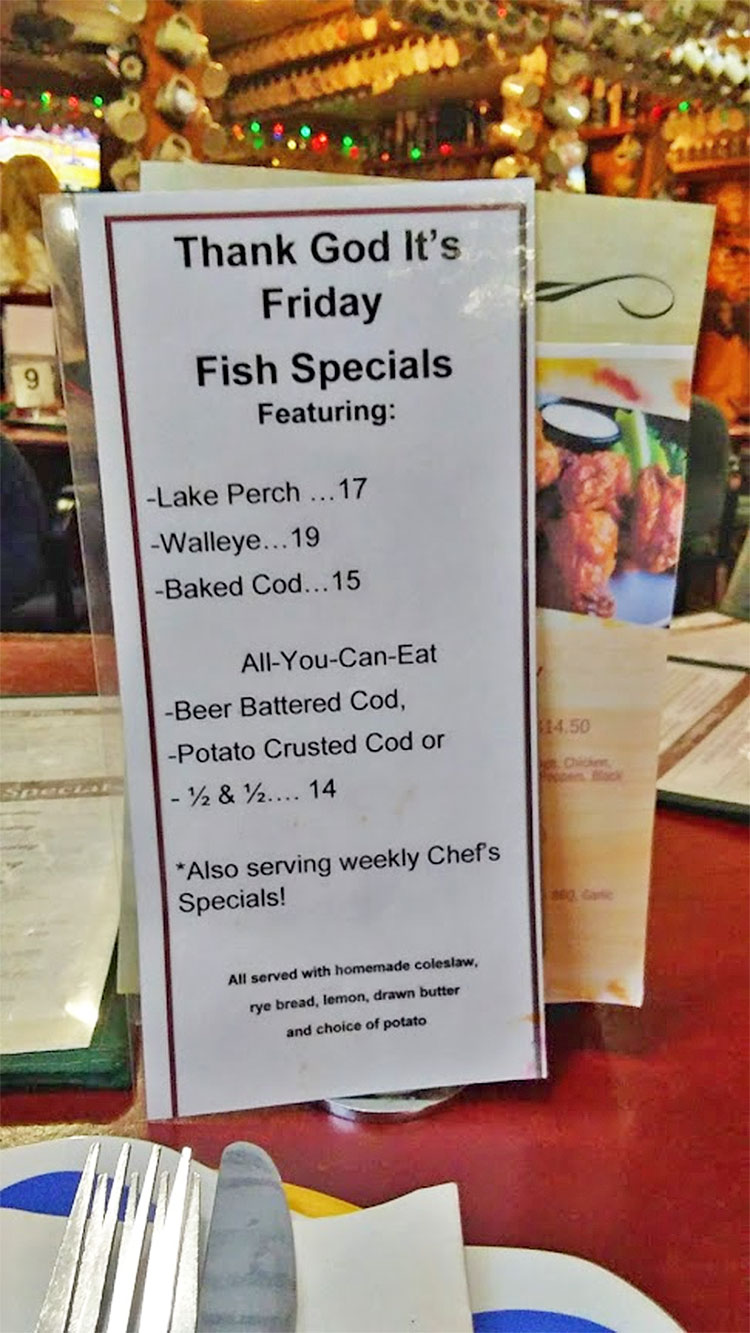 Two pieces of each type of cod were included on the plate. Interestingly, they appeared to come from two different cuts of the fish. A strong but pleasant beer flavor came through with the beer battered, and the batter covered prime, flaky morsels of fish. These really hit the spot, while the potato crusted pieces did less so. They appeared to be cooked a little bit longer, on the edge of being burnt. The cuts of fish didn't seem to be of as high of quality as the beer battered pieces were either. When I ordered another round of fish, I went with two more of the beer battered. Mayo, relish, dill, and a lemony twist defined the tartar sauce. A very light cream allowed the diced cabbage in the coleslaw to shine through, and a half piece of fresh, light marbled rye rounded out the meal.
I suppose you could be fully satiated at any AYCE fish fry, but this particular one pretty much knocked me into a coma afterwards, so be careful if you try it out. I was able to safely navigate home, but I ended up sleeping for 10 hours that night, and felt sluggish the following day. I'm really not complaining, though, and I don't think you would either. Now that spring is finally here, if you are up for a little bit of a drive—about 35 minutes from downtown Milwaukee—Bilda's Friess Lake Pub may be your kind of place. And if you really enjoy yourself, I bet they can find an open hook for you, and you can join a new club—the Mug Club.
Takeaways: AYCE is available every day; family run with a really friendly and efficient staff (although one guy laughed at me when I ordered an Old Fashioned and he told someone else to make it for me); they have a Mug Club; you have to walk up to the checkout counter or bar to order your food; speaking of doing things yourself, they have a build-your-own Bloody Mary bar—you get your glass mug filled with vodka at the bar and then you build the rest of the drink on your own; high marks for the potato pancakes; moderately high marks for the beer battered cod; so-so potato crusted cod; mediocre mushroom and crab soup; this fish fry gave me a hangover, but it was worth it.