Hey, it's Moneyline Mo, the man in the know, coming off a fourth winning week in a row. And we're officially 25 percent into the season…wait, we can't say that anymore because now there's 17 games in a season. It used to be so nice and clean. You could measure the season in quarters. Now, there is no clean way to convey 4/17ths. What is a coach supposed to say to his team? "Okay, fellas, we're four games in, but look at it like we're 14:12 into the first quarter of a game."
Hopefully four winning weeks in a row is enough proof that I'm not too bad at this! But now you might have a baseline expectation for Moneyline Mo. That's the curse of success: it goes from being something you impress people with to something they expect from you. Now I'm not wishing the opposite, that I was way down in the hole that I had to climb out of. If I'd been giving you duds from the get-go, that would devalue my very important opinions on the future outcomes of football games. It's a fine line to balance. All I can do is keep doing my best and hope these teams are motivated enough to ensure that I look good and continue this week-to-week winning streak. Let's take a dive into Week 5!
THURSDAY
LOS ANGELES (N) OVER SEATTLE
I am still undefeated on Thursday nights, thanks to Cincinnati's second half rally against Jacksonville. Of course, I didn't see that game because it was only available on the league's network. Beginning this week though, Thursday games pivot back on to network television for all of us to see!
For a Week 5 matchup, this has big ramifications for both teams. If Seattle wins, they'll be at 3-2 with a tie-breaker edge for now over Los Angeles. That would also mean that Los Angeles will have lost two in a row after a 3-0 start. But if it is the outcome I suspect it will be, Los Angeles will be 4-1 and Seattle will fall to 2-3 with the possibility of already being in a three game hole in the division. I look forward to watching the telecast on Thursday night!
SUNDAY
ATLANTA OVER NEW YORK (A)
Blokes and birds, we got ourselves a London game! Do you remember when they made these games extra special? There used to be pregame concerts! Past London games included performances from the Goo Goo Dolls, Robin Thicke, Joss Stone, and Madness (and we all know Madness rules because they invented ska). There even used to be some marquee teams showcased over the pond. Clearly, the game has not exploded in popularity in Europe like the league hoped it would, but they want to keep their options open and keep this tradition alive halfheartedly. So, we're tossing the London fans this game and then Jacksonville and Miami next week. Typical bobbins!
GREEN BAY OVER CINCINNATI
Last week was a big win for Green Bay, but perhaps the greatest part of that victory was the rapid pace of the first quarter with no commercial breaks. Even more amazing was Jim Nantz giving a full peek behind the curtain that the reason they weren't going to commercial was because most of the national audience was still seeing New York and Tennessee in overtime. As Nantz explained, the network wanted to do right by all the ad buys that were expecting to be displayed in front of a full national audience instead of just those in the markets carrying the Green Bay-Pittsburgh game at the moment.
I'm still struck by that transparency about how the business works and that we got to have a little taste of how quickly games would last if we didn't have commercial breaks. Can you imagine a world where you just experience the thing you're enjoying without encountering an promotion to interrupt it? It would be amazing to avoid any commercials or shameless self-promotion.
Anyway, join Milwaukee Record at the Cactus Club this Sunday for the Green Bay game with a special halftime performance by The LOL! Kickoff is at noon! And don't forget to read the Pigskin Pick of the Week right here on MilwaukeeRecord.com!!!
MINNESOTA OVER DETROIT
I'm back to picking against you, Detroit. I gave you three chances this year to make me look good and you let me down on all accounts. Even that third time, I openly acknowledged I was flirting with danger but still committed myself only to be crushed once again. I've done everything I could for this sacred relationship of me picking you to win games, but you haven't held up your end of the bargain by winning any of them. We need a break from each other—a real break. Maybe that will get you out of this funk, trying to live up to all the pressure that comes with being one of Moneyline Mo's picks. Whatever the case, you're free now Detroit. I'm rooting for you, but I can't pick you this week. Flourish without me.
PITTSBURGH OVER DENVER
I'm sorry to do this to my guy Slick Vic Fangio, but this is one of those gut feeling games where I think coming off two rough losses, Pittsburgh is now due for a win. Also, do you have any recollection of Pittsburgh starting 11-0 last year? I remember them having a good start and I remember them losing that weird 4 p.m. Monday start against Washington, but my brain doesn't seem to recall it specifically being a double-digit win total before their first loss. Should I see a doctor about this? It's good to solicit medical advice from strangers online, right?
TAMPA BAY OVER MIAMI
If Miami were a stronger team, you might think this could be a trap game for Tampa Bay coming off the highly anticipated and over-hyped matchup against New England. I'm not sure what's happened to Miami, but they fell apart late last season and have had a rough start to this year. Maybe it's time to run the wildcat again? I don't even if they have the personnel to run it. Why not just bring it back for fun, right? Tampa Bay is going to win this game and that's a Moneyline Mo Promise (trademark pending).
WASHINGTON OVER NEW ORLEANS
It sure says a lot about Ron Rivera and Taylor Heinicke that I find myself really pulling for this Washington team. The former team name is abhorrent, the accusations against the organization are abhorrent, and the franchise's whole culture/essence is just abhorrent. And even with me using abhorrent three times in a sentence, Rivera and Heinicke (and Fitzpatrick, too, when he's healthy) have that certain je ne sais quoi that makes me want to see them win. Look at that last sentence, are you reading a Pigskin Picks column or watching Amelie?!?
CAROLINA OVER PHILADELPHIA
I called Carolina's loss last week to Dallas, but what I failed to mention is that they really should trade divisions. I know Dallas is in the East because of tradition but based on location it would make a lot more sense for Dallas to be in the South and for Carolina to be in the East. Dallas is also further South than both Atlanta and Carolina, and the entire South is east of Dallas. I don't think we should have divisions with to begin with, but if we're going to have them, they should make geographic sense!
TENNESSEE OVER JACKSONVILLE
What's the deal with this Tennessee team? Even more importantly, what's the deal with Urban Meyer having a restaurant? How come it took a seedy video of him for me to learn of his establishment? We need to have a tracker of all bars and restaurants throughout the country affiliated with athletes and coaches. How involved is Urban Meyer with his restaurant? You assume he's just lending his name, but I love the idea of him pulling double duty as a head football coach while also evaluating POS systems and a training plan for his staff.
Years ago, I wrote a letter to see if I could get an autographed menu of Jeff Suppan's restaurant, Soup's Sports Grill. I never got a response. What's a funnier piece of memorabilia than an autographed menu from an athlete's restaurant? There just isn't one.
NEW ENGLAND OVER HOUSTON
Of course, Sunday night's game was one of the highest rated in games in years. That's how the machine works, people! Of course, I was a cog in it as a viewer, but the game was better and more competitive than I thought it would be. Plus, you had rain, which always makes it more enjoyable for me when there's a bad weather component. It is strange to so quickly turn from New England being a powerhouse to now everyone saying "oh, good for them" for just trying hard and playing a competitive game. But good for New England for trying hard and playing a good game against Tampa Bay! They have a substantially easier game this week and should win if they play with that same effort.
LAS VEGAS OVER CHICAGO
It must be rough to be Matt Nagy right now. Once again, he's given up playcalling duties and immediately the team had rhythm and variety under Bill Lazor's direction. Nagy is supposed to be the offensive mastermind though, so it must sting a little bit that the team thrived without him calling plays. Isn't that the fear of a lot of Americans though? That your job security is so fragile that you can't risk someone helping you with one of your job responsibilities? So, we take on too heavy a workload and avoid taking vacation or sick days because someone who fills in for you could do a better job than you do and suddenly, you're expendable since your responsibilities could now just be transferred to someone else. I mean, it's still funny since this is happening to Matt Nagy, but I think I understand his mindset.
LOS ANGELES (A) OVER CLEVELAND
Folks, did you see Monday night's game, did you hear about this? The game was delayed because of lightning in the area! And folks, do you know what Los Angeles has on their helmets? Lightning bolts! You can't make this stuff up, folks! Share this with 10 friends!
https://www.youtube.com/watch?v=Ngv0nowC9YA
DALLAS OVER NEW YORK (N)
I'm starting to get that awful feeling that Dallas is actually pretty good this year. Not good enough to realistically compete for a championship, but good enough to win some big games and probably take the division. The upside is that we'll get to see Mike McCarthy totally mismanage the clock in a huge situation, but it's still a bummer that they look to be back in the playoff rotation for this season.
ARIZONA OVER SAN FRANCISCO
And then there was one last undefeated team left in the season. Kudos to Arizona for outlasting everyone to this point and for immediately making me look bad since I thought they were maybe a nine or 10 win team this year at best. There's still time for it all to all fall apart, but I think they've shown that they are a real deal contender for the conference this year.
BUFFALO OVER KANSAS CITY
Where's all the hype for this Sunday night game?!? We have a rematch of the Conference Championship game featuring two exciting offenses. The real difference here is Buffalo's defense, which has already had two shutouts on the season. And of course, the biggest factor here is I had that Picasso's Pizza back in Week 2 and Buffalo has not lost since. If they win it all this year and want to have me ride in the parade while eating some Buffalo style pizza, I'm not going to turn that opportunity down…assuming they cover the cost of my transportation and the pizza. We aren't there yet, but Sunday night's game is a big step for the team and for my potential appearance in their hypothetical future championship celebration.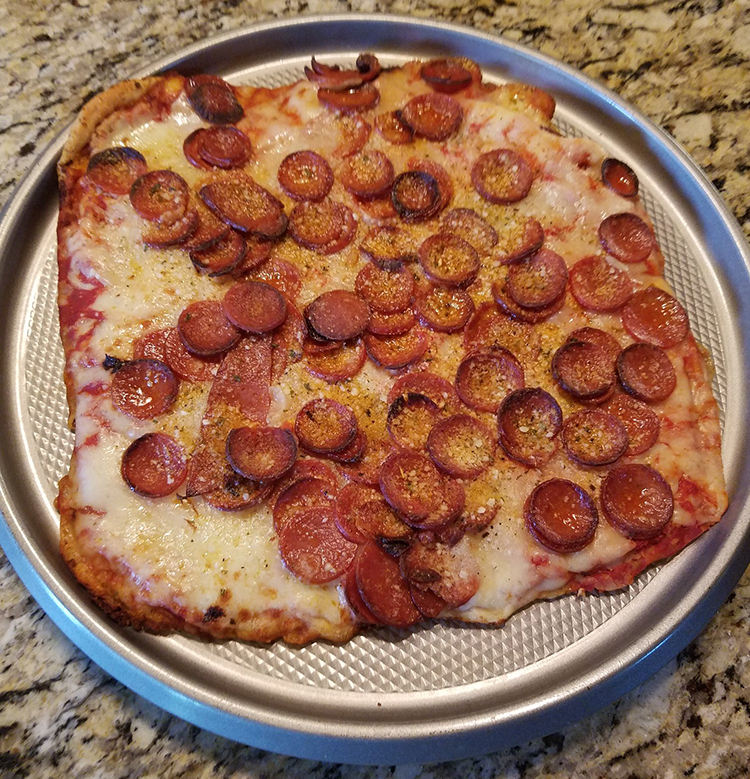 MONDAY
BALTIMORE OVER INDIANAPOLIS
Every time this matchup comes up, I think of the longtime football fans in Baltimore who just want to see their team crush Indianapolis and the Irsay family. At the same time, there must be some conflicting feelings of having your original football stolen, and then years later, stealing Cleveland's football team in a similarly controversial fashion. I think they should bring back The Wire for a sixth season, but just have it be an exploration of how everyone in Baltimore reconciles being a fan of their football team. Another slam dunk idea for HBO, might as well put me in the C-suite at the network!
And that's it for Week 5! Let's take a look at the standings:
LAST WEEK: 10-6
SEASON TO DATE: 41-23