Caleb Westphal hasn't missed a Friday fish fry since 2013. Follow along with his never-ending adventures here.
"It's crazy in there," a fish-filled pedestrian announced, as they stood in the parking lot of Saint Sebastian Parish (5400 W. Washington Blvd.; 414-453-1061). I was slowly driving past them, trying to find a place to park. Not having any success, I found a spot a few blocks away on the street. Maybe I should have been bracing myself a bit more as I walked back towards the building, because it turned out I was not fully prepared for the madness I would encounter. And what a beautiful madness it was.
It started before I even made it inside. As I stopped for a fraction of a second to take a picture of one of the fish fry signs in front of the building, momentarily blocking the driveway to the parking lot, aggressive beeps could be heard coming from the street, presumably directed at me. I didn't turn around, for I was on a mission. I suppose whoever was honking was on a mission to get a fish fry too, so I really can't blame them for wanting me to get out of the way.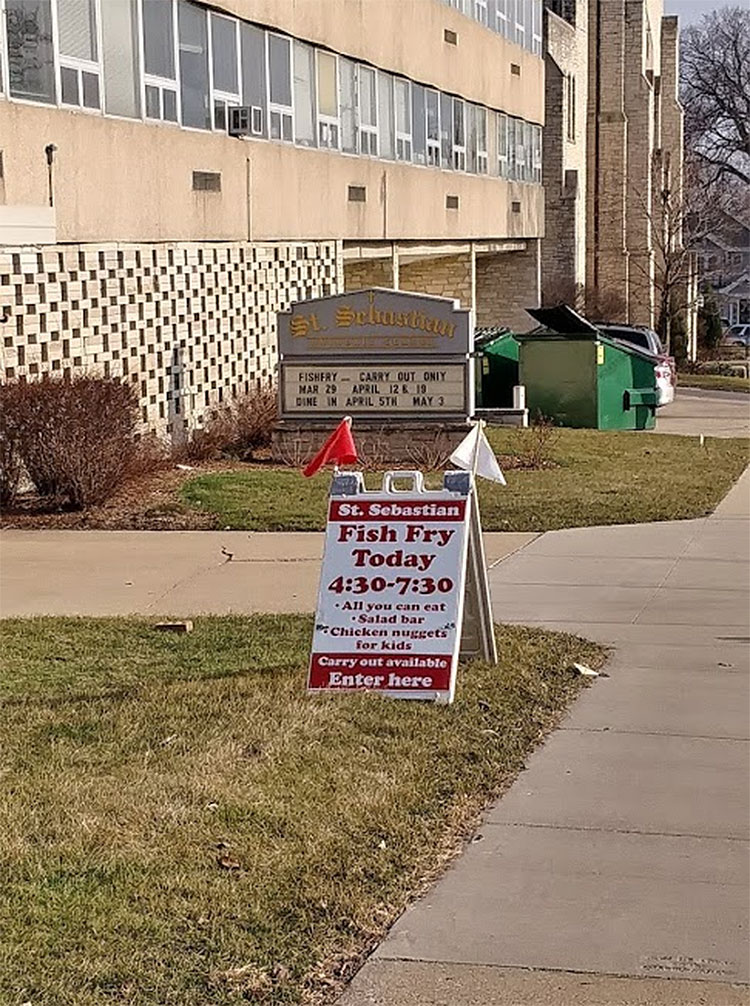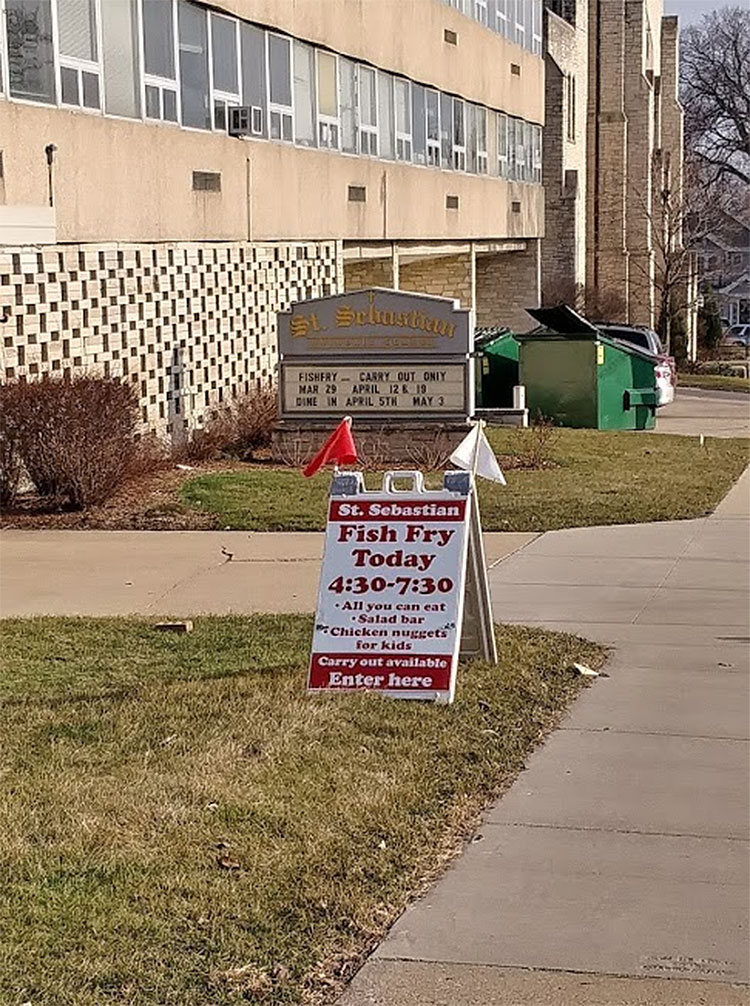 Safely inside, I got into the first line I found. To the right I saw where the carry-out orders were being picked up, so I figured I was where I was supposed to be. Nope. The line I was in was the one you get in after you've ordered and paid for your fish fry. I spotted the correct line, which was snaking its way up a staircase. I followed it to its end, which was upstairs and almost outside into the parking lot.
"Have you been here before?" an older gentleman in front of me asked, as the descent back down the stairs began. "It's one of the best in the city. You'll be back," he added, after I answered in the negative. And I'm sure many people have been back. The Washington Heights-located parish has been serving Friday night fish frys for at least a half century. Frys are held on the first Friday of each month between October and May, and carry-out fish frys are available every Friday during Lent. That meant I was attending the one dine-in fish fry taking place during Lent, which may have been part of the reason why it was so busy.
A large diagram taped to the wall halfway down the stairs reassured me I was in the right line, and I eventually made it to the table to put in my order. All-you-can-eat fish meals—either baked or fried—are $11.50. They are $9.50 for senior citizens, $6.50 for those in grades 3-8, and $4.50 for those in grades K-2. If you are in preschool, you can get your all-you-can-eat fish fry for $2.50. They come with french fries, a salad bar, milk, and coffee. There are just a few other things on the Saint Sebastian menu. There is a chicken nugget meal ($4), shrimp chowder ($3), and a monthly specialty soup ($3; this month's was Hungarian Mushroom). The salad bar is available on its own ($4), and beer, soda, bottled water, and desserts are also for sale. After ordering the fried fish and shrimp chowder, I was given a slip that had the things I had chosen marked off on it.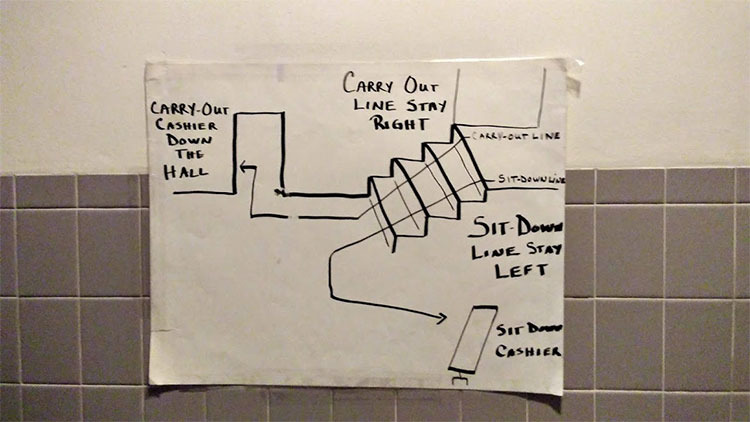 Then I got into the line that led to the cafeteria—the line I had originally accidentally stood in—which by now had wrapped itself around a corner and was heading down a hallway. A lady pushing a cart up and down the line was handing customers beer, water, and soda. Drinking a can of beer or a bottle of Spotted Cow while waiting in line in a Catholic school hallway may be a bit different than drinking an Old Fashioned on a barstool, but people in Wisconsin always find a way to get primed up for their fish frys.
It wasn't much longer and I was inside the swarming belly of the cafeteria, where people were bustling about everywhere. The closest thing I can compare it to in the fish fry world is Lakefront Brewery, with less polka music and less beer. I was seated at one of the long tables, next to the two guys who had been standing in front of me in line. As they had been to Saint Sebastian before, they helped show me how the operation went down. I first went to the salad bar, which consisted of lettuce salad with all the toppings, potato salad, coleslaw, pickled mushrooms, pickles, olives, and rye bread. From what I could tell, the coleslaw was bulk store-bought. I was pleasantly surprised with the freshness of the rye bread, which was light and replete with caraway seeds. Of course, one perk of a salad bar is it is bottomless, but I moved on before going for a second round.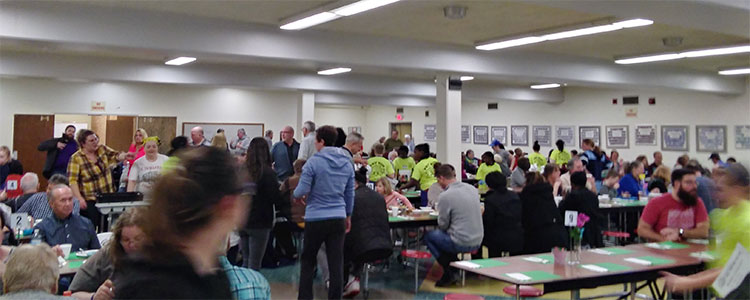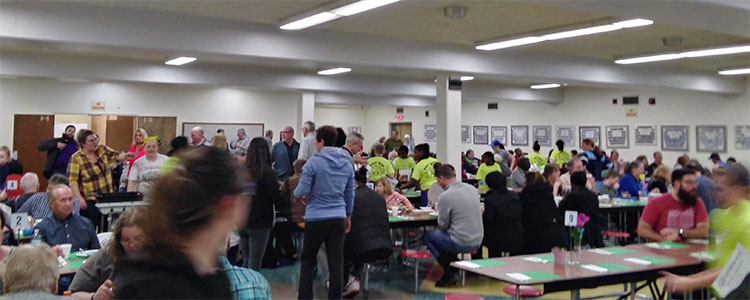 Throughout the cafeteria were about 20 or so "Fry Kids." Decked out in bright lime-green shirts—probably so adults were less likely to run into them (I saw a few close calls)—they weaved around tables, bringing people their food and clearing away trash. Hardworking and polite, they were one of the main reasons why everything was running relatively smoothly in the cafeteria, despite how busy it was. They were learning the value of service to others and life skills, as well as the importance of a Friday night fish fry. I gave one my order slip and they brought me back my fish fry and chowder.
The chowder had lots of shrimp, large slices of potatoes, and oodles of herbs. Two pieces of fish and a giant heaping of french fries were in a Jethro bowl. The straight cut fries were cooked perfectly and had the right amount of salt. It took me a second to warm up to the cod, likely because the last three pieces I had seemed to be thicker and flakier than the first two I was given. The batter was towards the greasier side, and the pieces were well-fried, but were still of very high quality. They matched well with the somewhat mild tartar, which mellowed them out a bit for an overall satisfying experience.
As I was eating the last bites of my fish, and being intimidated by the leftover fries, a guy sitting next to me asked me if I go to a lot of fish frys. I answered in the affirmative, but left it at that. I was contemplating saying more, as I had earlier heard him say that he likes to go to new places every week and document them, but it turned out I didn't have to. "I like what you do, man," he said, as he looked up from his phone after confirming who I was. He (who said I could identify him as Kasper from Riverwest) then gave me a fist bump and we started talking about fish frys. Soon our whole table—which apparently consisted entirely of traveling fish fry fanatics just like us—had joined in, and we were debating our likes and dislikes. Is Clifford's really that good? How about Serb Hall and Jack Pandl's? Where can you get a good smelt fry? Have you been to such and such a place? It was a good feeling to be reminded there are others who see the same magic in a fish fry, and are also out there fighting the good fight every week.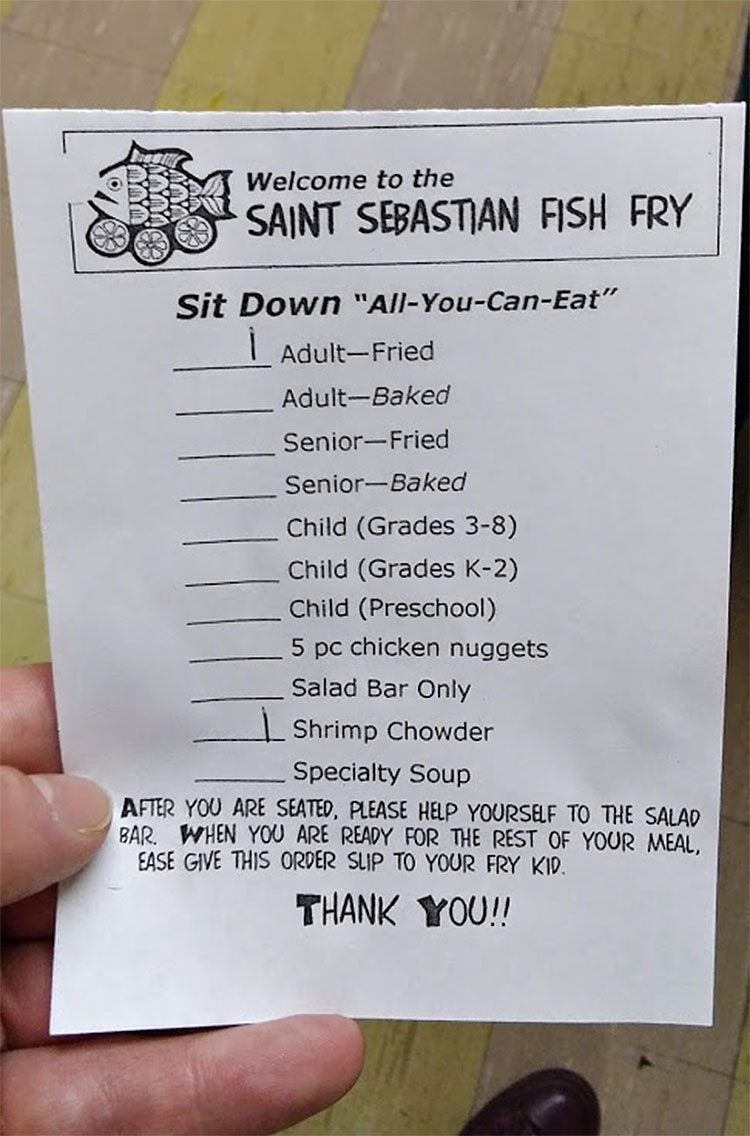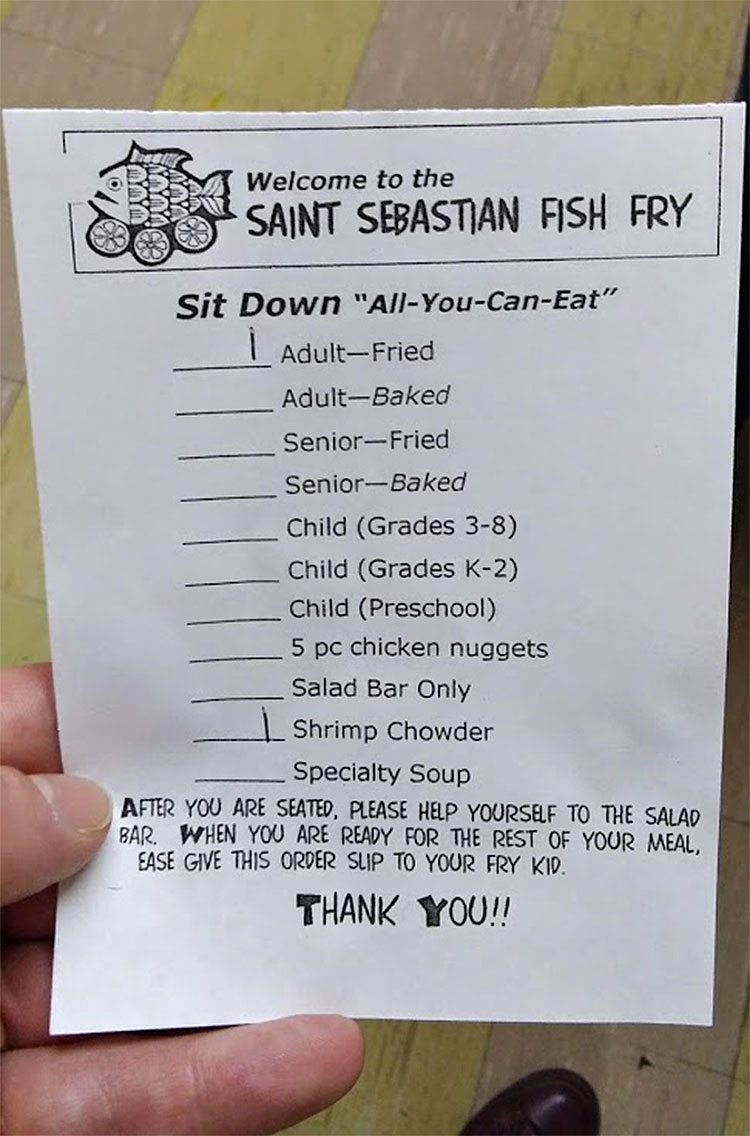 The Saint Sebastian fish fry is an institution that everyone should go to at least once. Sure, you can get better cod at some other places (although not many), and the salad bar isn't the best in the city, but everything is still of high quality. In addition, there is something else that is happening here that draws you in, and you can't describe with food adjectives. It's the multiple lines you have to stand in. It's the diagram taped on the wall halfway down the stairs. It's the beverage cart in the hallway. It's the Fry Kids. It's the giant bowls of food and long tables. It's the beautiful madness of it all.
Takeaways: AYCE fish frys the first Friday of the month from October through May; carry-out fish frys available on all Fridays during Lent; fish frys served from 4:30 to 7:30; if it's busy, you have to stand in one line and then in another line; beverage cart and hallway beers; salad bar; fish fry served in a Jethro bowl; well-balanced cod and tartar; so many french fries; the Fry Kids are polite and hard working and Saint Sebastian should be proud of them. RECOMMENDED.