Caleb Westphal hasn't missed a Friday fish fry since 2013. Follow along with his never-ending adventures here.
I thought that maybe after a few hundred episodes of My First Band podcast, Tyler Maas might ask me to be a guest. Surely there are at least a few hundred musicians or people who work in music who are much more worthy to be guests than myself. But, these are strange times, my friends, and a global pandemic shot me to the top of the list. (Okay, I think the whole fish fry thing may have helped too.) After Tyler could count off on one hand the number of people he had recently been in contact with, and after I cleared it with my roommate, I agreed to do the podcast interview in my basement. In the midst of lining this up I asked Tyler if he wanted to have our meeting on a Friday and if he wanted to get a fish fry. I figured if I allowed someone into my home as a global pandemic began to take hold in my city, there better be a fish fry involved. (But, really, at this point, don't do that. Stay home and eat fish with your family.)
We settled on Fish And Chip, one of the three "virtual pop-up restaurants" launched by Crafty Cow (2675 S. Kinnickinnic Ave., 414-808-0481). Along with other seafood options, Fish And Chip has, well, fish and chips ($14). (This is not the time to squabble about if fish and chips is a fish fry. The world currently has bigger fish to fry, and I'm saying it is.) Crafty Cow has locations in both Milwaukee and Oconomowoc, and their food is currently available for curbside pickup or delivery. In Milwaukee, at least, it can also be picked up inside in a waiting area, which is the route I took, as the restaurant is within walking distance from my place.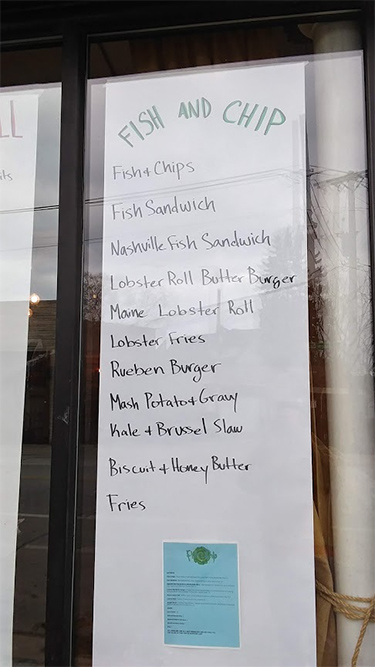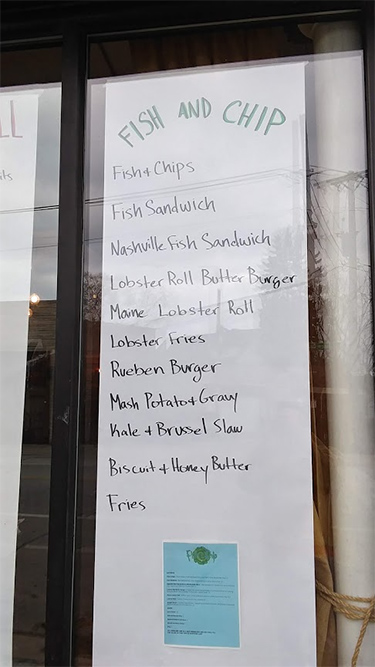 I had the order set for 5:30 p.m. and received an email that said it would be ready around that time. After walking to Crafty Cow's front door, I found a sign that said carry-out orders could be picked up by going through the side door on Lenox Street. I told a worker my name after I entered. There was just one other person waiting when I arrived, and they stayed seated on the far side of the small waiting area while I stood on the opposite end. After they left I went to the side where they had been, to make room for others who may come in. Eventually, I was seated on the far side while two people stood near the entrance. A third person walked in. They looked to their left and right and found the others standing. They started to walk past them towards where I was, but then saw me and stopped. Everyone looked at each other trying to figure out how to spread out to make more space for safety. This awkward dance is going on in grocery stores, public parks, and elsewhere all across the country right now.
I ended up waiting for almost a half an hour for my food, but it was mainly my fault that it took that long. My food actually was set down shortly after 5:45. I went up to check on the names on the bags after it and another order were put on the table, but instead of looking at my name, which was highlighted on a receipt on the bag, I looked at the other name on the receipt. In my defense, I didn't hear anyone call my name out at any point, which probably should have been done. I eventually walked back up to the table and saw I had been waiting for almost 15 minutes longer than I needed to be. Oh well. I power walked home with the food.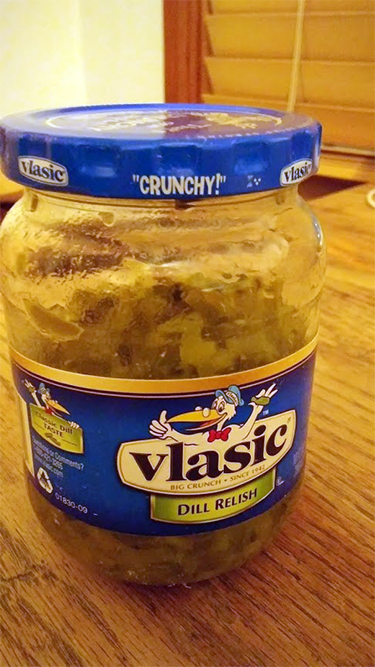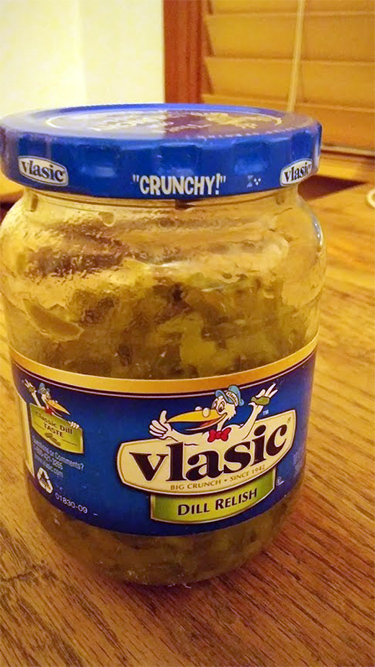 Last week I asked for someone to bring me a jar of pickle relish so I could make tartar sauce if I ended up switching to making fish frys at home. I mentioned this to Tyler earlier on Friday, and he brought a jar with him. We navigated our way to my basement and took seats on the opposite sides of the main room. A socially distanced fish fry with a friend is still a fish fry with a friend.
The fish fry consisted of french fries, three pieces of beer-battered cod with tartar, and coleslaw. Considering we are now living in a time where stocking up on non-perishable food items and making as few trips to the store as possible are the norm, the freshness of the coleslaw was particularly notable. It consisted of a unique blend of large, rough chunks of cruciferous vegetables, including red and green cabbage and kale, the last of which brought a bitterness that contrasted with the salad's overall sweetness. Tyler held up what he thought was a big chunk of Brussels sprout. It looked like a sprout to me, but I couldn't tell for sure, as I was so far away. It turns out it was—upon reexamining the menu, Fish And Chip has "Kale and Brussel Slaw" listed.
The french fries were on the softer side, but not as soft as those ones that I had at Summerfest back when people used to go out and do stuff. They were tinged with an alluring lip-smacking greasiness, and there was just the right amount of them. The fish was covered with a rather flavorless batter, which was crispy at its edges, almost to the point of irritation. The fish itself was of a middling quality; it got the job done but didn't stand out in any way. The tartar was whipped up thick and creamy with dill and pickle bits.
On a normal night, I would have considered this fish fry to be average, but during these times, the particulars of the meal receded to the background. Eating a fish fry in my basement—and the podcast interview that followed it—let me forget, if only for a few moments, the uncertainty that swirled outside my walls. The war to stop the virus now gripping the world will be a long, arduous one, but there can be daily victories on the road to its defeat. One such victory is holding onto the things we can—things like fish frys on a Friday night, even if we are eating them in our basements. Be well. Enjoy every fish fry.
Takeaways: High marks for the crunchy cruciferous coleslaw; not all floppy french fries are created equal—these were pretty satisfying; average fish with a thick, homemade tartar; I'd suggest getting curbside pickup instead of going inside for your food.