In case you weren't paying attention, allow us to offer the helpful and potentially-relationship-saving reminder that Valentine's Day is just around the corner. Some will celebrate with a significant other this coming weekend. Others will wait until Monday (February 14 itself) to show their affection and appreciation for that special someone in their life. Many will do nothing, either because they're not seeing anyone at the moment or because Valentine's Day is kind of a bullshit holiday. Whatever you do or don't do in accordance of the occasion, we hope you have a lovely time.
This year's Valentine's Day is also the day after the Super Bowl, which officially ushers in that annual period where pretty much just basketball and hockey are the only major sports happening in America. And since baseball has a labor dispute that seems likely to last well into the summer, it might be that way for far longer than usual. So since Valentine's Day is looming AND because we already miss having a full sports calendar, we figured we'd comb through the rosters of the Milwaukee Brewers, Milwaukee Bucks, and Green Bay Packers and assemble and a Wisconsin Sports All Valentine's Day Team. So, um…enjoy?
BREWERS
Tom Candiotti — The pitcher's last name is pronounced "Candy-Yacht-Tea" and all of those things would make for great Valentine's Day gifts.
Raul Casanova — Holiday-appropriate name aside, few would be charmed by this Casanova's stat line from his three seasons with the Brewers.
Rob Deer — But spelled like "Dear" instead.
Ramón Flores — Flores is "Flowers" in Spanish. ¡Qué romántico!
Corey Hart — Hart / Heart…you get it!
Donnie Hart — Like the last one, except it's a player fewer people have heard of.
Teddy Higuera — Whether we're talking about a stuffed bear or a frilly nightgown, we hope a Teddy plays a part in your Valentine's Day this year.
Gabe Kapler — No pun for this one, but look at Gabe Kapler and tell us "Valentine's Day" doesn't come to mind. You can't!
Ray King — Ray King (raking), shoveling, cooking, cleaning, or any other act of service would be a great gesture for you to offer a loved one this Valentine's weekend. It doesn't have to cost any money to do something nice for a person you care about.
Candy Maldonado — His first name is Candy. Duh.
Paul Mitchell — Are salon-caliber hair products a good Valentine's gift? Probably not, right?
Randy Ready — Be Randy and be Ready for some romance on February 14.
Kevin Reimer — Roses are red, violets are blue, when it comes to poetry-related Wisconsin sports wordplay, Kevin Reimer will do.
Richie Sexson — Not proud of this one.
Steve Sparks — Sparks…are…flying. Shit! This one sucks.
José Valentín — Yep, it's kind of like "Valentine" so it counts!
BUCKS
Anthony Goldwire — For the sake of this article, "Goldwire" is now another name for a gold necklace or gold bracelet.
Jason Hart — Did you like the Corey Hart and Donnie Hart mentions earlier in this article? Then you'll love this mention of former Bucks player Jason Hart.
Bob Love — This one is pretty on the nose.
Michael Redd — Okay, so it was pretty hard to find Bucks players for this list, so a last name that sounds like one of the colors we most often associate with Valentine's Day will have to suffice.
PACKERS
Bob Flowers — Like Flores, except the English word for Flowers this time!
Derek Hart — So many Harts.
Doug Hart — So little time.
Eddie Lacy — V-Day is the prime time for lacy things, including: The border of one of those heart-shaped chocolate boxes. Lingerie. Possibly even a third thing.
Matt LaFleur — Did you know "LaFleur" is French for "the flower"? It's true! Take it away, Berens & Greuel!
Jordan Love — To be honest, thinking about how February 14 (which is Valentine's Day and the day after the Super Bowl) might end up being the unofficial start of the Jordan Love era was actually the inspiration for this article.
John Lovett — Love with an "it" tacked on.
Jake Ryan — This former Packers linebacker shares his name with the heartthrob in the '80s romantic comedy classic Sixteen Candles.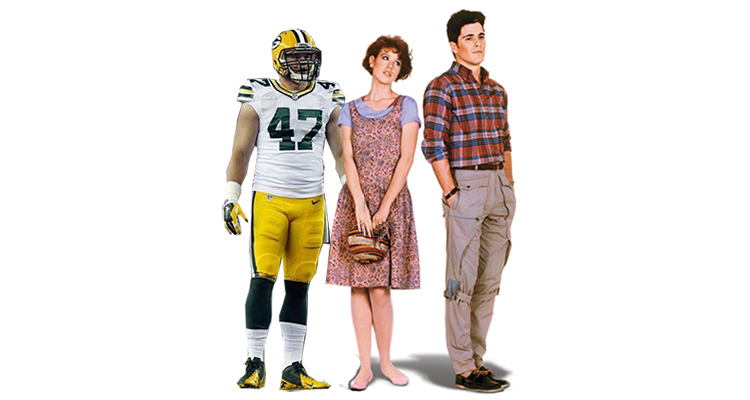 That's all we've got! Have a happy Valentine's Day and, as always, feel free to add your own player suggestions in the comments.