The Farmhouse Paint & Sip (4511 S. 6th St., 414-404-5858) is a place unlike any other in Milwaukee. Jesus Enrique Nañez had a vision for this business, a place where people could casually sip drinks and create paintings. While there are places in Milwaukee that do this, The Farmhouse has a Latinx flair that other places do not.
"The only thing I felt that was missing from here was hot food," Jesus says. That idea gave way to Chuy's Red Tacos, which, according to Jesus, celebrated its "one month and one week" anniversary of being open on October 31. ("Chuy" is the nickname for Jesus, in case you were wondering.)
Chuy's Red Tacos is a bright red truck flanked by picnic tables that create a dining area. "COVID has affected every business in some way, but trucks have proven to be the safest way for people to still enjoy eating out while supporting businesses," Jesus says. "People can order and sit apart from each other outside. Winter is looming, however, and while we can have people sit inside, it's not the best idea right now."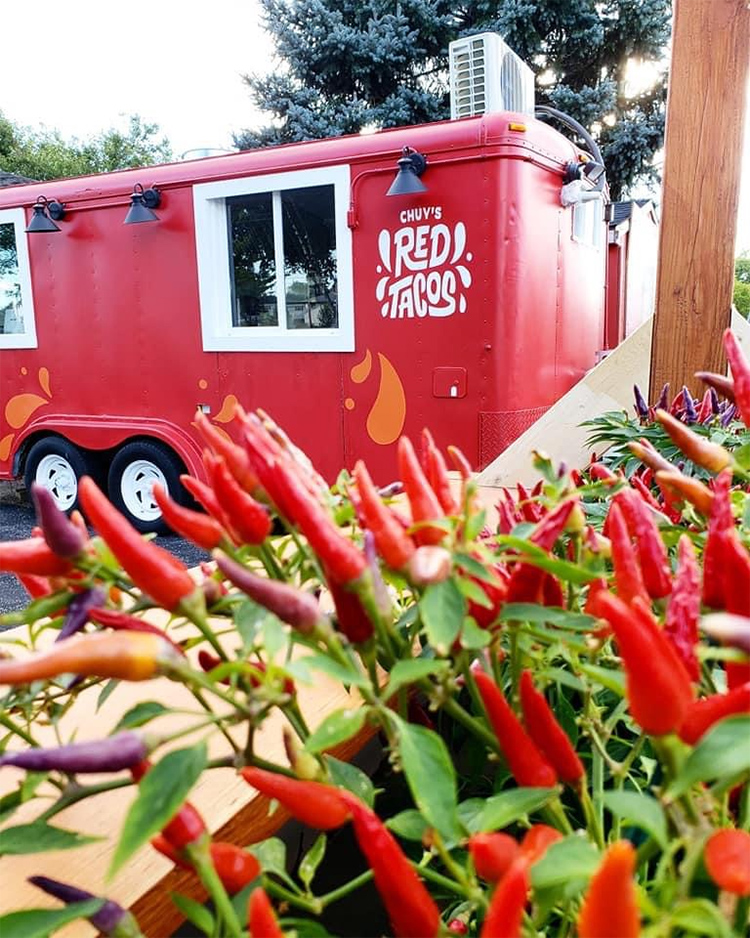 Jesus has lived in Milwaukee since 1996, and is originally from the northern part of Mexico. That part of the country is known for its regional recipes, particularly stews and barbacoa. Barbacoa is steamed beef, usually made in a pot with a method called "bano Maria." It's a method where meat is seasoned, then placed on a grate in a pot above boiling water. The natural juices and seasonings drip down into the water and create a hearty stock. The meat, be it goat or beef, is then shredded and grilled above a flat top. The stock is then simmered with added spices and becomes "consommé."
The consommé is served in a styrofoam cup, usually garnished with lime juice, onions, and cilantro. It is served alongside a crispy taco or quesadilla, which can be dipped in the stock. "It is truly a warming meal, something that is added to the foodie landscape of Milwaukee," Jesus says. "We have a great art, music, and food scene here, and I felt this was something that may have been missing."
Jesus has worked in an organizing capacity for most of his adult life, and knows how an event should run. While working as a consultant for the Layton Boulevard West Neighbors group, he assisted in organizing a concert series held at the park under the 35th Street bridge. "I won the award for dude that threw the best parties in my high school yearbook," he laughs.
This is a skill he never lost, as two of his brainchilds have been resounding successes: Frida Fest, which celebrates the Mexican surrealist icon Frida Kahlo, and Selena Fest, with a focus on the Tejana icon who has been an inspiration for most Chicanx folk who lived through the '90s. "Those festivals will continue every year," Jesus assures me.
Milwaukee will be lucky to see these festivals, bigger and bolder each year, with a cup of consommé in hand.