Milwaukee Record launched on April 7, 2014. Since then, we've published more than 3,500 stories, reached millions upon millions of internet-weary eyeballs, created an awesome annual benefit concert, launched an awesome monthly music video series, helped brew an awesome beer, and ate at every fucking George Webb on planet Earth for some reason. Now, as our third full year of existence comes to a close, we've rounded up some of the best shit we published in 2017. It goes without saying that none of this would have been possible without the incredible support of our many, many incredible ad partners and sponsors, both the ones that have been with us since the beginning and the ones that lent their support this year. And, of course, a huge thanks to our ridiculously talented writers, and to you, our readers. Thank you, thank you, thank you.
Watch the Johnson's Park dinosaur get broken down, taken to its new habitat (January 5)
"It didn't like the move, and we kind of lost a leg, and the body is crushed pretty good, and we had to remove the tail, but I already have a plan for spring on how to rebuild him and get him some fresh paint and get those eyes to light up again. All I need is a name, so maybe your followers can help me there."
A comprehensive guide to finding cats at Milwaukee Art Museum (February 7)
Milwaukee Art Museum's uppermost level is also its largest and most eclectic collection of microgalleries. Boasting a veritable maze of walls with European art, American works, a vast grouping of modern art in The Bradley Collection, and an alternating exhibition in the Bradley Family Gallery, Level 2 saved its best for last…at least in regard to the quality of kitties. While the volume of cats paled in comparison to what Level 1 offered, felines were featured more prominently in the still-respectable sum of cat art. Drossos P. Skyllas' 1955 oil painting "Young Girl With A Cat" was a purrfect (sorry again) start.
Remembering The Bomb Shelter (and Greg Landig) 5 years later (March 9)
"Greg had the idea for the bar and there was no changing that idea. His vision was absolute. When we were putting the bar together, we would frequently discuss some of the ideas he had, and you would just get this glare from him. No compromise," Bomb Shelter bartender Josh Merline says. "This bar had to be like an up north bar where he spent so much time when he was younger."
Hey now, Smash Mouth's guitarist gave a one-star Yelp review to a Milwaukee dry cleaner (March 10)
Hurwitz's Yelping career appears to have been short-lived. Beyond his withering appraisal of Avenue Fabricare's customer service, his only other Yelp reviews are for Dr. Mike's Natural Health & Chiropractic Center in North Hollywood ("They the THE best in town :-)") and Bacara Resort & Spa in Santa Barbara ("I travel for a living and this was by far one of the best resorts I've EVER been to.")
Power chords, snacks, and glitter: My weekend at Ladies Rock Milwaukee (March 30)
I went into Ladies Rock expecting to learn a thing or two about playing an instrument. I didn't think I'd be leaving the camp with tears of joy running down my face. I felt more empowered than I had in a long time. I accomplished things I never thought I would. Over the course of three days, I gained a new confidence I hadn't felt before. I made new friends and had the privilege of spending a weekend with some of the most inspiring and badass women in Milwaukee.
I watched 8 hours of the Milwaukee PBS Great TV Auction (May 1)
The auction itself moves quite swiftly, which most likely generates the constant confusion. The host throws to someone standing at a table full of biddable items and this person goes through these eight items with a guest "table captain"—usually a volunteer plucked from answering phones and put in front of the camera. While the former reads flowery pre-written copy on each item (the word "arresting" is invoked excessively here), the table captain models each offering, usually running their hands along the edges of the item. But sometimes the model engages in more cavalier gestures like caressing or pointing, and in extreme cases, accidentally knocking the item over.
When the night is at its darkest, just remember that Milwaukee has a polka escalator (May 4)
Walk through the 6th Street entrance of the downtown Wisconsin Center (née Midwest Express Center, Midwest Airlines Center, Frontier Airlines Center, and Delta Center), hang a left, hang another left, and you'll come across an escalator leading to the Hilton Milwaukee City Center skywalk. This is the polka escalator. You can tell because, at the top and bottom of the escalator, there's a small black plaque with a button, and the words "PUSH TO PLAY POLKA!" Heed the plaque's instructions and you'll never guess what happens next:
Finding Milwaukee's number one No. 1 Chinese Restaurant (June 1)
Anyone who has driven enough in greater Milwaukee has likely happened upon a Chinese restaurant that boldly claims to be number one (or "No. 1"). At one point, Milwaukee and its neighboring suburbs had eight restaurants with "No. 1" in their name. Currently, the pool features seven such places, including a New No. 1 Chinese Restaurant, a Super No. 1 Chinese Restaurant, and five businesses called No. 1 Chinese Restaurant. Some are part of a franchise and some are unaffiliated. All claim to be No. 1, but only one actually is.
The Gyros Stand sign is a daily, special reminder of Milwaukee's charm (June 8)
More than its quirkiness, though, The Gyros Stand's promotional tactics stand out because they're perplexing. Each day, an employee is tasked with putting in the work to replace a message on both sides of a sign. Yet the message on that sign is usually vague, confusing, rarely accompanied by a price, and not really all that directly beneficial to business. Passersby are left to wonder if the Greek Burger is a new menu item. Is it on sale? If so, how much does it cost? Is it even good? None of that seems to be all that important to The Gyros Stand. At its core, the sign simply seems to be a daily tool to let Bay View know they're still there, they still have food, and they will make that food for you at a cost you weren't aware of until you walked inside the restaurant.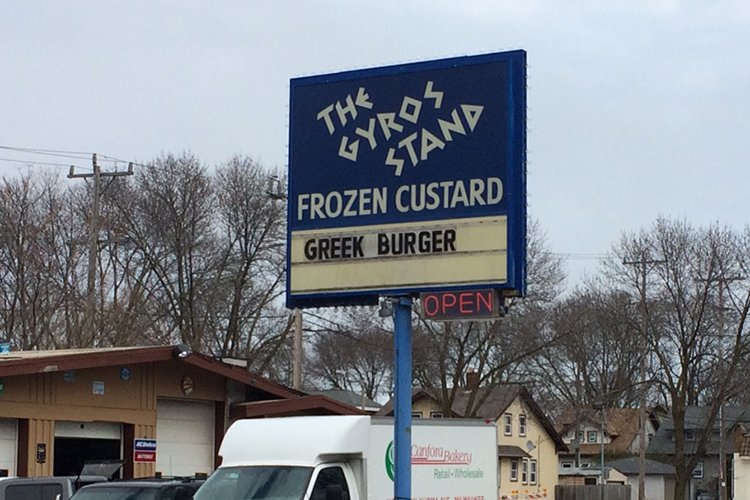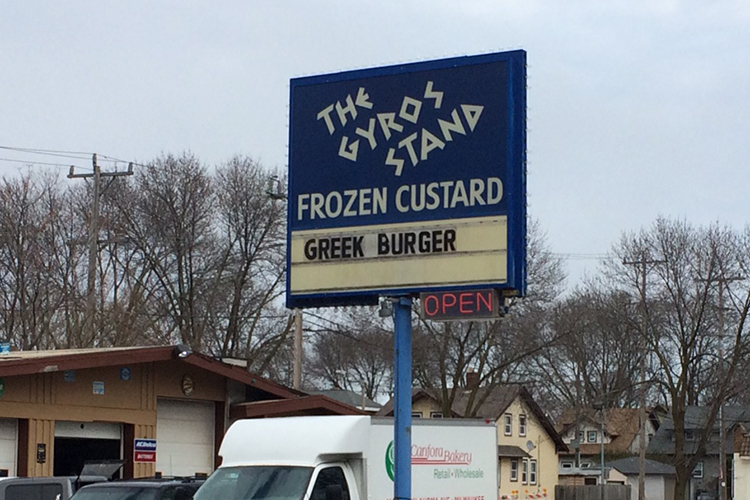 Restaurateur's Don Majkowski holiday results in Don Majkowski visit, drinking with Don Majkowski in Sheboygan (June 13)
"We just had some beers and talked about what was going on in all their lives," Bodow says. "Obviously, everyone is long retired, but what are they doing now? I heard all about Marco Rivera's new business selling plastics."
I saw Corey Feldman play the show of his life, knock his tooth out, and then look for his tooth (June 29)
But let's not bury the lede: At last night's show, Corey Feldman accidentally smashed himself in the mouth with a microphone and totally lost a tooth. And then he spent a good chunk of time looking for said tooth. The GG Allin-style #toothgate occurred roughly 30 minutes into the show, somewhere in the midst of a scorching take on the Dream A Little Dream track "Something In Your Eyes" (co-written by "Rock On" cover singer Michael Damian). I live-streamed the whole show, spending much data in the process. (Hey Mikey, gotta go to the bathroom?) Here's the moment in question:
Review: Taped Music at JoJo's Martini Lounge (Summerfest) (June 29)
With no beer or food stands open, I walked aimlessly in the few remaining minutes before Taped Music was to start. I happened upon Dori Zori from 88Nine, who asked who I was here to review so early in the day. Upon telling her my plan (for the fourth year running) she said something along the lines of "Oh, right. You do that." Yep, that's me! Not growing as a person or improving in any way over time. Wet and wondering why I was even there, I wanted to go back home, but I now heard music coming from the Martini Lounge, so I figured I may as well stay and write about it. I sat down alone.
We used UberEats to get McDonald's delivered to weird and hard-to-find places (July 17)
The Chase Avenue Wendy's location isn't exactly weird or hard-to-find, but we wanted to see if UberEats would dare breech the border of a far superior fast food franchise to make a few bucks. Even entering "Wendy's" into the location field didn't deter McDonald's or the delivery app from possibly inciting a burger beef. We eased the driver's mission by adding the make and model of our vehicle in the Wendy's lot, and within 15 minutes, the driver (Erik) parked beside our car and handed off the goods.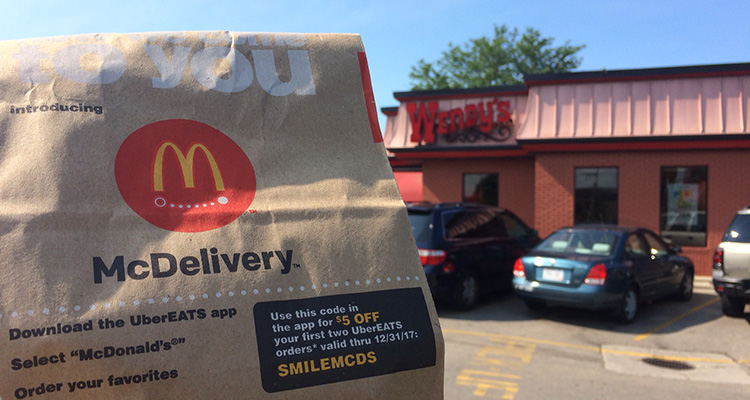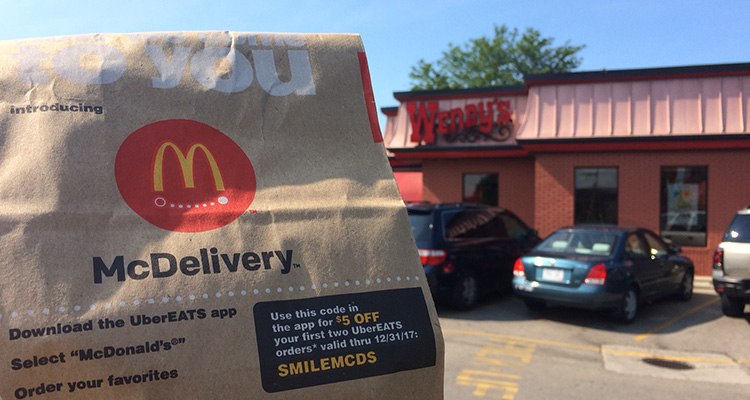 The story behind Kaszube's Park: Milwaukee's smallest, strangest piece of public land (July 27)
At just 0.15 acres (or 610 square meters), Kaszube's Park is Milwaukee's smallest piece of public land. It can also be considered to be among its weirdest. Nestled tightly between a road salt storage silo and a shipping depot that's reminiscent of The Wire's second season, and set across from one of the five sets of rail road tracks that weave through the apocalyptic industrial wasteland, the odd and almost impossible to find park is the last remnant of a once-thriving fishing village. Driving past the desolation on Jones Island—which is actually a peninsula at this point—today, its hard to imagine the area surrounding Kaszube's Park was once home to as many as 2,000 people, and that the settlement's last remaining resident was forced out less than 75 years ago.
A couple had sex in the State Fair bleachers, and FOX6 talked to a mom and son unwittingly sitting in the same bleachers a few days later (August 8)
And yet…and yet…that air again. That heat. Would it really be so strange—so wrong—to surrender to such base animal instincts here, in this modern day Gomorrah of lumberjack contests and bacon-wrapped shrimp tempura on-a-stick? No. No it wouldn't. Let's do this, the crowds mouthed to themselves between bites of day-old cream puffs. Let's have it out. Somewhere in the distance—maybe near the poultry barn, maybe near the big pavilion where you can buy new shingles for your garage for some reason—OnMilwaukee quietly updated its list of "100 things to do at the State Fair"…
I saw a Rock and Roll Hall of Fame legend for $20 at the Racine Zoo (August 11)
I am trying to think of a better way I have recently spent $20, but nothing comes to mind. I didn't turn around a lot to see if other people were getting into the concert, but I was dancing in my seat; being that I was in the front row, it felt like maybe I was hanging out in Booker T.'s backyard. Booker T. did seem to look out at the crowd to see people's reactions, though, with that same smile and charm that you can see him wearing in footage from the 1960s. His face pretty much is saying, "I'm bringing that funky soul blues groove. Forever."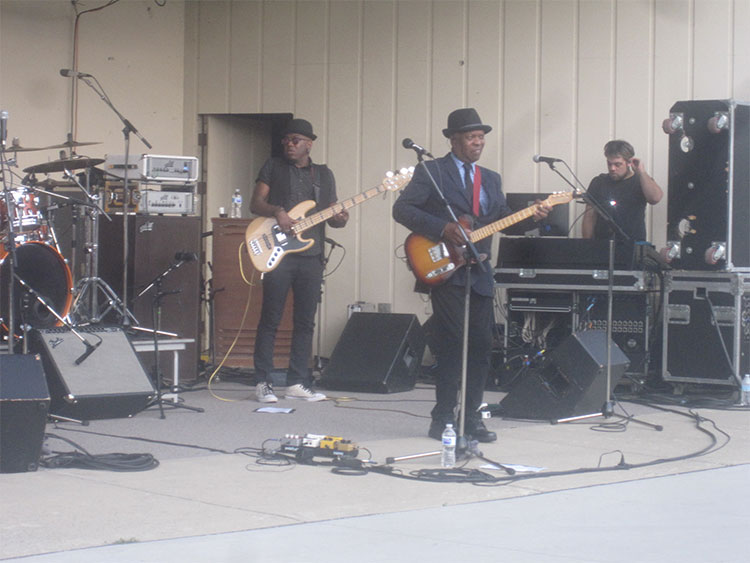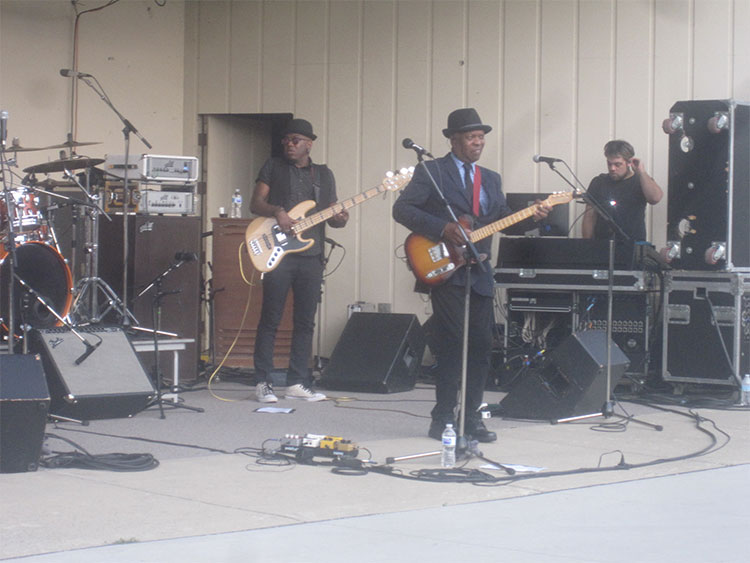 Let's ask the Uecker 8-Ball about the changing face of Milwaukee's East Side (August 16)
But instead of asking the Uecker 8-Ball typical questions like "Will the Brewers have a winning season?" or "What's the deal with the Audrey scenes in the new Twin Peaks? She's in a coma, right?" we decided to ask it about a hot Milwaukee topic: the ever-changing face of the city's East Side, and the ongoing changes in the North Avenue bar district in particular. Fun!
Hear the "Sounds Of Bay View" with this late '50s record (September 7)
Another longstanding neighborhood staple is Bay View High School. While the school, too, has experienced its fair share of changes through the years, it has stood prominently since 1925. Recently, a reader stumbled upon a record called Sounds Of Bay View at a yard sale and was kind enough to share it with us. Based on the names of the faculty and students mentioned, the red LP was likely recorded in the late 1950s, during one of Dr. Bernhard Korn's final school years as principal.
We ate Taco John's with Har Mar Superstar (September 25)
"I love this. This is one of the best interviews ever because you brought me Taco John's and all I had to do was talk about Taco John's."
If you go to WWE Smackdown at the Bradley Center, don't flip off the talent: A cautionary tale (October 23)
I'd had it. This predetermined, choreographed result was a catastrophic outrage! It was paramount that I make my displeasure known, so as Goldberg celebrated on the turnbuckle facing our direction, new title belt in hand, I did what any red-blooded American wrestling fan who went to college during the Attitude Era would do: I flipped him off. I flipped him off so hard. With both fingers. I just knew I'd bum him out if he saw me. (There is zero chance he saw me.)
The 9 inexplicable Gatorade displays at Cudahy's Pick 'n Save, ranked (October 30)
Everyone knows that Cudahy has a lot of streets named after meatpackers. Oh, you didn't know that? Well, yeah, there are a lot. Anyway, did you also know that the Pick 'n Save in Cudahy has a lot of Gatorade? Yeah! A lot. We're regular visitors to the Packard Avenue grocer, and we've noticed that in recent months, this particular store always seems to have an unusual amount of Gatorade on display. Why? That's not our responsibility to figure out.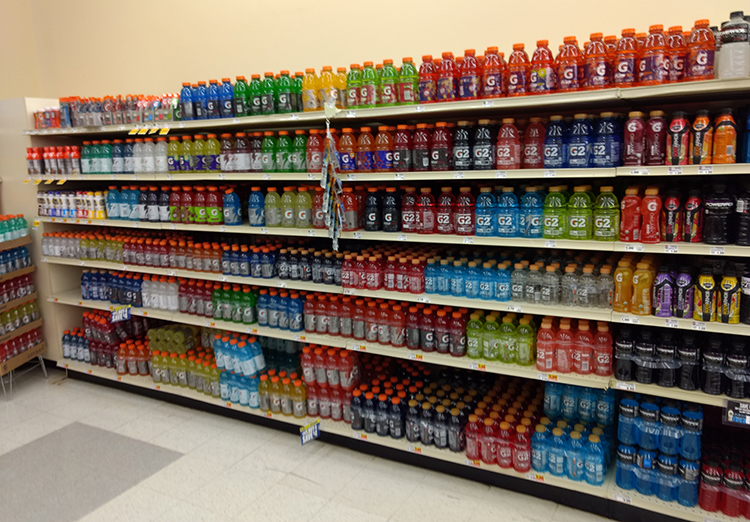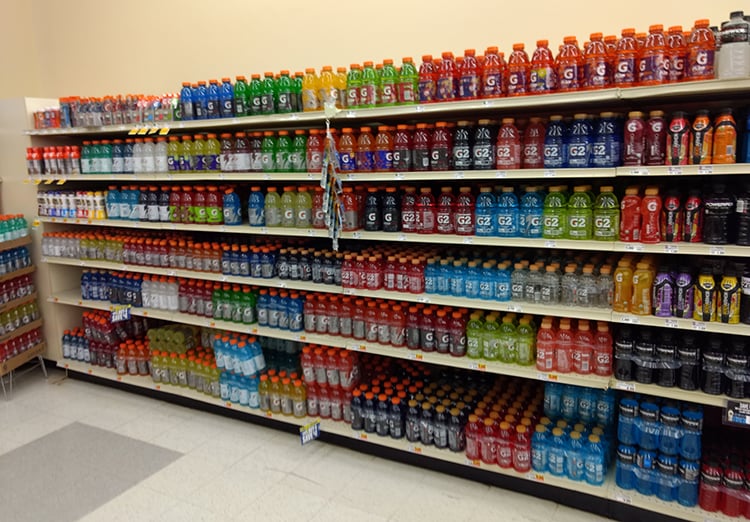 I spent the night at Milwaukee's haunted cigar bar and things got emotional (October 31)
The first thing I thought of when I held my daughter for the first time was death. It had been a harrowing delivery, sure—there was an hour or so when I was convinced I would be leaving the hospital alone—but it wasn't that. It was the sight of new life that made me think of death. New life that would grow old itself, new life that would leave everything dead in its wake. I started crunching the numbers: When my daughter turned 30 my parents would be in their 90s, dead or dying. When my daughter turned 50 my wife and I would be in our 90s, dead or dying. She, too, would eventually be dead or dying. Her children, her children's children, on and on. Unrelenting. Impossible to escape.
I'm still pacing. I'm never falling asleep. I should have brought sleeping pills. Why am I thinking about any of this? Where are the goddamn ghosts?
Watch Andrew W.K. go shopping at American Science & Surplus (November 8)
Yes, now you, too, can watch Andrew W.K. explore the magical aisles of AS&S, picking up everything from oversized rubber "man hands" and miniature "party huts" to lemon-scented candle birds and miniature teddy bears. How about some firecrackers? How about a flask? How about a paint-it-yourself dog head that may or may not be a spaniel? The man knows how to assemble a party pack. All in a Princess Cruises tote bag, no less.
Confessions of Non-Binary Fieri, Yokohama's fourth-place karaoke team (November 30)
Karaoke finals reminded me of childhood dance recitals, but with a lot less hairspray. Thank God. We had custom-made, hand-sewed costumes. We had perfectly planned choreography. We practiced not once, but TWICE to ensure our third-place win. We wanted that fucking $50 gift card. I don't even like ramen! Most of all, we wanted to know our efforts meant something. We wanted to know we meant something.
We tried to eat a Wendy's Go Wrap at every Milwaukee Wendy's during 'The Wendy's Big Show' (December 6)
At 2:01 p.m., we tackle the first $2.01 wrap of the day. It's open at both ends, which is unusual, but it hardly matters as it exists for all of about 10 seconds. Should we just order 11 right away at this first stop and call it a day? On-air, Ramie declares that there will be quite a bit of Badger Football coverage to go along with Packer coverage today. We're still a little sore about Bucky's recent loss so we'd rather not hear a bunch of Badger talk, but whatever. Wraps.