Undoubtedly, one of metro Milwaukee's best amenities is its abundance of amazing parks. The near-150 parcels of public land in Milwaukee County give citizens well-maintained sites that feature golf courses (both traditional and disc), space for festivals and weekly concert events, platforms for public art, pools and beaches, biking and hiking trails, venues for family film screenings, beer gardens, fields for dogs to run around, and so much more.
There are exactly 10 parks in or around Milwaukee that are over one million square meters, and the majority of other parks still offer dozens or even hundreds of acres to suit the populace's recreational needs. As spacious as most are, there are also a few exceptionally small parks in Milwaukee, including three that don't even total a single acre in size. Pompeii Square occupies a paltry 0.4 acres downtown, and Garden Park gives Riverwest residents 0.3 acres of grass (and that heart/Wu-Tang Clan logo rock sculpture) at the corner of Locust and Bremen streets. Compared to Kaszube's Park, though, those parks are endlessly vast fields of wonder.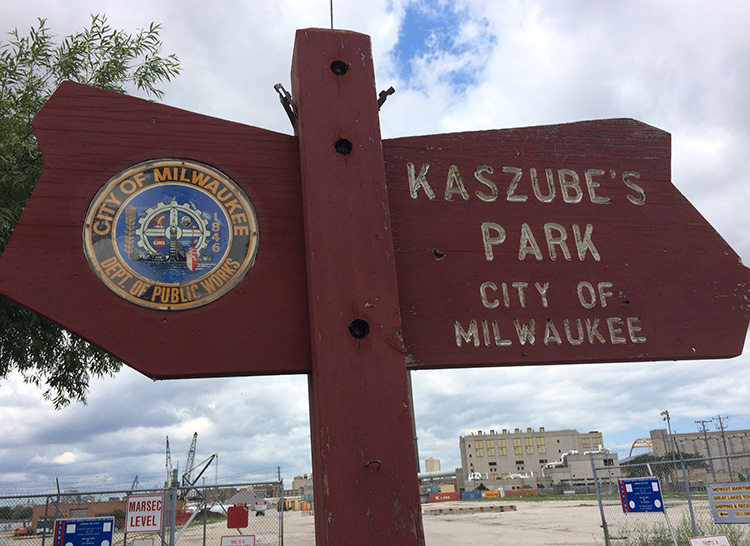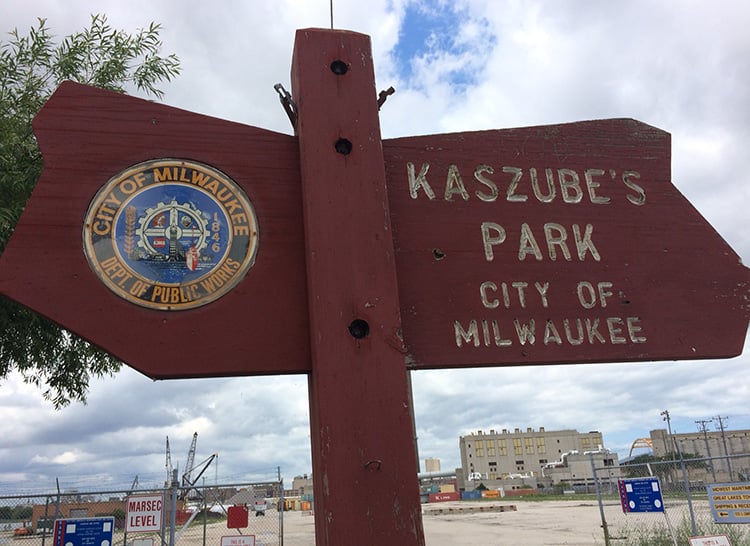 At just 0.15 acres (or 610 square meters), Kaszube's Park is Milwaukee's smallest piece of public land. It can also be considered to be among its weirdest. Nestled tightly between a road salt storage silo and a shipping depot that's reminiscent of The Wire's second season, and set across from one of the five sets of rail road tracks that weave through the apocalyptic industrial wasteland, the odd and almost impossible to find park is the last remnant of a once-thriving fishing village. Driving past the desolation on Jones Island—which is actually a peninsula at this point—today, its hard to imagine the area surrounding Kaszube's Park was once home to as many as 2,000 people, and that the settlement's last remaining resident was forced out less than 75 years ago.
A straight cut channel connecting the Milwaukee River to Lake Michigan that city co-founder Byron Kilbourn brought to being in 1857 suddenly made the marsh island a lucrative place for fisherman. By 1870, Kashubian people, who emigrated to the United States from a European region that's now northwest Poland (and was known as "Kashubia" and "Pomerania" at the time), flocked to Jones Island.
This didn't sit well with the nearby Illinois Steel Company, who took legal steps to remove the island's deed-less inhabitants in 1889. The Kashubians—many of whom were on the island close to 20 years by that point—claimed squatter's rights and remained.
Following some fruitful years on the shores of the Milwaukee and Kinnickinnic rivers in which the population of the quaint island community swelled in spite of encroaching development, the City Of Milwaukee finally took measures to evict Jones Island's residents in 1920. Still, some Kashubians stayed more than two decades after the city stepped in…but not many. By 1939, the population of Jones Island had reportedly dipped to about 20. In 1943, only bar owner Felix Struck and his wife remained. Struck (who sounds like the coolest guy ever) said he just wanted to finish out his few remaining days of his life on the island. He was evicted that October and he died on Milwaukee's mainland in early 1944.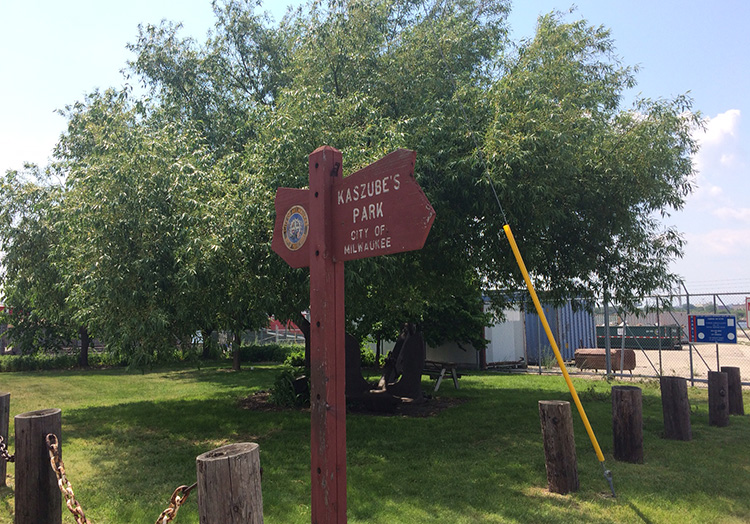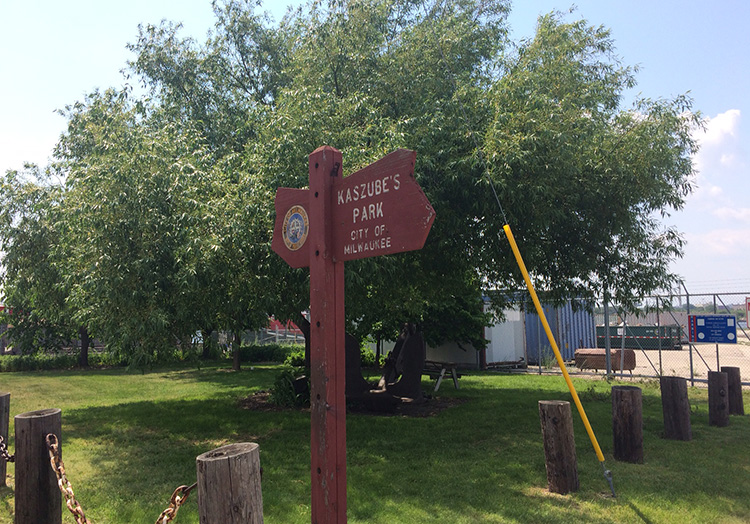 Struck's bar and home, The Old Harbor Tavern, was demolished and is now the site of Kaszube's Park. These days, the park itself is merely a small patch of well-kept grass, a picnic table, 20 wooden posts, chains and an anchor to nod to its fishing past, and a few scattered trees. The six trees at Kaszube's are the only that are left on Jones Island. A natural water outlet was filled in to allow railroad access, thus connecting the island to the mainland. No homes remain. The last one, Struck's, was razed to clear a community site in a portion of Milwaukee that's now devoid of population.
For more than 70 years, this evacuated island fishing community-turned-industrialized peninsula was a significant place where a small group of Milwaukee immigrants worked, played, drank, loved, lived, and died. If you can manage to find Kaszube's Park, you're free to revisit a special time in Milwaukee history, at least in some small way. Emphasis on "small."