Last night, Junior's Hook—a nice neighborhood bar with a more-than-respectable beer list and an inviting atmosphere—celebrated two years in business in its cozy digs at 1517 S. 2nd Street. It's unlikely many people in attendance, and most people in general, were aware that the anniversary of Junior's Hook's first day in business happens to coincide with the last day a previous occupant, The Bomb Shelter, was officially open. With the abundance of bars in Milwaukee, it's not uncommon for a drinking establishment to close with little or no notice. However, no run of a Milwaukee bar ended quite as abruptly as Bomb Shelter, and it's hard to recall a neighborhood tavern whose closure left a bigger hole in the hearts of its patrons.
While preparing to open for Friday happy hour on March 9, 2012 (exactly five years ago today), Bomb Shelter owner Greg Landig died in the bar he loved as a result of a pre-existing heart condition. He was just 46 years old. Within a year, the unabashed Wisconsin bar's bobbleheads and old-time tchotchkes were gone, the Packers carpeting was removed, and Landig's astounding—not to mention valuable—collection of vintage beer signs found new homes. After four memorable years, The Bomb Shelter and its charismatic owner were both gone.
Yet even though the 2nd Street watering hole was quickly replaced by a short-lived rockabilly bar called The Parlor (and subsequently Junior's Hook), the effect the genuine northwoods tavern and its owner had on Walker's Point and Milwaukee is still felt today.
"What made The Bomb Shelter special was the people who came in, from seemingly everywhere, to share a few brews," Alcoholmanac publisher Brian West says. "A community was formed—damn near a family, really—around the vision of one man."
The Neenah native's vision was rooted in northern Wisconsin. Before industrious owners thought to put work and money into conveying the motif through extensive renovations, artificial logs, and the like, Landig seemed to do so effortlessly. There were various pickled eggs, meats, and gizzards behind the bar. That day's Brewers ticket stub was always good for a free mug of Schlitz. During Packer games, a subtle spread of complimentary hot dogs was usually on hand. Modern design trends took a back seat to comfort. It had all the amenities and warmth of a grandmother's finished basement.
"Greg had the idea for the bar and there was no changing that idea. His vision was absolute. When we were putting the bar together, we would frequently discuss some of the ideas he had, and you would just get this glare from him. No compromise," Bomb Shelter bartender Josh Merline says. "This bar had to be like an up north bar where he spent so much time when he was younger."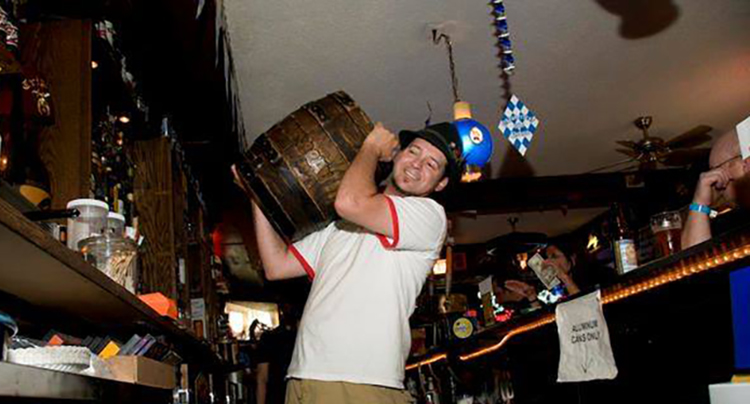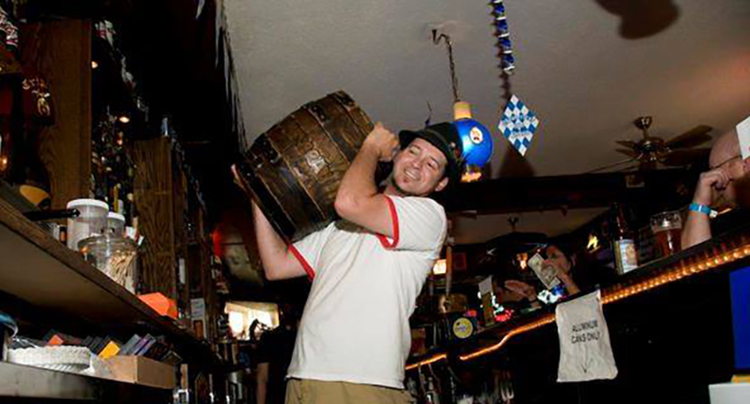 Another thing that made Bomb Shelter special was its amazing and vast selection of beer. Despite its size, the limited tap lines, and the fact that craft beer had yet to truly catch on in Milwaukee between the bar's 2008 open and its 2012 end, Bomb Shelter offered more than 300 types of beer at any time, and sometimes close to 400. After a customer worked through the sheets of fluorescent paper and finally selected a beer, it wasn't uncommon for Landig—or whomever was working—to hoist up a hatch behind the bar and retreat to the basement, emerging a minute or two later with either a domestic standard or a regional rarity you'd be hard-pressed to find elsewhere in the city.
"I originally started going there while Burnhearts' craft beer program was expanding and was always able to order some crazy bottle that I couldn't ordinarily find anywhere else, much less order myself," Burnhearts owner B.J. Seidel says.
There was a beer club, tastings, and a forum for beer aficionados to share their hobby together. At the same time, Bomb Shelter was a place employees at nearby Rockwell Automation could unwind after work, or an ideal setting to enjoy a cheap beer or a meticulously muddled old fashioned (with a rock candy stir stick) while watching a game. It was a place for everyone.
"It was a comfortable, working-man's, kitschy, man-cave environment in which anyone could feel comfortable exploring the vast and growing world of American craft beer," West says. "It wasn't the first place to focus on craft beer in the city, but it was maybe one of the most important, and certainly the most endearing."
By all accounts, Landig was a warm, kind, and joyful man who was passionate about craft brews and an avid collector of beer memorabilia. "Greg could tell you a story about every single one of the trinkets, signs, peeps, or whatever else of the 4.5 billion things in that place," Merline says. "Multiple times a week, he would come in with more stuff."
Merline says Landig "truly treasured his staff," and that he'd often lead group employee outings to Brewer games. His friendliness and affinity for beer also extended across the bar to the devoted regulars, out-of-towners, and everyone else he served. There's a Greg Landig memorial group on Facebook where friends and former patrons post pictures, posthumously wish him a happy birthday or what would've been Bomb Shelter's next anniversary, and toast their old friend with a beer they know he'd love.
Five years ago, Greg Landig's life was cut tragically short and, as a result, so was the existence of an incomparable Milwaukee gem. Neither can be replicated. Yet as the years roll on and new businesses come and go, Bomb Shelter and the lovable owner who gave it life will continue to live on through the customers they served and the lives they touched.
"He was my friend," Merline says. "He was just a great guy."