As unfair as it is, any business that opens shop at 1517 S. Second Street will inevitably draw comparisons to a legendary former tenant of the understated Walker's Point site. In early 2012, Bomb Shelter was forced to close under a shroud of tragedy when proprietor Greg Landig died unexpectedly while opening the bar one afternoon. The loss of one of the Milwaukee beer community's most respected and prolific bar owners left the city at a loss of a bar with 350 beers and an infinite supply of charm. Within months, The Parlor—a place we deemed to be in need of "Rescuing" last summer—tried, and ultimately failed, to fill the colossal crater left by its predecessor in its less-than-memorable two-year run. Now, longtime Champion's Pub bartender Matt "Sherm" Sherman is taking a stab at opening his first bar in the hallowed haunt.
Earlier this month, Junior's Hook swung its doors open. The beloved barkeep-turned-owner has racked up enough good will over the last decade to make his longtime dream worth investigating. Moments into round one of Walker's Point watering hole's existence, Milwaukee Record stopped by Junior's Hook to see if the new bar was punching above its weight or if it has the makings of being a contender for your cocktail consideration for years to come.
The space: Those who recall either Bomb Shelter's ardent adherence to its dual Wisconsin and vintage brewery memorabilia theme or The Parlor's over-the-top Rockabilly/Scarface motif will find Junior's lands somewhere betwixt the two. There's a lot of distributor-gifted modern beer signage alongside matted photos of boxers and yellowing flyers from pop-punk shows from year's past. Remember Fenix TX? Junior's Hook does! More than anything else, the dim (perhaps a touch too much so) and diminutive tavern seems to just be a home for Sherm's favorite things and beverages. Something of a throwback dive in gastropub's clothing, the renovated an polished pub with an impressive number of flatscreen TVs for a place its size is also home to dart boards, a hulking Golden Tee game, and a host of (FOR ENTERTAINMENT ONLY!) video poker and pull tabs machines.
Aside from the darkness of the joint, the only major complaint we can register is in regard to that night's musical selection. Genres changed wildly, from a laid back island song to modern country jam, into a godawful rap song that sampled System Of A Down's "Aerials" within a 10-minute window. We found the audio ADD didn't allow us to ever get fully comfortable in the otherwise relaxing neighborhood haunt.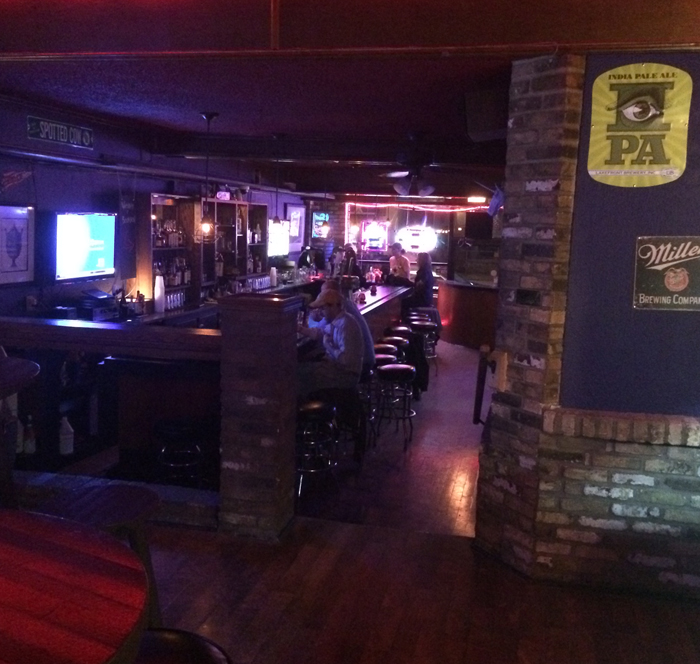 The service: Before we walked into the virtually empty bar between rushes, we were welcomed by what we quickly took to be the bartender, a women between her mid-30s and early 40s chatting with another patron whilst smoking out front, who said she'd be right in. After she made good on her promise, she was very kind and willing to help out. However, her early knowledge of the new bar's drink list had yet to get up to snuff, as she (admitting it was one of her first nights) ultimately failed to answer our guest's inquiry about which Three Floyd's beer was on tap. As far as service issues go, that's small potatoes, though, especially for a bar under 30 days into its existence. Otherwise, she was kind, professional, and quick to assist those seeking to shake for shots.
Milwaukee Record's drinks: With happy hour drawing to a close, we managed to squeeze in a quick round before the daily $1 off everything special subsided. We looked upon the bar's eight draft selections, ordering a Karben4 Fantasy Factory, one of our favorite IPAs. Our guest opted for what he perceived to be Jinx Proof, the aforementioned Three Floyd's mystery beer. We were pleasantly surprised to discover that our pair of pints came to just $7. Other on-tap options currently include Lakefront IPA, Spotted Cow, Miller Lite, Ale Asylum's Unshadowed, Riverwest Stein, and a Flemish sour called Grand Cru.
While nowhere close to occupying the amount of cooler space into which Bomb Shelter packed obscure brews, the number of canned and bottled items Junior's Hook nears 30. Though far from staggering, the bar uses its limited beer bullets well with about two-thirds of its selection devoted to beloved craft and micros from Founders, Ale Asylum, Oskar Blues, New Glarus, Bell's, GreatLakes, and Dogfish Head. The remainders are composed of sudsy staples like Pabst, Heineken, Corona, Coors, and High Life. Actually, High Life is a primary component of Hook's all-day, everyday $5 package along with a shot of Four Roses Bourbon. Though the liquor selection is nothing to write home about, there's more than enough spirits on hand (especially Bourbon) to sate that amateur distiller in your life.
The verdict: Junior's Hook isn't Bomb Shelter, but we're slowly accepting that nothing ever will be. Though we can't forget about the 300-some beers, the veritable smorgasbord of pickled tavern delicacies, and timeless rumpus room motif of a predecessor whose run was tragically cut short, Junior's Hook is a step closer than The Parlor, a more-than serviceable neighborhood watering hole, and a place we'd definitely be open to visiting again.