Chapter 8: Fall Turns To Winter As One Last Obstacle Is Created
My efforts in Chapter 7 place me within striking distance of reaching my goal, but I'm not finished yet! There are still 17 counties to go, with many on the outer reaches of the state. Now you might be thinking to yourself, "Kyle, we don't need to read on. We already know that this story is going to end in a win." Fear not! I added another challenge to the challenge: hit 17 counties all while navigating a brand new world of home ownership! That's right, your bird boy bought a house. That means if I pass this challenge with flying colors, I'm going to spend all of next year just birding in the backyard! But for now, there are counties to get to. Between working sixty-hour weeks, looking at houses, placing offers, and beginning to move into a house, just how much time was left for birding?! Let's find out!
Juneau County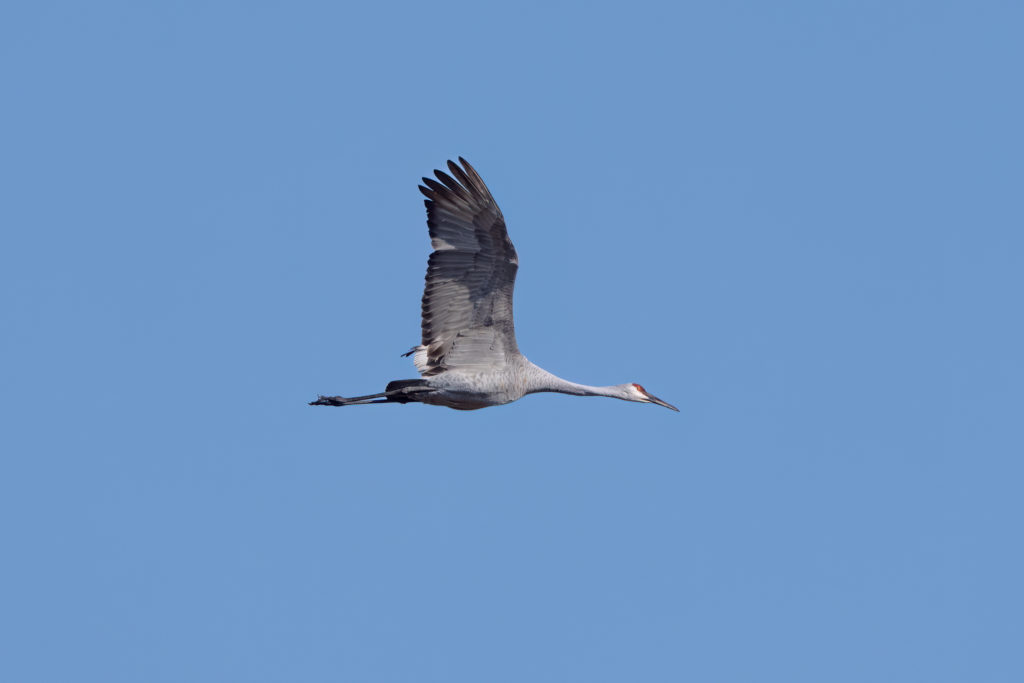 When you're looking at Juneau County for birding, there's a spot too important to ignore. Necedah National Wildlife Refuge is easily one of the top five most important conservation areas in the state of Wisconsin. In the past, it's been integral to restoring Canada Geese and Sandhill Crane populations, and it presently serves that role for Whooping Cranes, Karner Blue Butterflies, Gold-winged Warbler, and Blandings Turtles. I've hailed Horicon Marsh in the past and it's important I hail Necedah, too. They're places that remind us of our state's rich conservation history. A history we should continue in full force today.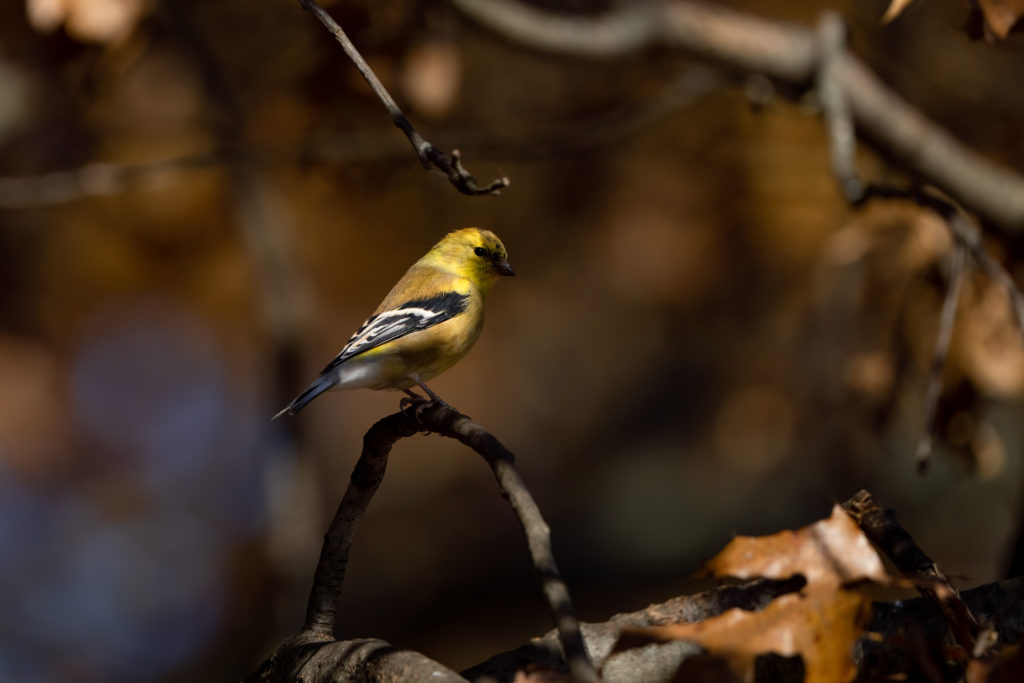 As for my trip to Necedah, I'm coining it Fall Crane-a-palooza. Most of my time birding was done around the Visitor's Center trail loop and it was flush with Sandhill Cranes as they prepared for end-of-fall migration. My conservative count at the beginning of the day started at around 30 and every 10 minutes or so, a half dozen more would glide down to join the main group with their prehistoric trumpeting signaling their arrival. I counted a little under 20 species while there, a few less than anticipated, but every population present had super healthy numbers. I spotted three Bald Eagles, 11 Tundra Swans, over 20 Mallards, and at least 40 Dark-eyed Juncos! Finally, while I didn't see it, I had the distinct pleasure of hearing the triumphant call of a Whooping Crane. Just splendid!
Total Juneau Species Observed: 18
Favorite Juneau County Sighting: the endless sea of Sandhill Cranes
Adams County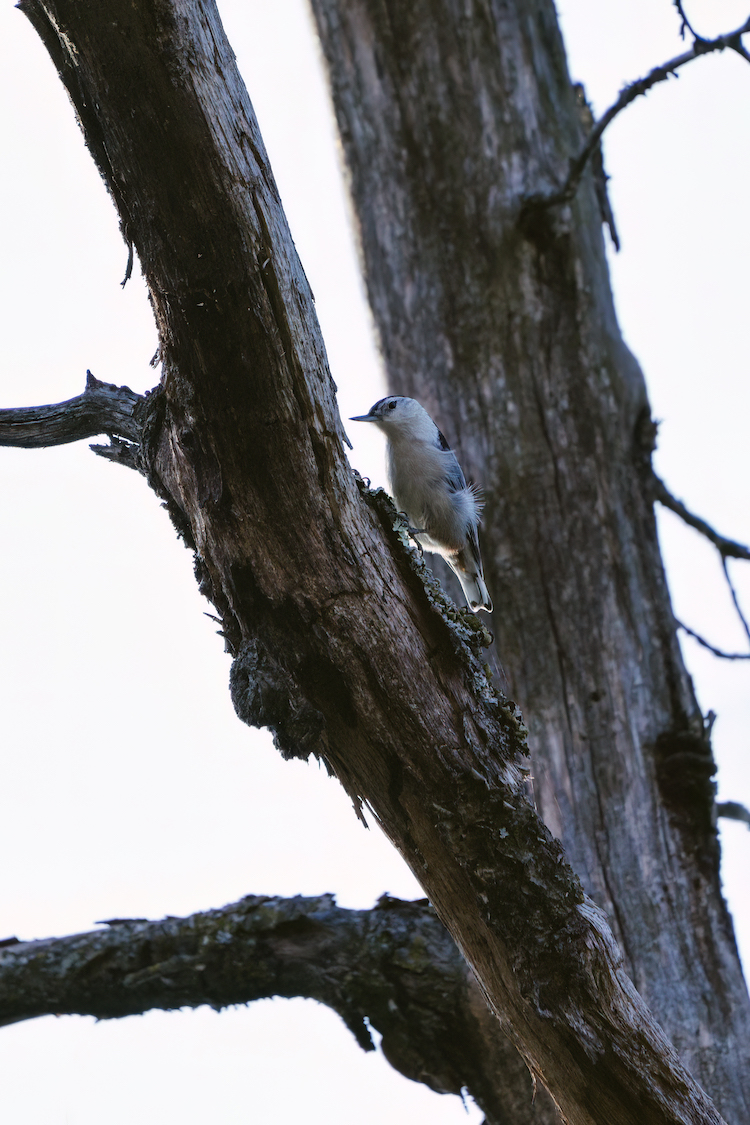 I birded off Chicago Ave Beach on Petenwell Lake in Adams County. I went in blind, choosing the location because of its close proximity to where I was in Juneau County. It turned into a complete dud. I heard a Blue Jay and a few American Crows but little else by the beach itself. On an adjacent sandy road, a pair of migrating Golden-crowned Kinglets whizzed past, then a White-breasted Nuthatch gave me a few okay-ish posses before foraging deeper in the sticks. As I returned to the car, the breeze off the lake reminded me of Lake Michigan and put some of my disappointment to rest. There might not be a lot to see, but Chicago Ave Beach has a calming nature about it.
Total Adams Species Observed: 4
Favorite Adams County Sighting: White-breasted Nuthatch
Menominee County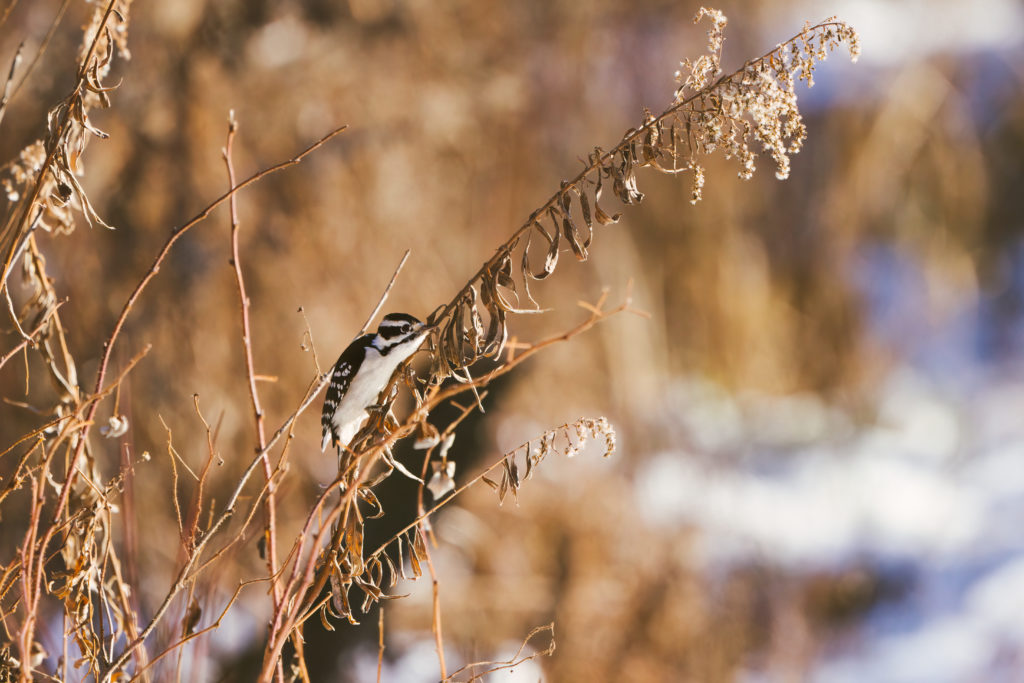 I want to preface this county by giving birders and nature lovers a heads up on laws surrounding native/tribal lands, which all of Menominee County is located on. According to law, unless you obtain permission from tribal authorities, the only birding (amongst other activities) that someone can partake in is roadside birding or birding on any public lands located within tribal boundaries. Please be respectful of these laws.
In complete transparency, I elected to bird on the roadside of Chief Niwopet Park, where I came across a few song birds, including a sizable amount of Black-capped Chickadees and Red-breasted Nuthatches. Squirrels called down on me as I snapped a few pictures of a Downy Woodpecker before calling it a day. In the future I would like to come back to Menominee County, obtaining permission to bird beforehand. While I birded according to the law, I felt I could have birded here with better intentions and care.
Total Menominee County Species Observed: 7
Favorite Menominee County Sighting: Downy Woodpecker
Shawano County
Coming out of Menomonee, I headed to Shawano Lake County Park. This was originally supposed to be one of our stops during the 20-county gauntlet, which occurred during prime migration season. During that season, you can see a ton of fun waterfowl, warblers, and more. What greeted me instead is the thing I worry about most as we head further into winter: a frozen lake and silent trees.
At least the lake had over two dozen Canada Geese, so I knew I wouldn't be snubbed entirely. As time wore on the squeak-toy sound of a Downy Woodpecker called out, followed by some White-breasted Nuthatches. After 20 minutes of chasing shots, the whole park rang out in a chorus of noise. What once seemed like a silent and desolate park revealed itself to be filled with bird life. European Starlings glistened in the skies as chickadees, Brown Creepers, and Dark-eyed Juncos perused the trees. As the chatter ramped up, a large shape nested itself in a pine tree. I rushed over and was graced with the perfect photo opportunity of the great Bald Eagle. If you've read this column the Bald Eagle probably seems like old hat by now, but this one felt special. It gave me an iconic pose, for which I'd been longing. Then it dove out across the lake, driving the geese up and out of the area—what a wonderful interaction.
Total Shawano County Species Observed: 13
Favorite Shawano County Sighting: Bald Eagle
Door County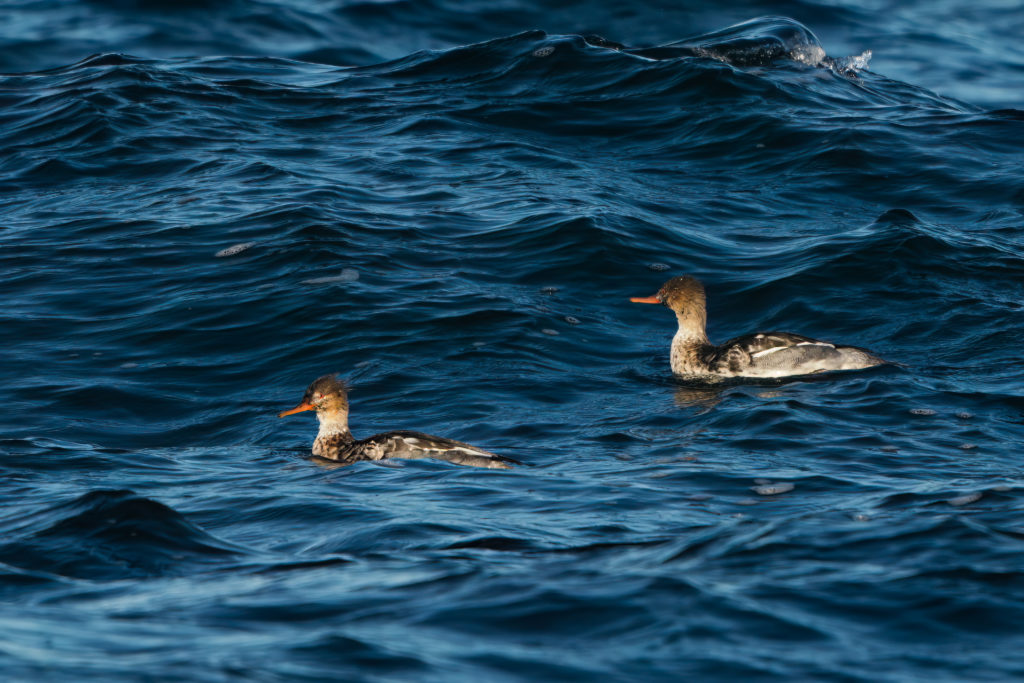 My mother rented a secluded Door County cabin for Thanksgiving weekend and by sheer holiday will the family and I woke up to a flock of seven Wild Turkeys. By the time I grabbed my camera, they had made it out of the house and well down the road. On the way back to the cabin, 10 Canada Geese flew overhead as I fixed my lens on a Downy Woodpecker high up in one of the trees.
Over the next few days, I took a few leisurely walks by the cabin. Green Bay (the bay itself, not the city) was just across the street and one chill morning, I walked its rocky beach, waves rushing to greet me. Every five minutes or so, a small flock of something would speed past en route to its next destination. At points, Common Goldeneye, as well as Common and Red-breasted Mergansers decided to settle in the lake, risking their lives in the rough waters. The gulls kept to the skies. On the walk back, a White-breasted Nuthatch gave me a few nice poses as it poked in and out of forested hidey holes.
Total Door County Species Observed: 18
Favorite Door County Sighting: Red-breasted Mergansers
Kewaunee County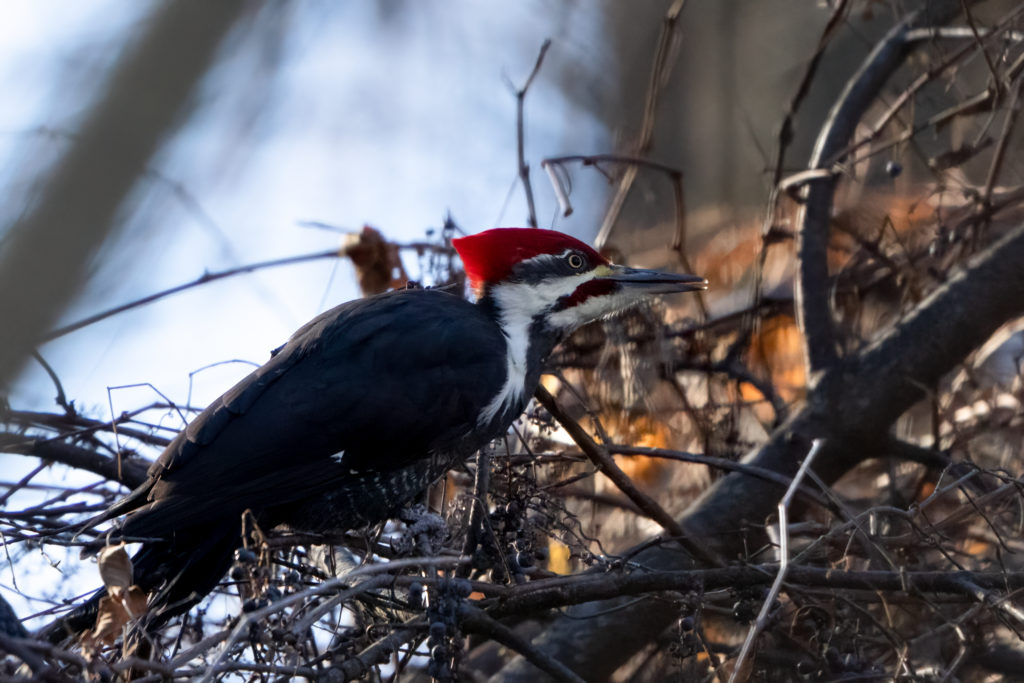 Despite being just south of Door County, Kewaunee County doesn't have a ton of access to the bayside of the peninsula. Most of that is soaked up by Brown County, spare Red River County Park, which is where I decided to bird alongside my wife, younger brother, and sister-in-law. The bay was flush with waterfowl, most too far out to distinguish without a spotting scope. Like Door County, I caught a few pictures of hurried mergansers and Common Goldeneye.
Talkative woodpeckers brought us over to a forested area which gave us our first big gift of the county: a Pileated Woodpecker. We saw one last time in Marinette County, but the sighting was brief and resulted in no photos. This time, the Pileated was less timid, giving our whole group the chance to experience what is by far the coolest-looking woodpecker Wisconsin has to offer. Between its immense size, red mohawk, and loud frequent call the Pileated's charisma is hard to match.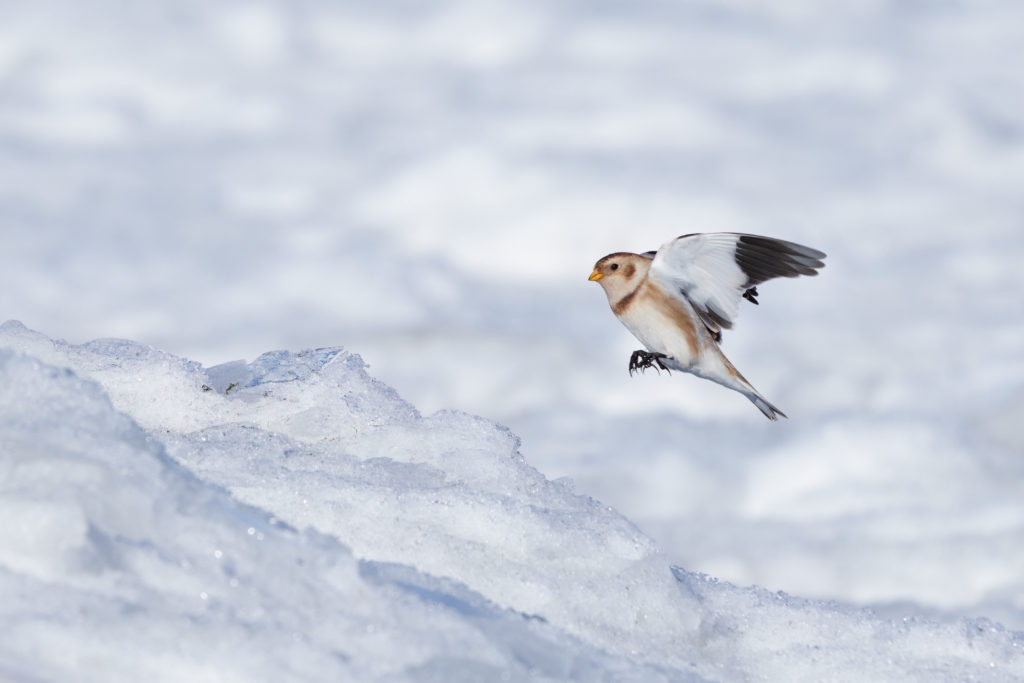 After snapping pics and saying bye we headed back to the beach for a few last shots of the local water birds. As we approached, I noticed a four Snow Buntings scavenging the icy shore, a lifer for me. Snow Buntings aren't super uncommon this time of year…unless you're like me and prefer to hibernate for the winter. This challenge has been a motivator to get out more in the cold, and this sighting proved there's fun to be found. Snow Buntings are just adorable, and watching the four fight with each other as they walked up and around the mounds of ice and shore muck was a treat. After getting my photos, we decided to leave them alone, moving to the other side of the shore. That gave us one more surprise as a mass of Snow Buntings rose up and fled off. I counted at least a dozen Snow Buntings that somehow hid from us until we accidentally scared them off.
Total Kewaunee County Species Observed: 12
Favorite Kewaunee County Sighting: Snow Buntings
Portage & Wood Counties
I've been trying to cross Wood and Portage counties off of my list for a few months. There have been at least three trips where they've been on my list of destinations and time has made me skip them up until now. It felt good to get that monkey off my back.
In walleye fishing, there's a technique called trolling, where you bait and string your lines then "troll" your boat slowly up and down the river hoping to catch a fish. We used a similar technique (except without bait) at Paul J. Olson Wildlife Area, which borders the two counties. In spring, this wildlife area is home to the Greater Prairie Chicken, which has few strongholds in Wisconsin. In fall, the area is dominated by countless birds of prey, which stake claim to the various farmsteads sprinkled throughout.
Unlike this challenge, birds don't really care about borders and we ended up seeing species on both sides of the county line. In Portage County we came across Northern Harriers, Red-tailed Hawks, and Bald Eagles hunting amongst one another. I always caught another lifer—a dainty Rough-legged Hawk. In Wood County, I saw our only American Kestrel. Canada Geese, America Crows, and Mourning Doves were aplenty, while a lone male Red-winged Blackbird rounded the evening out. While I was hoping for an owl sighting, it was really neat seeing the Rough-legged Hawk and other birds of prey again.
Total Portage County Species Observed: 10
Favorite Portage County Sighting: Rough-legged Hawk
Total Wood County Species Observed: 4
Favorite Wood County Sighting: Northern Harrier
I've got about a month to hit nine counties. Just typing those words makes me relieved, but I better not count my Prairie Chickens just yet. We haven't finished moving, and unlike Thanksgiving, my family's not going out to the western part of the state for Christmas or New Years. I'll have to make some sort of commitment to fit this last bit of birding in, but boy it feels good to get this far.
2022 County Count: 63
eBird Checklists: 197
Chances of hitting my goal: You're all clear, kid! Now let's finish this thing and go rest in your new home!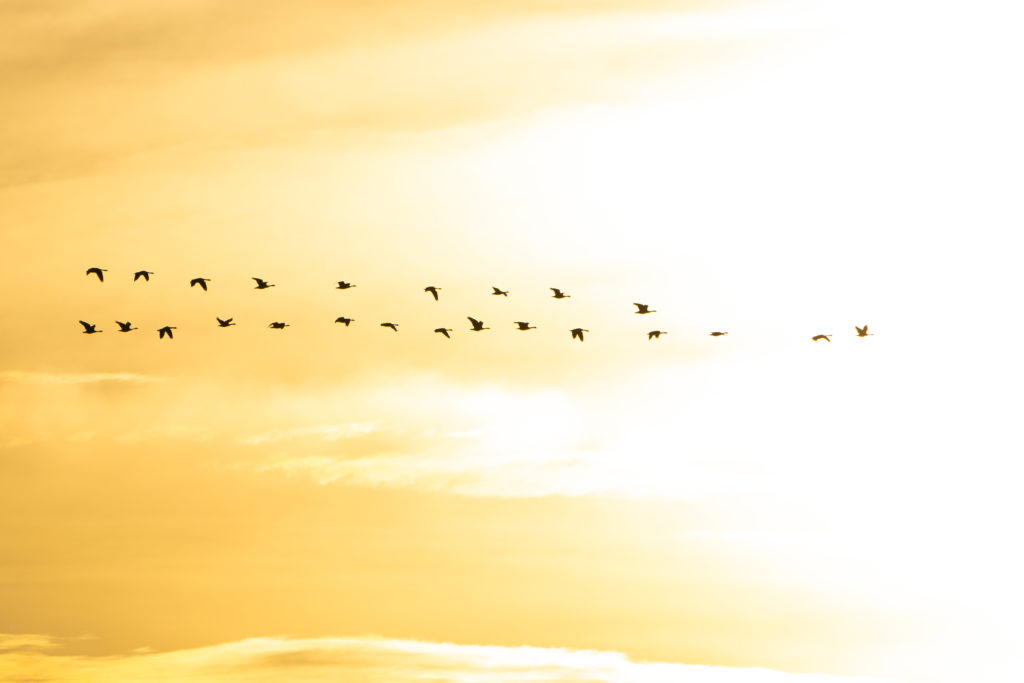 Exclusive articles, podcasts, and more. Support Milwaukee Record on Patreon.
---
RELATED ARTICLES
• Wisconsin Birding Challenge 2022: Exploring every county in the state (Chapter 1)
• Wisconsin Birding Challenge 2022: Exploring every county in the state (Chapter 2)
• Wisconsin Birding Challenge 2022: Exploring every county in the state (Chapter 3)
• Wisconsin Birding Challenge 2022: Exploring every county in the state (Chapter 4)
• Wisconsin Birding Challenge 2022: Exploring every county in the state (Chapter 5)
• Wisconsin Birding Challenge 2022: Exploring every county in the state (Chapter 6)
• Wisconsin Birding Challenge 2022: Exploring every county in the state (Chapter 7)
• Migrating warblers, others bring a world of color to Milwaukee's spring landscape