Chapter 4: Cranes and Lifers During the Dog Days of Summer
When I last wrote, I briefly mentioned summer can be a difficult time of year for birding. Increased temperatures and humidity paired with molting season make July and August the hardest (and least eBirded) months. But I've got a challenge to complete! And my spooky season (September and October) is packed. Don't get me wrong, I have a few birding trips already planned, but I'm a sucker for Halloween's many shapes and forms. So hot temps be damned, I better get a move on! I haven't even hit 20 counties yet!
Washington County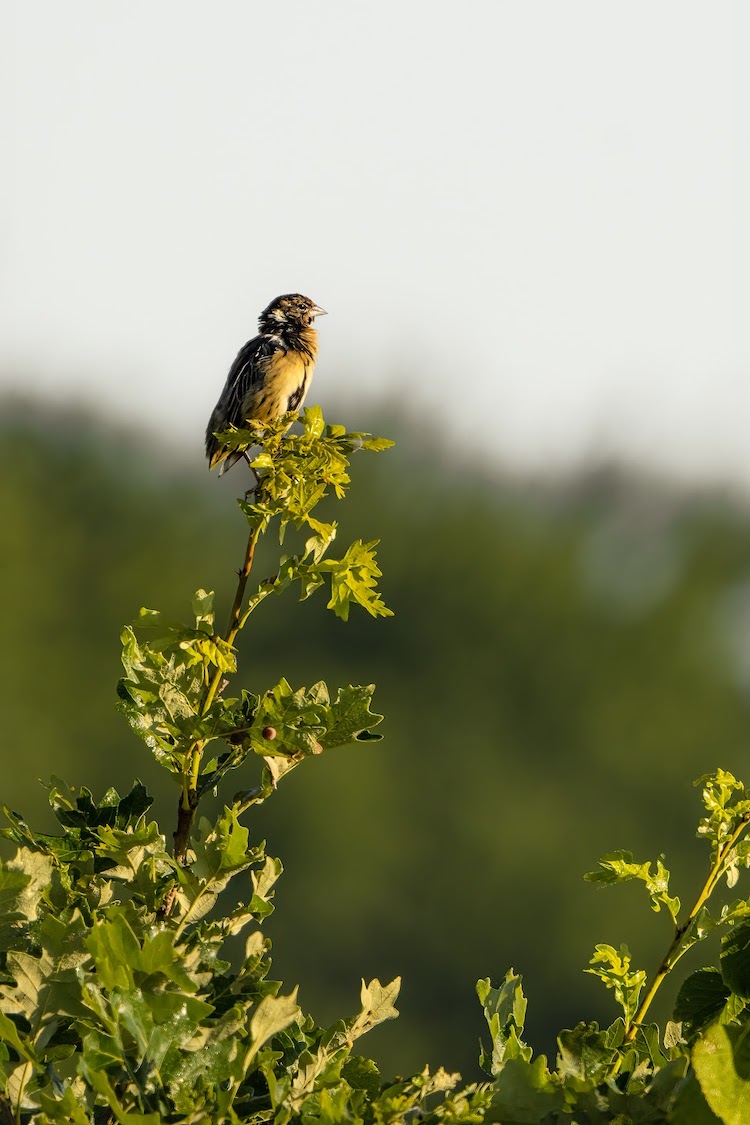 Let me start with a plug—all of the locations I hit in this article are courtesy of the Wisconsin Society of Ornithology's (WSO) list of Wisconsin bird haunts. WSO is a fantastic organization dedicated to bird conservation and birding efforts across the state. If you're interested in birding, I highly recommend becoming a member. WSO's list of Washington County haunts led me to Jackson Marsh State Wildlife Area, and I gotta tell you, Milwaukee—it's less than an hour away from most parts of the city and is filled with birds you'll seldom find here. The area is part prairie, part marsh, and the morning my wife and I went, it was spectacular. I nabbed two lifers with eclectic names, the Bobolink and Dickcissel, alongside warblers, a Red-tailed Hawk, and many prairie song birds.
After soaking up the native flower beds, we made our way to the marsh. While I was ill-equipped to go too far in, there was plenty to enjoy on the outskirts, including the always-acrobatic Barn Swallow and Cliff Swallow. Far in the distance, we spotted a large white, hawk-like bird, but were unable to get close enough to make a proper identification or photograph. It's safe to say that Jackson Marsh SWA is brimming with adventure and mystery.
Total Washington County Species Observed: 25
Favorite Washington County Sighting: Dickcissel and Bobolink—always fun to see something new!
Fond du Lac County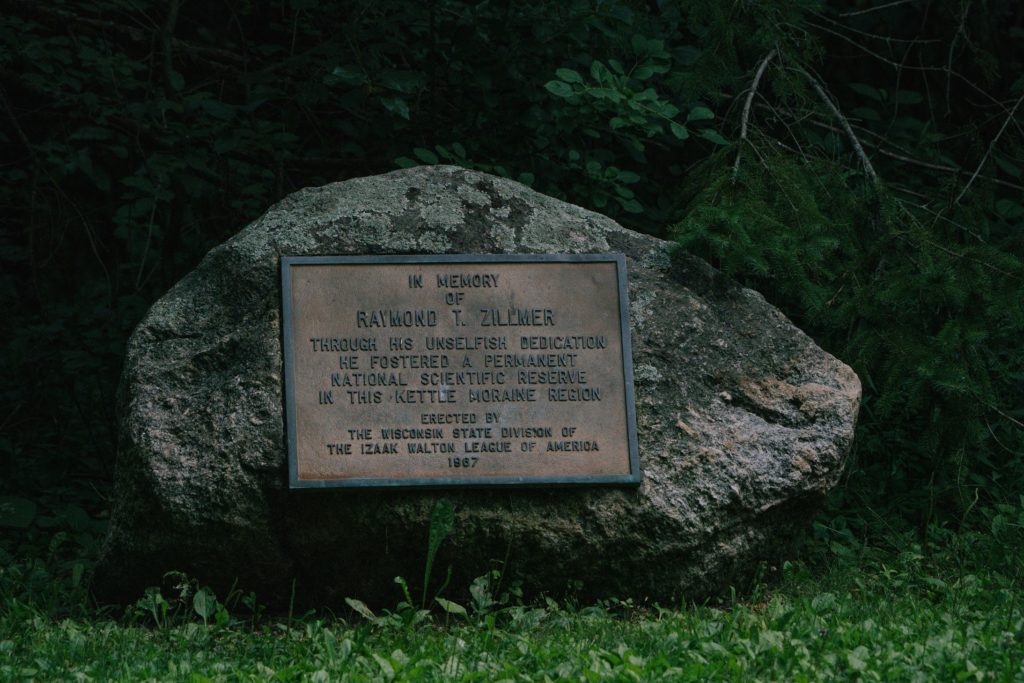 I had hoped to hit three or four counties the morning we birded at Jackson Marsh SWA, but we only hit two. Part of it was due to enjoying our experience in Washington County. The other reason was because of the weather. By the time we hit Zillmer Trail at Kettle Moraine State Forest in Fond du Lac County, temps had reached the high 90s. The birds were as sun-zapped as us, and we recorded only a handful of sightings. Indigo Buntings and Blue Jays were well hidden, but a few Chipping Sparrows came out to greet us as we passed by. Owling is really popular on this trail, and there was evidence of their presence throughout the hike. As we left, I snagged a shot of a Turkey Vulture patiently soaring the skies. Tired and sweaty, we headed for air conditioning, making sure to stop as a Wild Turkey crossed the road. The trail was wide and walkable—a perfect place for group birding.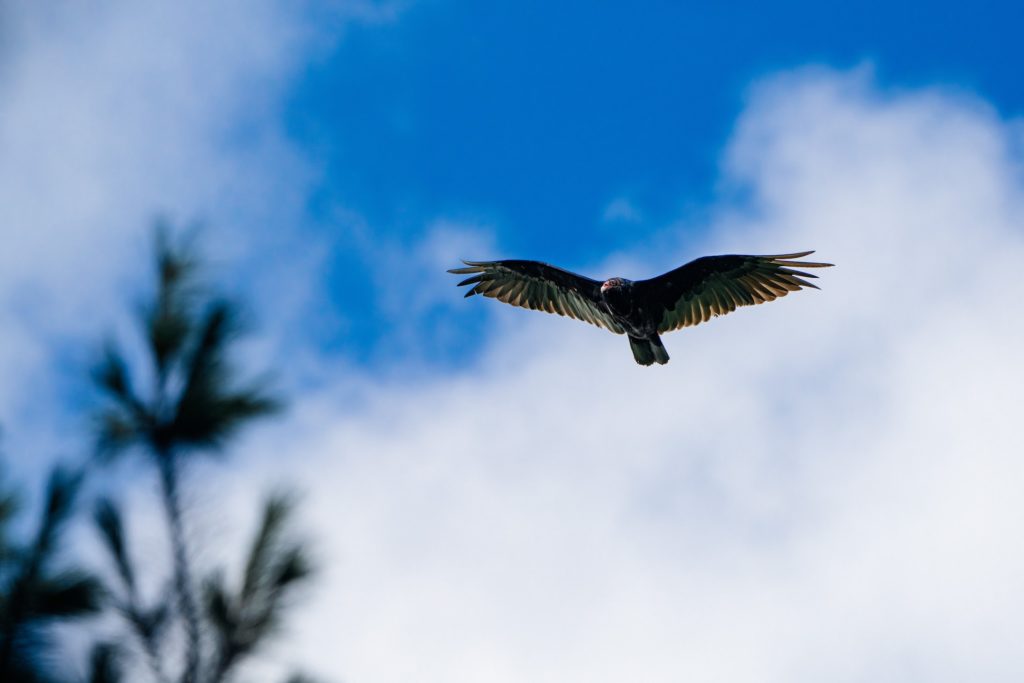 Total Fond du Lac County Species Observed: 9
Favorite Fond du Lac County Sighting: Turkey Vulture
Green Lake County
Speaking of Wild Turkeys, the first thing I did during my birding adventure in Green Lake County was help a woman free a Wild Turkey trapped in some fencing at Tichora Conservancy. Afterwards, the woman told me she used to work at the conservancy back when it was a campground. I told her about my birding challenge and she was in tears, thanking me for keeping the spirit of this space alive. I find nature has a peculiar way of lodging itself into our memories and creating bonds between humanity and the planet we are fortunate enough to inhabit.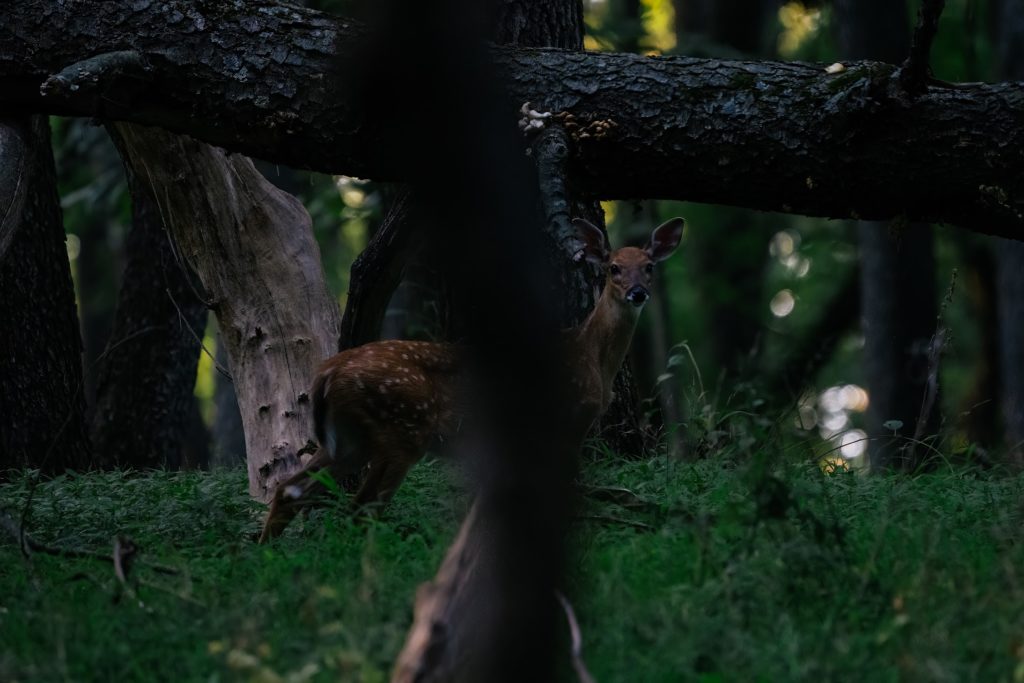 I found the birding here to be abundant, but photography to be hard. Flycatchers, woodpeckers, and White-breasted Nuthatches darted around, concealing themselves behind branches and leaves. I eventually went down to the lake portion of the property, and while there were cool sightings, the sun had dipped too far down to showcase in photograph form. On the way out, I hit a stroke of luck—around a dozen White-tailed Deer fed on the vegetation while the last rays of sunlight came to pass.
Total Green Lake County Species Observed: 19
Favorite Green Lake County Sighting: Just call me the patron saint of Wild Turkeys.
Waushara County
I got up nice and early with the goal of hitting four counties by 9:30 a.m. First up was Launch Creek Wetland State Natural Area in Waushara County. A dense fog had settled in overnight, making for dramatic photography. On my way into the wetland, I came across Sandhill Cranes flying overhead and a flock of Wild Turkeys with their babies in tow. At the location itself, I saw Northern Cardinals, American Goldfinch, and a few sparrow species. The fog lingered on, as did the mosquitoes. So after capturing a few interesting images, I decided to call it a morning and head to my second location of the day.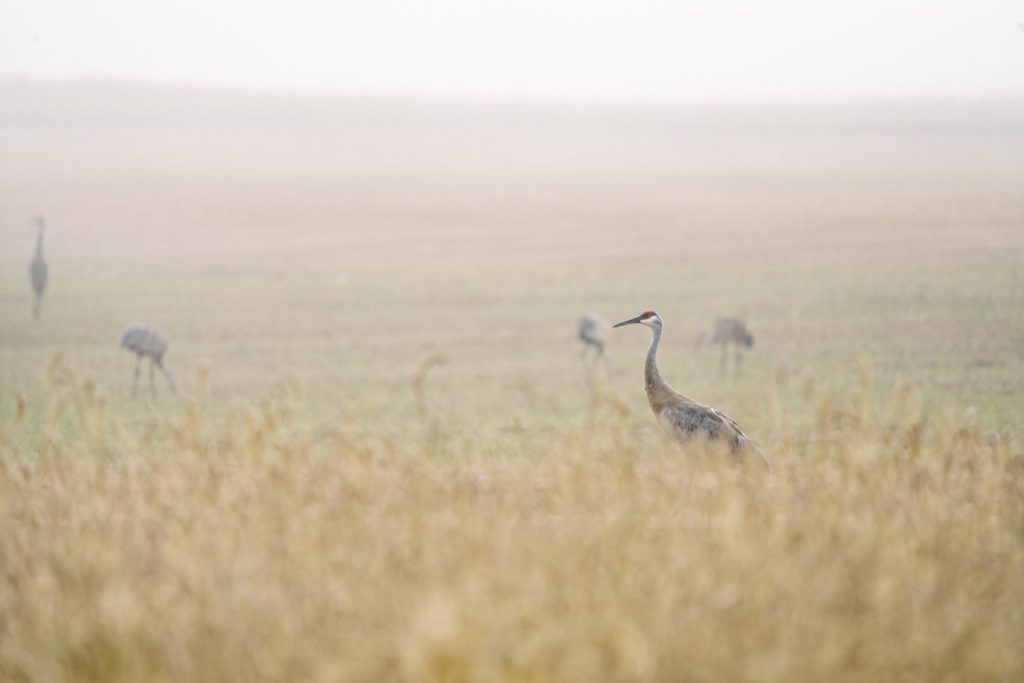 Total Waushara County Species Observed: 11
Favorite Waushara County Sighting: The foggy atmosphere
Marquette County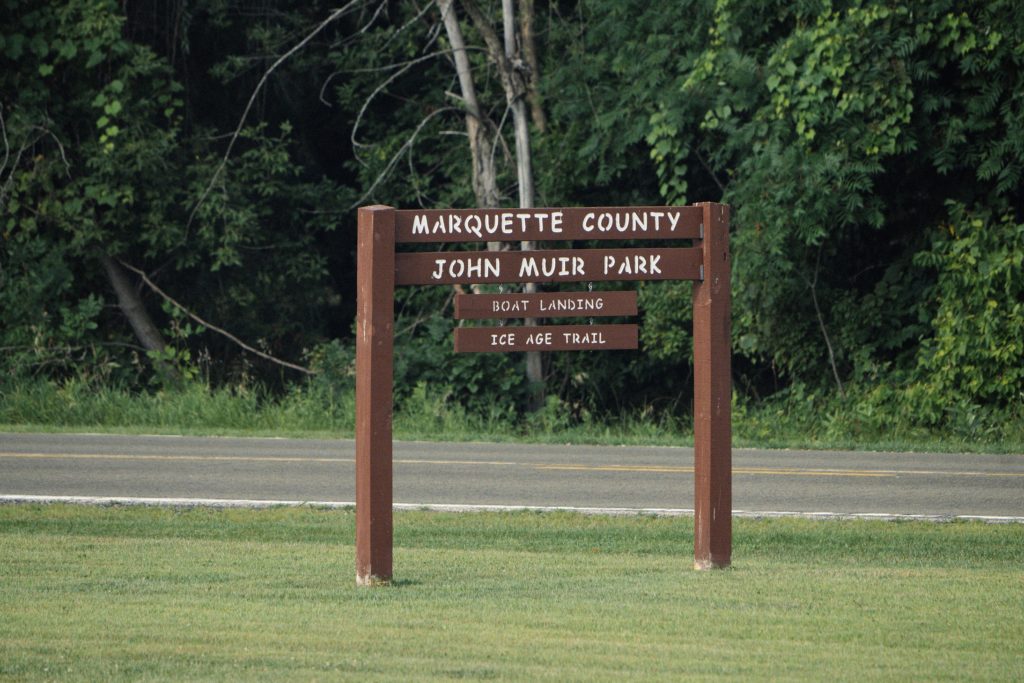 John Muir Memorial County Park was my next stop. Birding was so good off the boat launch that I just decided to stay put. Upon arrival, I caught a Belted Kingfisher, which is always a treat. I also captured Cedar Waxwings and Northern Cardinals. Mohawked birds were in full force here. After logging a few others, I intended to leave for the next stop, but nature had other plans for me. The drilling of a woodpecker caught my attention and I was given my first decent opportunity at photographing a Northern Flicker. I've seen Northern Flickers before, but this one hung on a nearby tree and wasn't the least bit bothered by my presence. The encounter put me behind schedule, but I've grown not to mind this. The beauty behind the challenge is to explore the beauty one can find across this state. The patterning of a Northern Flicker is definitely worth anyone's time.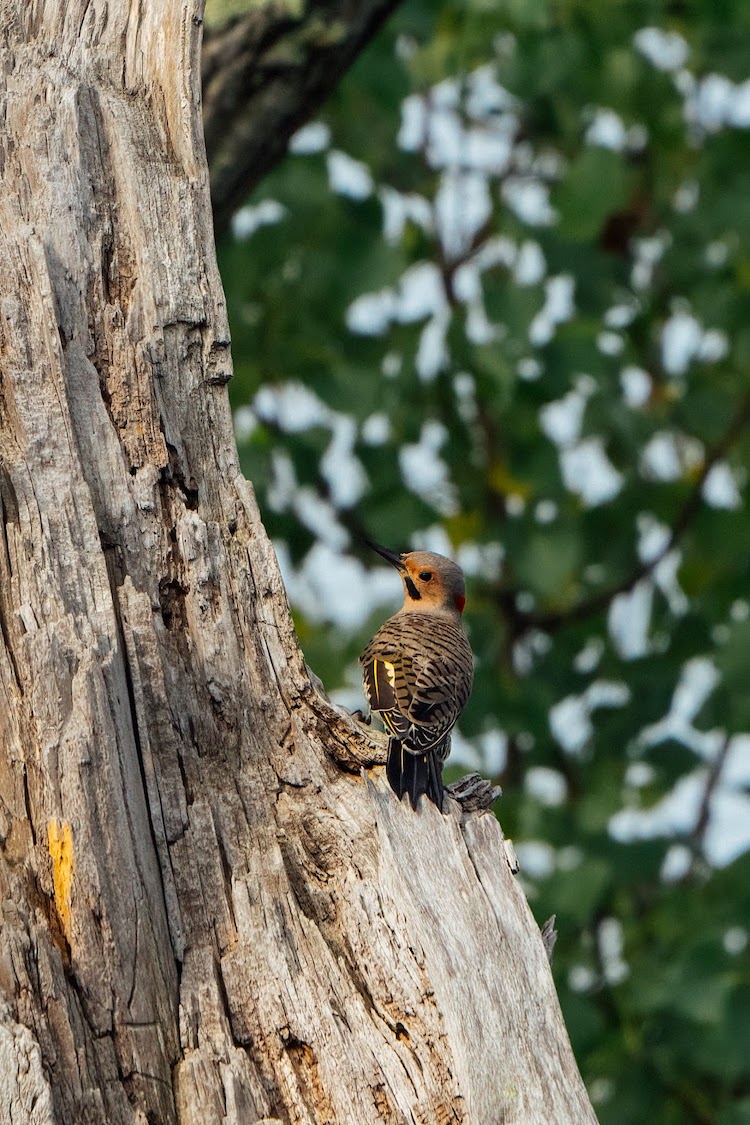 Total Marquette County Species Observed: 10
Favorite Marquette County Sighting: Northern Flicker
Sauk County
The main event for the day was Sauk County, home of the International Crane Foundation. ICF is the only place in the world where you can see all 15 species of cranes, but the foundation is more than just a zoo for large birds. Their conservation initiatives have been integral to Wisconsin's efforts to restore Sandhill and endangered Whooping Crane populations in the United States. They also have a few decent trails where you can bird for non-captive species. The prairie trail was home to Eastern Bluebirds and Kingbirds, Baltimore and Orchard Orioles, a Tufted Titmouse, and Cedar Waxwings. On the way through Sauk County, I stopped off on the side of a road. A half dozen wild Sandhill Cranes touched down in a field and I watched them soar with added appreciation. I've come across Sandhill Cranes a surprising amount of times throughout this birding challenge, and seeing a healthy population here brings a smile to my face. As Wisconsinites, it's something we should all take pride in.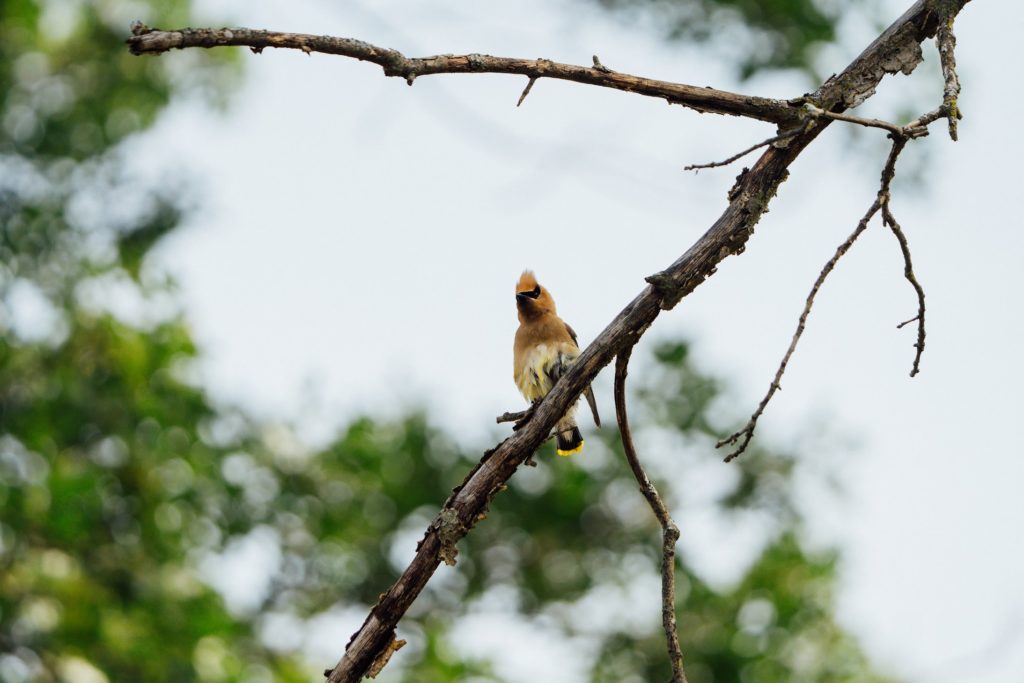 Total Sauk County Species Observed: 16
Favorite Sauk County Sighting: Sandhill Cranes
Columbia County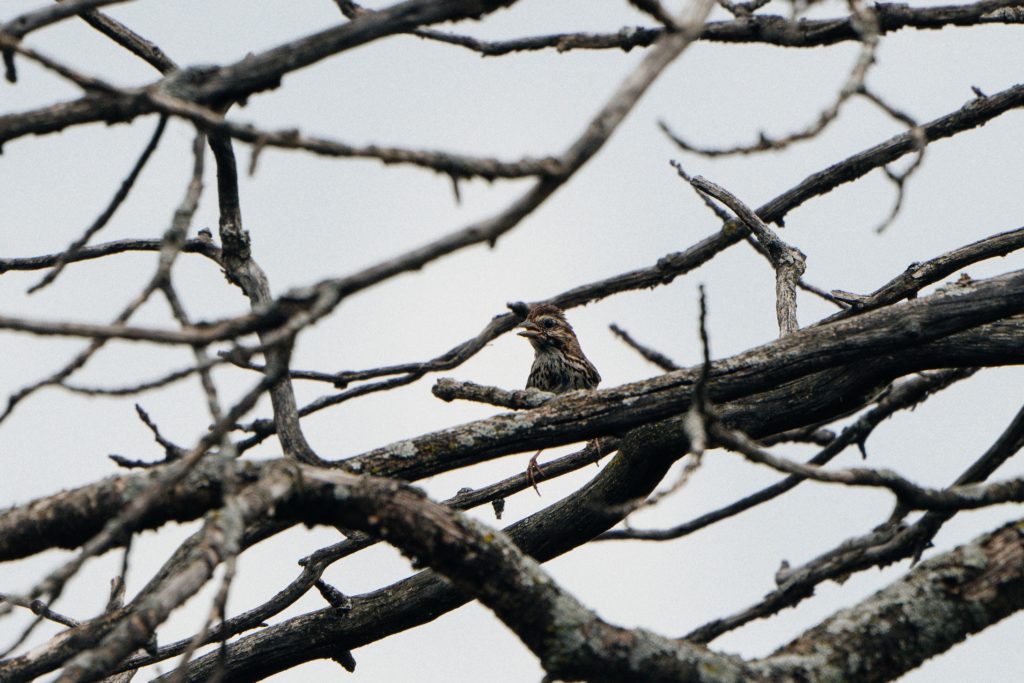 After lunch, I hit the location I missed during my morning county hustle. The Baraboo Waterfowl Protection Area is pretty nondescript, despite being right off the interstate. Much like Zillmer Trail, I hit it during the hottest part of a fiery August day and it turned my brain to mush. I thought I pulled off at a makeshift trailhead, only to find myself swarmed with cattails. I watched a pair of American Goldfinches and more than a half dozen swallows fight each other for a perch. As the minutes wore on, I became a bucket of sweat and left the area. I had half a mind to call it quits altogether, but I'm forever compelled to give spots the 'ol college try. A pond further down the road piqued my curiosity. A chatty Song Sparrow welcomed me, and as American Crows set my eyes to the sky I was able to catch the aerial predator of the area: a Red-tailed Hawk. Over the past few weeks, it felt like the only bird of prey out there were Turkey Vultures, so the Red-tailed Hawk felt like the reward I deserved for giving this location a second shot. I didn't see much, but was proud of the effort I put in.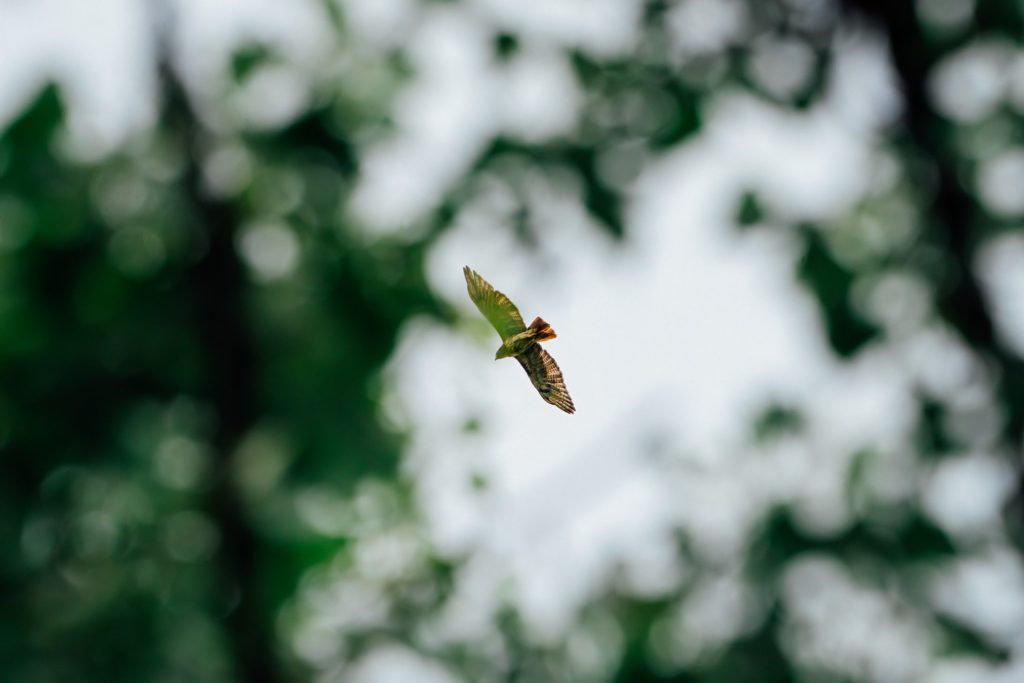 Total Columbia County Species Observed: 7
Favorite Columbia County Sighting: Red-tailed Hawk
Seven more counties down as we reach the end of August. That leaves me with…oh boy…50 counties left to visit in four months. Something tells me these articles will have to start getting longer. But hey, we're getting out of the dog days of summer! Migration always brings out the motivation, so you can bring a guitar and call me amped! Time to go bird-crazy as I head into the fall!
2022 County Count: 22
eBird Checklists: 103
Chances of hitting my goal: I have a bad feeling about this.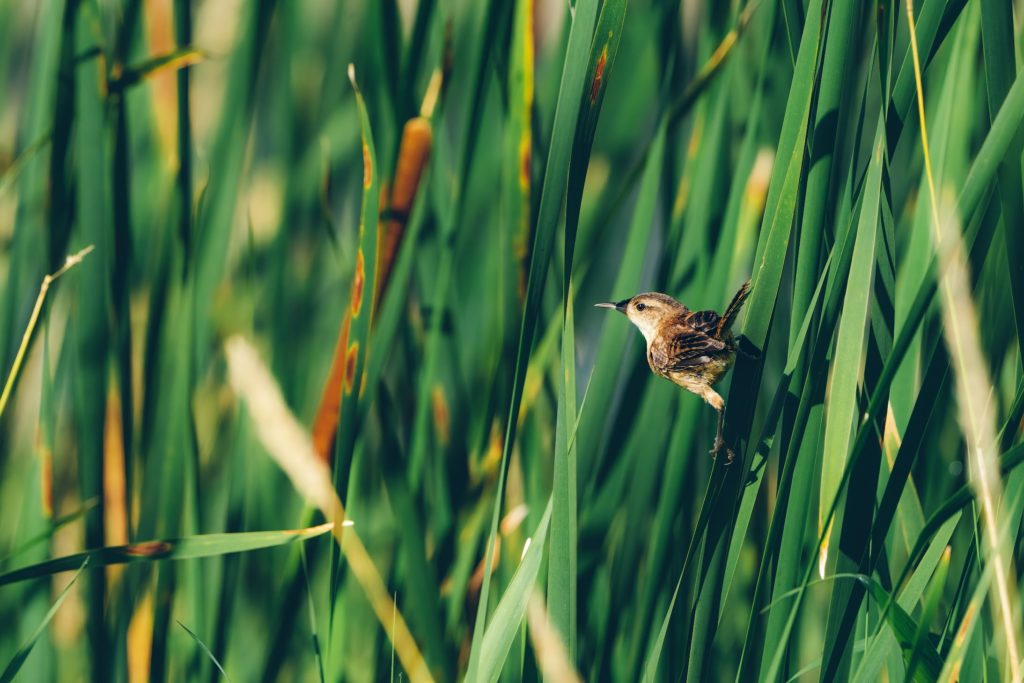 eBirding Tip: As I stated at the top of this article, by becoming a member of the WSO, you gain access to a detailed description of Wisconsin's very best birding haunts. Each county has a list of locations, and each location has a breakdown of habitat, anticipated species throughout the year, and directions for exploring a location. Like WSO's haunt list, the explore function on eBird will give you local hotspots. While it's not as detailed or refined as WSO's list, eBird's hotspot function comes with a variety of data, including the ability to see what birds were most recently spotted in the area. Combined, the two resources serve as a way to find new birds at iconic birding spots.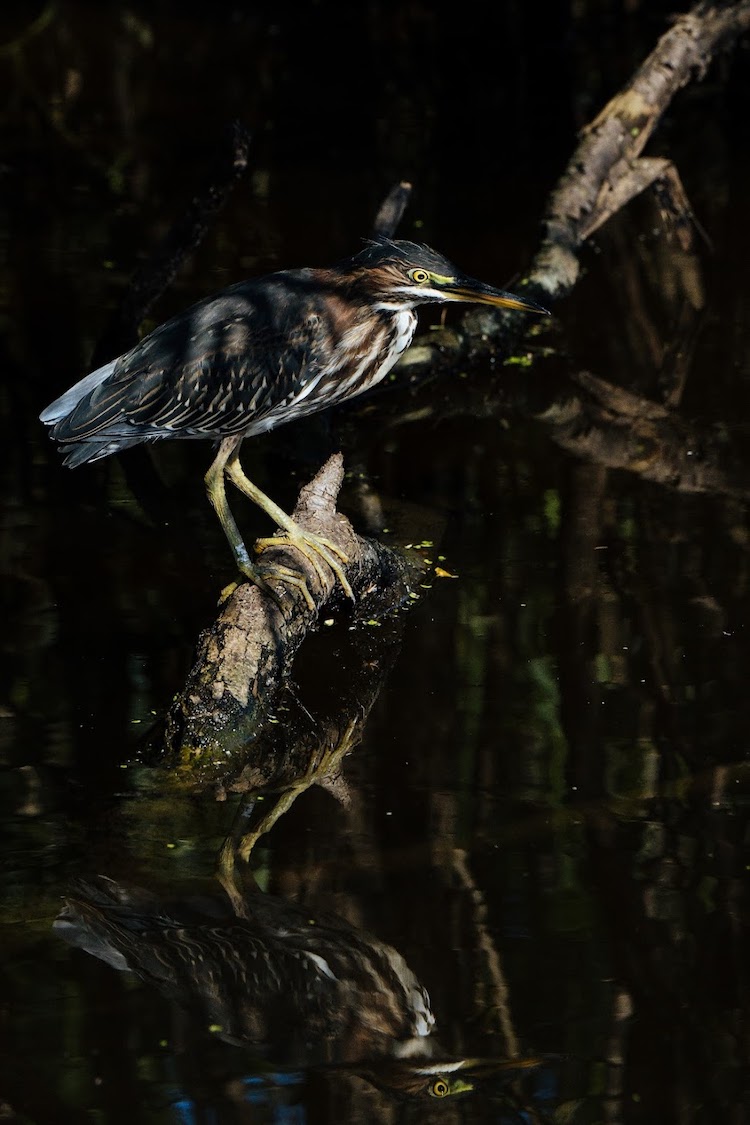 Exclusive articles, podcasts, and more. Support Milwaukee Record on Patreon.
---
RELATED ARTICLES
• Wisconsin Birding Challenge 2022: Exploring every county in the state (Chapter 1)
• Wisconsin Birding Challenge 2022: Exploring every county in the state (Chapter 2)
• Wisconsin Birding Challenge 2022: Exploring every county in the state (Chapter 3)
• Migrating warblers, others bring a world of color to Milwaukee's spring landscape