Summer in Milwaukee is the best; summer in the Midwest is even better. Join Milwaukee Record and Miller High Life July 22-29 as we search the city and beyond for the Spirit Of Summer.
Tucked behind Delaney's Surplus store on U.S. Highway 12—about 100 miles west of Milwaukee, outside the town of Sumpter—a towering, spacelike contraption stretches 50 feet toward the sky, prepped and ready to send its creator shooting to the heavens just when the time is right. That contraption is the Forevertron, the world's largest scrap-metal sculpture, and its creator is Dr. Evermor, a wizard of welding and art who's created a magical park surrounding his grandest creation.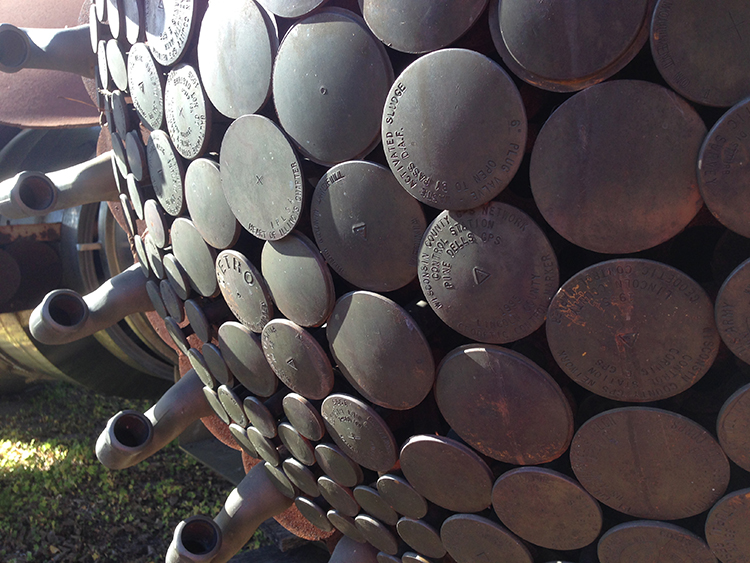 When pulling into the unassuming gravel parking lot and turning the corner around a chain-link fence, you can catch a glimpse of the crystal-copper egg and gleaming spires that top the Forevertron, but nothing quite prepares you for the scrap-metal mecca that lies behind it. The park spans a handful of acres, the Forevertron at its center, and is punctuated by whimsical creations of manipulated metal—a 50-foot beetle, a 20-foot buzzard, and groupings of smaller intergalactic creatures that startle and surprise with anthropomorphic detail. Every piece that takes residence in the park was dreamed up, welded and placed by Dr. Evermor himself, an artistic genius who built the steampunk sanctuary in pursuit of finding peace.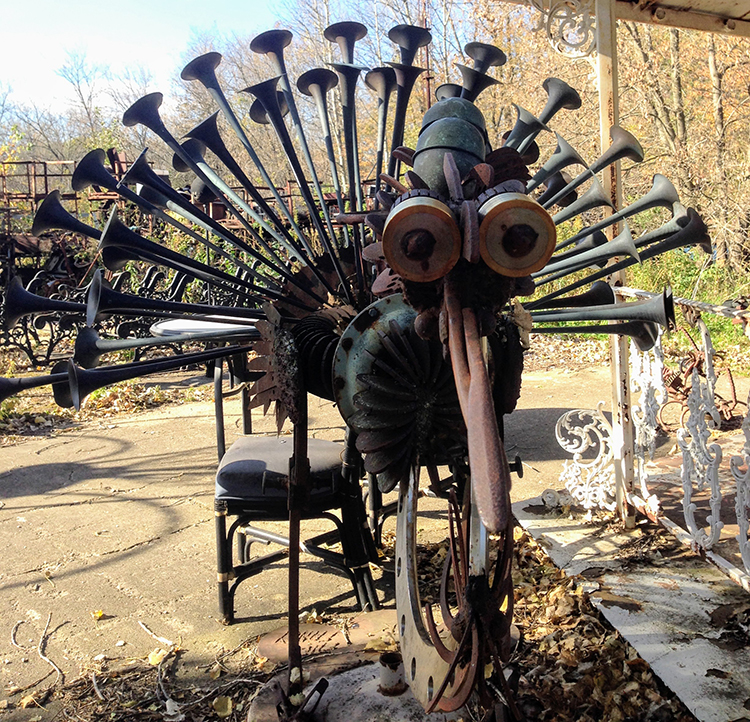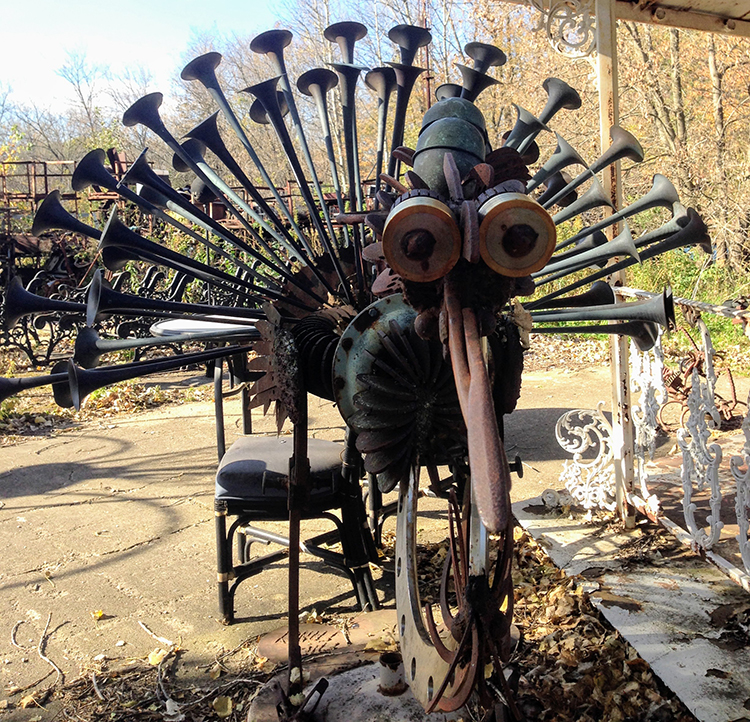 Dr. Evermor is the self-appointed moniker of Tom Every, an octogenarian and former industrial wrecker who took up scrapping at an early age. He continued that passion into adult life, and eventually amassed a large collection that he couldn't drive himself to part with. In the 1970s, Every befriended Alex Jordan, the mastermind behind another of Wisconsin's weird and wonderful attractions, House On The Rock, which also houses a few of Dr. Evermor's metal art installations. It's said that after a difficult falling out between the two eccentric friends, Every fell into a deep depression. As a way to cope with his sadness, he dreamed of the Forevertron and focused on turning his scrap-metal collection into the spaceship that would one day pilot him to his next existence on a magnetic force field to heaven. He's been at work on the Forevertron—and the mystical world that surrounds it—since 1983.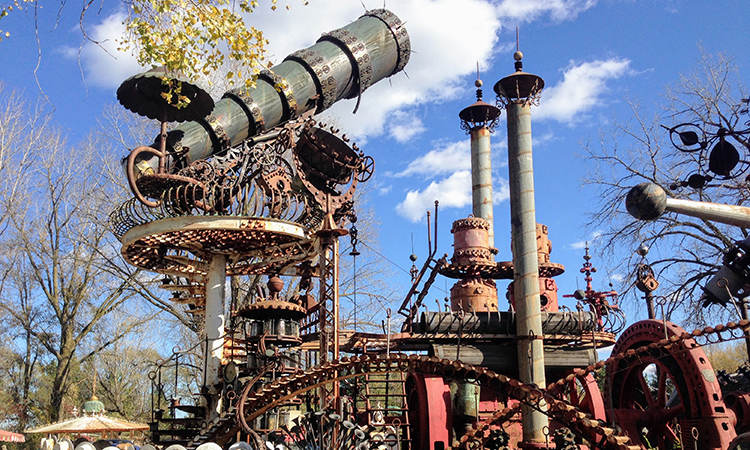 The Forevertron is imposing and inspiring—at over 300 tons, 160 feet long and 50 feet high, it holds the Guinness World Record for the world's largest scrap-metal sculpture. But within this gigantic contraption lies intricate detail made of mostly unmodified parts salvaged from power plants, X-ray machines, breweries, river barges, as well as two Thomas Edison bi-polar dynamos and genuine pieces of the decontamination chamber of Apollo 11. Yes, that Apollo 11. It features a gigantic telescope intended for naysayers to gather and watch the liftoff with their own eyes once Dr. Evermor is catapulted into the skies, as well as a space capsule made of a crystal ball framed by a copper egg. A gazebo perched above it all is open for those who'd like to witness the blastoff in person, and a myriad of helpful contraptions surrounding the Forevertron are positioned to aid in its launch. All of these things, including the behemoth spacecraft itself, were created without drawings, blueprints, or designs.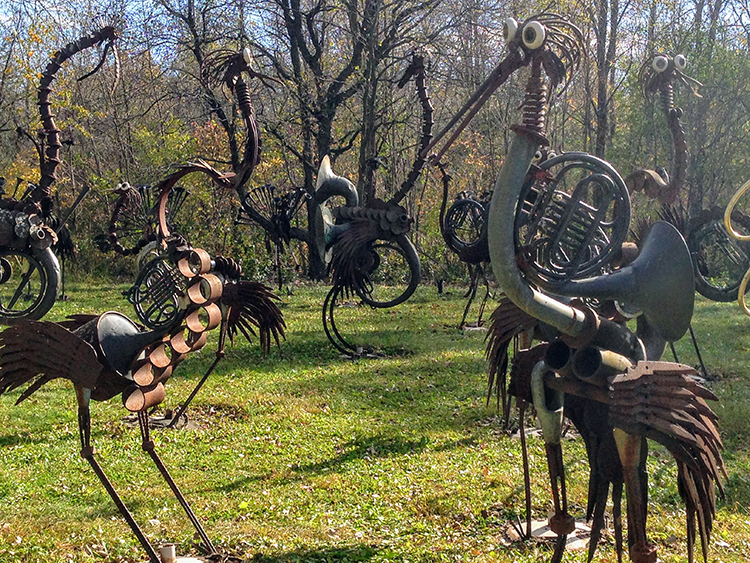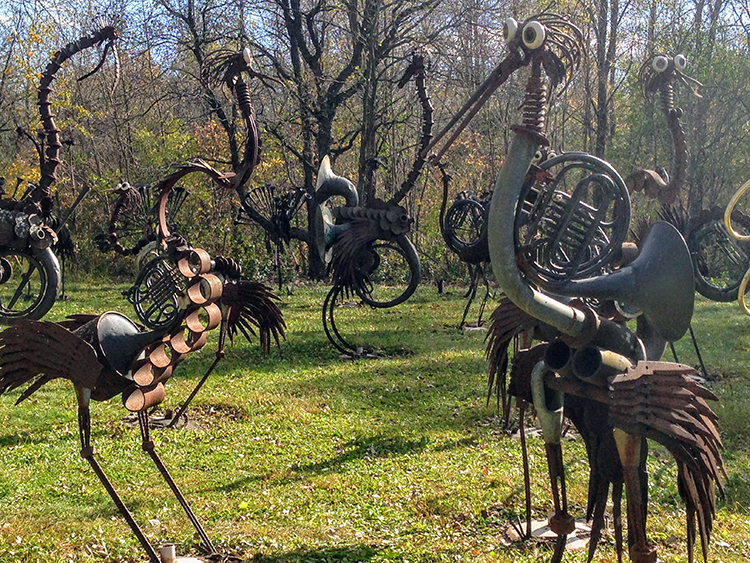 Meander around the grounds surrounding the Forevertron and you'll be whisked into another world. Googly eyes and wide-mouthed smiles beam from creatures made of carburetors and bedsprings. Cheshire cats grin as they prance along the landscape, and a 70-piece bird band—yes, 70 scrap-metal birds wielding their individual musical instruments, complete with a 10-foot-tall wild-eyed conductor—infuse the park with artful magic. Everywhere you turn, there's another mechanical friend to meet, another inventive sculpture to ponder.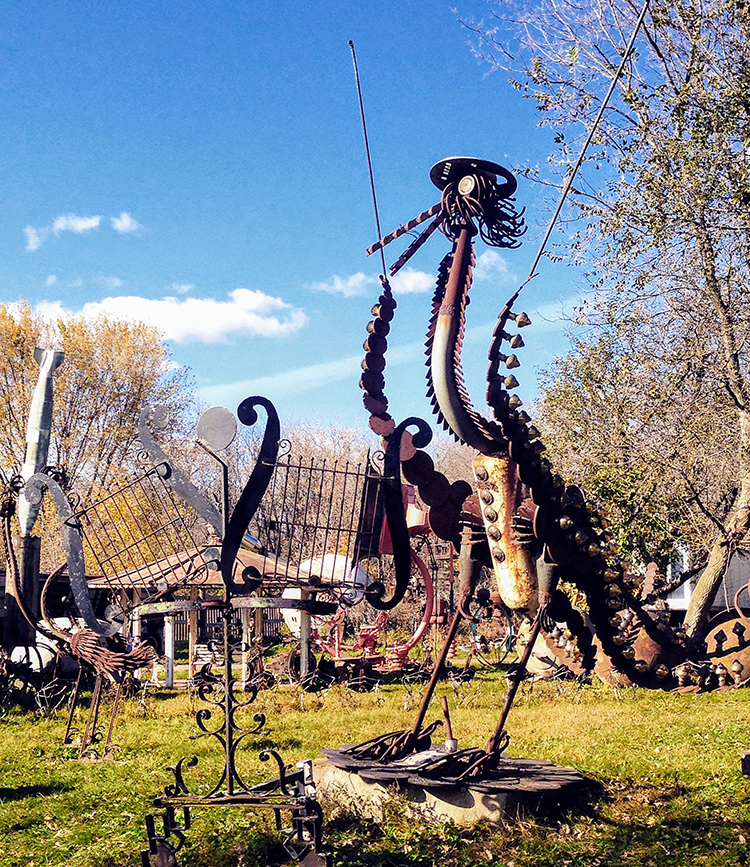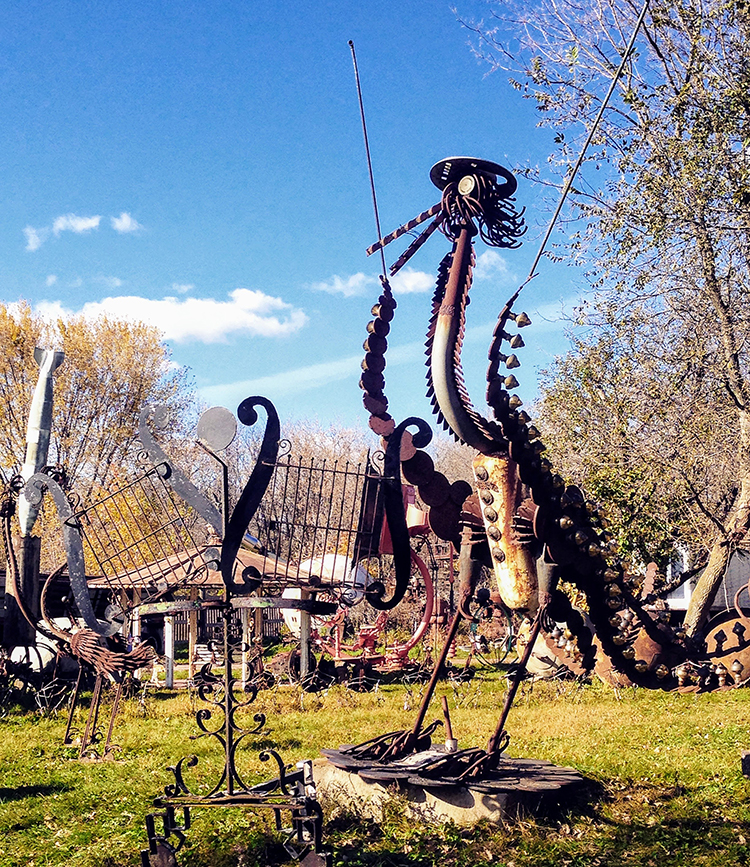 Dr. Evermor visits his park less frequently these days, but if you stop by at the right time, you may be treated to a moment you can catch him there in person, greeting visitors, welding his next creation, or gazing upon the craft he dreamed would launch him into the celestial landscape when he's experienced all he's needed to on the Earth we know. Whether he's there to welcome you to his park or not, visiting Dr. Evermor's unparalleled dream world cannot be fully understood unless you've taken an up-close look at the brilliant creations he's been crafting for decades.