Chapter 6: Reaching the halfway mark during a dreary day in Central Wisconsin
I teased fall migration in Chapter 5, and while it might not fully feel like fall here in Milwaukee, the leaves have begun to change in north central Wisconsin, the location of my next birding escapade.
Lincoln County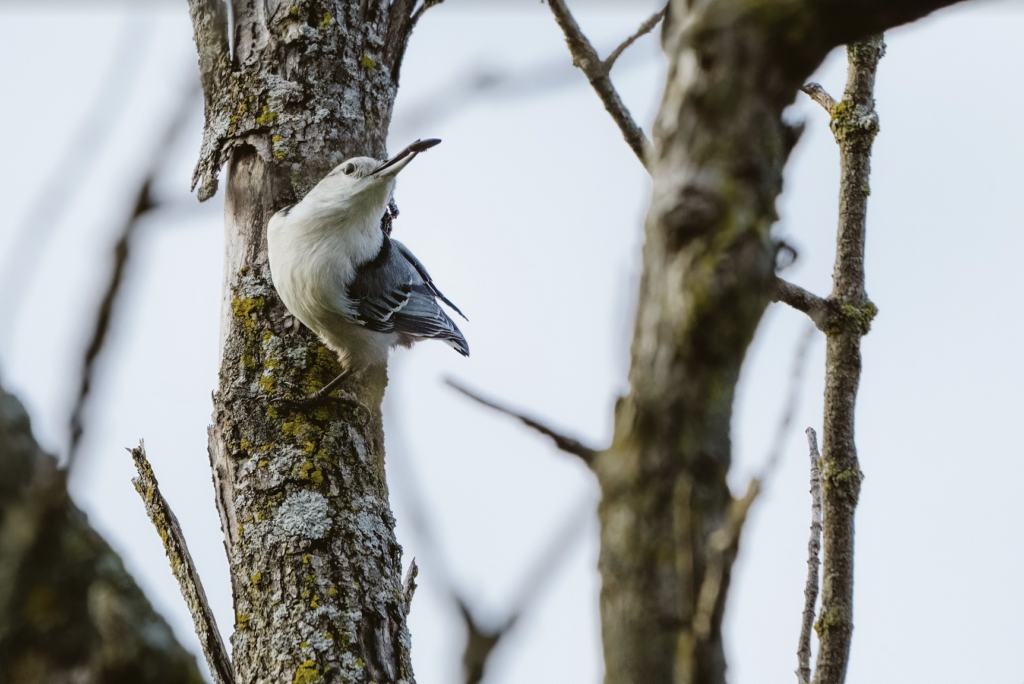 My wife and I spent a morning at Riverbend Trail in Merrill. The trail reminds me of Estabrook Park, one of my favorite places in Milwaukee to bird. On the right morning, it's probably teaming with birdlife. This day was not one of those mornings. Not a single bird was resting on the river, though I'm sure that will change in the coming months. A Palm Warbler and White-breasted Nuthatch gave me a run for my money, darting in and out of the foliage. A ton of Rock Pigeons watched our frantic search from a power line above. After 45 minutes of hunting, we ended up with 10 different species. Overall, it not what I anticipated, but this location feels like one with a ton of potential throughout the year. I imagine a lot of waterfowl make it their home in the winter.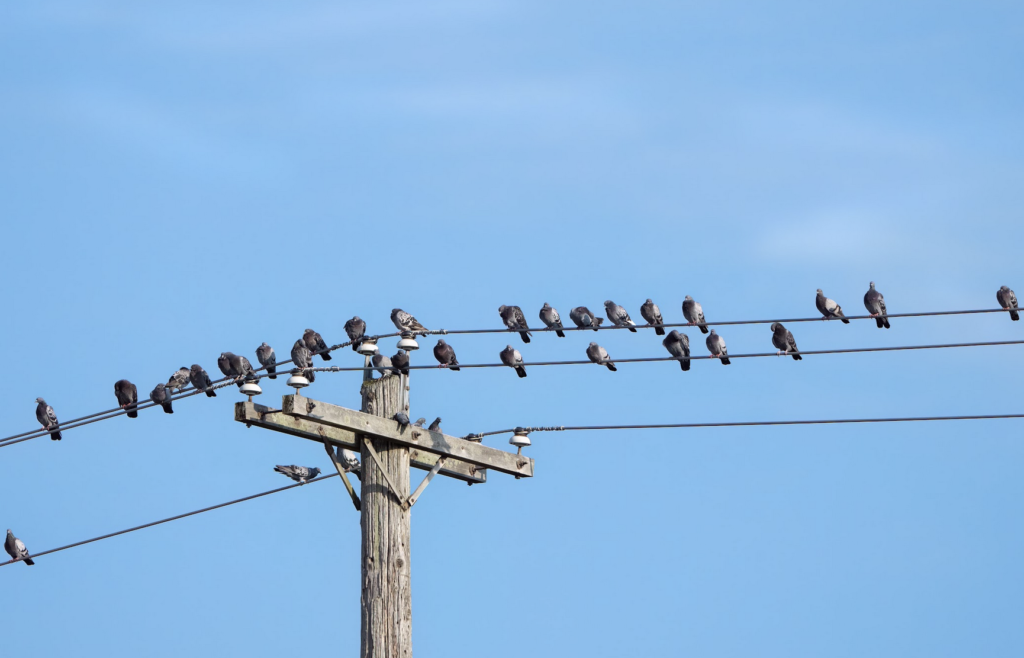 Total Lincoln County Species Observed: 10
Favorite Lincoln County Sighting: Palm Warbler
Marathon County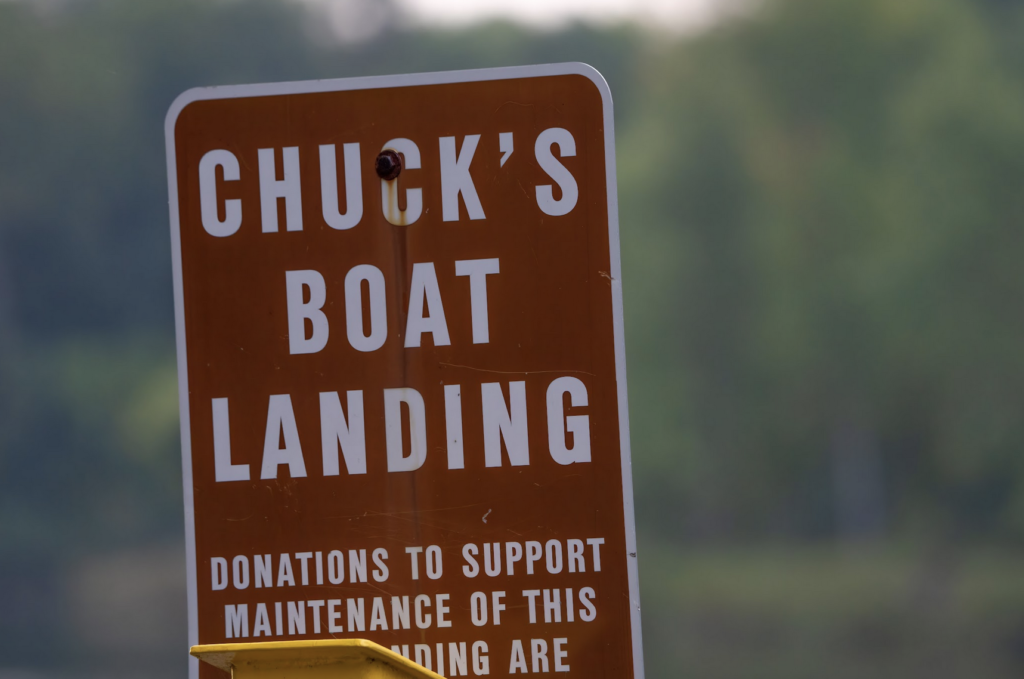 Much like Riverbend, I came to Chuck's Landing in Mosinee in hopes of finding waterfowl on the Wisconsin River. Not only did that not happen, but for the longest time, I didn't think I was even going to come away with a photo. I heard a lot of birds. Blue Jays and American Robins were very vocal from across the Wisconsin River. As things settled in, I eventually got some shots, including a Tennessee Warbler, which I didn't encounter during spring migration. It's always good to get a lifer.
Total Marathon County Species Observed: 11
Favorite Marathon County Sighting: Tennessee Warbler
Clark County
Clark County is not a heavily birded area, so we went with the best place we could find with a water source: Sportsman Lake. After being snubbed by waterfowl earlier, we finally found an abundance of them here. Only one trick—most the wildlife was too far out to capture a solid photo of. We saw a pair of Pied-billed Grebe, an American Coot, and Great Blue Heron, but not a single nice photo from the bunch. Female Wood Ducks gave me a few solid shots, then I watched the skies come to life as dozens of Mallards and Canada Geese flocked by. It's easy to get jaded when it comes to seeing the everyday species, but for whatever reason, seeing them pass by felt homey. The flying V of a Canada Geese flock is as Wisconsin as it gets in the fall. Well, that and watching the Packers beat the Bears.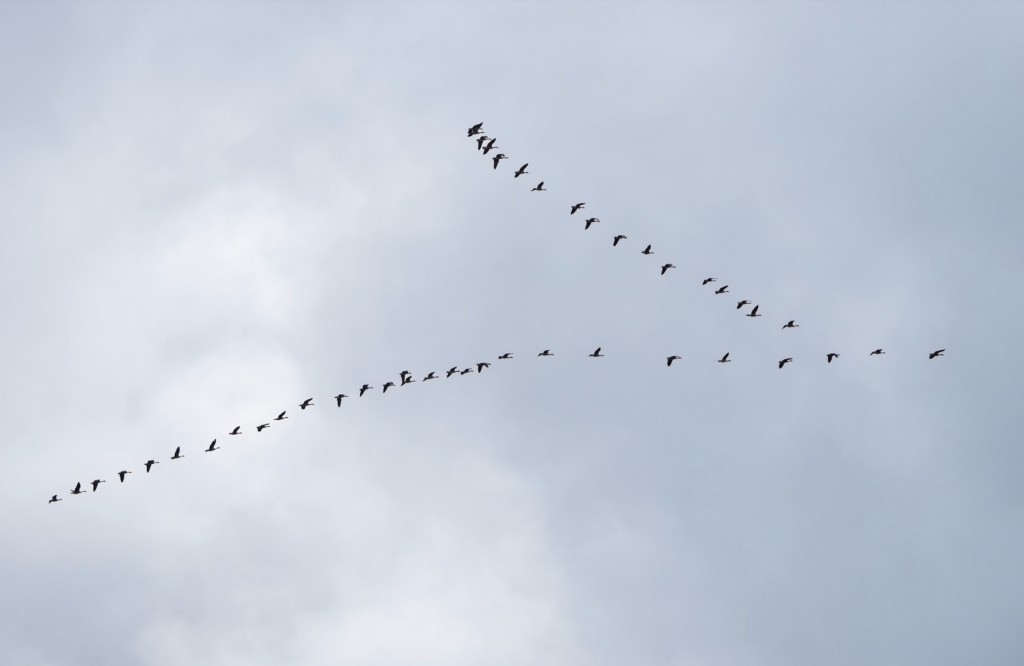 Total Clark County Species Observed: 12
Favorite Clark County Sighting: Wood Duck
Chippewa County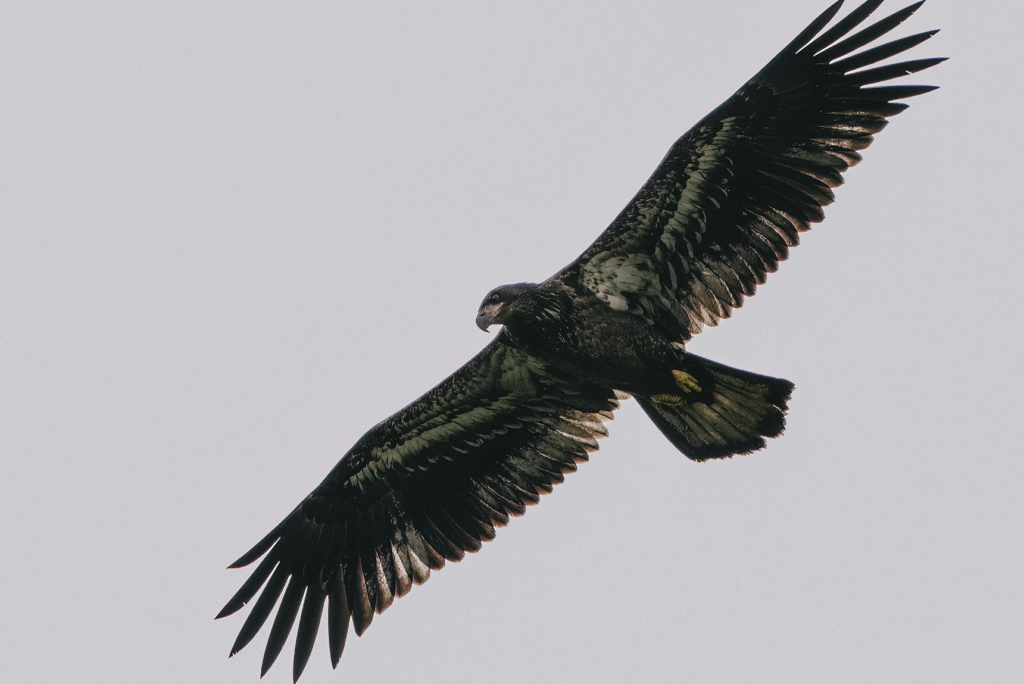 Fall colors graced us all across Lake Wissota State Park's observation trail. So did the birds! Black-capped Chickadees and Gray Catbirds called out to us from the trees as Ring-billed Gulls surveyed the immense lake. A grab bag of songbirds did their best to hide from both us and the birds of prey circling above. The dark skies made it hard to ID the birds—at first I thought I was seeing rare Black Vultures and Golden Eagles, but as my eyes adjusted, they turned out to be a Turkey Vulture and an immature Bald Eagle. Not rare, but still cool! The only thing that got us to leave was a camera battery change, and even that didn't keep us away for long.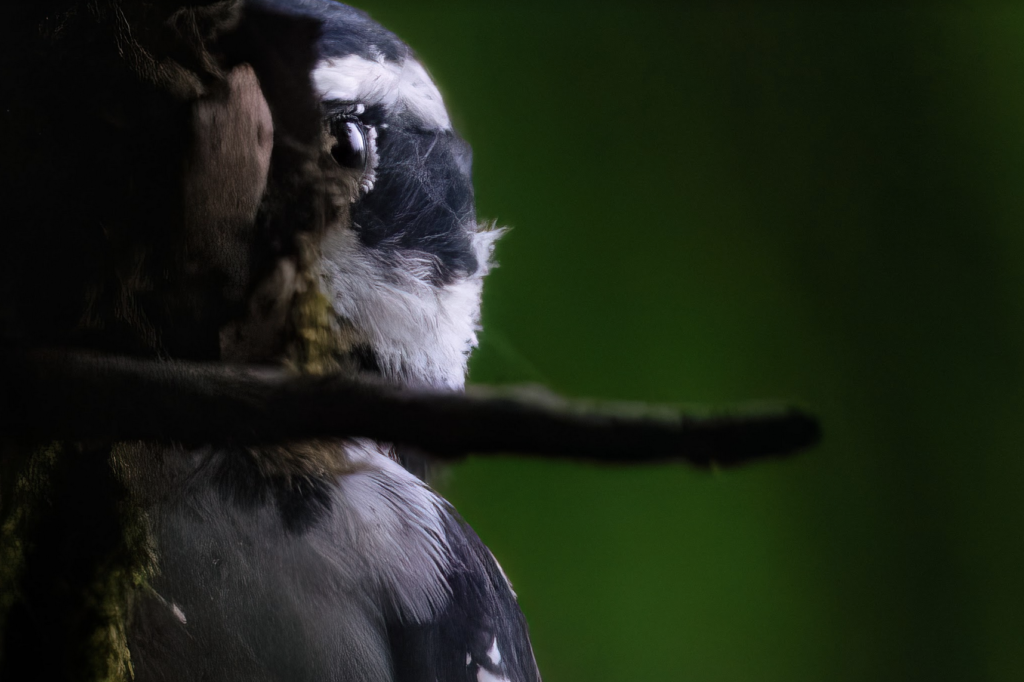 In spite of our crammed birding schedule, we followed the Chippewa River to a second location in the county. Brunet Island State Park was a brief pitstop that filled us with awe and the thirst to come back. Timber filled our nostrils as we trekked along an asphalt path. A Hairy Woodpecker landed four feet in front of me as a Belted Kingfisher snuck away. We spent 20 minutes but could have spent 20 days. Thanks for the gems, Chippewa County!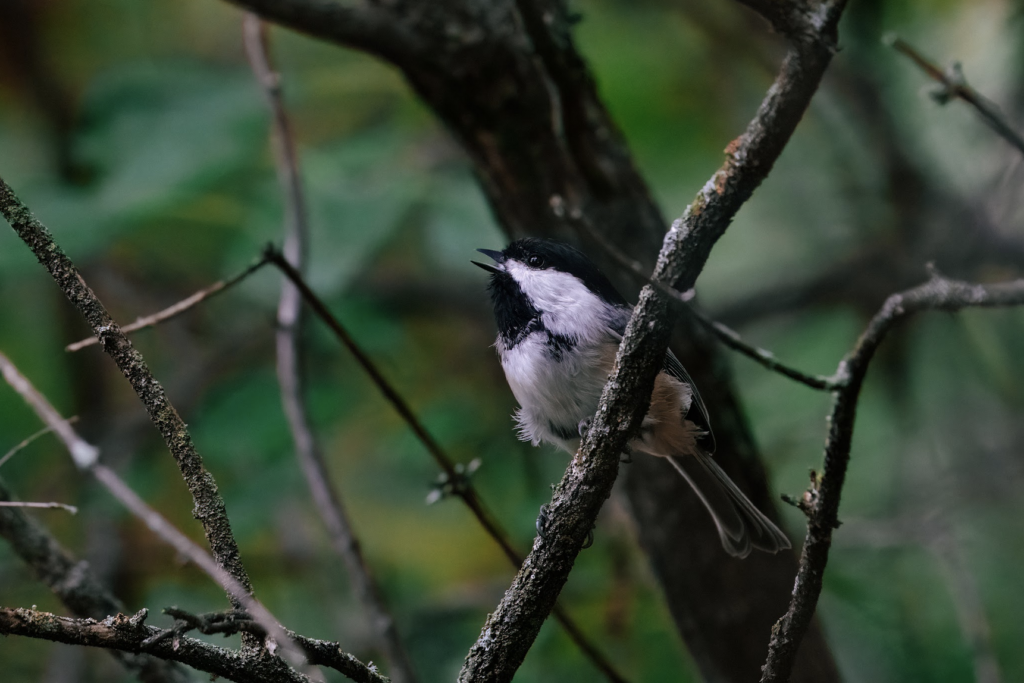 Total Chippewa County Species Observed: 15
Favorite Chippewa County Sighting: immature Bald Eagle and Turkey Vulture
Rusk County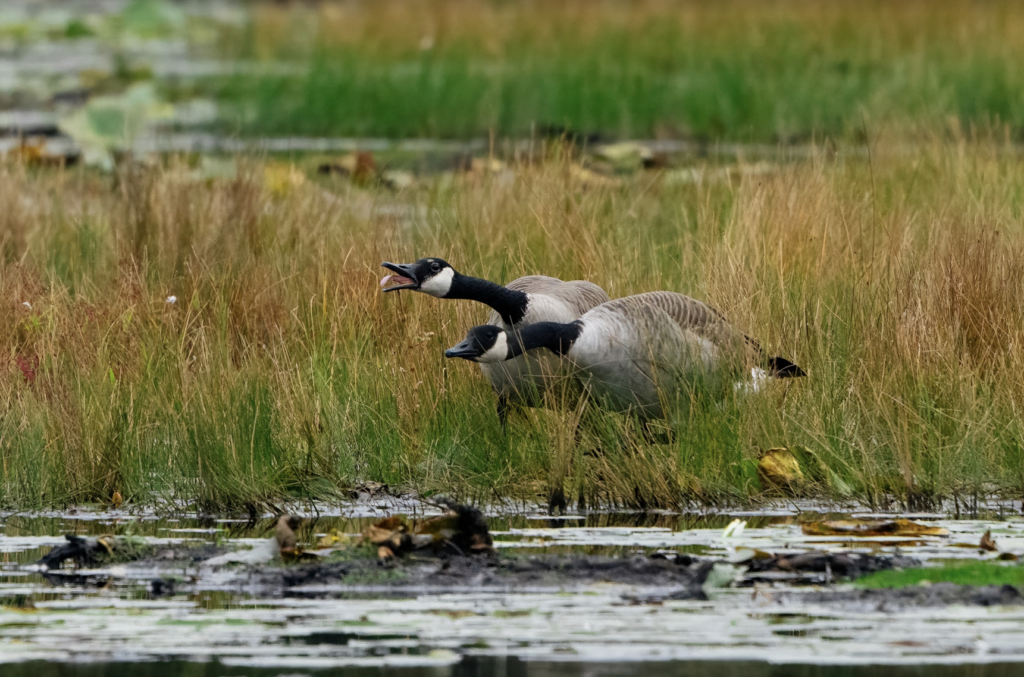 The Chippewa County detour had us ditching our original plan for Rusk County (Washington Creek SWA). We headed to Ladysmith for food and on the drive in, we spotted a ton of Canada Geese at OJ Falge Park. After a patty melt and a drumstick torte, we made our way over to the park and were stunned. The area was filled, not just with geese, but with Wood Ducks too! I love the colors of a Wood Duck, but they can be hard to photograph at times. Unlike Mallards, they're not as habituated to people. At least not in the Milwaukee area. Like Clark County, these Wood Duck were settled further into the pond, but the rambunctious Canada Geese meant everything was constantly moving in the pond. In the end, I came away with some keepers. A Killdeer bleated out and while we didn't see the bird, it did give away the position of a Great Blue Heron standing sentry at the back of the lake. A pine tree near the parking lot gave us good looks at a few tiny birds. This spot is unassuming, but well worth the change in plans.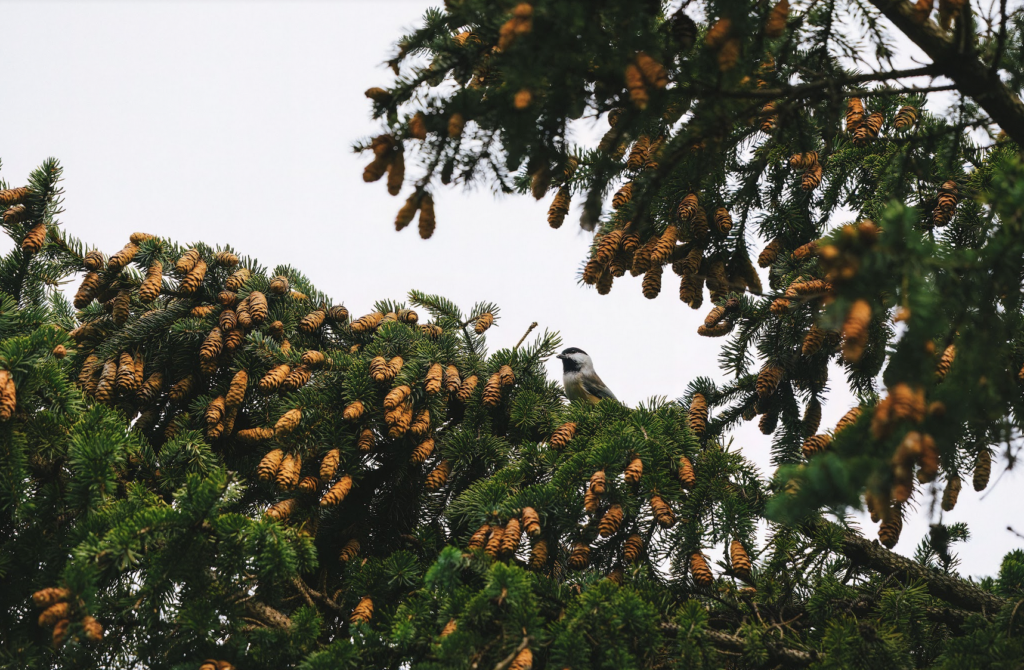 Total Rusk County Species Observed: 8
Favorite Rusk County Sighting: Wood Ducks (even better the second time)
Sawyer County
For every minute we made up by finding a convenient spot in Rusk County, we lost it in Sawyer County. I chose Bass Lake in the Flambeau River State Forest due to its close proximity to Price County. Little did I know the journey would require us to drive slowly down neverending gravel roads filled with deer.
Once we got to the location, we were off on a hike we didn't have the ambition to take on so late into the day. We gave it a try and came away with a few Blue Jays, a woodpecker and the always-present Black-capped Chickadee. However, I couldn't get a decent photo to save my life. Merlin detected a Sharp-shinned Hawk, though we never saw it, so I didn't record it in eBird. The location was the most quiet and haunting of our birding adventures this far. I might be inclined to go back on a clear day, but would want a better lay of the land before trying it again.
We did see owls on the way in and I wish we would have stopped there instead, but we were unsure if we could stop alongside the narrow winding roads without causing problems for the sparse, yet present traffic.
Total Sawyer County Species Observed: 2
Favorite Sawyer County Sighting: the owls we didn't stop long enough to ID
Price County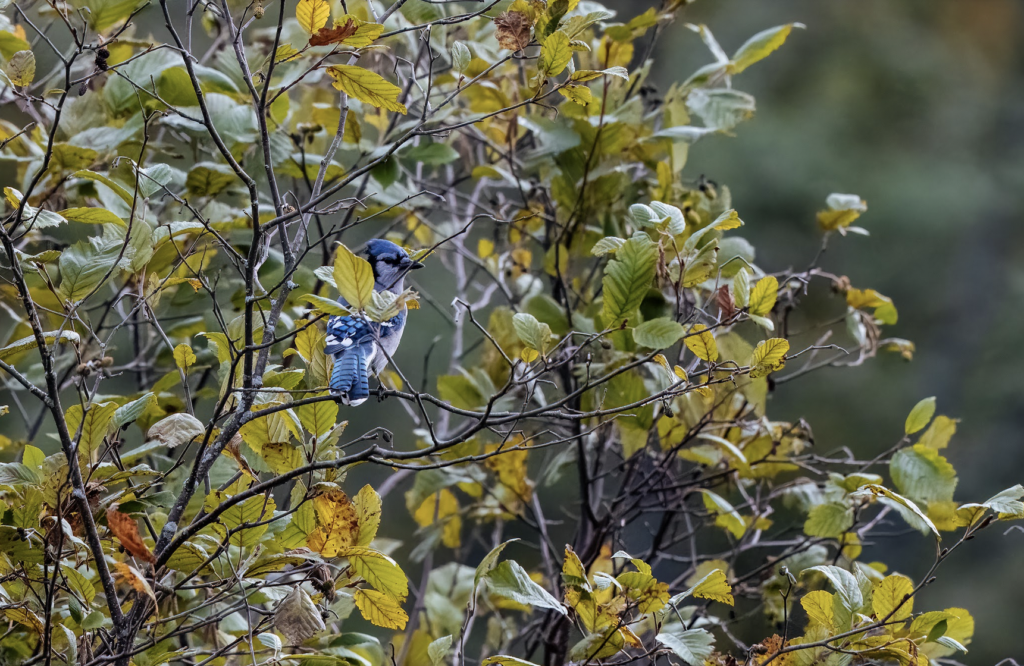 Daylight was not on our side, so we pulled another audible and decided to hit up a boat landing as dusk approached. We knew we couldn't fit in Taylor County as originally planned, so we spent the extra time at Soo Lake Boat Landing. It's a good thing we did because, except for a Double-crested Cormorant, the first 15 minutes of our time there was a dud. Then, cue the ole standby: Black-capped Chickadees, followed by a few other birds, including a pair of Blue Jays, a White-breasted Nuthatch, and the Myrtle Warbler. I've named Chickadees countless times, both in this article and throughout the challenge. Recently, I learned why that might be.
For the most part, one bird species doesn't know another species' calls. A Great Blue Heron doesn't know what an American Robin is saying. BUT, that's also not always the case, especially when it comes to the Black-capped Chickadee. As it turns out, many birds can distinguish the alarm calls of the chickadee. Because of this, chickadees end up having bird groupies that follow them because they can distinguish the chickadee's warnings. So next time you're out and hear a "chick-a-dee" call, look for the tiny chickadee. Then keep looking. You're sure to spot another bird or two!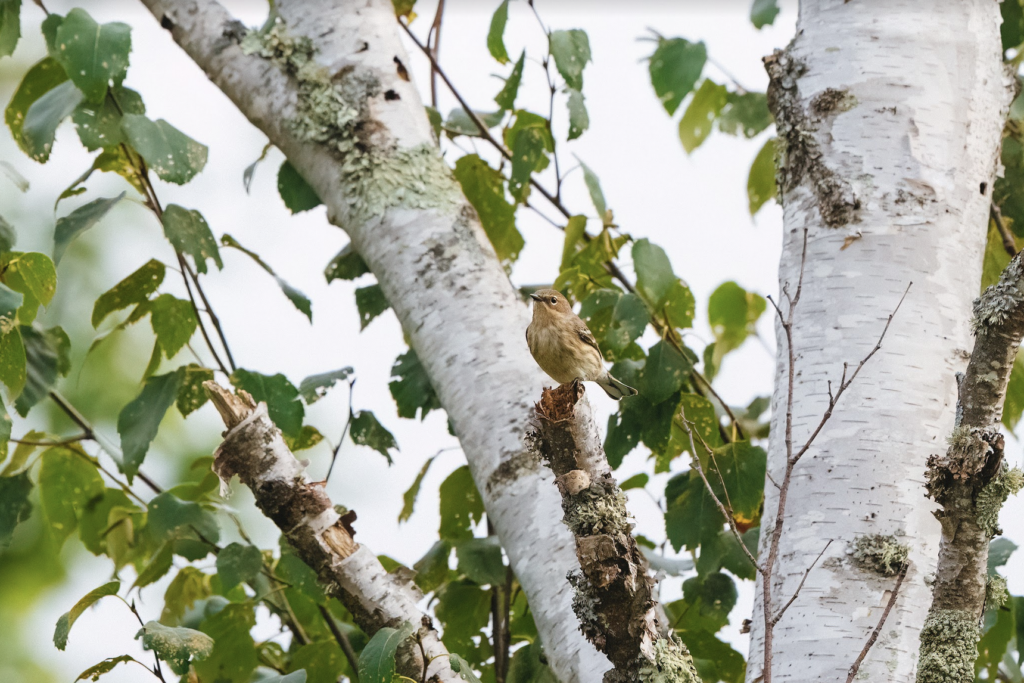 Total Price County Species Observed: 7
Favorite Price County Sighting: Myrtle Warbler (also known as a Yellow-rumped Warbler morph)
Mismanaging time ended up costing us the county that was set dead center in this cluster of counties. The reasoning is two-fold. For one, the days are getting shorter. I started this challenge (foolishly, I might add) in the beginning of summer, and long gone are the days with 15 hours of sunlight. Second, doing this challenge isn't like going on your average birding adventure. Because I started halfway through the year (foolishly, I might reiterate) I have to do a little "speed birding" during multi-county days. I can't just go anywhere because, unlike birding in a major city, birds throughout the state aren't used to humans. Sometimes you have to wait for nature to get accustomed to you, which does not work for a challenge like this. I have to adapt the challenge to find more places like OJ Falge Park…and I need to do it fast.
Why? Because I'm going for broke for Chapter 7. I'm throwing down the gauntlet. Twenty counties in five days. Stay tuned.
2022 County Count: 37 (FYI – my count's been off by 1 county since Chapter 3. I promise I'm not trying to pull a fast one on you!)
eBird Checklists: 134
Chances of hitting my goal: …let's talk about it next time.
Exclusive articles, podcasts, and more. Support Milwaukee Record on Patreon.
---
RELATED ARTICLES
• Wisconsin Birding Challenge 2022: Exploring every county in the state (Chapter 1)
• Wisconsin Birding Challenge 2022: Exploring every county in the state (Chapter 2)
• Wisconsin Birding Challenge 2022: Exploring every county in the state (Chapter 3)
• Wisconsin Birding Challenge 2022: Exploring every county in the state (Chapter 4)
• Wisconsin Birding Challenge 2022: Exploring every county in the state (Chapter 5)
• Migrating warblers, others bring a world of color to Milwaukee's spring landscape