The Johnson's Park dinosaur is extinct. Love live the Johnson's Park dinosaur.
Last month, we broke the meteor-sized news that the beloved Johnson's Park dinosaur—the last remnant of the once-thriving 76th Street amusement park—was sold at auction for $11. Eleven bucks! Milwaukeeans with fond memories of the 15-foot-tall dino expressed sadness and dismay at the news, bemoaning the loss of a kitschy childhood fixture and wondering how on Earth the thing went for less than a Blu-ray copy of Jurassic World. Either way, it seemed that yet another Milwaukee icon had been lost to the ravages of time and modest online bidding.
Well, yes and no. On Wednesday, January 4, the lucky winner of the Johnson's Park dinosaur, Chad Covert, assembled a crack team of experts to break down the statue and ship it to its new habitat in Covert's backyard in Saukville. Saws, torches, sledgehammers, tow trucks, and multiple bed mattresses were employed. The temperatures were brutally cold and the dino didn't go without a fight, but Milwaukee can rest assured that while the statue is no longer in public view, it does have a nice new home. Kind of like when puppies and kitties get taken to a nice farm somewhere in the country.
Check out pictures and videos of the dino-moving operation below, along with Covert's behind-the-scenes story.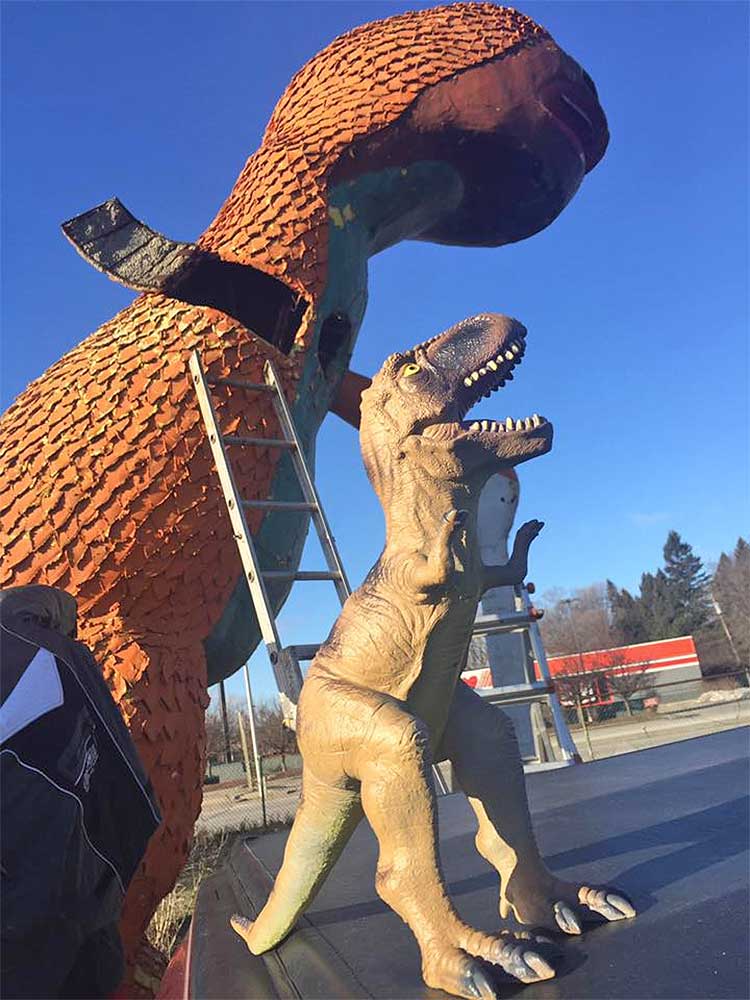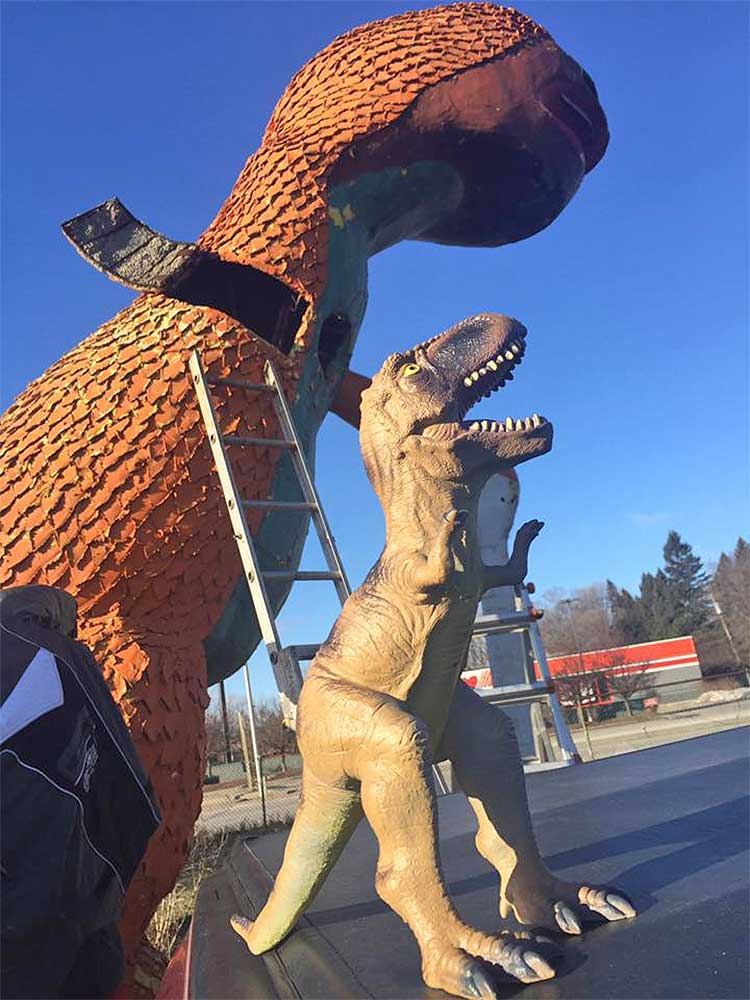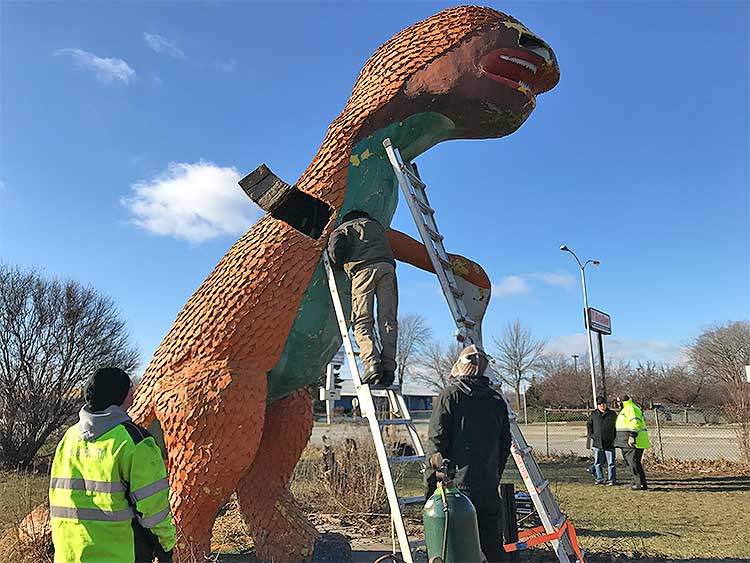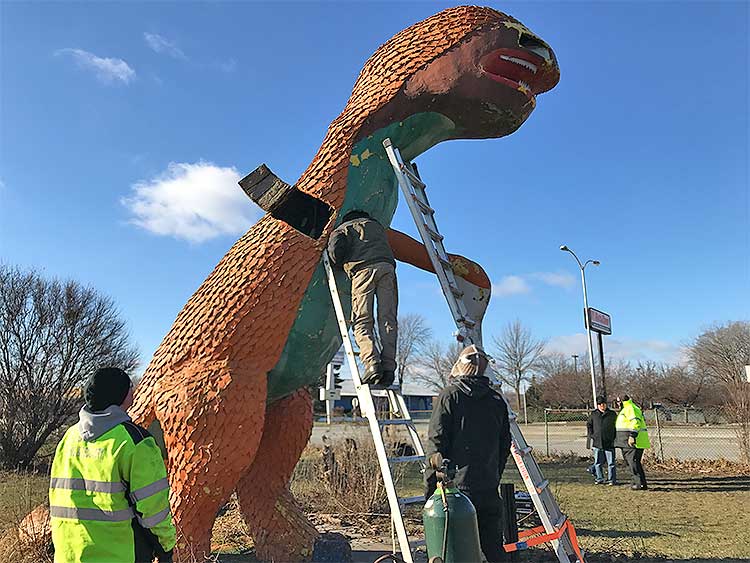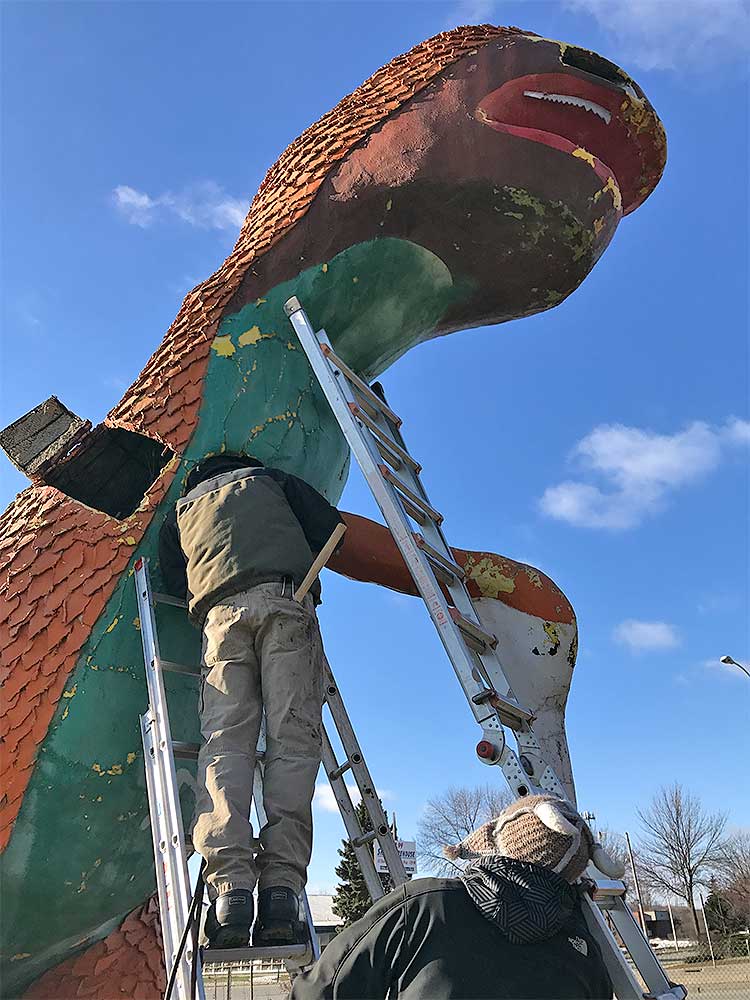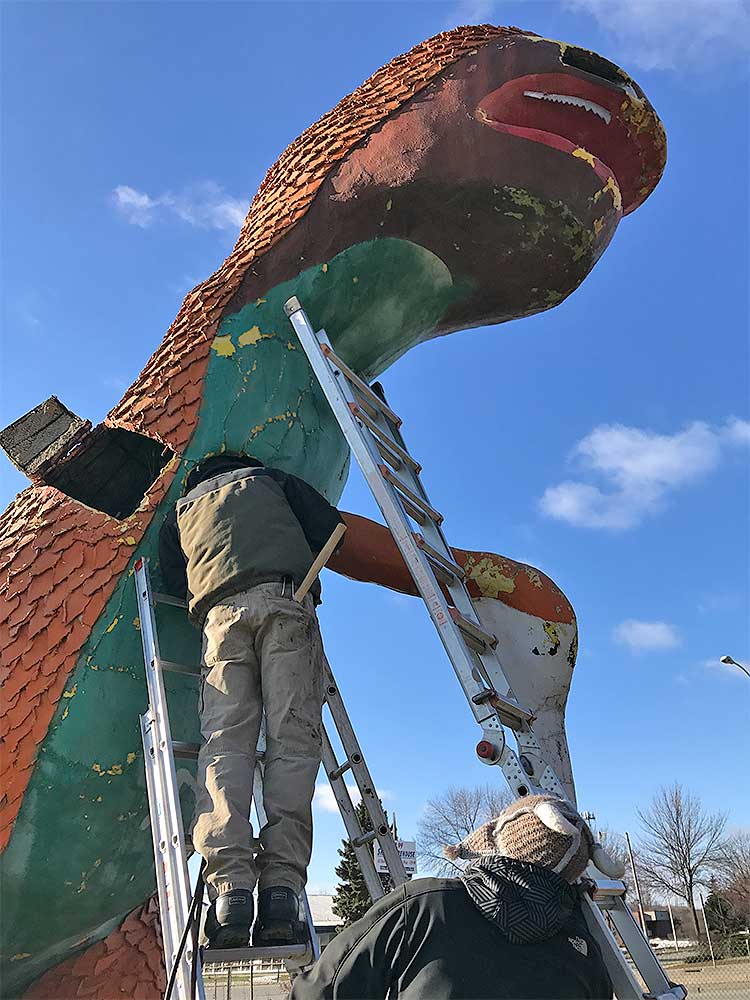 "I met John Johnson about five years ago when I was running the Van Horn dealerships next door to Johnson's park. He would stop by daily, and one day he asked if I could help him sell a couple of his old cars. I'd been selling on eBay for 15 years, so I sold a '57 Chevy of his that went overseas to Germany, and a '56 Lincoln Continental. I was already asking him what he would take for the dinosaur back then, but my intention was to put it on the car lot next door. He would tease me and say yes, then days later when I told him I was going to come get it he would change his mind. I then left Van Horn to be general manager of the Heiser store right down the street, and again John would stop over all the time. I offered him $2,000 for the dinosaur and he said yes. I had a landscaping company set up to move it, but John backed out of the deal once again."
"I was sitting at work a month ago and a friend sent me the link to this auction that was a lot of John's stuff from his older buildings at 7350 N. 76th St. I went and looked at all the stuff and started bidding. When the auction ended I ended up with 14 of the original go-karts, and got the dinosaur for $11. I think one person bid $10. I had actually bid $500, but it only beats the next highest bid by $1. When I went to pick up the go-karts and was talking to John he was all upset that the dinosaur only did $11. He didn't know where it was going and was going to cancel the sale and keep it. I told him I had won it and he smiled and said then he was happy. His only request was that I put it at my house and not the dealership so he wouldn't have to see it every day driving by."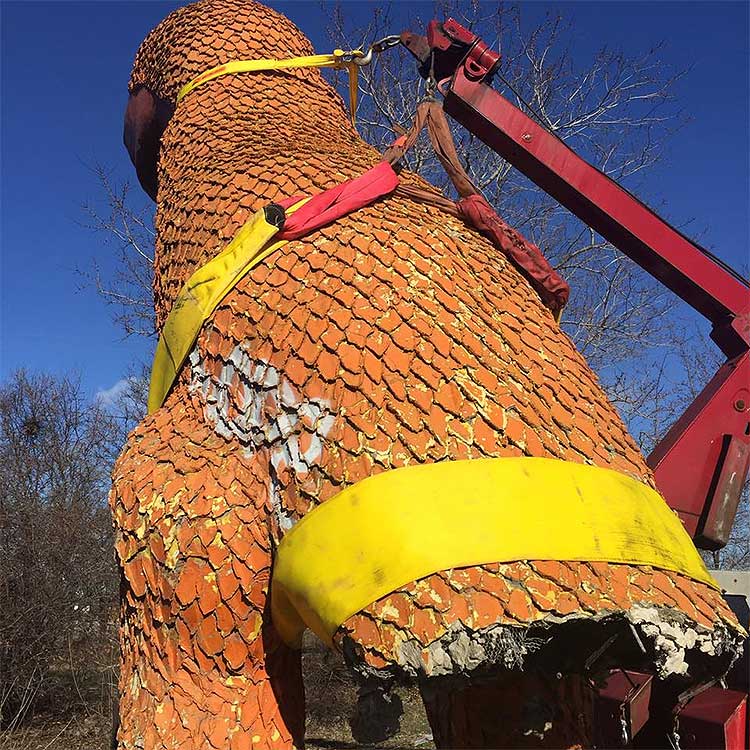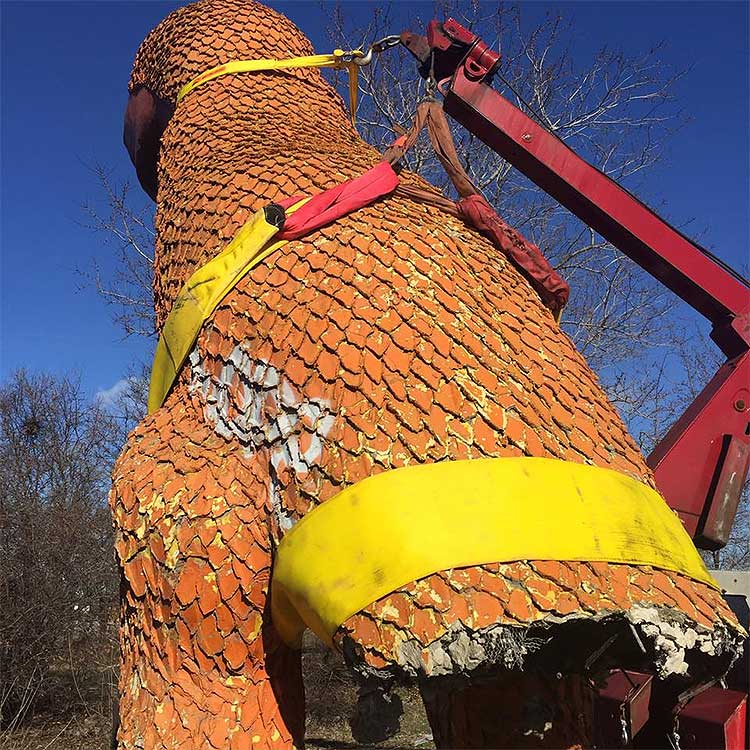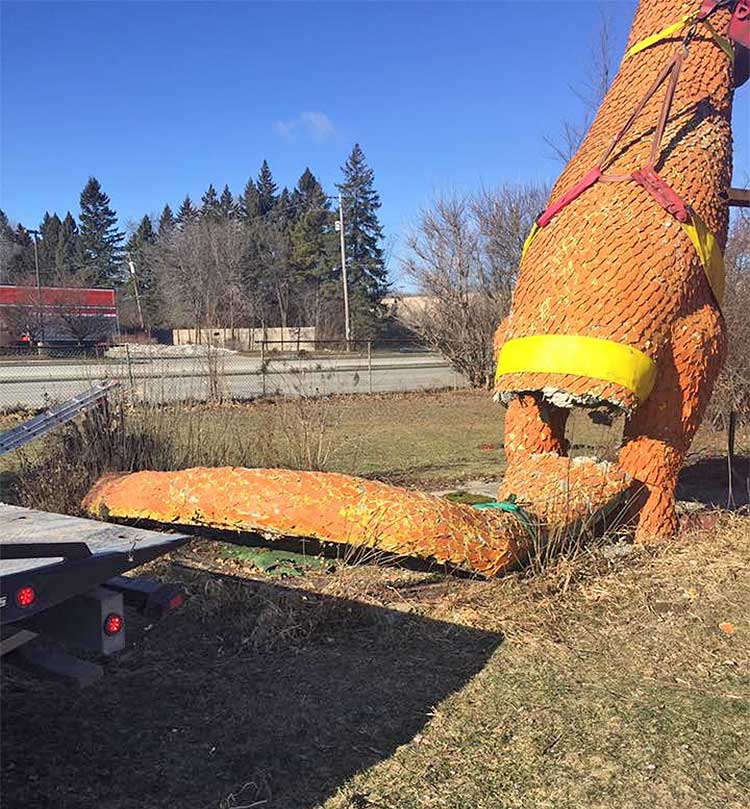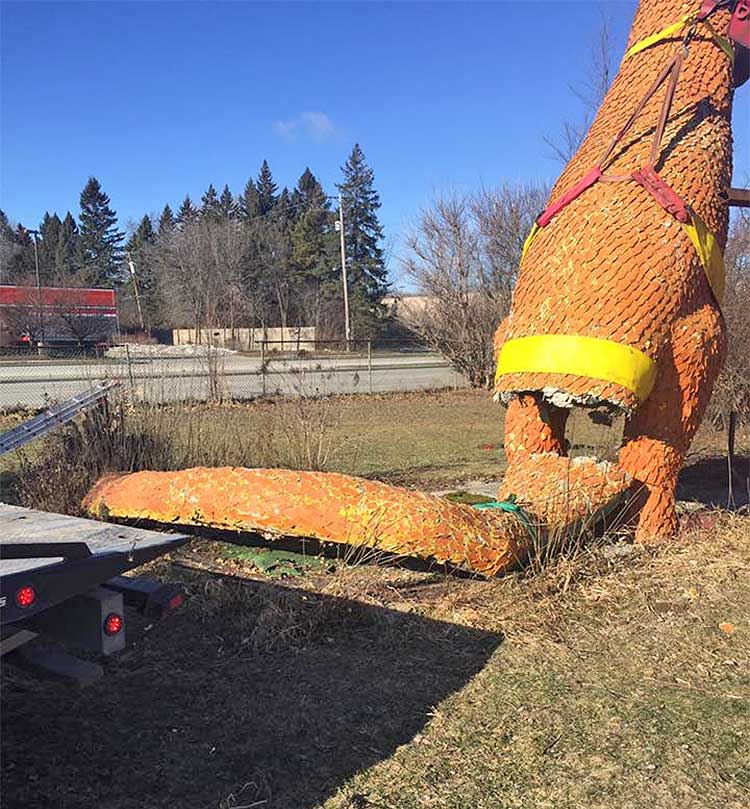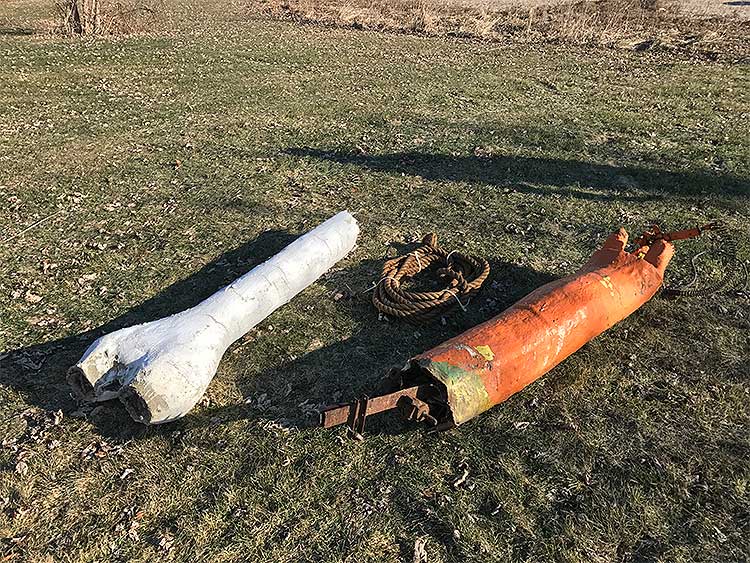 "I've been known to buy some strange things at auction, and my poor father is always there to field the call from me and help me from finish to end. A few years ago I won a building and we tore it down. Last year I won 7,000 square feet of real log siding. That doesn't seem so bad but we had to go remove it from a huge wedding hall and restaurant in Tomah. The dinosaur didn't surprise him at all and he helped all day. A huge thank you to Nick Gierach of Gierach's Towing in Mequon, and Tony Linder who works for him, for taking their whole day to help me get it home."
"It didn't like the move, and we kind of lost a leg, and the body is crushed pretty good, and we had to remove the tail, but I already have a plan for spring on how to rebuild him and get him some fresh paint and get those eyes to light up again. All I need is a name, so maybe your followers can help me there."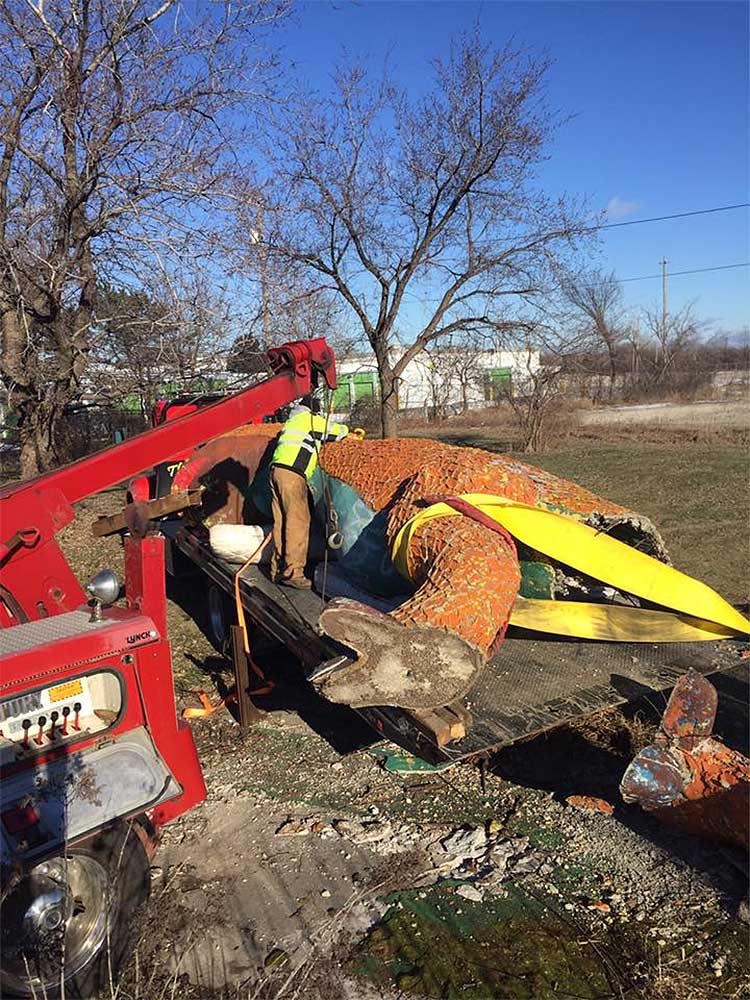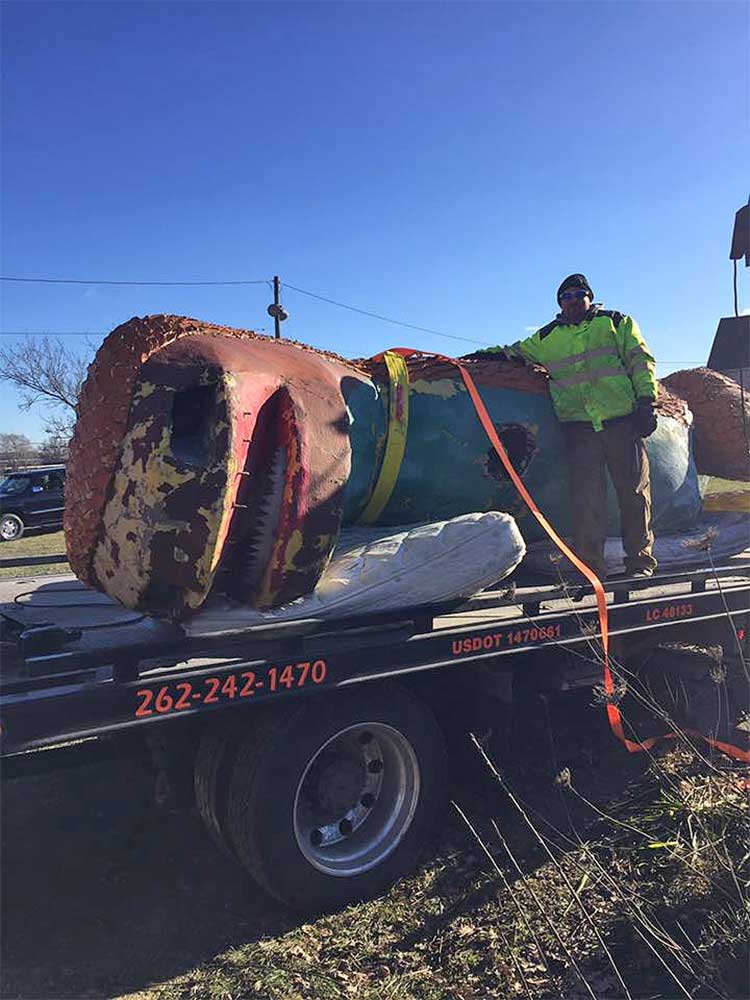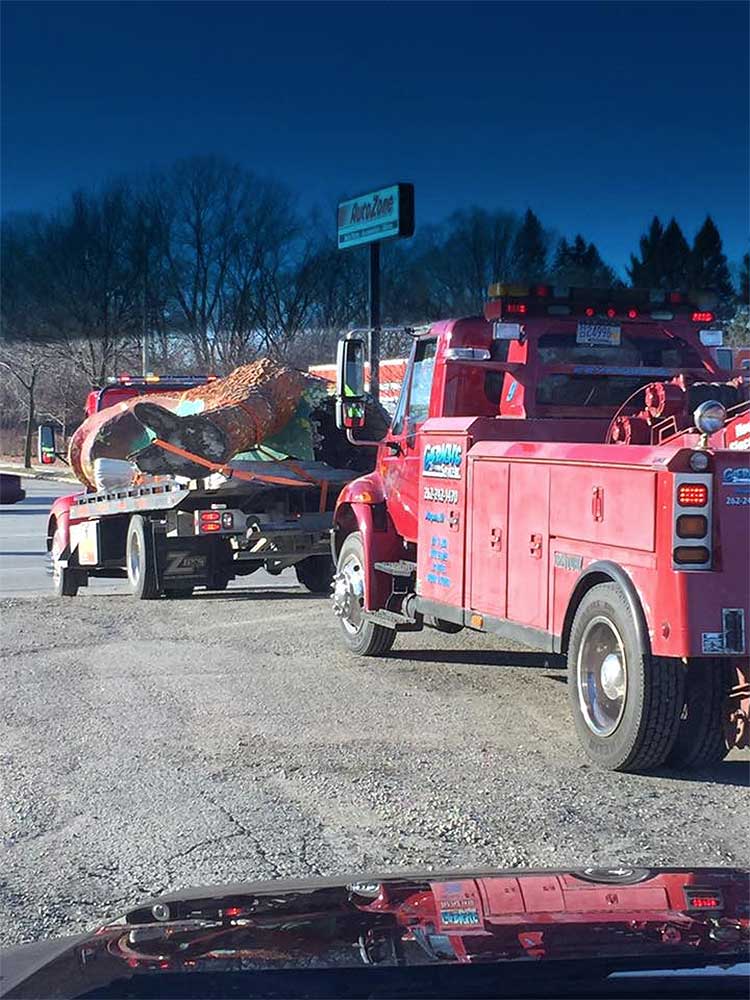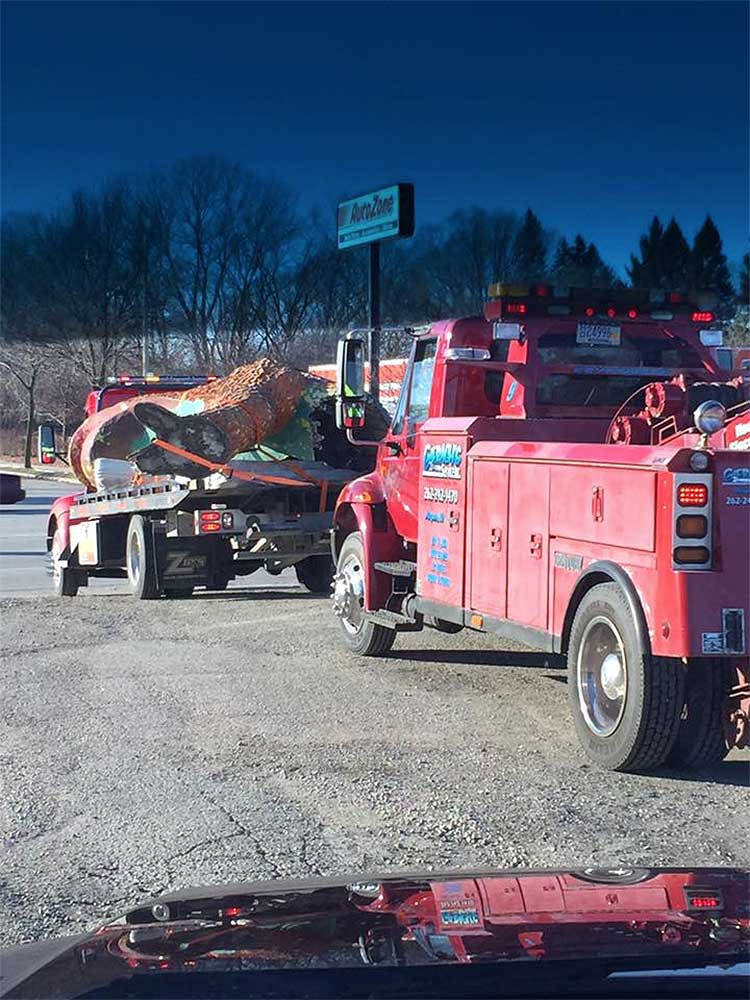 "My birthday was December 9, and my 16-year-old sent me a text message saying, 'Happy Birthday to the best dad ever.' What other kid can tell their friends that their dad just bought a dinosaur?"
"I think if the dinosaurs were around yesterday in that brisk cold and 30 mph wind they would have gone extinct all over again. He's sleeping in the backyard for a few months now, then we'll wake him back up and get him a new leg."