Wednesday signaled the official beginning of Summerfest, an 11-day affair that will bring hundreds of musical acts and close to a million people to Milwaukee's lakefront. Though the Big Gig has pulled out all the stops for its 50th, many of the same things you've come to know and love (or at least accept) remain an integral part of making "The World's Largest Music Festival" special. There are still those giant root beer barrel soda stands and festival food favorites, as well as a unique cast of vendors lining the midway by the lake. Will this be the year you buy a shower at Summerfest? Maybe!
Another Summerfest mainstay is Taped Music (née Pre-Recorded Music), an hour-long block of music that's played over the JoJo's Martini Lounge speakers at the beginning of each day of the festival. For reasons unknown, Summerfest continues to list Taped Music on its schedule instead of, you know, just letting music play or booking an actual band to fill those 11 hours over the course of a live music festival. Perplexing as Taped Music is, I—no doubt intoxicated on a bitter cocktail of confusion, desperation, and self-hatred—make a point to begin every Summerfest by enduring a full portion of this strange, always unfulfilling event alone.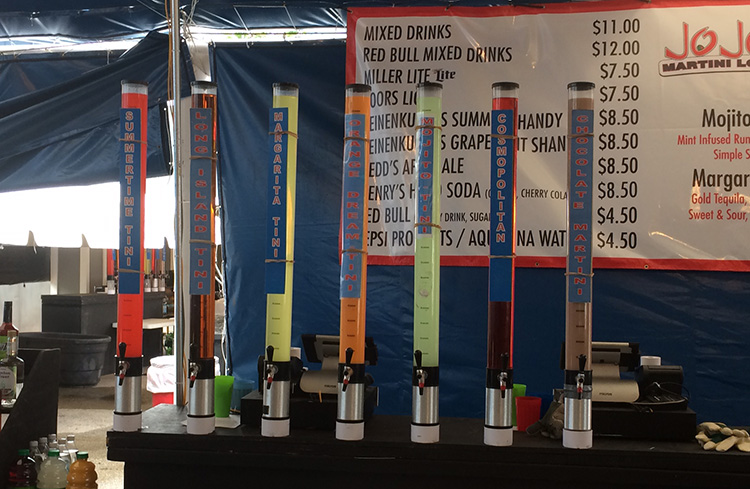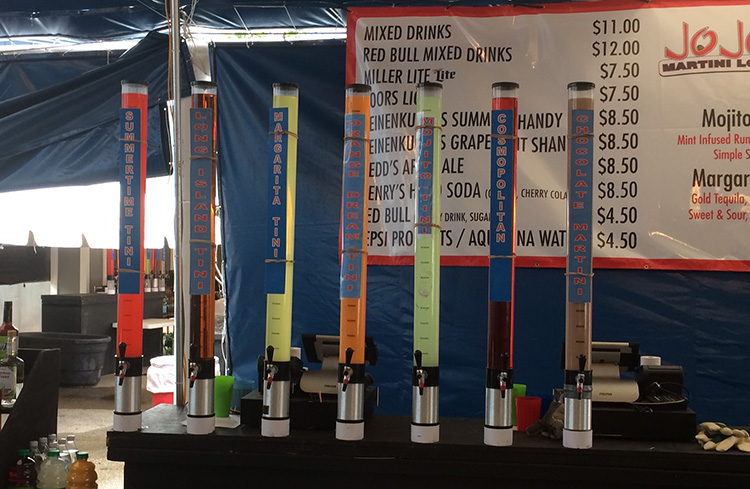 This year was no different. I entered the grounds around 11:35 a.m. Hearing no music at JoJo's and seeing nothing but unmanned bars that were replete with exaggerated cylinders of glowing synthetic spirits, I took a lap around the grounds.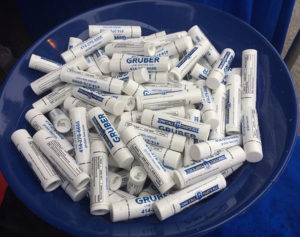 The light-but-constant rain seemed to signal what was to come during my Taped Music tenure. As the drizzle slowly saturated my hair and worked its way through the canvas on the tops of my shoes, I briefly took cover under the Gruber Law Offices tent, where I sacrificed an old AOL email to the firm's mailing list in exchange for a spin on the prize wheel. I won a stick of lip balm.
With no beer or food stands open, I walked aimlessly in the few remaining minutes before Taped Music was to start. I happened upon Dori Zori from 88Nine, who asked who I was here to review so early in the day. Upon telling her my plan (for the fourth year running) she said something along the lines of "Oh, right. You do that." Yep, that's me! Not growing as a person or improving in any way over time. Wet and wondering why I was even there, I wanted to go back home, but I now heard music coming from the Martini Lounge, so I figured I may as well stay and write about it. I sat down alone.
11:55 – "Work This Body" by Walk The Moon
As an employee (I hope) was spraying copious amounts of WD-40 under the metal legs of the tables, I sat down at a freshly-sprayed table because I didn't want to associate with another human to explain why I was there. Plus, I figured I might catch a buzz that could make the time go by a little faster. Anyway, the Walk The Moon song that started everything off was pretty upbeat and kind of fun. It wasn't my cup of tea, but at least I wouldn't have to listen to it again.
11:58 – "Handclap" by Fitz & The Tantrums
The Fitz & The Tantrums chaser seemed to set the tone for what was to come on this playlist. I buckled up for an hour or semi-recent pop and sounds of WD-40 being sprayed. At least I could get a beer and something greasy to hold me over in a couple minutes.
12:01 – "Kiss The Sky" by Jason Derulo
"Kiss The Sky" by Jason Derulo only seemed to strengthen my case. Beyond hearing Milo namecheck him in a song, I had no idea who Jason Derulo was, and I liked it that way. It was derivative…like if Bruno Mars and Michael Jackson had a baby, then did nothing to advance the baby's musical talent. At least that's what my impression was through most of the song. It cut out about two minutes in.
12:03 – Abrupt silence
I sat in silence. I was still the only non-employee under the tent, but not for long. I gave it a couple minutes, then departed to get a beer and Solo's newest Italian-influenced abomination: bacon ravioli. Just to be clear, the ravioli wasn't stuffed with bacon…it was made out of bacon. Basically, it was hardened bacon that was formed to take the shape of a three noodles, which were then stuffed with lukewarm mozzarella. Of course, there was a BBQ Ranch dipping sauce…you know, like ravioli usually has. It's safe to say I was the first customer in Summerfest history to try bacon ravioli. Look at me now, mom.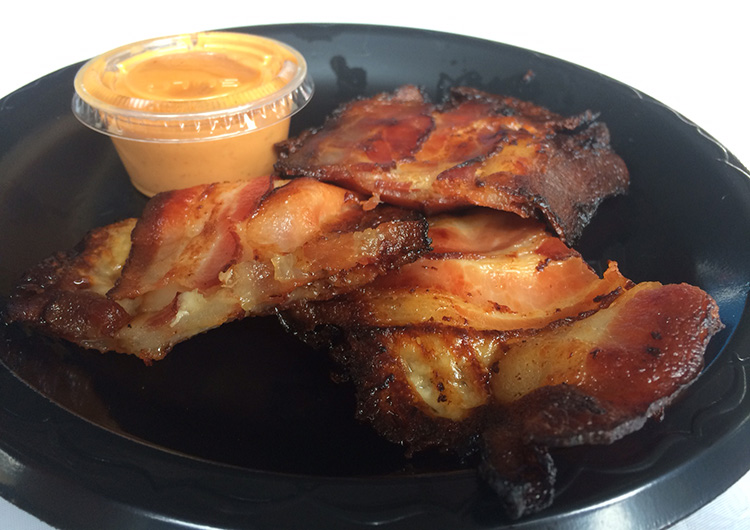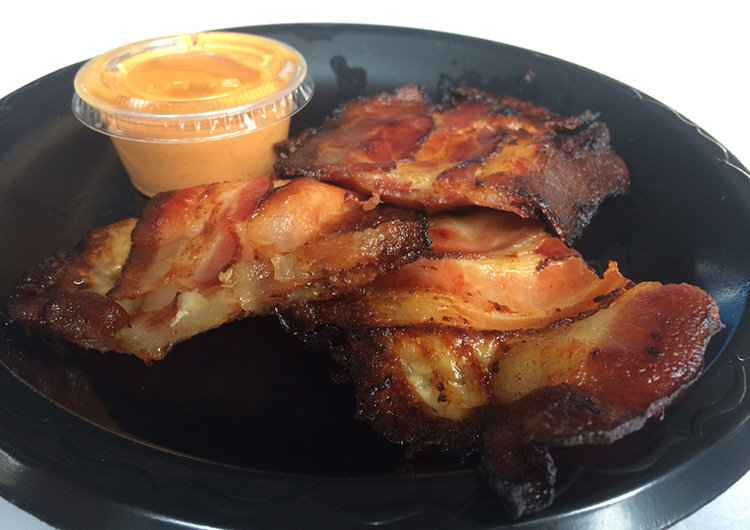 Since nobody was shameful enough to get a beer this early on a rainy Wednesday and Solo had no line for its pre-made pork experiment, I made it back by 12:10. I ate in silence, save for the sound of dragging tables, idle chatter between employees, and the angry squeals of nearby birds whose usual habitat in JoJo's was being invaded by festers. Between me and the birds, I don't know who wanted me to be there less. Meanwhile, I used my hands to dip pieces of bacon and cheese into runny, cold dressing because a fork couldn't cut through the "noodles." I wiped my glistening fingers on my pants. "Fuck it," I thought.
12:13 – Final minute of "Kiss The Sky" by Jason Derulo
The relative silence was broken by the last 45 seconds or so of that Jason Derulo song from before. I could now officially say "Kiss The Sky" is not a good song.
12:14 – "Any Way You Want It" by Franky Dee (Journey cover)
We were back in action. Unfortunately, JoJo's was now playing a bad cover of an already-bad Journey song. This was not the way I wanted it.
12:18 – "Snacket Pa Stan" by Danny Saucedo
This song was fine, except it was interrupted by soundchecking by 1 p.m. act, a Neil Diamond impersonator named Eric Diamond. The instrumental track of an oldie was bleeding into the Danny Saucedo numbers. It's almost as if a tribute act's soundcheck took priority over the aural enjoyment of some greasy weirdo sitting alone 200 feet away in a cloud of metal lubricant.
12:22 – Eric Diamond soundcheck over Muzak version of "Too Late To Turn Back Now" by Cornelius Bros And Sister Rose
Why even list "Taped Music" on the schedule? The show had become a full-on Eric Diamond soundcheck. He was adjusting levels, singing parts of songs, and playing air-vibraphone. The only less weird than watching a Neil Diamond impersonator at 1 p.m. is watching a Neil Diamond impersonator prepare for his 1 p.m. set.
12:26 – Silence
Oh sweet silence. Or more accurately, oh sweet pissed off bird chirps and music from another stage. Yeah, this totally beats seeing world class comedians. I chugged the rest of my beer and prepared for the worst.
12:28 – "Work This Body" by Walk The Moon (again)
Though I'm probably the foremost expert in Taped Music by this point (isn't that sad?), I never expected this. They were just repeating music. None of the 10 or so people now taking cover from the elements in the lounge seemed to care, but this put me over the edge. Not only was Taped Music an overt cost-saving measure, those responsible couldn't even fill out an entire hour of music.
12:32 – "Handclap" by Fitz & The Tantrums (again)
By the time "Handclap" started its second rotation in under 40 minutes, it hit me. I wasn't mad at Taped Music. Rather, I was upset because this—the second time hearing a song during my fourth annual Summerfest opening day spent alone in a tent—was an undeniable indication that I had literally gone nowhere in my life. I was sitting in the exact same spot I had during my review a couple years back. Like that time, and the time after that, and the time after that, I was alone.
With each passing year, the music JoJo's plays gets a little worse and more difficult to recognize. The new Summerfest foods seem a tad more strange. I get 360-some days older, and I'm still doing something I did when I was in my late 20s for the sake of laughs, cheap clicks, and the possibility someone will tell me they liked it so I can feel that, at least for a moment, it was all done for some reason (any reason) at all. Even the fucking name of this hour ordeal has changed since I began doing this dumb shit. The only constants are me, the tent, and the disappointment.
12:36 – "Diggy" by Spencer Ludwig
Who cares? At least it's a new song.
12:39 – Part of "Kiss The Sky" by Jason Derulo (again)
But this one isn't. Jesus.
12:43 – Part of "Any Way You Want It" by Franky Dee (Journey cover)
The second run of a cover song that's being mentioned in an article I'm writing for the fourth time was thankfully cut short. It was stopped about to minutes in so they could play…
12:45 – "Young Americans" by David Bowie
Pretty good song. It got bonus points because I hadn't already heard it in the last 45 minutes.
12:47 – "Good Day Sunshine" by The Beatles
Playing "Good Day Sunshine" on a rainy day seemed to be a bit of taunting from JoJo's. Maybe the conditions were good for them and their fluorescent booze, though, as the biggest crowd we'd seen at a Taped Music event was now behind me. In all, about 40 people were present.
12:50 – "Killer Queen" by Queen
While the weather was worsening, the music in the tent improved a bit. Oh wait, never mind. Eric Diamond came back out to check the mics again, ruining Mr. Mercury's verses with a flurry of Oh!'s and Yep!'s being bellowed into the mic. More like Eric Zirconium.
12:54 – "Delirious Love" by Neil Diamond
Cool. A song from the real Neil Diamond.
12:57 – "Love's Theme" by Love Unlimited Orchestra
Like the Beatles song played a few minutes earlier, "Love's Theme" was a repeat from last year, except this time around, it was the instrumental version instead of the Barry White version. Maybe it was having just three minutes left of the self-inflicted experience left, but this was a lively and warm song that left me with a sense of rebirth and new possibility. Maybe stuff will improve. Perhaps I won't have to resort to doing shit like this next year. Who knows, maybe the next time I'm sitting in JoJo's Martini Lounge, I won't be there alone. That's all pretty unlikely, though.
1:01 – Eric Diamond performs "Solitary Man" by Neil Diamond
Nope.