Today marks the beginning on Downtown Dining Week. As the name suggests, the annual event (which actually spans eight days) aims to highlight the various eating establishments that are strewn about Milwaukee's downtown. However, the food-focused affair also exists as a subtle reminder of the abundance of one-of-a-kind restaurants located throughout the city…and even some of the region's less-than-original establishments.
Anyone who has driven enough in greater Milwaukee has likely happened upon a Chinese restaurant that boldly claims to be number one (or "No. 1"). At one point, Milwaukee and its neighboring suburbs had eight restaurants with "No. 1" in their name. Currently, the pool features seven such places, including a New No. 1 Chinese Restaurant, a Super No. 1 Chinese Restaurant, and five businesses called No. 1 Chinese Restaurant. Some are part of a franchise and some are unaffiliated. All claim to be No. 1, but only one actually is.
Instead of chalking it up as brash marketing and letting it slide, we went to all seven No. 1 Chinese places and ordered the ever-popular General Tso's Chicken lunch special at each, opting to dine in. After taking price, atmosphere, and food quality into account, we can confidently say we've found Milwaukee's number one No.1 Chinese Restaurant. Here are our findings.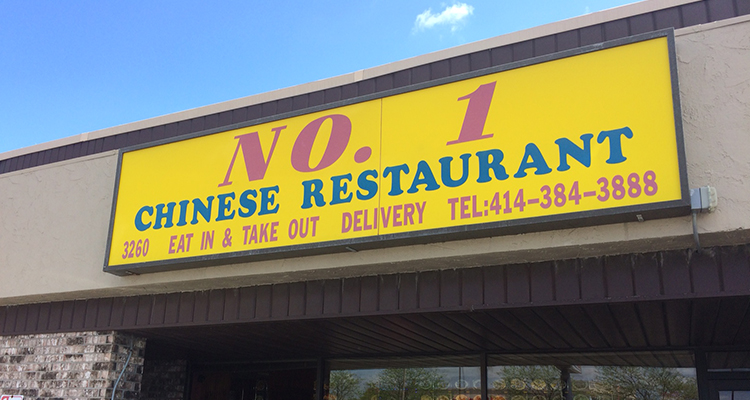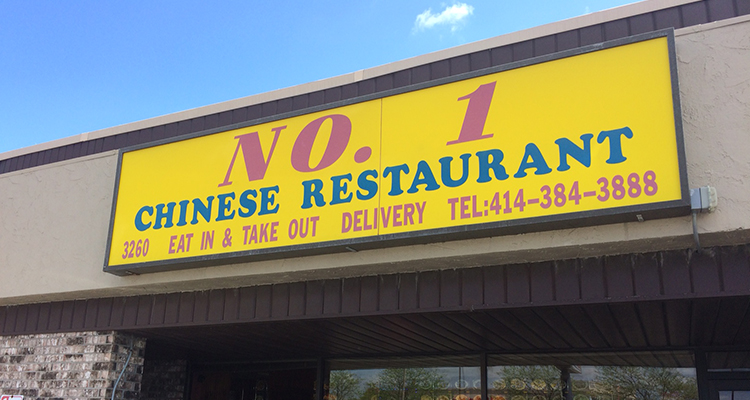 No. 7 Chinese — No. 1 Chinese Restaurant (3260 S. 27th Street)
Located amid the hustle and bustle of 27th Street, this mini mall restaurant seems to heavily hinge on its delivery service, despite the five tables scattered in one of the largest dining areas of the bunch. There was no music playing during our visit (get accustomed to reading this), so ambiance was left to the six staffers talking and the sizzle of deep-frying meat.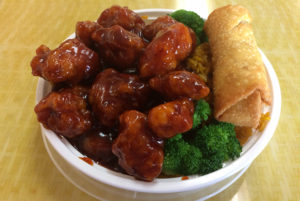 Our order ($6.25 lunch special) featured a generous portion of chicken and two broccoli sprigs served a bed of chicken fried rice. It also came with a chicken egg roll. A wealth of poultry isn't always a good thing, however. The chicken was swimming in sauce, but the meat was on the dry side once we made it past the wall of rigid breading. The chunks in our rice and egg roll had a concerning gray hue. Oh yeah, there was also a bone shard in one of our Tso pieces.
In the end, the fast, friendly service and the convenient location weren't enough to overcome the food issues we faced. Here's your No. 7 Chinese, Milwaukee.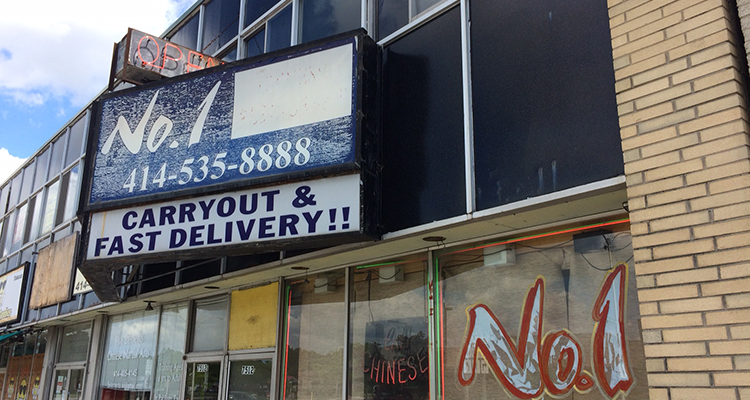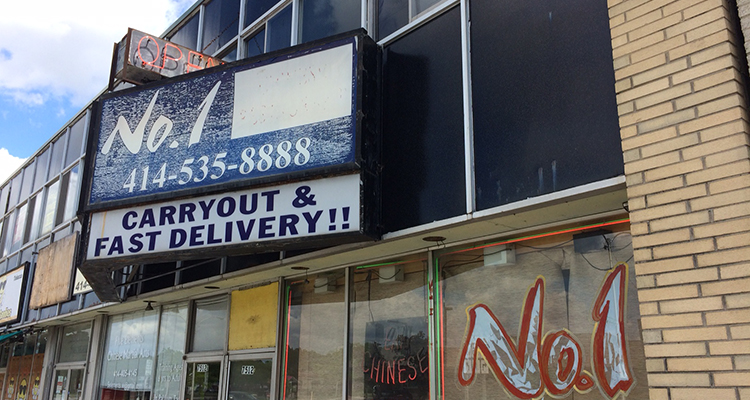 No. 6 Chinese — No. 1 Chinese Restaurant (7512 W. Appleton Avenue)
Out on Milwaukee's north side, nestled between Capitol Drive and 76th Street on high-traffic Appleton Avenue is one of the No. 1 joints that—based on its logo, pricing, and strikingly similar menu art—is among the affiliated restaurants scattered around metro Milwaukee. While it shares similarities with its counterparts like the two-broccoli-piece policy, a complementary egg roll, and the utter lack of music, there are a few notable (and mostly detrimental) differences.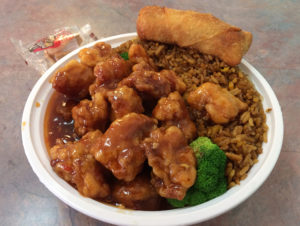 Though, again, the staff was nothing short of delightful, the space wasn't exactly inviting. Amid the audible hum of coolers and fans, we placed our order: the General Tso's Chicken lunch special ($6.50). The chicken-to-sauce ratio was perfect, and the sauce toted a subtle zing. The meat itself was somewhat discolored and had soft, mushy breading. The egg roll was fine, but unremarkable. Meanwhile, the fried rice was dark with grease, soy sauce, and char.
We also got a fortune cookie with the meal, which was the only good fortune our visit to the Appleton Avenue establishment awarded us. If you live in the delivery area and have a hankering for some Tso's, go for it. If you're thinking of eating in, know there are better places…including five restaurants with a similar name.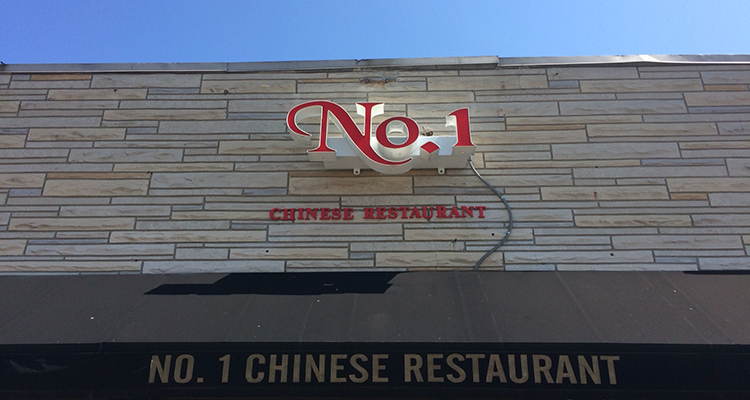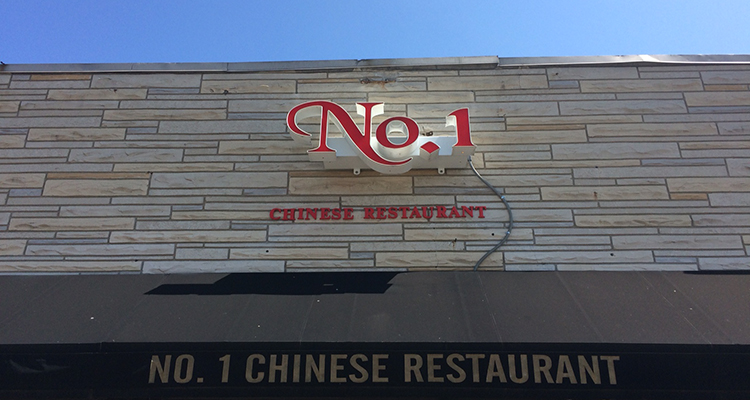 No. 5 Chinese — No. 1 Chinese Restaurant (2678 S. Kinnickinnic Avenue)
We first visited "Dirty Dining" series regular way back in 2014, when we sought to dispel the perception Bay View's No. 1 Chinese Restaurant was bad just because it had 30 health violations between 2009 and 2012. Ultimately, we had a perfectly fine meal in a weird setting, then swore we'd probably never go out of our way to return to. We were so naïve!
This time around, we found the Tso's chicken lunch special ($6.25) to be tangy, semi-sweet, and abundant. This was one of the few places in which we received more than two broccoli pieces, and both the poultry and vegetation came served atop a generous bed of fried rice. It, too, came with an egg roll. Like our maiden voyage at this misunderstood and maligned business, our meal wasn't amazing, but not bad in the slightest. Still, it was hard to be able to see Crafty Cow, and know Vanguard and Hue were mere steps from a middle of the road place we'll officially never go out of our way to return to.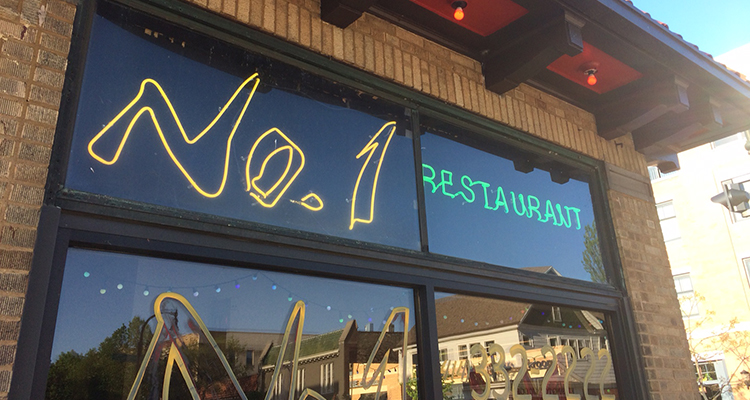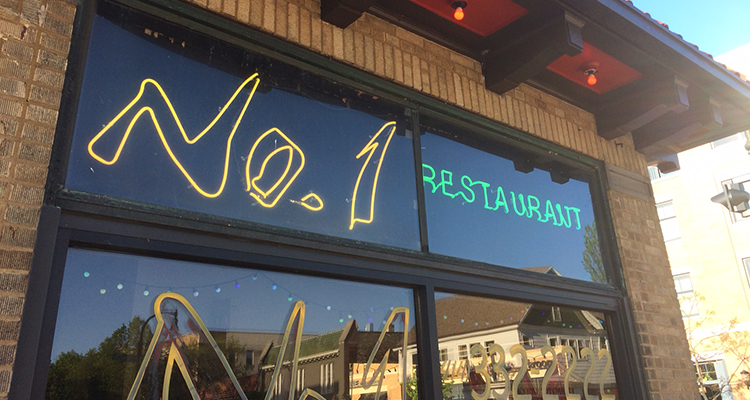 No. 4 Chinese — No. 1 Chinese Restaurant (4501 N. Oakland Avenue)
Before Shorewood had the abundance of bars, restaurants, and…uh pretty much anything it has today, the well-to-do village had Benji's Deli and a No. 1 Chinese Restaurant. The latter has lost its monopoly on the suburb's collective taste buds amid growing neighborhood competition and the advent of delivery services like Postmates. Is the long-running restaurant still deserving of its cherry location in a now-vibrant Shorewood, or will the holdover from less delicious times soon to be a thing of the past?
As it turns out, Shorewood's No. 1 lands somewhere in between. We took a seat at one of the diminutive dining room's three booths and took note of the framed Milwaukee Magazine "Best Of" issue…from 1985. Other interior accoutrements were: boxes of fortune cookies, a buzzing cooler, stacks of to-go containers. The chicken itself ($6.25 lunch special) was slathered in a dark coat of sauce that was quite salty, even by Tso standards. The meat seemed to be of a higher quality than some of the previous entrants, but there was more broccoli than any other No. 1, which impacted the chicken coverage. Altogether, it was okay, but in regard to the seven options, it lands squarely in the middle of the pack.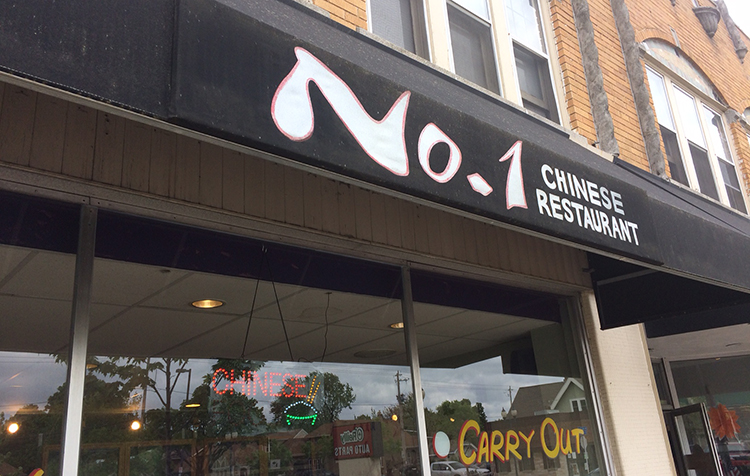 No. 3 Chinese — No. 1 Chinese Restaurant (6119 W. North Avenue)
No. 1 Chinese spread its Milwaukee empire into Wauwatosa's welcoming and unoriginal arms before it became an unofficial local law for any moderately successful restaurant to do so. About half a block from Juniper 61 on a segment of North Avenue that's presently rife with road work sits the smallest No. 1. It's more like. No. Half Chinese or something. Hey-o! After seeking out the Tso surname on a wall-mounted menu with stock photos that were unappetizing well before they were sun-bleached, we placed our order with a woman who was equal parts direct and rude. Maybe it's because we very well could have been the first dine-in order in the restaurant's history.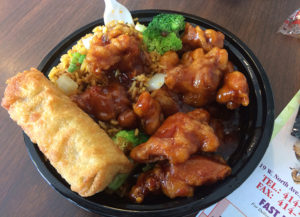 Stern as the server was, our order ($6.10) arrived at our table—one of just two in the place—exceptionally fast. Better yet, it was good. The chicken was crispy on the outside and had tender white meat within. Almost every chicken piece was plump. The sauce was nothing particularly outside the box, but also didn't get in the way of other aspects. The abundance of fried rice with crunchy diced onions was a nice accent, as were the fresh egg roll, the fortune cookie, and the array of sauces we were given.
Sitting alone in silence at a table overlooking suburban road construction wasn't ideal, but as you've read, we've certainly had worse.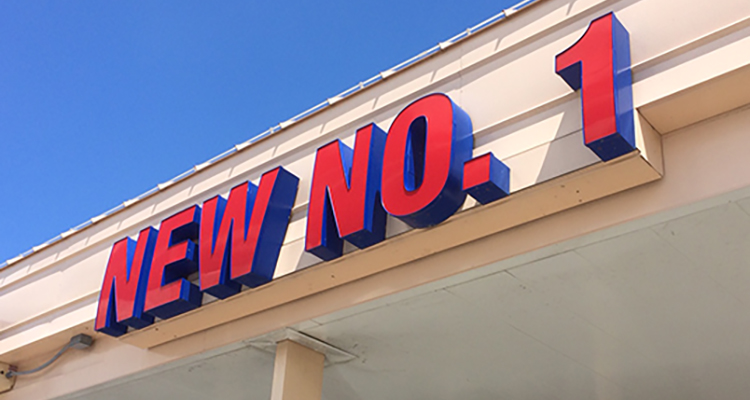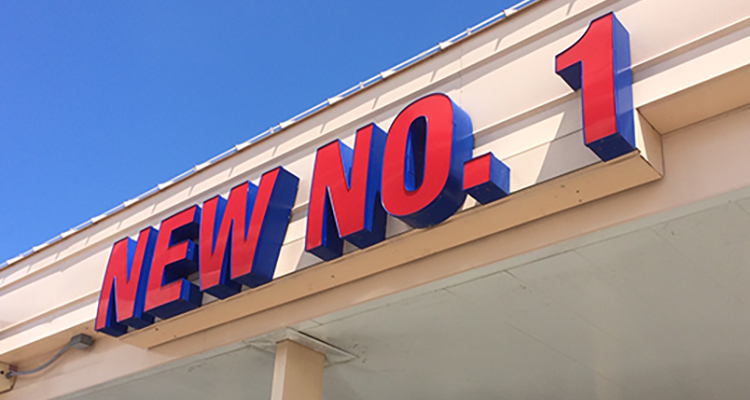 No. 2 Chinese — New No. 1 Chinese Restaurant (7536 W. Oklahoma Avenue)
Out in West Allis, in a small shopping plaza set on the edge of Milwaukee proper, is New No. 1 Chinese. Aside from the strikingly similar menu art (man, these restaurateurs love the Great Wall!), this location was nothing like the previous No. 1 Chinese joints we've covered. The name is different, but that's just the beginning. The dining area was spacious and had nine tables. Moreover, there were decorative touches like plants, lanterns, and a smiling Buddha statue was placed near the front door.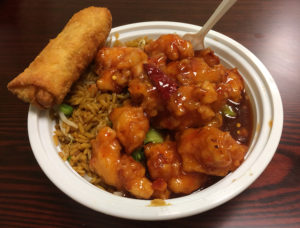 The attention to detail transferred to the food ($6.25) as well. The chicken egg roll was among the best we'd had at any No. 1 location. Atop a heaping bed of fresh pork fried rice that was replete with bean sprouts, peas, onions, and the now-standard two broccoli springs were chunks of juicy white meat chicken.
The poultry's breading was on the soft and thin side, but the sauce was semi-spicy as a result of the dried pepper pieces mixed in. When the excess sauce was mixed with the rice and stuck to the chicken, it was about the most blissful someone can possibly feel while dining in silence in a West Allis mini mall.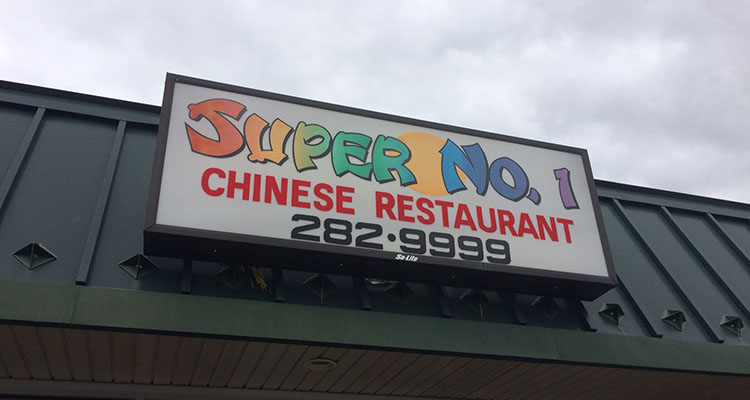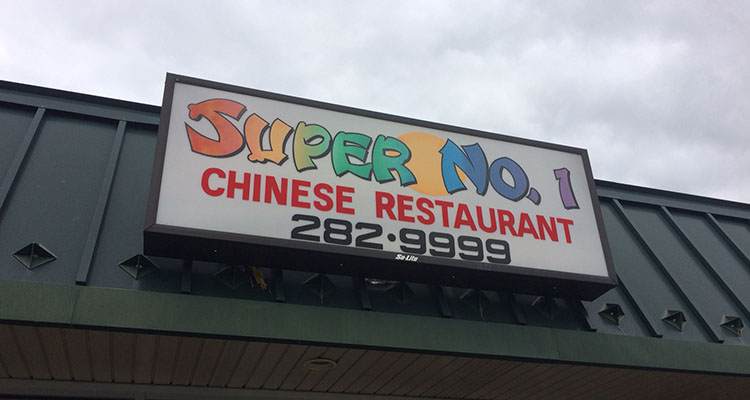 No. 1 Chinese — Super No. 1 Chinese Restaurant (2016 W. Layton Avenue)
When entering this dingy establishment tucked beside a mini mart on Layton Ave, you'd never guess you're in metro Milwaukee's best No. 1 Chinese place, but that's exactly what Super No. 1 is. We waited beside a photo of the Great Wall (see!) in a disorganized lineup of folks waiting for to-go orders—a good sign, right?—and studied yet another UV-faded menu. After the other customers cleared, we placed our order and sat at one of the two tables. We immediately noticed a strange sound. It was music! Oh, how we've missed thee!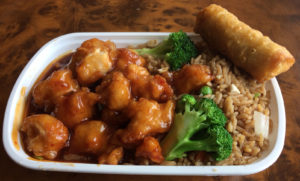 At $6.75, Super No. 1 was the most expensive of the bunch, but it also had the best portions. The chicken was of a quality no other No. 1 could touch, and the perfectly fried white meat was touched with an underlying hint of lemon and pepper. The rice was also a standout, with huge pieces of chicken, gigantic grains, crisp onion, and dried peppers.
Best yet, it was a rare reprieve from the unrelenting gauntlet of sodium we'd been running for nearly the entirety of this ill-fated mission. All that and the above average chicken egg roll helped excuse the two limp broccoli pieces and the substandard dine-in space. Absolutely consider takeout or delivery if you live nearby.
Congratulations to Super No. 1 Chinese for being the true No. 1 in our heart and our stomach—both of which wouldn't mind a break from General Tso's Chicken for a while.