After enjoying success in other markets, McDonald's officially became available on UberEats in Milwaukee last month. On June 26, the world's largest and best-known fast food chain joined forces with a controversial-yet-convenient ride share service to forge a merger that allows residents of greater Milwaukee to get an unhealthy treat delivered to them anywhere they so desire for a $4.99 "booking fee."
Finally, an even easier way to enjoy a variety of already-easy-to-obtain amalgamations of technically edible chemicals without the need to leave home or interact with another human. What a time to be alive! Since we've been hot on the McDonald's cheese curd, Big Mac Special Sauce, and Mike Ditka commercial beat, we figured we'd test the effectiveness of this unholy McDonald's/UberEats unity by getting McDeliveries™ to a few weird, unconventional, or hard-to-find places. Yeah, we're aware this isn't news. Whatever. Go into the void.
Order #1 — Milwaukee Record Headquarters
Order: Quarter Pounder with cheese meal (w/orange Fanta), Buttermilk crispy sandwich meal (w/Coke Zero), McFlurry, side of ranch dressing
Delivery time: 23 minutes (one minute before estimated delivery time)
Price: $20.24
There are two things you need to know about the illustrious Milwaukee Record office, located along the industrial shore of the Kinnickinnic River: it's immune to the powers of GPS, and the drive-up is dicey as hell. Seriously, the only way to direct people there is to tell them "Just go to Barnacle Bud's and text us." Even then, Barnacle Bud's is kind of hard to find, and nothing about the abandoned-factory ambience screams "online publishing business." (Well, on second thought…)
Anyway, despite our tucked-away location, and despite the need for a call from our driver at nearby Santino's ("I'm not sure if I'm supposed to drive into these factories…") our maiden McDonald's/UberEats order came in one minute ahead of schedule. Nice! Not so nice was the regular Coke instead of Coke Zero, the lack of southwest ranch sauce on our chicken sandwich, and, oh yeah, a missing Quarter Pounder. We tipped anyway, of course, filed a report on the app ("Didn't get the Quarter Pounder. Oh well!") and went on with our day. Sometimes you eat the car-delivered, questionably edible foodstuff, and sometimes the car-delivered, questionably edible foodstuff eats you.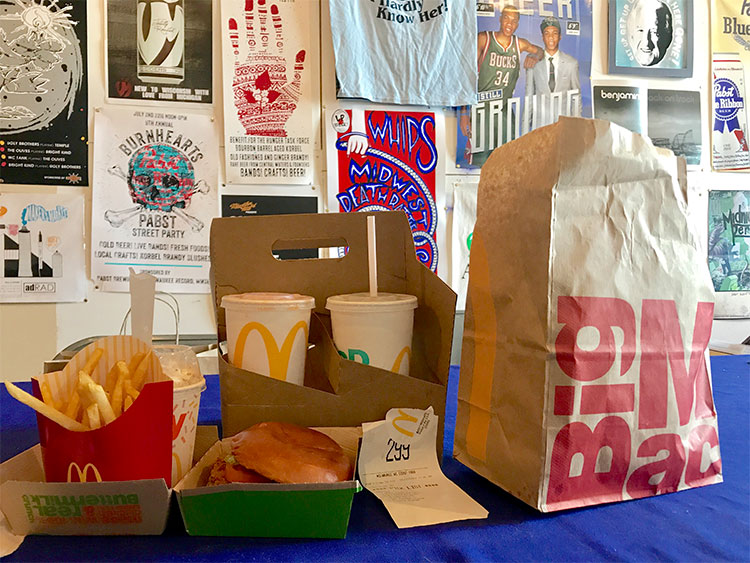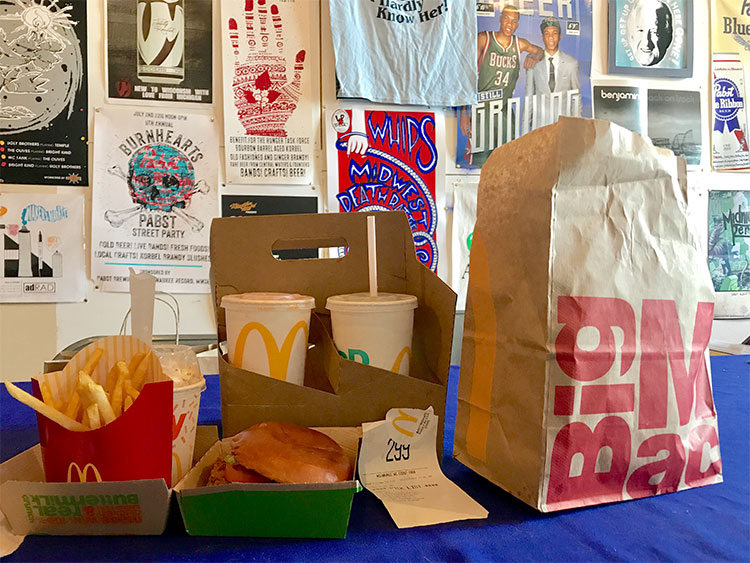 Order #2 — Kaszube's Park
Order: 10-piece Chicken McNuggets, large unsweetened iced tea, McDouble, side of BBQ sauce and ranch dressing
Delivery time: 22 minutes (two minutes after estimated delivery time)
Price: $11.97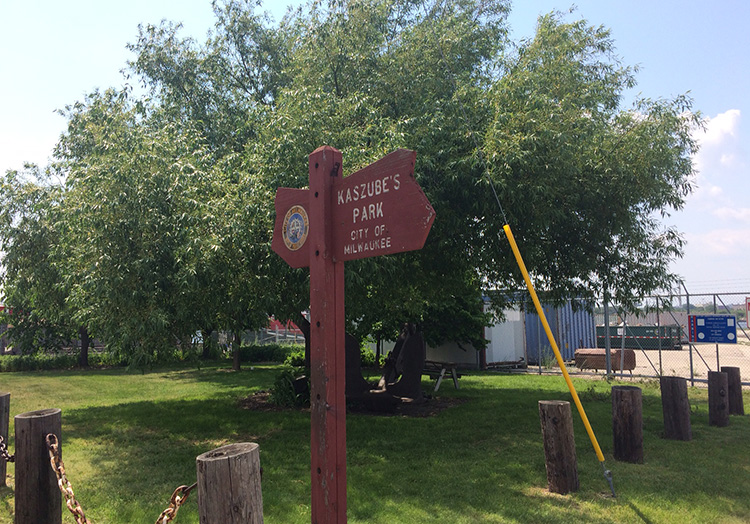 The distance of this delivery was a mere 1.68 miles, but we knew it'd take a little longer than usual. You see, we gave our driver (Helen) the tough task of finding us at Milwaukee's smallest and hardest to locate parcel of public land, Kaszube's Park. We sat under the single tree at the .15-acre Jones Island park and tracked the order with alternating feelings of amusement and remorse as we saw a van avatar circle the confusing industrial peninsula. Miraculously, Helen arrived just two minutes later than the original estimated delivery time. "This was a tough one!" she said with a smile as she handed us our food. Now fully regretting this mission, we made sure to tip her extra to at least somewhat make up for her wasted time and fuel. Sorry, Helen!
Though she'd been lost, Helen handed us what could pass as a perfect UberEats order. The nuggets and burger remained hot and exactly as we'd ordered it (we ate some nugs before snapping the above photo). We got both our sauces, and—unlike our first order—our drink was cold and still had an abundance of ice in it. Unfortunately, the meal had to be eaten quickly, as we were sick of sitting alone in this creepy park in the middle of nowhere.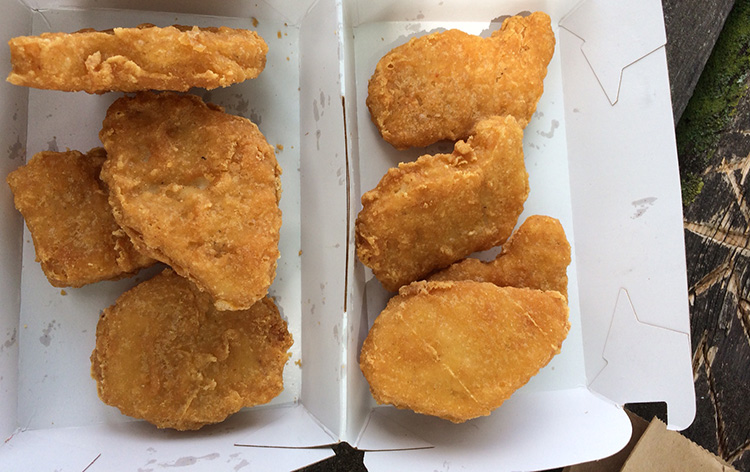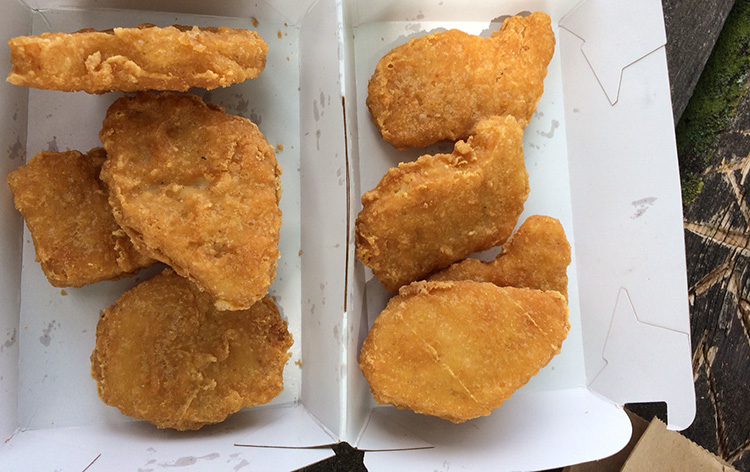 Order #3 — Milwaukee County Courthouse
Order: Quarter Pounder with cheese meal (w/Hi-C Orange Lavaburst)
Delivery time: 18 minutes (three minutes after estimated delivery time)
Price: $11.56
Not only was there a ton of construction surrounding the Milwaukee County Courthouse on our Thursday afternoon visit, there were eight food trucks lined up on Wells Street. Falafel Guys, Jamaican Kitchen & Grill, and even Cousins were all present, feeding the throngs of clerks, lawyers, and security guards outside the venerable courthouse. We reveled in the power of being the only ones to know McDonald's was about to get in on the action, too.
The UberEats app was a bit glitchy during our wait—the little car avatar never moved from the McDonald's on 1st and Pierce, even as the minutes-remaining ETA steadily counted down—but our order still arrived like clockwork. "Thanks for using the service!" said our driver Michelle, unfazed by the construction and the security guard giving her temporary parking job the side-eye. Our order was accurate. The food was hot. It was beautiful outside. One of us used to spend a lot of time at the County Courthouse during a four-year stint as a law-firm courier, and was eventually married there. It was a great time. It's a beautiful building. Also, the McDonald's we ordered from still carried Hi-C Orange Lavaburst. This was totally worth it.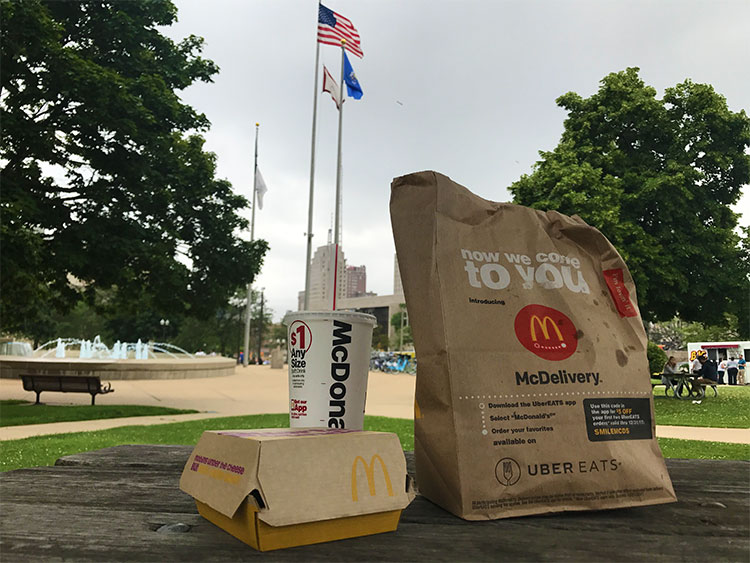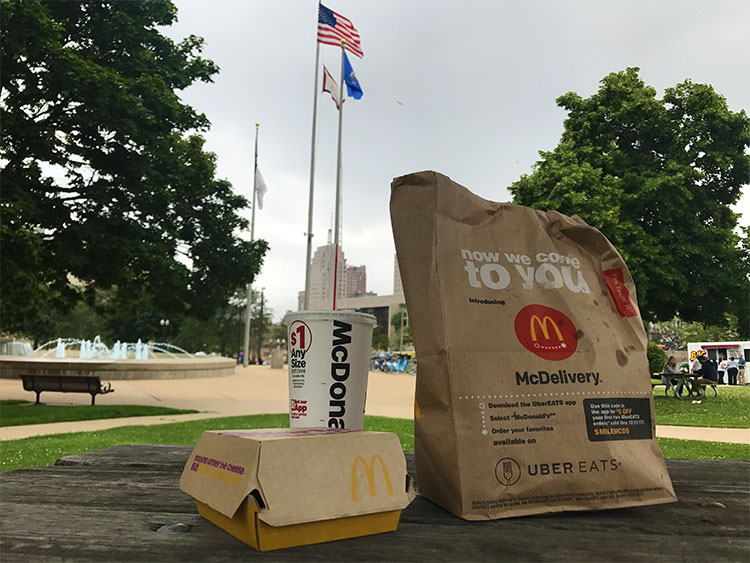 Order #4 — Wendy's
Order: Cheeseburger (without onions), caramel sundae, McChicken sandwich
Delivery time: 15 minutes (two minutes after estimated delivery time)
Price: $8.79
The Chase Avenue Wendy's location isn't exactly weird or hard-to-find, but we wanted to see if UberEats would dare breech the border of a far superior fast food franchise to make a few bucks. Even entering "Wendy's" into the location field didn't deter McDonald's or the delivery app from possibly inciting a burger beef. We eased the driver's mission by adding the make and model of our vehicle in the Wendy's lot, and within 15 minutes, the driver (Erik) parked beside our car and handed off the goods.
Our burger was the perfect temperature and the onions were omitted just as we'd requested. The McChicken could've been a bit warmer, but it was on par with, if not better than sandwiches we'd received in previous orders. The sundae was a bit melted, but it was likely a byproduct of the hot caramel it was topped with. Both Erik and the Potter Avenue McDonald's saw fit to provide us with a plastic spoon and small bag of crushed peanuts to top the sundae. So if you work at a competing franchise and want to get your McDonald's fix, there's apparently a viable way now.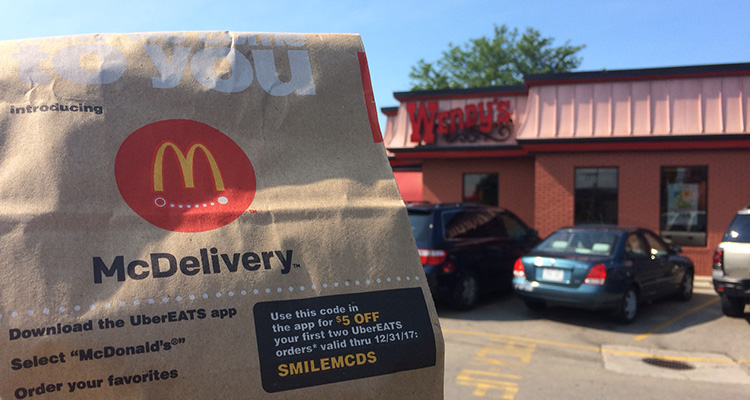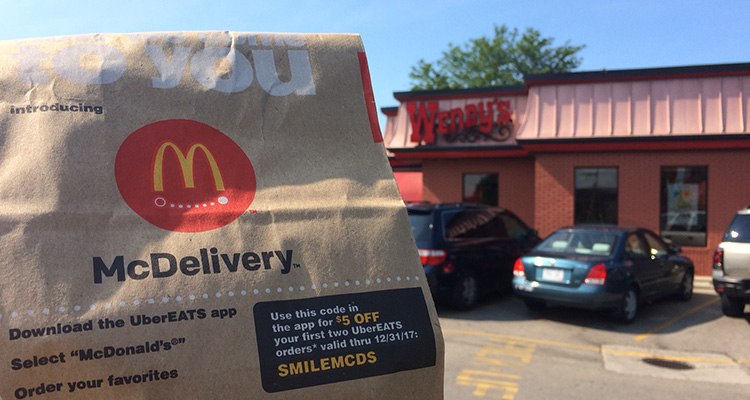 If waiting in line at McDonald's isn't your cup of tea, UberEats has found a way to bring you warm representations of the food you know and love within half an hour's time. You'll usually get what you order and we can say with certainty that drivers will eventually be able to find you, no matter where you are.