Today marks the final day of 2017's Downtown Dining Week, which exists as a means of helping to recognize, celebrate, and advertise the upscale and cutting edge food options available in the heart of Milwaukee. Even without an eight-day event dedicated to getting the word out, there's also an abundance of innovative, elegant, and all-around excellent restaurants garnering loads of attention both in the city itself and its surrounding suburbs.
While the growing and improving reputation of Milwaukee food is a great thing, the steady stream of buzz directed at new dining ventures and the building presence of some of the city's formidable restaurant groups make some of Milwaukee's long-running, less-than-chic, and tucked away establishments get lost in the shuffle. With many of the same simple and trend-averse foods it has offered for close to 30 years, and lacking a colossal ad budget, one small restaurant on the edge of Bay View has quietly kept its name and its menu items in the collective mind of both neighborhood residents and Oklahoma Avenue commuters on a daily basis with one subtle-but-effective means of promotion: its sign.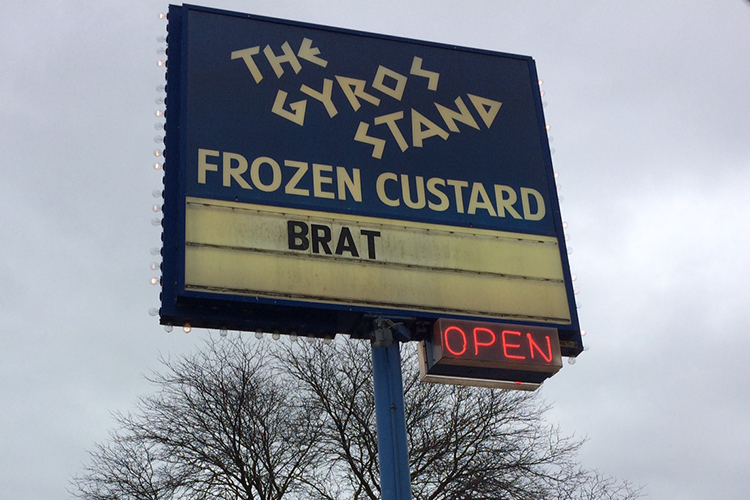 The Gyros Stand (1110 E. Oklahoma Ave., 414-747-1103) opened in 1989. Since then, not much has changed. The family-run operation hasn't really deviated from its standard fare of gyros, kabobs, burgers, sandwiches, and frozen custard. The cozy interior screams of the early '90s. It's still cash-only. They have no official website. The only thing The Gyros Stand changes with any regularity is the lettering on its exterior sign. Almost every day, a new food or sentiment appears on the towering, bulb-bordered board that faces out near the corner of Oklahoma and Clement. Oftentimes, the message is so short that only one line of the two-deck text plain is utilized.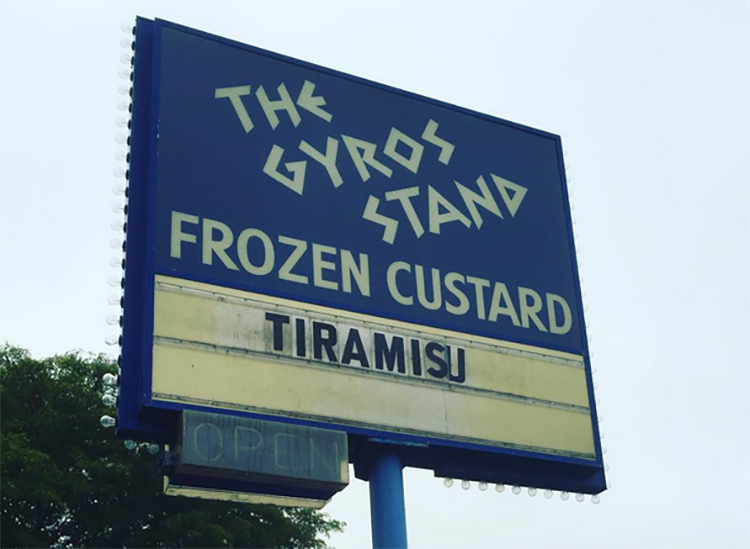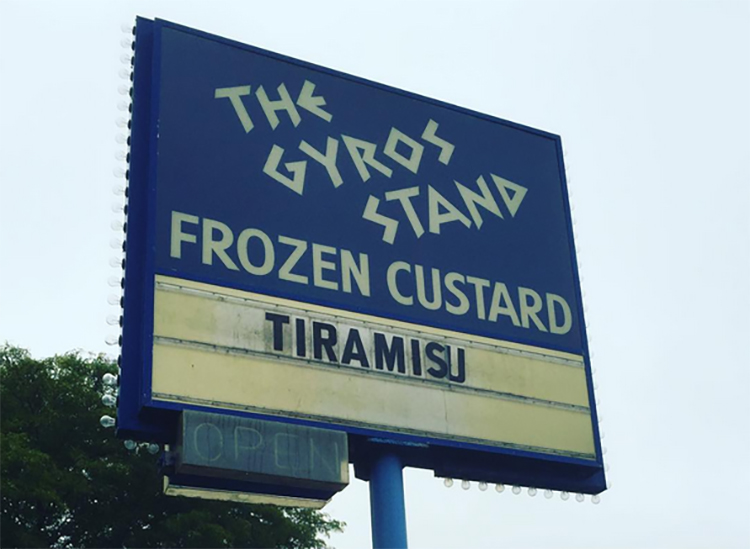 "I think the sign is special because it's bright. It's near a main intersection on a busy street," says Joshua Boll, founder of The Gyros Stand Sign account on Instagram. "Also, they seem to change the special quite often."
When he lived in Milwaukee, Boll (who has since moved to Oregon) was taken by the signs frequent updates and almost-as-frequent misspellings, which he says he found to be "both annoying and hilarious." He started snapping photos nearly every time he passed and posting his findings on Instagram.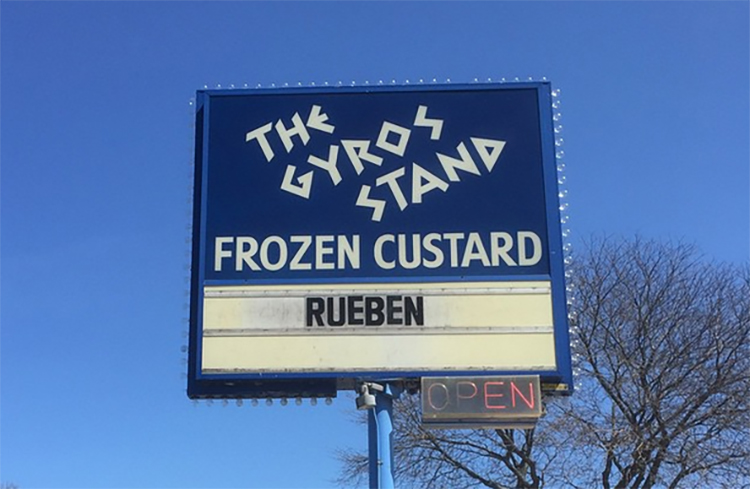 Boll once requested The Gyros Stand change the sign so he could send along a special message to his wife. The owners complied.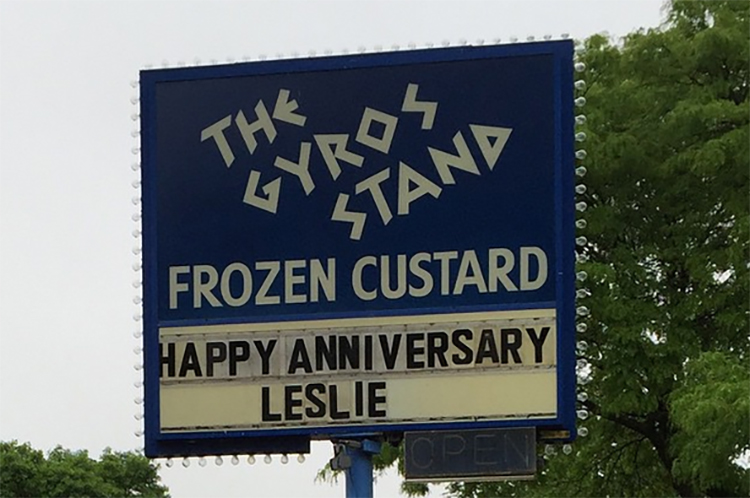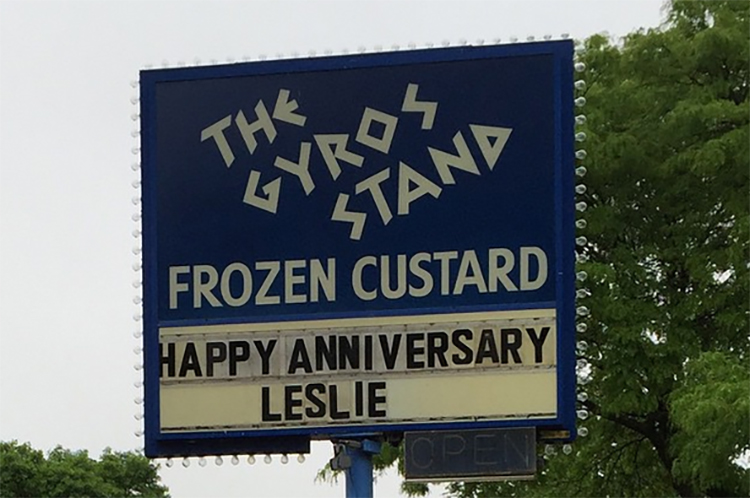 More than its quirkiness, though, The Gyros Stand's promotional tactics stand out because they're perplexing. Each day, an employee is tasked with putting in the work to replace a message on both sides of a sign. Yet the message on that sign is usually vague, confusing, rarely accompanied by a price, and not really all that directly beneficial to business. Passersby are left to wonder if the Greek Burger is a new menu item. Is it on sale? If so, how much does it cost? Is it even good? None of that seems to be all that important to The Gyros Stand. At its core, the sign simply seems to be a daily tool to let Bay View know they're still there, they still have food, and they will make that food for you at a cost you weren't aware of until you walked inside the restaurant.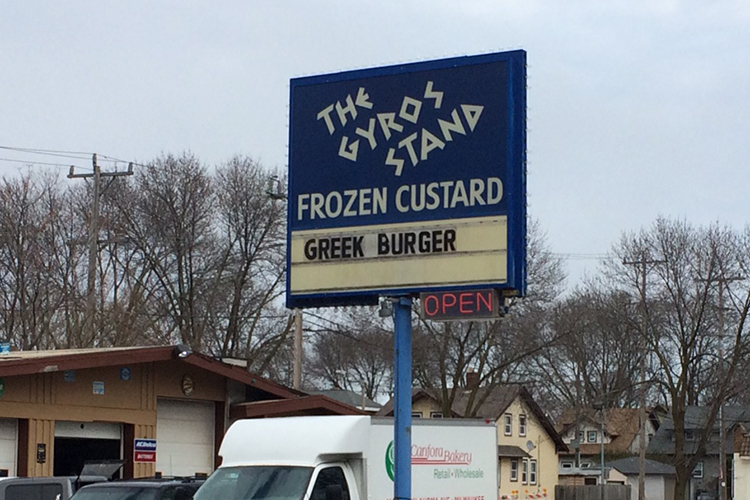 In an era of ubiquitous advertising, and at a time in which humans are reduced to the role of consumers, who are then organized into demographics to have their behaviors tracked and habits analyzed, The Gyros Stand and its weird sign bring a refreshing dash of passive marketing to a neighborhood (and a city) whose dining climate has become more competitive of late.
As we conclude a week of acknowledging the new, posh, and commercially-savvy restaurants in Milwaukee, it's important to remember places like The Gyros Stand exist. With any luck, this little Greek joint and its weird sign will always be around, and the only thing that will ever change will be the charming and brief daily messages left with the hope of leading you inside.