Throughout the 1980s, the 1990s, and into the 2000s, Milwaukee's early morning airwaves were ruled by two names: Reitman and Mueller. Bob Reitman was already a radio veteran when he was paired with relative newcomer Gene Mueller in 1982, but together the duo became Milwaukee legends. Over the course of a quarter-century, Reitman and Mueller broadcast from the Soviet Union and six Olympic games, and had a joint cameo on Cheers. They were the Lennon and McCartney of local radio, the Jagger and Richards, the Goofus and Gallant. They were funny, irreverent, and self-deprecating (frequent references were made to their "seven listeners"). They were also incredibly popular: When Reitman retired in 2006 and the duo disbanded, their home station, 94.5 WKTI, fell eight positions in the ratings.
But back in the early '80s, Reitman and Mueller were young, hungry, and riding high on their newfound fame. It was clearly time to expand—some might say pivot—to television. Enter the duo's 1983 "Brew Ha Ha" special, a live variety show (of sorts) recorded at the WTMJ studios. As uploaded by YouTuber MrDmd93, it's a wonderfully weird time capsule of music videos, live music, comedy sketches, and at least two impressions of Michael Jackson (it was '83, after all). Let's comb through this sucker minute by minute (and second by second), shall we?
:00: "Okay, you guys want some more booze?" Well, that's certainly a way to start a special. Sadly, according to YouTube uploader MrDmd93, the first 10 minutes of his "Brew Ha Ha" tape were taped over, leaving us with only a hint of the opening of the show. Mueller is rocking a Brewers jersey and Reitman kind of looks like a really tall John Astin. Both men have mustaches. The set is eerily reminiscent of early SNL or the finished part of a finished basement.
:06: Ah, the booze reference is for The Booze Brothers, a.k.a. the "Brew Ha Ha" house band that has apparently already treated the live studio audience to several covers of—you guessed it—The Blues Brothers. The Milwaukee-based band is still around today, and just played the BMO Harris Pavilion at this year's Summerfest. We'll take our lumps for failing to include The Booze Brothers in our list of hometown acts that played the 50th edition of the Big Gig.
1:00: So The Booze Brothers are doing "Soul Man" (natch) and it's okay. We'll let others hash out the optics of a white band covering a white band covering a song by black artists, but HOLY SHIT THE HORN SECTION IS ON POINT.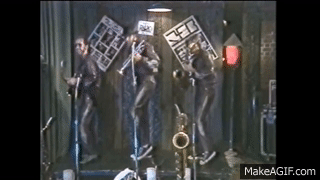 1:30: Personalized lyrics alert! "And when you get up / You got something / Don't you worry / 'Cause Reit-man's coming." Yes, "Soul Man" has suddenly transformed into "Reit Man." Mueller gets a passing shout-out.
2:22: Reitman and Mueller are taking the stage and hijacking The Booze Brothers' mics. "I love this song, love this song," says Mueller. "I'd like to do a song about a dog that walks into a bar…and asks the bartender for a DRINK!" says Reitman before being escorted off the stage by his partner. What's going on?
3:00: THE HORN SECTION IS CALLED "THE HEY BROTHERS" AND THEY'RE DOING A SOLO. A woman in the audience seems perplexed for some reason.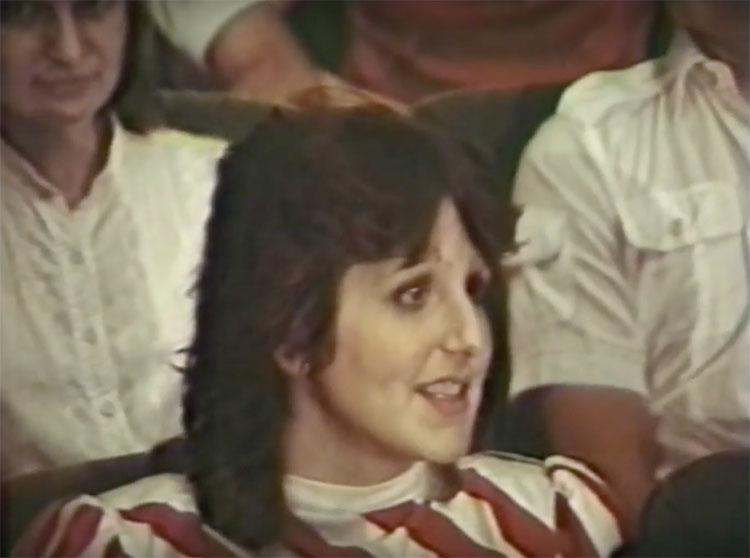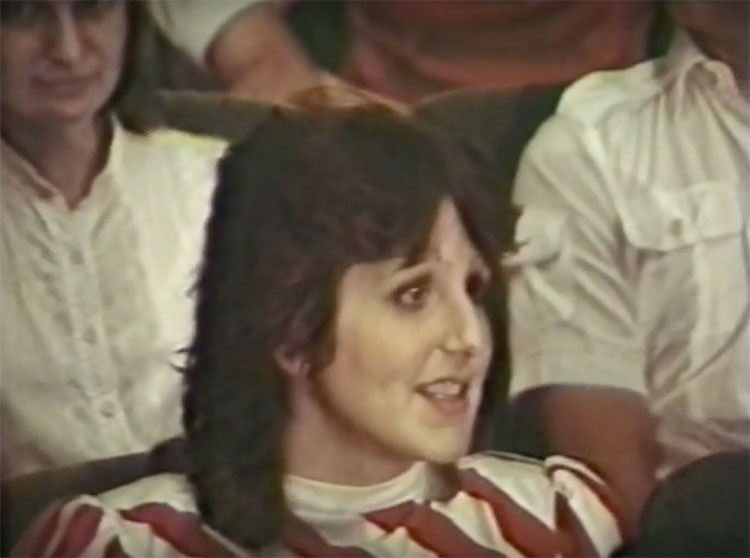 4:22: "You wanna watch a real neat rock video now?" Yes we do, Bob. Yes we do. Jesus, MTV was only two years old in 1983. But those early videos…man, those were the best. Maybe we'll get something from The Buggles, or Blondie, or Robert Palmer, or…
4:30: "Doug And The Slugs!" exclaims Mueller. "Watch the monitors. Watch at home, too. Good stuff." Huh.
4:36: So, according to their website, Doug And The Slugs are "one of the most distinctive and entertaining Canadian bands of the last 30 years." The video Reitman and Mueller are making everyone sit through, "Makin' It Work," involves the band posing as in-house sex therapists, a woman reading Playgirl, a parody of Deep Throat ("Deep Slug"), and, um, the main dude licking whiskey from the woman's leg. Beware.
7:45: "Coming up next on 'Brew Ha Ha': Coach Ed!" Wait, who's Coach Ed? The mind reels.
7:54: Okay, this is getting good. A limousine is pulling up to the WTMJ studios. Michael Jackson's "Billie Jean" is playing on the soundtrack. The audience is clapping along. The limo door opens, and there he is…Coach Ed! Who's Coach Ed again? Well, from the looks of it, he's a middle-aged gentlemen in a dark suit and sunglasses who looks more like The Blues Brothers than The Booze Brothers did. And he's up next!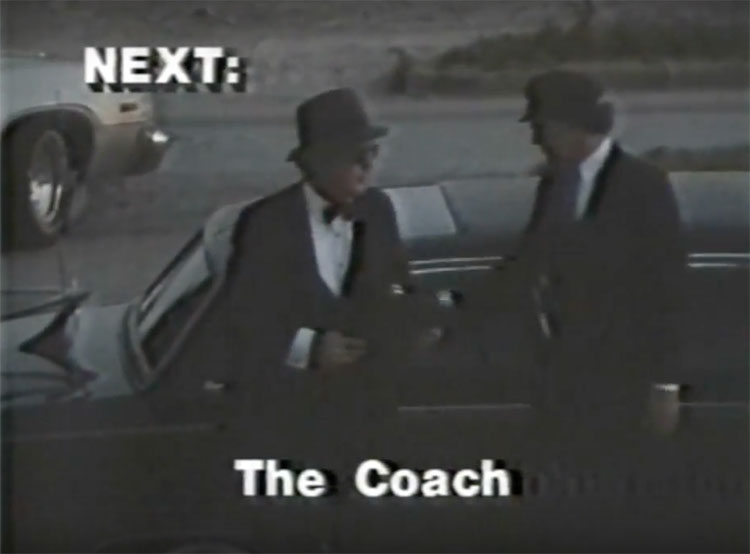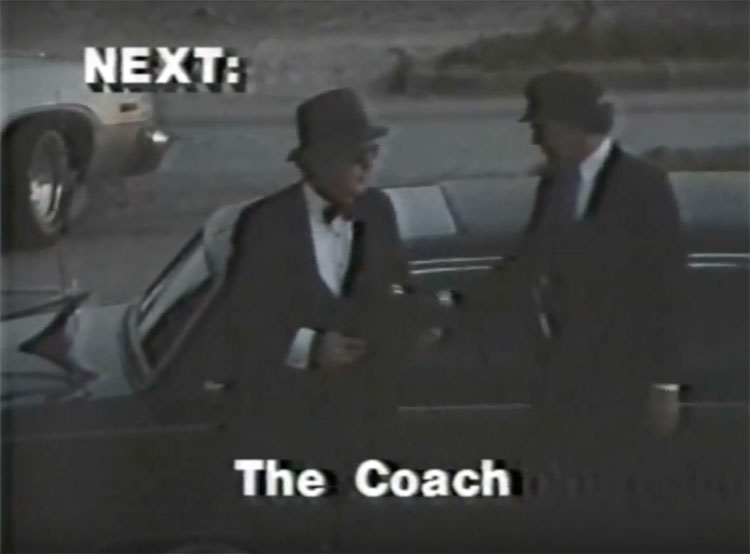 8:48: "Ladies and gentlemen…Coach Ed!" So. Here we go. "Billie Jean" kicks in again, the audience goes nuts, and Coach Ed dispassionately surveys the scene, cool as a cucumber. And then…he starts reading the lyrics to "Billie Jean." Out loud. Like, all of the lyrics. Over the entire song. It's a little bit like William Shatner talk-singing his way through "Lucy In The Sky With Diamonds," but more droll. Coach Ed gets ahead of himself a few times, but the crowd eats it up anyway. It goes on forever.
12:28: "She says I AM THE ONE! BUT THE KID! IS NOT MY SON!" Easy there, Coach.
12:56: "Mr. Hinshaw, Mr. Hinshaw," squeaks Mueller in a not-bad but definitely not-safe-for-2017 Michael Jackson impression. "I be Michael Jackson and I don't appreciate…You don't believe I'm Michael Jackson?" So it turns out "Coach Ed" is longtime WTMJ news personality Ed Hinshaw. He began as an anchor in 1965, and retired in 2002. When Hinshaw died in 2016, Mueller penned a eulogy:
Ed's alter ego, Coach Ed, was a creation of KTI morning guy Bob Reitman's. He remembered an old Steve Allen "Tonight Show" bit during which Allen solemnly read the lyrics to the era's most ridiculous rock and roll songs. Reitman re-purposed the building's stoic editorial voice as a new age Steverino and thus, Coach Ed was born. Kudos again to management for letting it happen–it could've easily quashed the bit after the first airing. Instead, it flourished and Milwaukee that grew up respecting Ed Hinshaw was rockin' out to his fedora-wearing alter ego.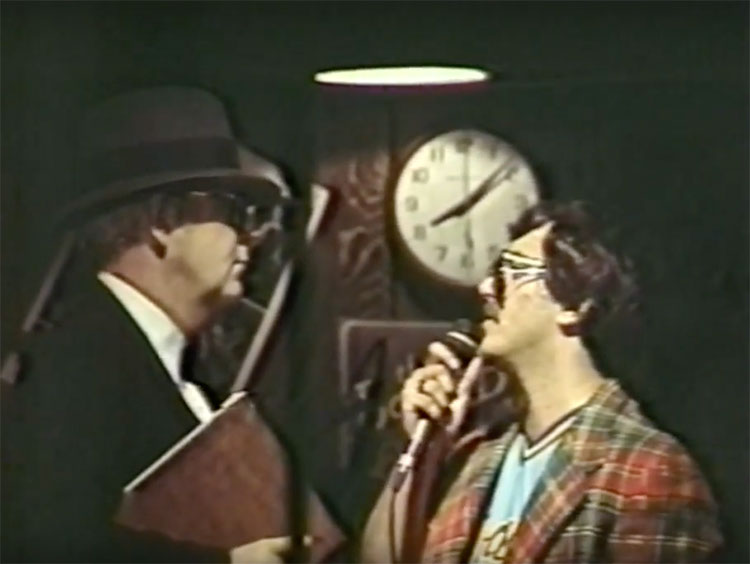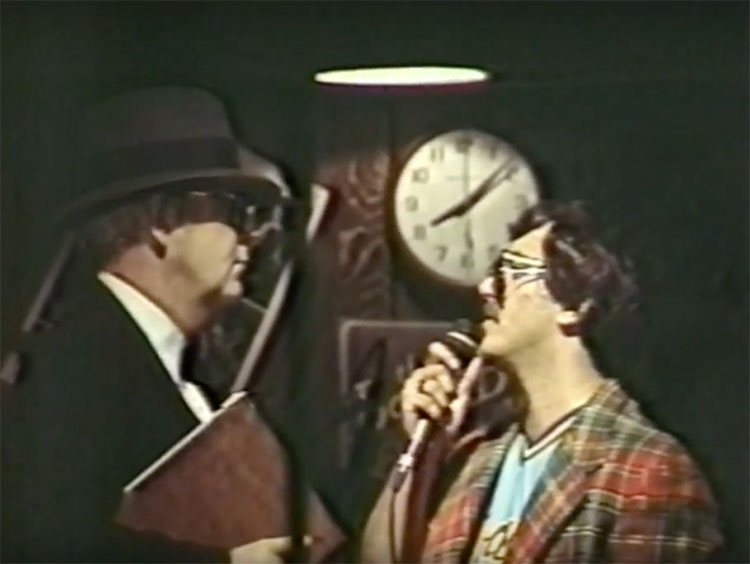 13:30: Mueller and Hinshaw won't drop the "you're not Michael Jackson" thing. "It seems to me…entirely clear…at this moment…that you are not Michael Jackson," says Hinshaw. "So, so…BEAT IT! JUST BEAT IT!" Ah, there it is. A long way to go, but worth it.
14:05: Wait a minute…there's suddenly an actual Michael Jackson impersonator, Juan Flowers, doing his thing to "Billie Jean." Sadly, the bulk of his performance is cut. Turns out YouTube uploader MrDmd93 had to trim the video because of copyright concerns. Here's all that remains of Flowers' inspired performance: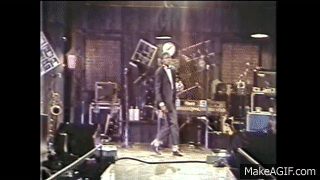 15:00: We're back (after skipping over two copyright-unfriendly videos), and it's time for "Cooking with…Bob and Gene." "Bob, it's hard to believe this time of night that people get hungry, but, hey, I could go for some munchies," winks Mueller. "You want something to drink, here's a screwdriver!" Reitman replies as he tosses, well, a screwdriver at his partner. "Don't laugh! Don't laugh! It only encourages him!" Mueller implores the audience. Reitman tries to tell his "dog walks into a bar" joke again. What's going on?
15:28: Reitman spends the next five minutes popping popcorn over a hot plate. Or trying to, anyway. It's…weird. Mueller watches on and makes occasional off-color cracks. Reitman wears a protective face shield. The Booze Brothers and Juan Flowers come over and everyone gets into a popcorn fight. It's interminable, largely pointless, and handily kills a lot of time.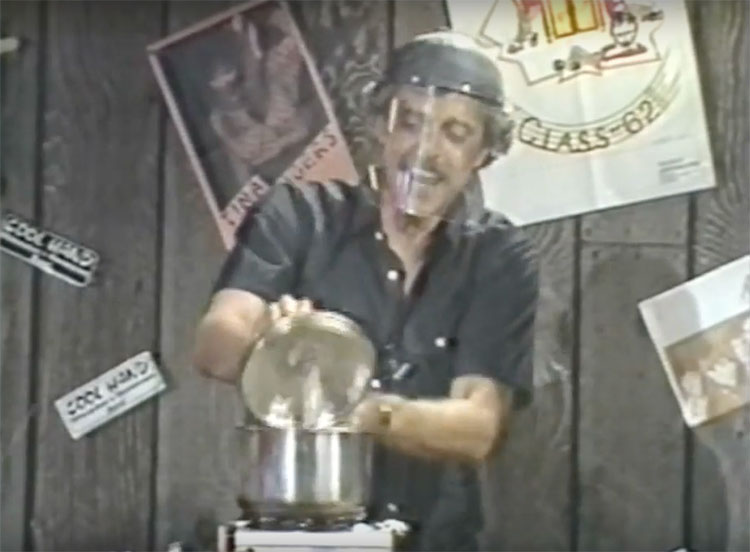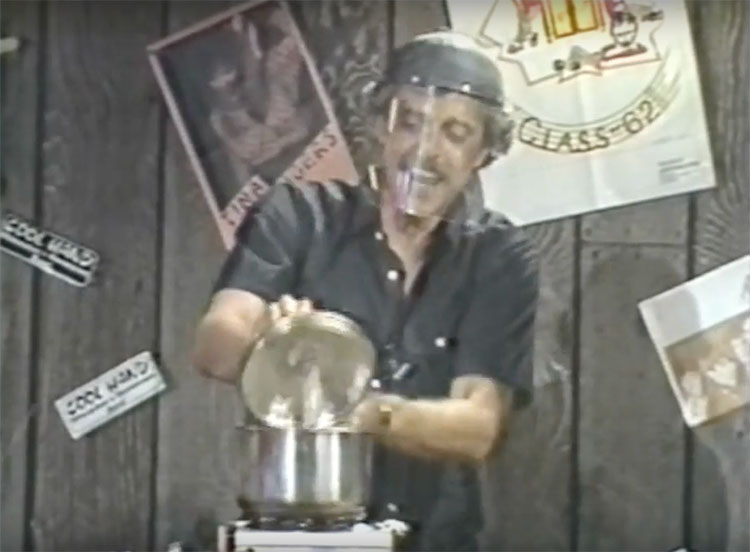 20:50: And the 1983 "Brew Ha Ha" ends as it must—with a four-minute Booze Brothers rendition of the Isley Brothers' "Shout." The Booze Brothers call Reitman and Mueller the "coffee and prune danish" of morning radio, Mueller calls Flowers "the guy who looks more like Michael Jackson than Michael Jackson," and Coach Ed gets a curtain call. Everyone is rocking out on stage and having a blast.
24:06: "No promotional fees were paid for anything," says announcer Ty Davis, "so we don't know where our guests stayed while in Milwaukee!" Ha. Man, how great were these guys? Bob Reitman is still on the radio, Thursdays at 9 p.m. on WUWM (along with his son Bobby) for his long-running "It's Alright, Ma, It's Only Music" show. Gene Mueller has been with WTMJ since 2007 (his son, Matt, is the TV and film critic for OnMilwaukee). Reitman and Mueller reunited at a Milwaukee Admirals game in 2016. No word on a "Brew Ha Ha" reboot, but oh buddy (and ya ya Milwaukee), that needs to happen soon. Good night!