There's no shortage of places to eat in Downtown Milwaukee. Shit, there's even a Downtown Dining Week to help tout the myriad of eating options—at least until half of them close at 4 p.m.—in this segment of the city. Amid the already culinary-equipped parcel of Milwaukee's downtown, Colour Palate (789 N. Water St., 414-395-3164) opened at the bustling corner of Wells and Water Streets on May 11. With the mission of "feeding your day with inspiration — salads, soups and bread is what we do" despite being flanked by countless other established soup and sandwich joints on both the local and national scale, Downtown Milwaukee's newest dining option must vie for limited lunch hour dollars in an already flooded food market. Can a business model of "eat salad" work in America—in Wisconsin—in 2015?
The space: Remember when Cousin's Subs was in this space? No? Well, come on in for a refresher. Really, not much has changed. The space has been gussied up a tad since our last begrudging visit to Downtown Milwaukee's most,uh…present submarine sandwich purveyor. There's ample seating, you can enjoy pictures of vegetables on the interior walls and gaze upon pedestrians going about their business outside in the literal shadow of city hall. For a quick-turnaround salad shop, what more could you ask for? On the restaurant's eastern wall, there's an expansive counter that's rife with more than 50 combined veggies, fruits, grains/nuts, "crunch" (stuff like croutons and tortilla strips), cheeses, and proteins. There are three separate stations to serve as a veritable assembly line of salad construction.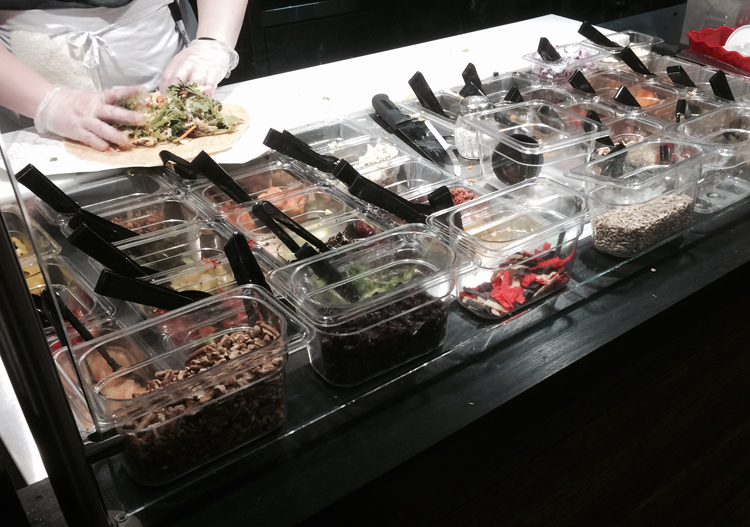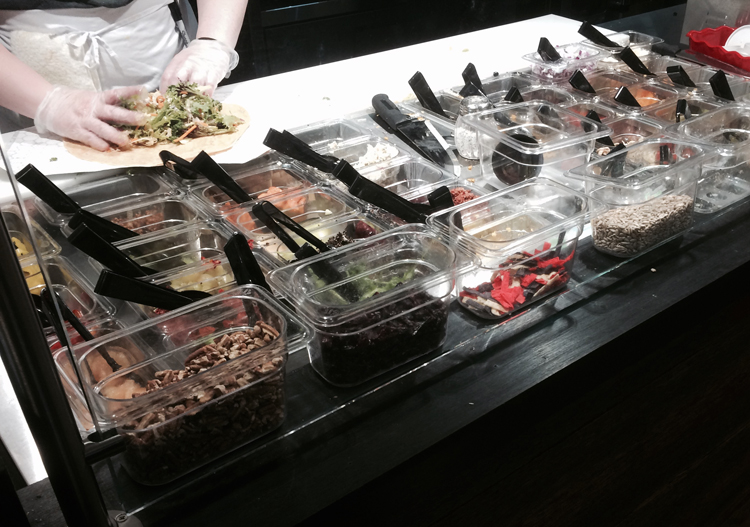 The service: Layout aside, Colour Palate kind of struggled through an admittedly busy 12:30 lunch rush during our visit. We're going to chalk that up to a new staff with less than two weeks on the job still becoming acquainted with the extensive menu. Once our turn finally came, we found ourselves sidled with the woman who was trying to keep our light order even lighter with humor. Her "make it a wrap" request was followed by "Like this?" and impromptu beatboxing uncomfortably close to our soon-to-be-wrapped vegetables. She was probably just trying out new material that she's likely to ditch soon. Then she referred to us as"the handsome young man" when giving our order to the cashier. Okay, maybe she's not so bad after all.
Milwaukee Record's food: With all the ingredients on hand, Colour Palate offers 10 in-house salad options, all of which can be rendered into wrap form for $1 less and potentially one wrap/rap joke more. If none of those seem appealing, the aforementioned 50-plus ingredients can be sampled from to construct a "custom build" salad or wrap. Allowing further customization are the 17 "small batch" dressings that run the gamut from Classic Caesar, Buttermilk Ranch, and Italian all the way to Strawberry Poppy Seed Yogurt, Avocado Ranch, and Grapefruit Vinaigrette. We forewent the custom option, as well as the Mediterranean, Sonoma Cobb, and a west-mex combo called the SXSW and, instead, opted for the Bombay Chop, which is an Indian-inspired amalgam of kale, chickpeas, cucumbers, tomatoes, red onion, fresno pepper, and curry yogurt dressing. For $2 more, we added a few hunks of dry chicken. In direct defiance of the restaurant's rampant "Eat Salad" propaganda plastered throughout the joint, we opted for a wrap.
For something billed to be good for you, we were left feeling sloppy, as the thin yogurt dressing immediately dripped out the wide-open orifice at the bottom of the wrap and pooled in the bowl below. That said, the hearty kale, sweet grape tomatoes, zippy pepper chunks, hearty chickpeas, and cooling dredge of curry yogurt all countered one another well. Still, for close to $11 after tax, we've had more filling informal lunches this month…and not just at Taco Bell.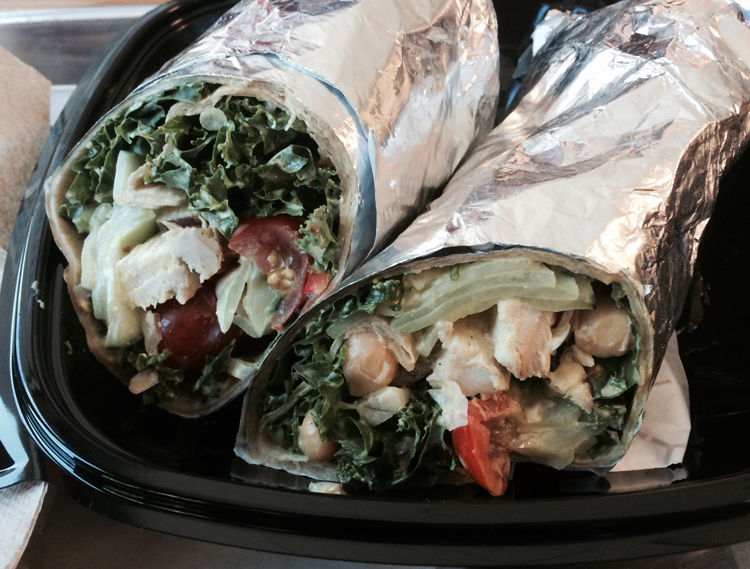 The verdict: Despite its use of UK English and a less-than-subtle emphasis on kale, Colour Palate isn't reinventing the wheel…or the salad, for that matter. Still, it presents a fast, healthy (if done right), and enjoyable option that can get one out of his or her lunch rut of either Jimmy John's, something gross at the Grand Avenue food court, or 5,000 restaurants specializing in soup.