What constitutes a hero? Heroes aren't born. Heroes are made. A hero is fashioned from bravery put to use when times get tough, harvested from experience incurred on the field of battle, and nourished by the adversity cast upon them by other, lesser, beings. Believe it or not, heroes can be found almost everywhere among us, including your neighborhood Taco Bell. This week, I set out upon a hero's journey of my own design. My mission was simple: finish a menu item at every Taco Bell location in Milwaukee proper in one day with no repeat orders. Why, you ask? I…I'm not quite sure anymore.
Knowing the task of consuming food at 13 restaurants in a short period would be taxing to the mind, heart, soul, and butthole, I called upon Milwaukee comedian Sammy Arechar to lend comic relief to what would surely be a difficult journey. Also, as a longtime Milwaukee resident, his navigation skills would serve me well. Plus, he'd be attempting to match me every step of the way, which would continue to motivate me if my spirit wavered. The Taco Tuesday Of Reckoning was not pretty, it was not fun, and few were aware of what they were witnessing. It took eight hours, 13 Taco Bell stops, 83.7 miles, an unthinkable number of calories, and probably at least some hair and/or particulate fecal matter to produce two heroes. Here is our story.
Taco Bell #1 — 3334 S. 27th Street
Besides being the closest to Sammy's house, I wanted to start with this location because I pretty much hate it. The Walmart-adjacent establishment is constantly dealing with construction, and this time was no different. After circling by twice, I entered an otherwise-empty parking lot from the rear alley. Upon walking in, TLC's "Creep" welcomed us into what seemed like our own personal Taco Bell. The morning staff seemed somewhat shocked to see other humans and utterly impressed (and even faintly aroused?) to learn the first customers of the young Tuesday were also…BREAKFAST DEFECTORS. While squares throughout the city were eating biscuits, scrambled eggs, and sausage patties at regular restaurants like a bunch of conformist sheep, I was noshing on…um, biscuits, scrambled eggs, and, uh, sausage patties. But my Sausage Egg & Cheese Biscuit Taco was vaguely taco-shaped, so take that, society! Sammy had a less conventional California A.M. Crunchwrap. Despite being small, the dry biscuit was a deceivingly dense way to start my Mexican mission. "Are you Jacob?" a middle-aged guy (who'd entered after us) abruptly asked me in a way that made the TLC song that just finished seem like a warning. Time to go.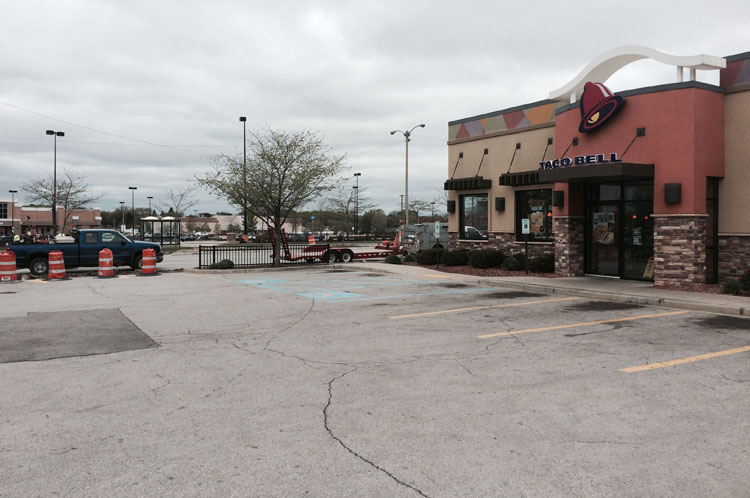 Taco Bell #2 — 6268 S. 27th Street
We continued south on 27th and ran for the border…of Oak Creek. Technically in Milwaukee, we could see the suburban city's water tower from the (much more accessible) parking lot of the combination Taco Bell-Pizza Hut. Since breakfast was drawing to a close, we both defected once more. I had eschewed the biscuit this time and opted for a Cheesy Burrito with bacon, and Sammy was taken by the Chicken Biscuit Taco (which, strangely, wasn't available just a few miles north) with a side of gravy. No Pizza Hut was available yet. As we waited, I asked the sister team of cashiers (Simone and Kayla) why Taco Bell started making people give their first name while ordering. Among activities where I'd prefer to stay anonymous, eating Taco Bell is pretty high on the list. "People don't pay attention to the numbers," Simone told us. Eventually, Taco Bell will employ people to hold your hand and walk you to your tray once your order is ready. We're adults eating shitty tacos, people. Listen for your number! Anyway, I gave the second of many aliases and dropped my rant. My burrito was fine…maybe a little too cheesy. I officially had my fill of breakfast.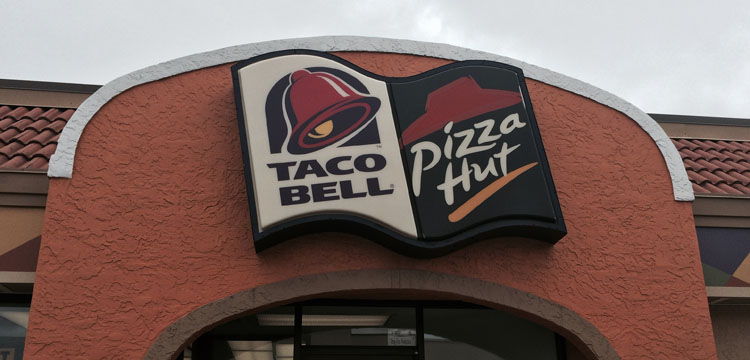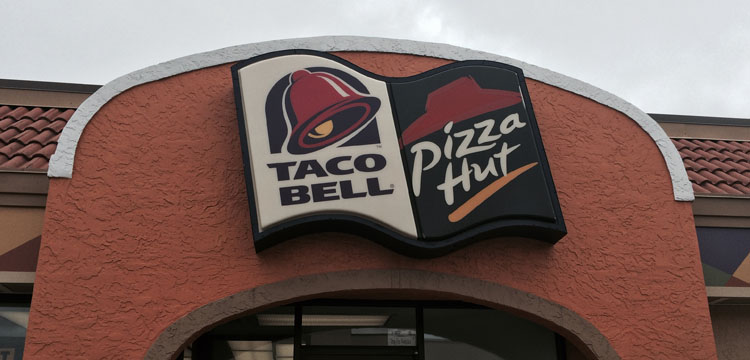 Taco Bell #3 — 230 W. Layton Avenue
We continued our eating assault on the south side by visiting my go-to Taco Bell to nurse my hangovers. The usually trusty airport Bell was off its game, as an obviously new employee (rightfully) struggled with how to enter in some douche's "light lettuce" special order (pick it off yourself, asshole!) and the signage remained in breakfast defection mode. After we tried cheating by ordering a light breakfast and they flipped the signs to lunch, Sammy went with a Cheesy Gordita Crunch. I went with a hard shell Taco Supreme, immediately regretting that I'd eliminated such a small and easy option so early and with a 20-minute commute ahead of us. This was the first site with the new Diablo sauce available. As Toto's "Rosanna" played, I regretfully ate my wussy taco with even wussier Diablo sauce, and Sammy salvaged enjoyment from a ranch-slathered menu item that definitely wasn't his order—each of us wondering what could have been.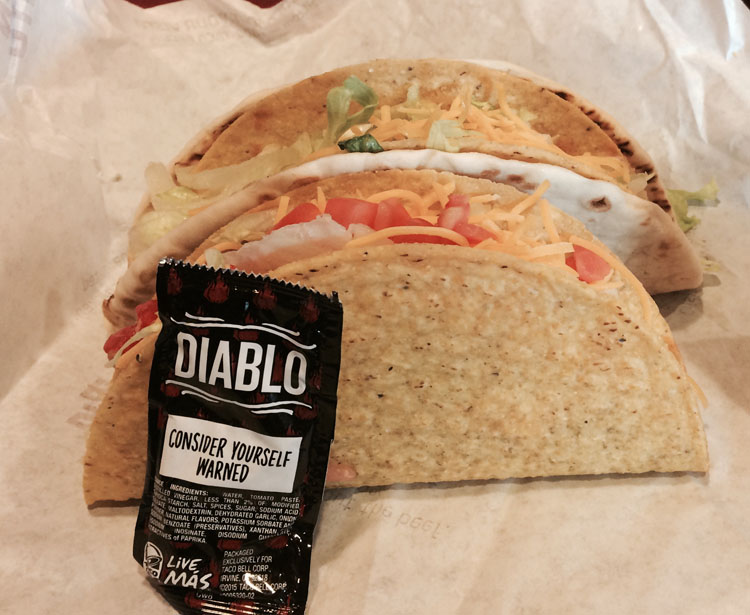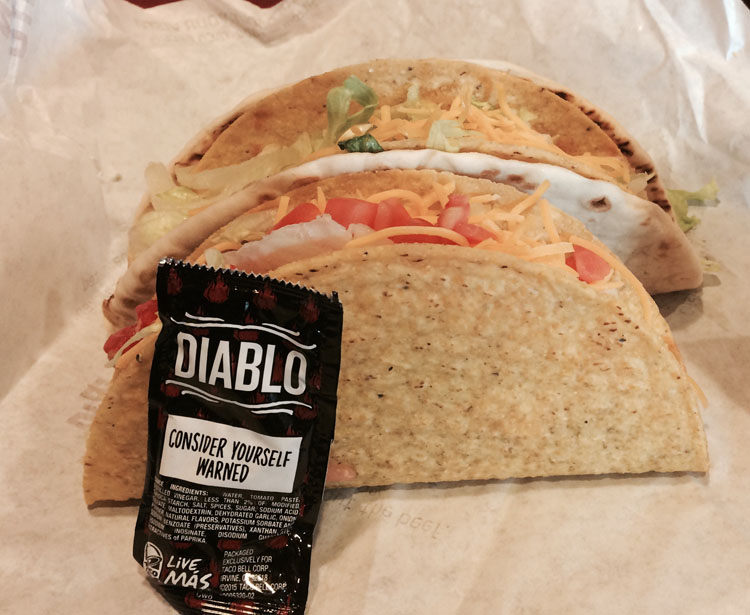 Taco Bell #4 — 1940 S. 14th Street
In addition to being his regular, hilarious self and navigating, I appointed Sammy the resident DJ for the journey. As he indoctrinated me to the unpolished and (hopefully intentionally) funny trap stylings of Migos and Based God, I marked the fourth location off the list while waiting at a red light. "I hope I didn't jinx it," I joked. Minutes later, we happened upon the vacant lot where a Taco Bell once stood. At first, I was disappointed that my 13th meal mission was derailed, but that soon gave way to relief. Achieving our every Milwaukee Taco Bell goal had just become about 7.7 percent easier! "This is still somehow better than the last one," Sammy (below) said.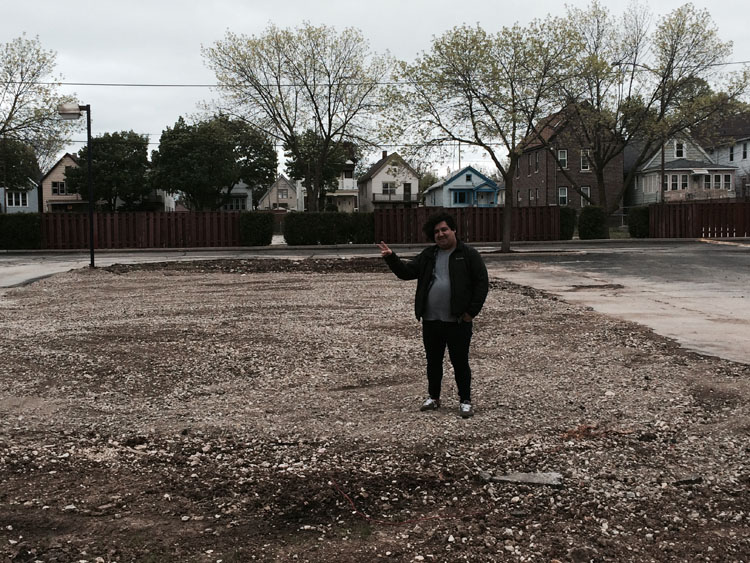 Taco Bell #5 — 2210 W. Wisconsin Avenue
Part of my self-determined rules was that I needed to eat at ALL of Milwaukee's Taco Bells. Unfortunately, the Rave-neighboring location fits that criteria. Even 2001 Rx Bandits post-show Tyler wasn't stupid enough to eat there. But he wasn't on a quest for greatness. I was. Just before the noon hour, we meekly entered the Wisconsin Ave. edifice, each with different plans. I, having eaten small menu items so far and recently dodged a burrito-sized bullet on 14th Street, decided to check a big item (a Beefy 5-Layer Burrito) off my list. Meanwhile, Sammy wanted to graze on a Nacho Supreme. We both fucked up. My (advertised) half-pound burrito clocked in with the mass and fragility of a premature baby. Sammy's nachos came inundated with an irresponsible—even by Taco Bell standards—portion of sour cream. With every arduous and grease-coated bite, I said a silent goodbye to a milestone from my (potential) child's life that I'd surely miss. "Happy, graduation, little guy or girl," I lamented internally with every bubbling, viscous morsel I reluctantly placed in my maw. I broke my months-long soda fast in attempt to dull the taste with a small Baja Blast…which I soon found had a black speck in it. Duffy's "Mercy" blared in the background. I echoed her cry with each bite. This had finally become difficult.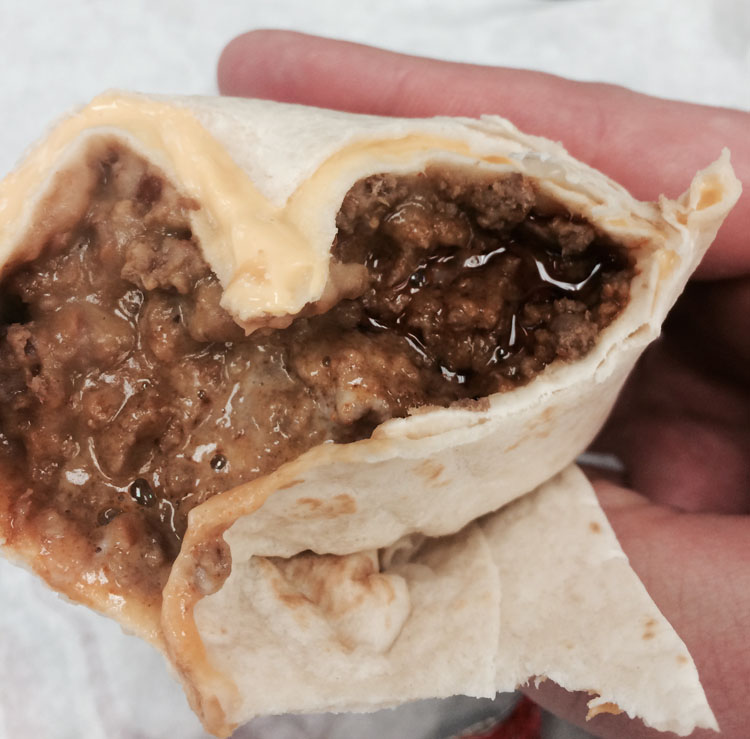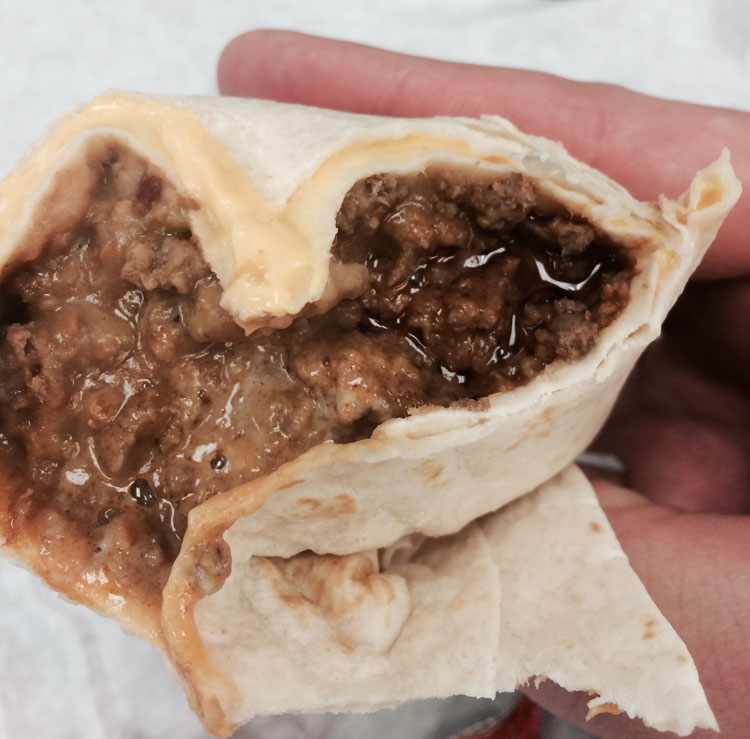 Taco Bell #6 — 2200 E. Kenwood Boulevard (UWM Union)
We neared I-94 before I realized we'd nearly forgotten one of the most deceiving Taco Bell locales in Milwaukee. As my love for Based God intensified with a verse in which Lil B compared himself to Matlock AND Darth Vader mere lines apart, we changed course and headed to the UWM campus. Both harboring five Taco Bell menu items in our body cavities and zero understanding of the student union, we clumsily waddled past young, attractive, and hopeful people with their whole goddamn lives ahead of them. They were studying for finals and applying for jobs. We were bottoming out for the sake of a mission we now both regretted. Sammy (who went much harder than I did to this point) was now stuffed, so he tried a—comparably smaller—Fiery Doritos Locos taco. I backed off a bit as well with a Chicken Burrito, which was filling, but probably the best thing I ate all day. As we choked down our latest helping of inorganic sodium tubes, 20-somethings planned for the future. I, conversely, was slowly and knowingly killing myself.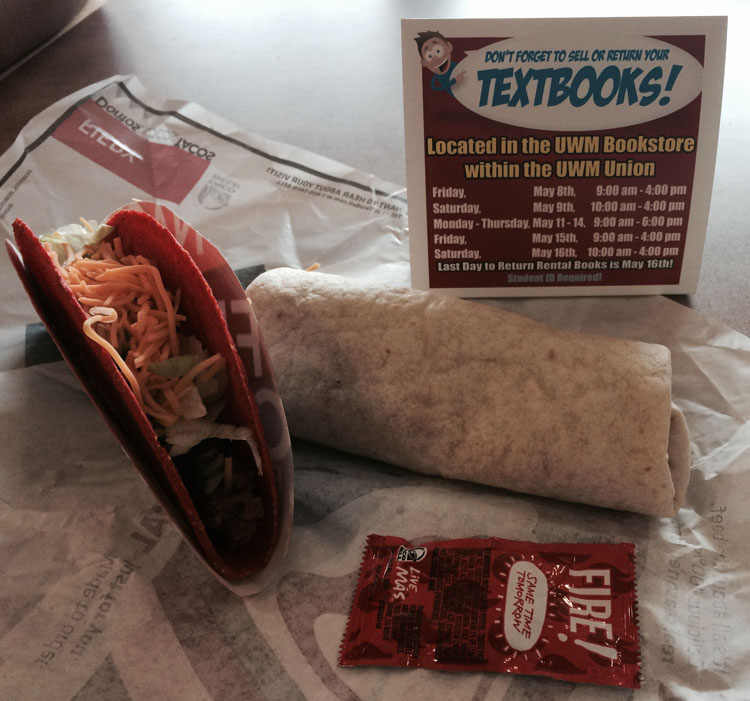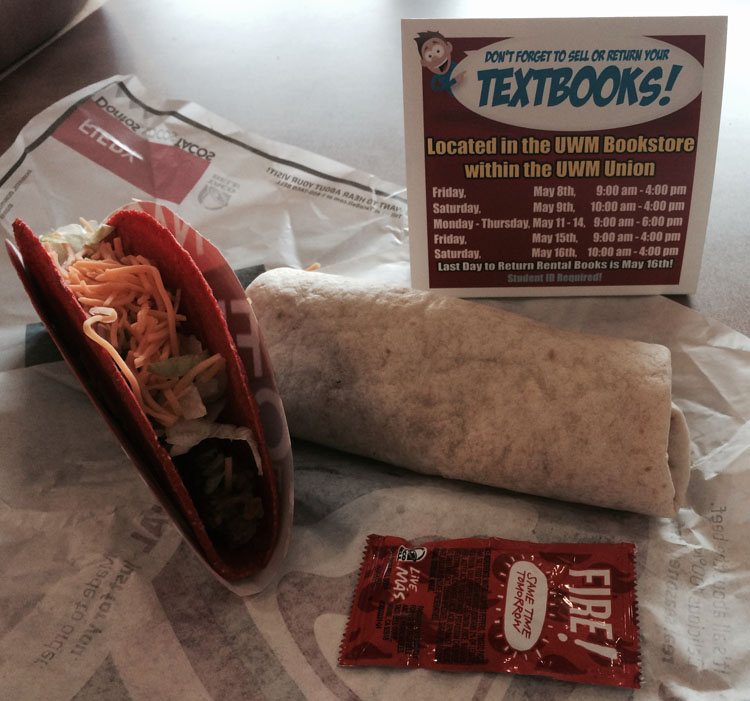 Taco Bell #7 — 5751 W. Fond du Lac Avenue
Our spirits crushed and our waistlines expanded, we needed some time to collect ourselves. I took a few contemplative laps around Otto's Liquor as Sammy stocked up on beverages and party favors for his birthday show at Quarter's. From there, we drove about 15 minutes west down Capitol, having arrived at the decision that we'd come too far on this idiotic endeavor to stop now. Like Taco Bell #2, this one was straight out of the '90s with its purple-on-white decor. Though discretely tucked behind a vacant property that used to be a Lowe's, it was pretty busy. Still, the service was exemplary—easily in the top three of the day. The food came out fast and the cashier was especially friendly, as he chatted us up and even showed Sammy some tricks with the coin game. I ordered the Mexi Melt based solely on it being small. It was terrible…like a Sloppy Joe with congealed mozzarella cheese and what narrowly passed for pico de gallo in a hard tortilla. Sammy had a Shredded Chicken Taco, which he didn't appear to enjoy much more. Regrettable orders aside, the visit was pleasant and we were relieved to know our journey was now more than half done.
Taco Bell #8 — 4143 N. 76th Street
A mere 1.7 miles from the last restaurant, this proved to be Sammy's breaking point. He exercised his right to one immunity, reminding me "This is stupid." While I agreed, I decided to forge on. After all, it was just after 2 p.m., which marked the franchise's daily 2-5 p.m. "Happier Hour" promotion. I ordered a Loaded Potato Griller, one of three sale-priced foods. The brassy 50-something woman behind the counter quickly warned us this location did NOT partake in Happier Hour. Apparently prices and participation actually do vary. Who knew? Money no longer mattered. Size, however, was starting to. Sadly, the (usually) sale-priced appetizer was much bigger than I recalled, it came wrapped in a staggering amount of dry tortilla, and the potato wedges proved especially daunting. Fuck. Beyond Sammy and the employees, I was alone. So alone.
Taco Bell #9 — 8030 W. Brown Deer Road
Having taken a breather, Sammy's lighthearted demeanor returned as we made one of the longer between-Bell drives of our sojourn. He bumped "Flicka Da Wrist" by Chedda Da Connect in my car, which I quickly applied to our adventure. As we drove down Brown Deer Road, we pantomimed turning invisible burritos with a series of choreographed wrist flicks as Mr. Connect shouted the titular line. Set alone before a shopping center, we arrived upon what I soon found to be Milwaukee's best Taco Bell. Pristine, clean, and either brand new or newly renovated, the friendly staff welcomed us food-drunk fools. I chose foolishly last time, so I opted for a nacho-flavored Doritos Locos Taco in all its standardized glory. Sammy came back strong with a Beefy Fritos Burrito. The gift card I'd purchased at the first store to make filing expenses easier—Yeah, I'm totally writing this off!—was repeatedly declined, so the Ocho Cinco-resembling cashier (named Andrae) and his manager slid our combined $2.69 order over and said "Enjoy." Beyond the kind staffers, Diablo sauce was available, and there was no house music, which was actually refreshing by this point.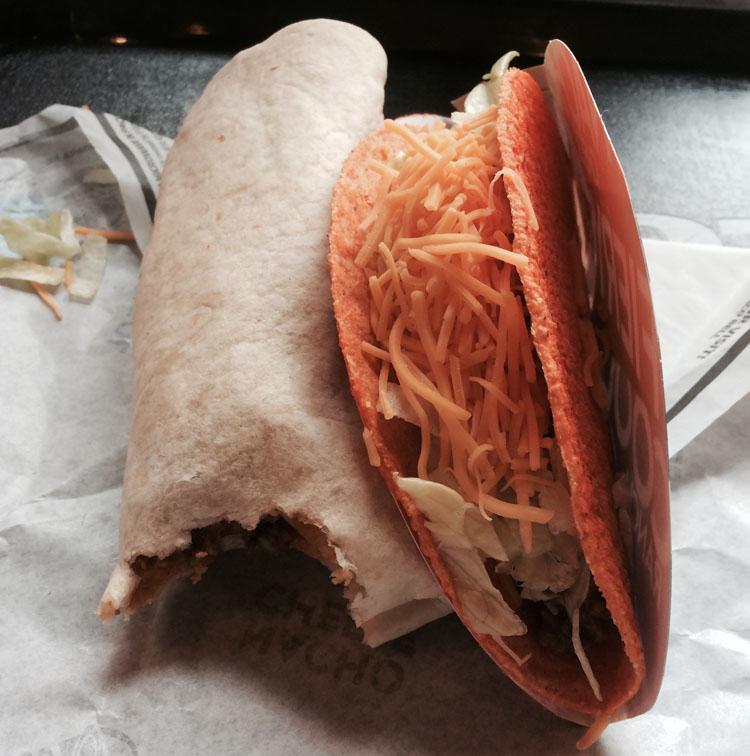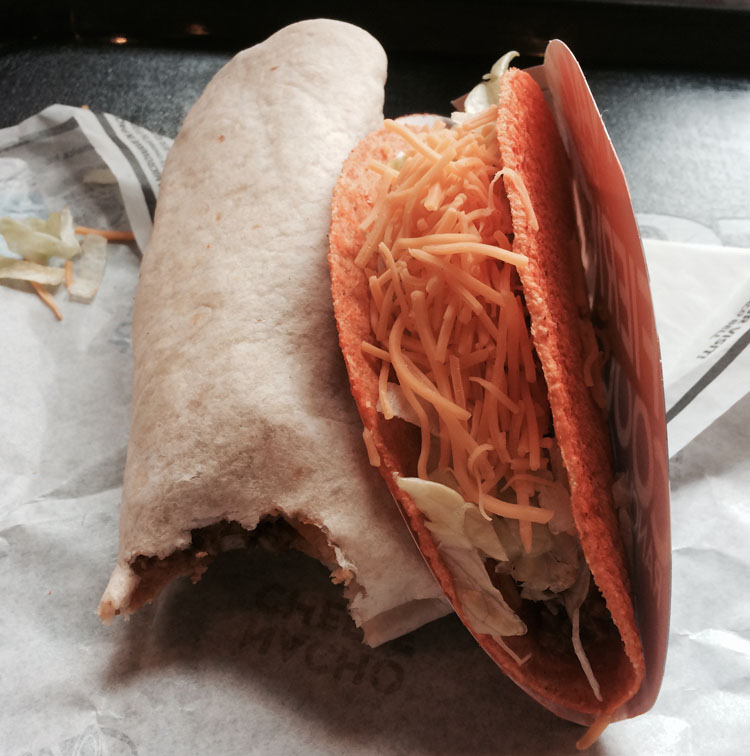 Taco Bell #10 — 5441 N. Lovers Lane
By this point, I was pondering whether I wanted to use my immunity. Going by the nutrition facts, I'd already eaten 141 grams of fat (almost 2.5 days worth). My body was sluggish and my mind was transitioning to auto-pilot as well. I'd occasionally begin speaking to Sammy, only to lose track of what we were talking about and give up. I had ingested a ton of water (which was a godsend, by the way) and had only managed one feeble, alarmingly yellow piss. Miserable as I was, I decided I didn't want the "accomplishment" to be marred with an immunity, so I decided to counter my incomparable salt intake with something sweet. We were on Lovers Lane, after all. As I attempted to process exactly how many drunken post-Silk Exotic orders this particular Taco Bell's drive thru has sustained over the years, I quickly dispatched a four-pack of Cinnabon Delights. Like rich, frosting-injected doughnut holes from hell, the Delights were anything but delightful at this point. They'd make for a good cheat day dessert, but a rough ninth order of the day. Sammy had Cinnamon Twists. The interior of this one was surprisingly quite nice. The only other non-employee being a dude who was flat out loitering.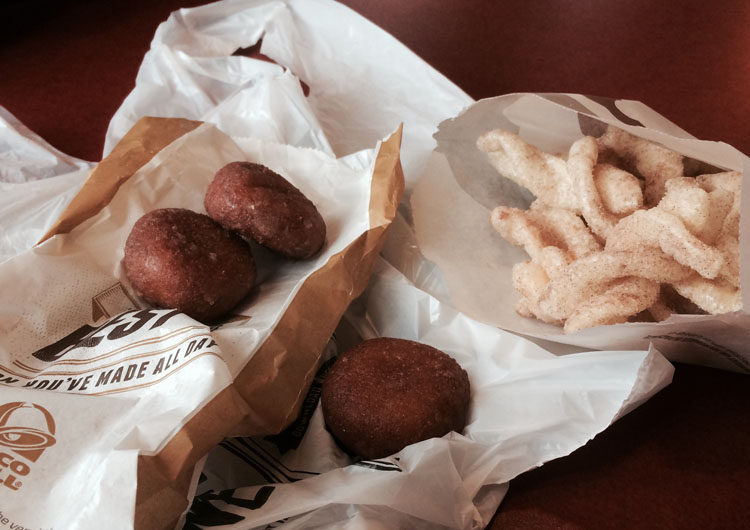 Taco Bell #11 — 7242 N. Teutonia Avenue
It was official. I was going through the motions now. I was too close to quit and too deep to care. Off Good Hope Road was a crappy little combination KFC-Taco Bell. However, they probably should just call it KFC, since it functioned as a chicken chain and cobbled together a makeshift menu of maybe 20 Taco Bell items. One of the smallest things I'd yet to order was a Double Decker Taco, the two-shelled item responsible for giving Shaq "Taco Neck" 20 years ago. "Supreme?" the cashier asked while maintaining a conversation with another worker. Extra stuff to eat? Shit no. Amazingly, it was great. Just kidding. It tasted like a taco made from leftover ingredients from a dingy chicken franchisee. Sammy broke format and ordered popcorn chicken, eating a few pieces and "accidentally" spilling the container. Not even hiding their allegiance, the staff declined my Taco Bell gift card. Whatever. Nothing mattered anymore.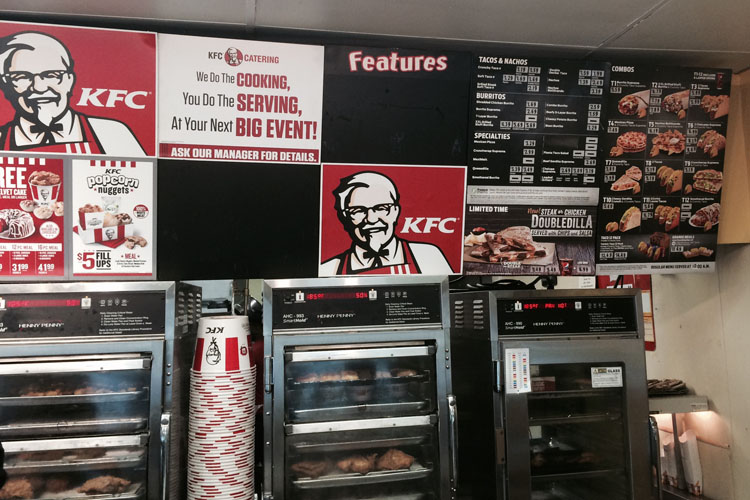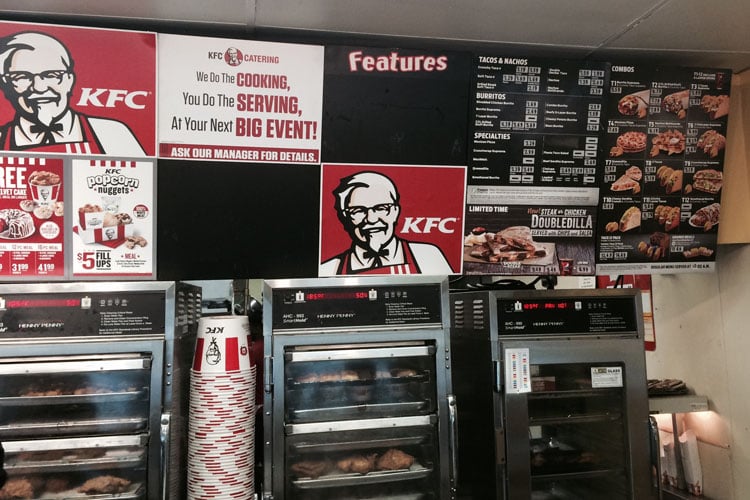 Taco Bell #12 — 3440 W. Fond du Lac Avenue
If the last place sounds bad, you won't like the next one. Off the busy intersection of Burleigh and Fond du Lac, this location (also a KFC that's trying/failing to do a favor to its Yum! Brands corporate brother) is beyond repair and without excuse. Had I started here, this post would not exist. Even as the penultimate "restaurant" (a generous word for it), I pondered calling it all off. With even less to pick from than last time, I bypassed a filling bean burrito for what I hoped to be a paltry steak soft shell taco. Meanwhile, a young woman alternated between finishing up her shift and tending to her infant son in a carrier on the counter. I got a much-needed cup of water while I awaited my order, only to find it was a light pink. I drank it anyway. My steak taco was truly awful. The lettuce was warm. The "steak" was room temperature and had the consistency of a wet mushroom and no discernible taste. Perhaps wisely, Sammy took my immunity and decided against eating. Between wanting to get the fuck out of there and hoping to get home before my now-inevitable food poisoning, I ate it standing up in under two minutes and left the worst Taco Bell I've ever been to, never to return again.
Taco Bell #13 — 3191 S. 76th Street
Why didn't we do this one first? On the cusp of being in Greenfield, this near-suburban location was quite a drive from the last one, and not really near any of the others. It was now after 5 p.m., and I had eaten 11 Taco Bell menu items within the last seven hours. Lethargic, exhausted, and on the home stretch, I decided to finish my daunting dining experience by nibbling away on a Chicken Quesadilla. I'd originally planned to celebrate hitting all 13 spots with a Cheesy Bean & Rice Burrito, my favorite item, which only recently found its way back to the Taco Bell menu. However, the mere thought of thick refried beans and fluffy Spanish rice coating the heap of garbage already occupying my stomach wasn't appealing in the slightest. Sammy ordered a hard shell taco, received two, and ate them both.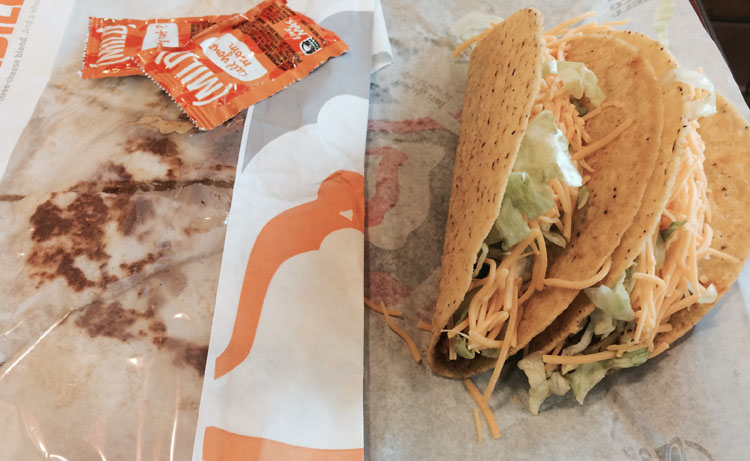 As I alternated between tiny bites of quesadilla and small sips of ice cold water between moist, acidic burps, I looked around at the restaurant that was nearly full of people enjoying the treat of what was almost assuredly each of their first Taco Bell meals of that eight-hour period. Some savored their first bites. Others delayed their last bite to make the fast food experience last a few moments longer. The people placing their dinner orders were surely all motivated by taste and preference, not weight and whether they'd already eaten it that day. Though I had consumed the last bites of my last meal at the last Taco Bell I needed to visit, I was struck with envy for those people. Yet I also pitied them. I can only assume I'm the first person to ever hold the ultra-specific distinction of finishing a menu item (without repeats) at every Taco Bell location in Milwaukee within an eight-hour period. I'll probably be the only one. As close as he came and as strong as he finished, even my companion fell shy.
In doing this, I learned that it's absolutely possible to succeed and fail at the same time. I know this experience helped me grow as a person. No, I didn't experience any type of character development. Rather, I just became an even more disgusting, love-handled, and self-loathing piece of shit than I was before. Still, it feels good to be the best at something…even if I wouldn't wish that something on my worst enemy.
By The Numbers

Amount spent (including one double charge and excluding free meal): $48.38
Fuck-ups (being charged for extra item, receiving an extra item, or getting wrong item): 3
Locations with new Diablo hot sauce: 4
Locations with no music: 4
Best water: 3191 S. 76th Street
Worst water/everything else: 3440 W. Fond du Lac Avenue
Miles driven: 83.7
Locations without coin game: 4
Number of times I was asked my name or initials while ordering: 8
Estimated fat grams consumed: 220 (more than 3.5 days recommended daily value)
Estimated calories consumed: 4,510 (nearly 2 days recommended daily value)
Hours between completing this and next time I ate: 23.25
Amount of regret I have for doing this: Incalculable