Who says dreams don't come true?
Last Friday, Bay View's Crafty Cow threw "A Day Of Majik" event to celebrate late '80s and early '90s Packers Pro Bowl quarterback Don Majkowski, who co-owner Mike Bodow—a San Diego transplant—credits with starting his lifelong love affair with the Green & Gold. There were two beers brewed in the Majik Man's honor for the occasion, as well as 77-cent beer specials, free drinks for people sporting a mullet or Packers Zubaz pants, and a 1992 Toyota that was destroyed to benefit charity.
All things considered, it was a unique and harmless change of pace for the Milwaukee burger joint that honored Brett Favre's predecessor, but nothing especially notable happened. That is, until two days later when Majkowski stopped by Crafty Cow unannounced.
"He shows up, walks in and says, 'Hey, I'm two days late for my event.' It was crazy," Bodow says. "He just happened to be in town that weekend. I mean, he had just flown into Milwaukee for a golf outing in Sheboygan and this was the first place he came before driving to Sheboygan."
Bodow says Majkowski spent an hour or two at Crafty Cow signing photos for people, taking pictures with staff and customers, and sampling Eagle Park Brewing Company's "Majikal IPA" and Mahoney's Basement Beer's "Majik Sweatsocks Berliner-Style Sour Ale" before heading on his way. Soon after Majkowski departed, Bodow got a call from Majkowski saying he'd left some luggage at the restaurant. Of course, the lifelong fan volunteered to bring it to him.
"He said, 'That's great. Come up to Sheboygan. We're doing a dinner with all the Packers Hall Of Famers. You can hang out and have a couple beers and meet some of the guys.'" Bodow says. "Two hours later, I'm in Sheboygan in a room with 25 Packers Hall Of Famers and like seven other people."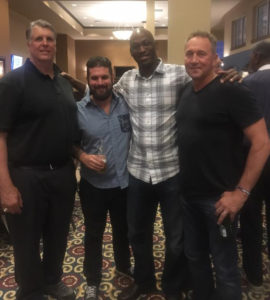 As Majik's unlikely plus-one, Bodow spent the rest of the night hanging out with the likes of Frank Winters, Jerry Kramer, Kabeer Gbaja-Biamila, Marco Rivera, Lynn Dickey, Ken Ruettgers, Donny Anderson, among others.
"We just had some beers and talked about what was going on in all their lives," Bodow says. "Obviously, everyone is long retired, but what are they doing now? I heard all about Marco Rivera's new business selling plastics."
As if visiting his restaurant and inviting him to party with Packers legends wasn't amazing enough, Majkowski also offered to let Bodow stay in his extra bed so he didn't have to make the drive back to Milwaukee after drinking.
"He was like, 'You shouldn't drive back. I've got two beds. Go ahead and crash, no sweat.' So I did."
Bodow says Crafty Cow plans to "do it big" for next year's "Day Of Majik," and says Majkowski and his wife might even swing by for the celebration. "Not in a million years" did Bodow anticipate that a strange holiday based around a long-retired quarterback's jersey number would result in him getting to meet his childhood sports hero, not to mention getting to party with him in Sheboygan.
People warn against meeting your heroes, but this seems pretty awesome. If you're reading this, Mark Brunell, we totally have enough time to organize a "Brunell Box Social" for you on August 8. Just say the word!