Something exciting is happening at the Lincoln Warehouse. The 1st Street facility that long served Milwaukee as, well, an actual warehouse since its 1928 construction has recently reinvested itself as a hotbed for creative ventures and passion projects. Though the dozens of occupants who lease space in the five-story complex range from traditional offices and studio spaces to a music video collective, lately the Lincoln Warehouse is most often aligned with helping to foster Milwaukee's ever-improving microbrewing and spirits climate.
The building's northwest end alone is home to Twisted Path Distillery and Bittercube Bitters, both of which are highlighted in beverages thoughtfully created at Dock18 Cocktail Lab on the warehouse's ground floor. A few feet from Dock18 is the new site of Enlightened Brewing Company, which relocated to the spacious corner spot after outgrowing its old digs on the second floor. A true indication of the rapid growth of Milwaukee brewing, the room Enlightened vacated this summer was quickly snatched up by, get this, another brewery.
Eagle Park Brewing Company (2018 S. 1st Street, 262-278-0679), a new venture and taproom spearheaded by brothers and Eagle Trace band members, Jackson and Max Borgardt, started contract brewing small batch beers they created last fall. In February, the Eagle landed in Lincoln Warehouse, as the small operation opened its taproom to the public. Is Eagle Park another Lincoln Warehouse success story, or is it just another brewery?
The space: Much like the not-so-secret speakeasy theme of Dock18, visitors enter Eagle Park by pressing a clearly-labeled buzzer next to a door a few feet south of Dock 17. An employee unlocks the door, then (through a speaker box) directs customers up a flight of stairs. The direction seems unnecessary though, since the echo of music and conversation—not to mention a clearly visible Eagle Park Brewing Company sign propped on the hallway floor—are enough to help people find it.
Once the buzzer has been pressed, instructions have been issued and understood, stairs are climbed, and the hallway is navigated, visitors arrive at a small-but-cozy installation that melds the preexisting industrial shabbiness with the comfort you'd expect from a lavish home bar or rumpus room. There are posters from past Eagle Trace shows and a few other bands, decorative drums that nod to ownership's other interests, a few brand new wood pub tables (some of which are branded with the Eagle park logo), a lavish leather chair and couch, a wall-mounted flatscreen, a barback shelf that's fully stocked with Eagle Park merchandise, and a pristine bar that runs almost the entirety of the taproom's southerly wall.
In all, it can comfortably host about 20-25 patrons. For frame of reference, it's a bit roomier than the space Enlightened has designated for it's taproom. Given the space's size and the warehouse walls' inability to soften the sound, you can't help but feel like you're part of a small gathering, for better or worse.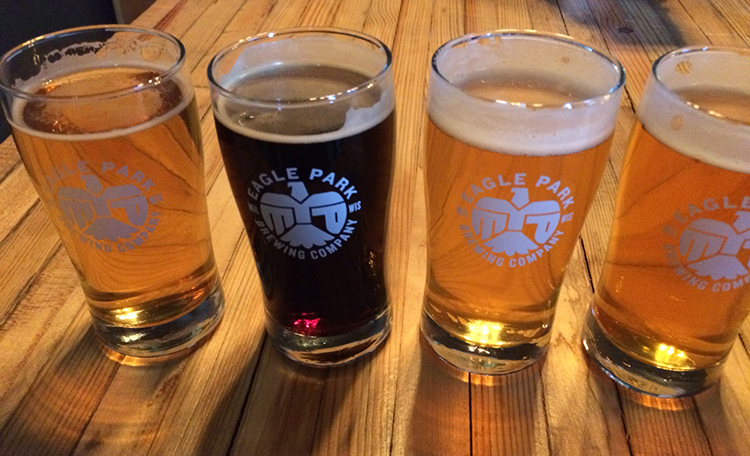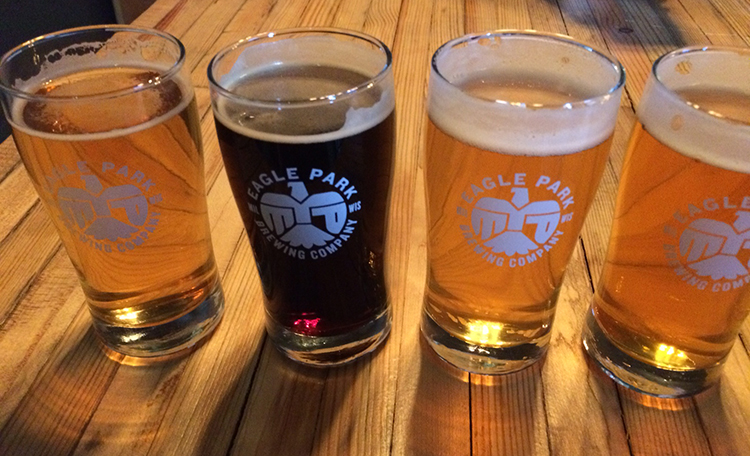 Milwaukee Record's drinks: Since Eagle Park is actually contract brewed at Octopi Brewing in Waunakee, they can afford to throw a bunch of ideas out there and see what sticks. Presently, the months-old operation offers nine beers (and one from Enlightened) that are almost exclusively $6 a pint or $3 for seven-ounce pours. Many of them have names that are related to music. We sampled three such brews. The Loop Station Golden Ale didn't really reveal the hints of agave, lime peel, and sea salt the description touted, but it was a smooth first leg of our flight. Like a guitar player with too many effects pedals, Line Check Porter tried to do too much and ultimately left things out of balance. The purported "brown porter" fell somewhere between the two disparate styles.
However, the sessionable Set List IPA along with its five hop and subtle citrus-y finish would have some calling for an encore. From there, we moved past the music puns and tried a special release of Eagle Park's DDH Immortal Soul double IPA, which we were largely influenced to try due to the description that touted dry-hopping with Azacca hops. As we sipped the robust and bitter DDH, we finally started to feel at home in the Lincoln Warehouse space. This was first time in our experience that Eagle Park ventured anywhere off the paved path, and they wound up somewhere pleasant.
The verdict: To borrow from the young endeavor's musical lexicon, Eagle Park in its current state is like an encouraging demo from a new project. While not every song (or beer) will be on the album (or tap list) when it comes out a year from now, a few will. Components of some that don't make the cut will be used to improve new efforts. The name and logo are in place, T-shirts and stickers have been made, and the first introduction has been presented to the senses of strangers. The early offering might be a little down the middle and rough around the edges, but there's clear promise. With time as well as some mixing and mastering, Eagle Park Brewing Company could one day be in regular rotation among Milwaukee beer aficionados.