As much as Milwaukee leans on its rich brewing history, there has been an exponential uptick in the number of distilleries popping up around town in recent years. Great Lakes Distillery was at the forefront of this movement, even needing to push to have antiquated prohibition-era legislation changed before they could open. From there, Central Standard took root with a bar and distillery on nearby 2nd Street. A couple miles down the road, a one-man distilling operation called Twisted Path crafts small batch liqueurs in relative seclusion in a Bay View warehouse.
Earlier this month, Twisted Path paired its product and passion for concocting innovative, delicious libations with that of its neighbor, Bittercube Bitters, for a quaint "cocktail lab" tucked away in the ground floor of the Lincoln Warehouse. Dock18 Cocktail Lab (2018 S. 1st. St., 414-405-8900) could either be the crescendo of Milwaukee's hard work and growing refinement…or it could join Bugsy's and Safe House as below average bars built on the foundation of a dumb, tired gimmick of being kind of hard to find the first time. Milwaukee Record waited for the weekend and headed to the warehouse to see if the experimental cocktail lab produced worthwhile results.

The space: The best way we can think to describe Dock18 is Cocktail meets Saw. Having parked in the Lincoln Warehouse-adjacent lot, we walked in darkness past 17 loading docks before happening upon a glass door. We opened the metal utility box mounted beside the door and pressed a button, just as Dock18's website instructed. After a few moments (and some staff examination via the camera beside the button), we were allowed inside the stairwell. Up a few steps and past another door, and we were in a hallway. On the other side of the corridor was the last of three doors standing between us and our destination.
After all the build-up, we were somewhat surprised to enter an incredibly small room capable of accommodating, at best, 18 to 20 people—staff included. As we took stock of the unexpected surroundings, a couple occupying two of the bar's six stools craned their necks to see who jumped the necessary hoops to join them. To the left of the bar sat a pair of small tables that could comfortably seat three (and, as the group beside us illustrated, uncomfortably seat six). Along the southern wall, an antique radio was flanked by stools to serve as a makeshift two-top perch as well. The decor was almost as minimal as the lab's square footage, essentially just relying on some wooden barrels, dim lighting, and clean slats of wood on the wall behind the bar with the occasional nook to encase/display Twisted Path's spirits. Behind the bar, one barkeep doubled as DJ by periodically swapping records on the turntable…though seeming to favor N.E.R.D. for the majority of our visit.
The service: We were immediately welcomed by both apron-adorned mixologists on staff and allowed to pick our own seat from the two unoccupied tables (counting the radio) remaining in the diminutive drinking establishment. Once seated, the duo made sure to check in often and delivered drinks promptly, at least promptly when adjusting for how elaborate some of the cocktails were. Our companion was treated to the longest conversation about Montchamp Amaro of her life. In all, they were obviously knowledgeable, but also friendly and attentive.
Milwaukee Record's drinks: We aren't going to pretend like we know dick about even half the ingredients (all made in house, mind you) in the glasses we received, but holy shit, we loved what we were given. Of the seven cocktails in that particular weekend's rotation (all of which were $9), we started with a Clover Club (lower left). The gin-based beverage was an amalgam of lemon, raspberry liqueur, Blackstrap bitters, and egg white. The bitterness of the Blackstrap and juniper was countered by the sweet berry spirit and the creamy egg froth. Having quite enjoyed our first flirtation with salmonella, we followed the Clover Club up with Ghost In The Shell (right)—a whole egg shaken with dark rum, cocoa nib liqueur, lemon oil, cherry bark vanilla bitters, and something called flamed charter liqueur. This time, the cherry bark bitters and stiff kick of rum jostled for control on a sip-by-sip basis. Who ultimately won? We did. Had we an extra $45 (plus tip) laying around and a designated driver, we would've been tempted to drink our way through the entire drink list. And no, vegans, not every cocktail includes egg.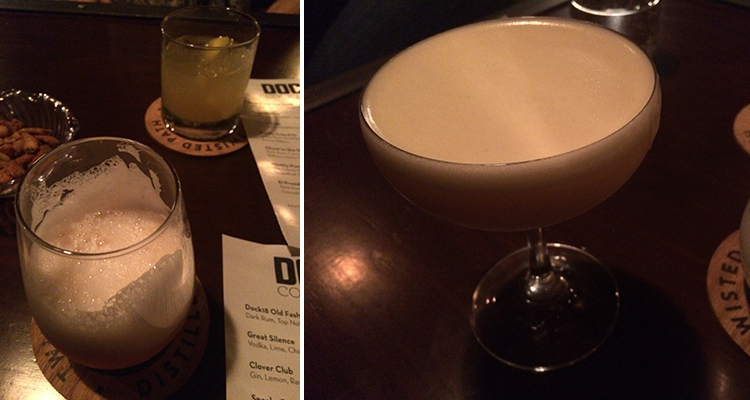 The verdict: In an ongoing epoch of unnecessary complexity and superfluous pageantry accompanying the simple act of getting sauced, Dock18 manages to combine unique signature imbibements with an unorthodox environment to forge something of an experience. This isn't chugging a Miller Lite in a contrived back alley saloon while a 20-something in a flapper outfit gyrates to modern music feet away. This isn't eating middle-of-the-road buffalo wings downtown while you're looking for a safe house. This is a subtle dash of (partially) hidden luxury with the drinks to match.