Caleb Westphal hasn't missed a Friday fish fry since 2013. Follow along with his never-ending adventures here.
Did you think I would let you down? On Friday, September 27, I ate Friday fish fry #300. It seemed to make the most sense to bring the column back after reaching the milestone, so beginning next Friday, it will be back. I'm humbled and grateful to have made it this far. Eating 300 Friday fish frys in a row has compelled me to reflect on aspects of my life, particularly on my health and finances. It's not lost on me that I'm blessed to have been healthy enough to eat—and to have had enough money to buy—a fish fry 300 Fridays in a row. As I go forward, I don't take anything for granted.
During my break from the column, I mainly returned to places I had been to before, most of which are some of my favorites. The following is a list of the places I visited, as well as a few notes about my experiences at them. I am writing the notes now, looking back, and they are meant to be a snapshot of my recollection of what happened, not a detailed account. If the location was a place I've previously written about, the included link goes to that write-up. We'll see you next Friday.
#282 – May 24 – Pat's Oak Manor (South Milwaukee)
There were just a handful of places I considered going to on my first week off from writing, and Pat's won out. Quality all-you-can eat beer battered cod, pancakes, coleslaw, and rye bread in an atmosphere free of ostentation should keep anyone coming back, and that's what Pat's offers. I'm always surprised that only about half of the tables are full at this place. I was a little worried when I saw their keyboard player, Tony, wasn't set up. A waitress let me know that he decided to retire after decades of service. I hope he is at least still coming back to eat the fish frys.
#283 – May 31 – South Shore Terrace
I wanted to get to a few "patio" fish frys during the warmer months, so that's why I ended up back at the South Shore Terrace. On this particular day, the beer and food line was all the way to the lake, and there was scarcely a place to sit. South Shore's fish fry is pretty standard, but it's hard to beat their location when it's nice out.
#284 – June 7 – Walleye Weekend (Fond du Lac)
It's always the same, and I have no problem with that. As a challenge to myself, I didn't have a drop of alcohol after this fish fry until fish fry #300. An alcohol-free summer in Wisconsin is possible.
#285 – June 14 – Fritz's Pub
This was the third occasion that I've gone to Fritz's expecting that it would be the last time I'd be getting fish there. As I've said before, Fritz's is noteworthy because each component of their fish fry has a distinct flavor and texture, and I mean that as a compliment.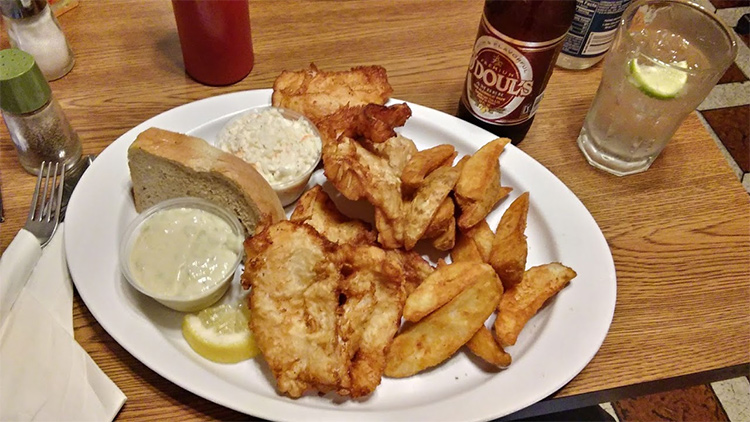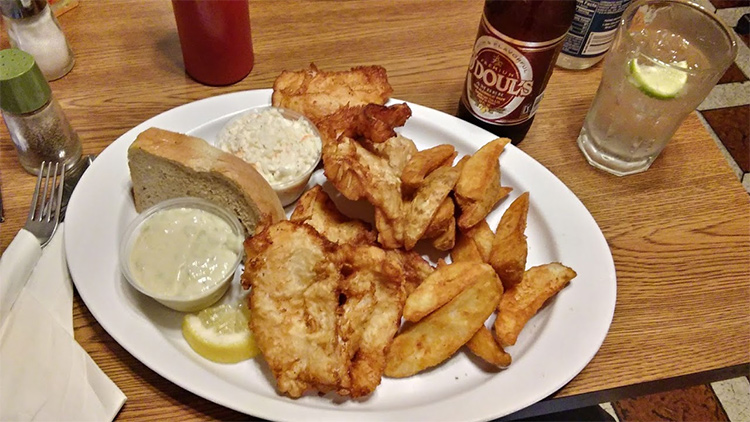 #286 – June 21 – Swingin' Door Exchange, Saloon & Eatery
I was playing a Concert Cruise show on the Vista King on this evening, so I made sure to find a place that had fish near the boat launch. I don't remember too much about this fish fry besides that I had a virgin Old Fashioned with it. Old Fashioneds with brandy are much better.
#287 – June 28 – Randy's Neighbor's Inn (West Allis)
My stop at Randy's was satisfying as always. They may have the best breaded cod in Milwaukee County, and their only real drawback is that they don't have homemade potato pancakes.
#288 – July 5 – Baby Boomers
Their beer battered haddock fry isn't dressed up or flashy, but it gets the job done. A few people were once again taking shots of booze at the bar while I was eating. If you are in the mood for a fish fry while you are in Bay View and you haven't been inside Baby Boomers, it's worth dropping by at least once.
#289 – July 12 – Joe's K Ranch (Cudahy)
I remembered Joe's K Ranch as being a place that might be able to climb to the higher echelon of fish fry stops if just a few things were tweaked, so I thought I'd give them another chance. My past favorable view of them had mainly been based on their clam chowder and bread. I hoped the fish would be a little better this time around, but it was about the same. The bread wasn't as memorable this time around either.
#290 – July 19 – Wendt's On The Lake (Van Dyne)
Located between Fond du Lac and Oshkosh, along Lake Winnebago on Highway 45, Wendt's is my favorite place for perch. Lightly breaded and butterflied, the perch is accompanied with two extraordinarily thick pieces of white bread, vinegar-and-red-cabbage-heavy slaw, and a choice of potato (homemade potato salad, crosscut fries, french fries, or baked potato).
#291 – July 26 – Nite Cap Inn (Palmyra)
Instead of going alone, this time I was joined by four other people. We were seated in a far back room that I didn't know existed, where only one other party was eating. The ambiance of the place seemed to deflate in this closed-off room, but the good news is we were very close to the kitchen. Plates of piled fish and stacked potato pancakes were brought out multiple times. The Nite Cap Inn was once again worth the drive.
#292 – August 2 – Kegel's Inn (West Allis)
Kegel's is a West Allis staple, and their breaded cod gives Randy's Neighbor's Inn—which is barely a mile away—some real competition. I went with the seafood platter, which consists of cod, perch, scallops, and shrimp.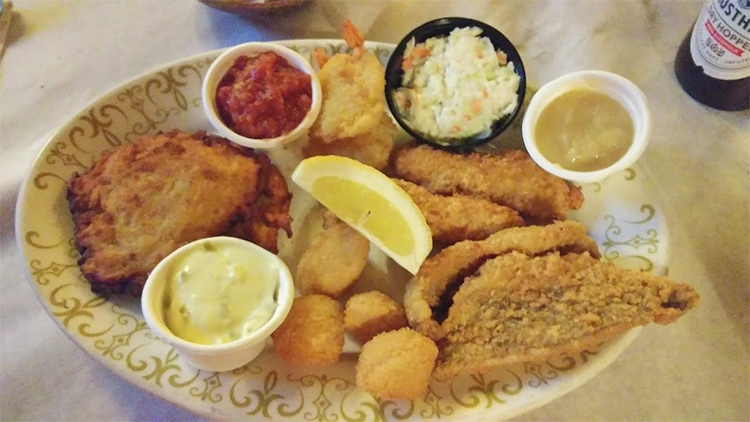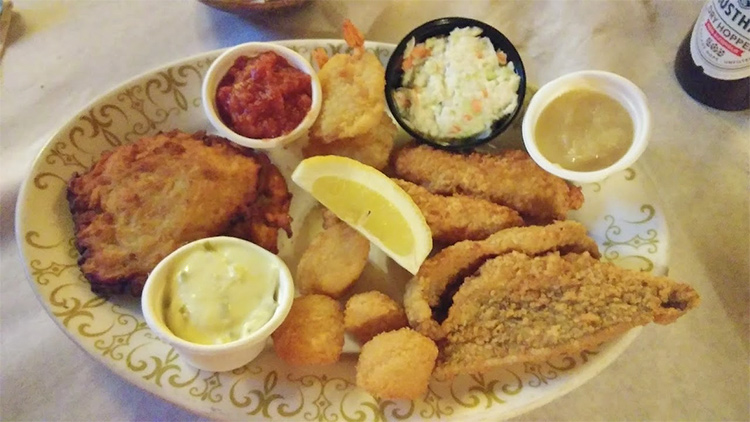 #293 – August 9 – Mark's East Side (Appleton)
As I've done before, I met Walt Hamburger and Amos Pitsch for a fish fry in the Fox Valley. They were a hoot as always. We had all-you-can-eat haddock—three bowls worth—until we couldn't move. Then they had me drive them to a pizzeria so we could buy cake for dessert for some reason. If I lived in Appleton, I'd be at Mark's East Side all the time, but I'd probably dial down how much I ate, and probably wouldn't get cake afterwards. Although, it was good cake.
#294 – August 16 – Milwaukee Gourmet House (South Milwaukee)
When I was last there in May 2017, Milwaukee Gourmet House was called Muskie's Gourmet House. I asked my server why the name had changed, and they said it was so they would sound fancier. You hear that, Milwaukee? You are fancy. The food was still solid like last time, but I think it may have actually been better the first time around. The most notable difference was that the coleslaw was now in an edible container. To my surprise, Milwaukee Gourmet House has now since closed.
#295 – August 23 – Little Red Inn (St. Lawrence/Hartford)
I was seated in the "Love Booth." Joining me in the booth was all-you-can-eat fish. It did not let me down.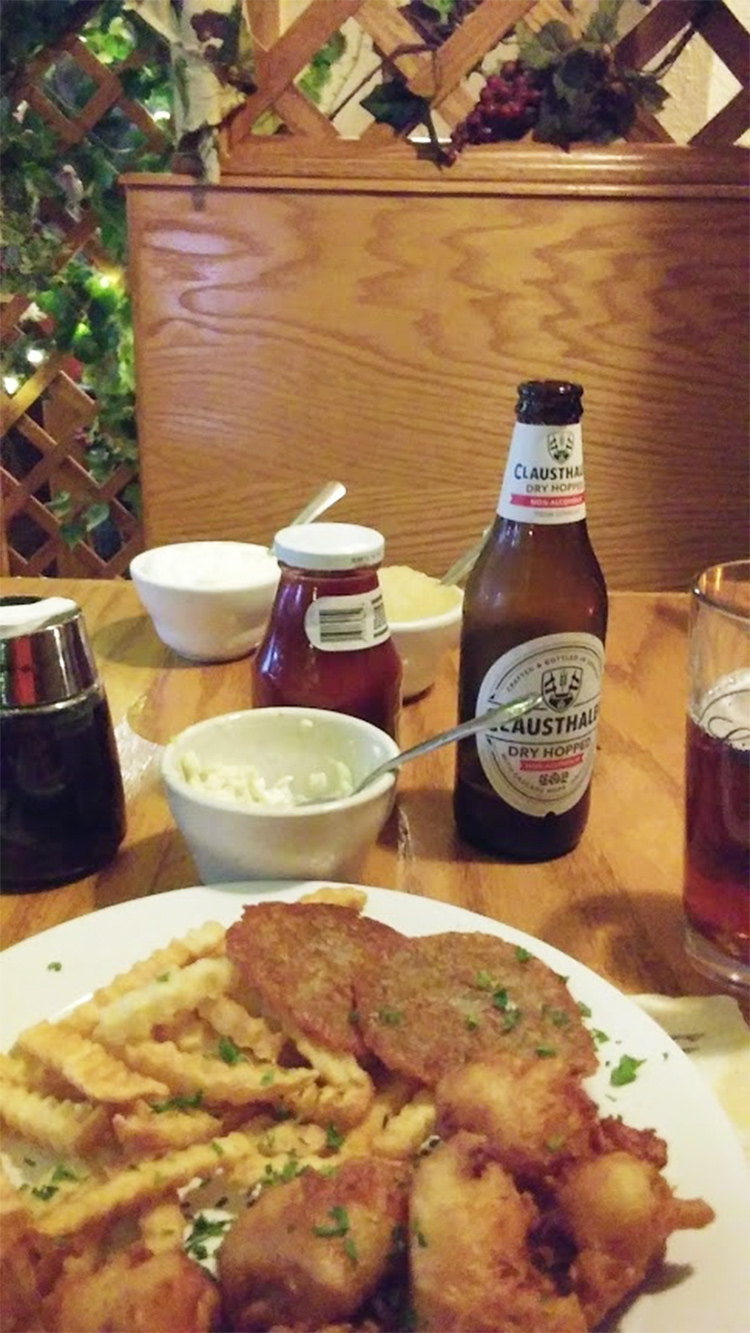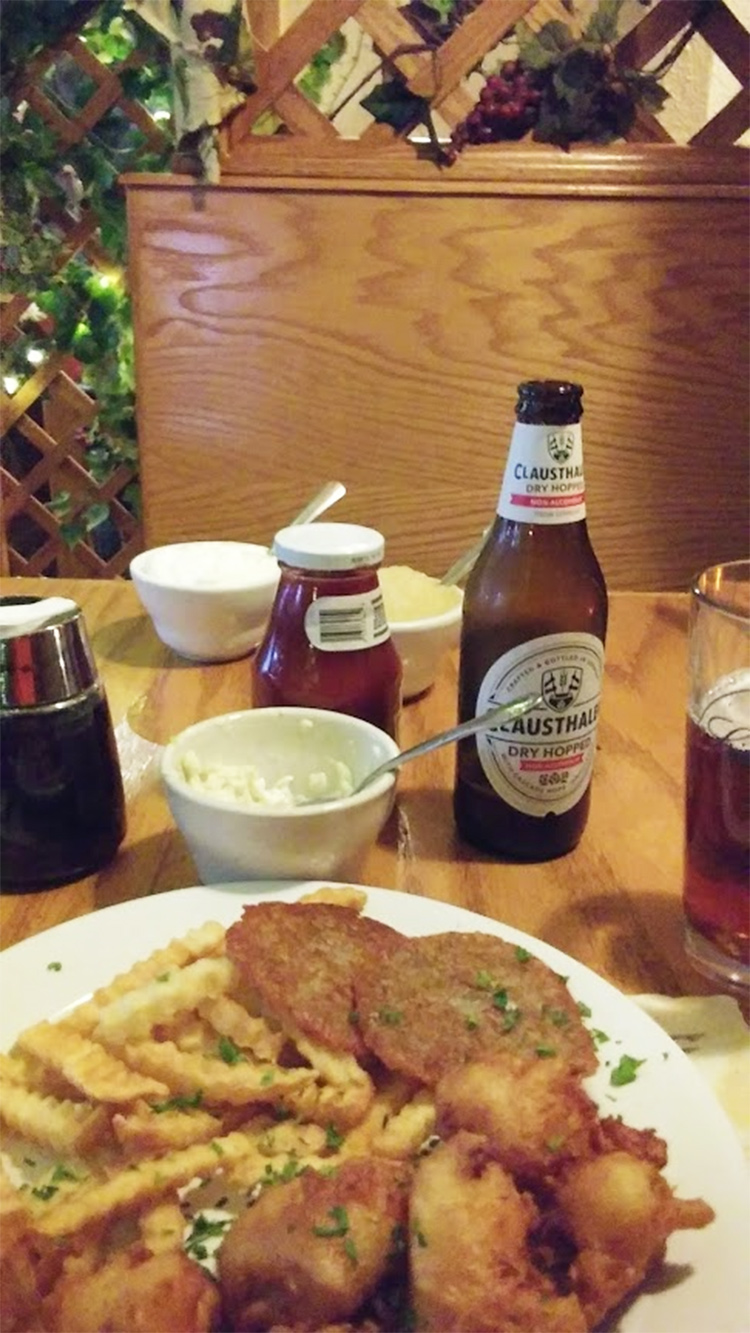 #296 – August 30 – Range Line Inn (Mequon)
The last time I was here I was seated at a table in the front room by the bar. This time I was seated at the last table in the last of four rooms. The rolls were once again the standout of the meal, but it was solid all around.
#297 – September 6 – Tavern At Turner Hall
Mondo Lucha was happening upstairs later in the evening, and my band was the house band for it. After soundchecking, I made my way downstairs, sat at the bar, ordered, and had a fish fry brought to me in no time. I ate it just as quickly as it arrived, and I can't recall anything particularly memorable about it now. I guess I was just getting in the zone for rock and roll.
#298 – September 13 – Slick Willies Bar and Grill (South Milwaukee)
Ironically, there was just one spot open to sit at the bar, just like the last time I was there. The salad bar was still included, and there was still an unlimited amount of mediocre clam chowder available with it. The pancakes and fish were still largely on the mark, keeping Slick Willies as a fine option if you are looking for a tavern-style fish fry.
#299 – September 20 – Fritz's Pub
This was the fourth occasion that I've gone to Fritz's expecting that it would be the last time I'd be getting fish there. They are still open. Get there. Perhaps I'll be back next summer.
#300 – September 27 – Pat's Oak Manor (South Milwaukee)
A friend brought me a cake with "300!" on it, and I had my first drinks since fish fry #284—an Old Fashioned and a light beer. Collectively, my party ordered so many Old Fashioneds that you could tell the bartenders were getting sick of making them, and they also told us they were running out of ingredients to make them. The quality of the food seemed just a little bit lower than usual, but perhaps my expectations were just high because of the occasion (that's likely it). Nonetheless, the quality was still miles ahead of most places, and Pat's Oak Manor remains one of my favorite places to get a fish fry.