Caleb Westphal hasn't missed a Friday fish fry since 2013. Follow along with his never-ending adventures here.
I went to the crossroad, fell down on my knees
I went to the crossroad, fell down on my knees
Asked the Lord above "Have mercy, save poor Bob, if you please"
-Robert Johnson
"Cross Road Blues"
According to legend, Robert Johnson met the Devil at a crossroads and traded his soul in exchange for the skills needed to be a master bluesman. Sometime shortly thereafter, he recorded "Cross Road Blues," a song that didn't directly address his Faustian bargain, but did clearly lay out some of Johnson's distress. The next year he recorded "Hellhound On My Trail," and hardly a year after that he was dead.
I had my own demons chasing me on Friday. Irritability and loneliness were leaving me unfocused, and I was having trouble completing any work. As morning turned to afternoon, the blues were still circling me. I had to be up in the Fox Valley the following day, and without any fish fry plans, I figured I'd head north on Friday and find a place on the way. With the sun lowering outside of my windshield, as well as in my mind, I drove up Highway 41. I exited and drove west for a few miles, until I came upon the crossroads of Highway K and Highway 175. I didn't go to the crossroads to sell my soul to the Devil, and when I fell to my knees it wasn't for mercy. It was for another kind of salvation: an all-you-can-eat fish fry at the Little Red Inn (4900 Hwy 175, Hartford, 262-644-8181)—which stands right at the crossroads.
The Little Red Inn is located in St. Lawrence, an unincorporated community that sprang up in the mid-1800s. Early on, the community was known for being a spot where farmers traded, and over the years it has had a cheese factory, a distillery, a blacksmith shop, grocery stores, and other businesses. Besides the Little Red Inn, which was built circa 1880, the crossroads is adjacent to the St. Lawrence Catholic Church, which was also built in 1880, and a bar called the St. Lawrence C-Way (get it?).
A red brick building, the Little Red Inn may originally have been built to function as an inn, but it was serving as a tavern pretty early in its existence. Charles Ziegler had it as a tavern in the late 1800s and sold it to Joseph Mueller in 1898, who named it Mueller's Tap; it also doubled as the St. Lawrence Post Office at the time. Louis and Minnie Heder bought it in 1942, and when their son Stanley and his wife Lorraine took it over in 1959, it began being known for its food. Jack and Larae German bought it in 1972 and added a fish fry to the menu. Their son Tim took it over in 1985, and in 1995, he and his wife, Sue, took out the upstairs living space to add more dining, and also added a microbrewery (the microbrewery is no longer there today). Michael Wagner opened it as Wagner's Little Red Inn in 2001. In 2004, Ken and Joan Kenney joined forces with John and Jeanne Kreilkamp to take over the Little Red Inn.
Upon arriving, I put my name in and was asked if I wanted upstairs or downstairs seating. I was alone, and I heard the host tell someone that they could put me at a table for two; I was told it would be a ten to fifteen minute wait. I sauntered over to the bar and ordered an Old Fashioned. It had one dark cherry muddled at the bottom of it, was rather translucent, and tipped the scales to the boozier side. The room had a wine theme going on, with faux vines and grapes hanging from the ceiling, and tables with wine corks integrated into their tops. Underneath the foliage and wine, a supper club vibe peaked through. In less than ten minutes I was led upstairs to my seat.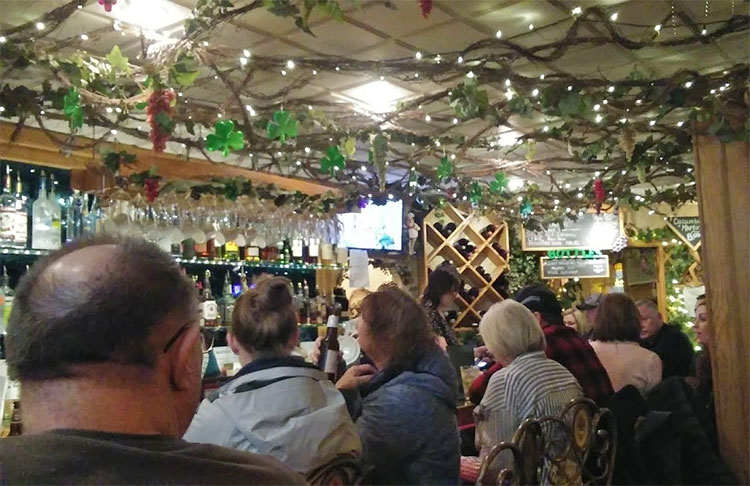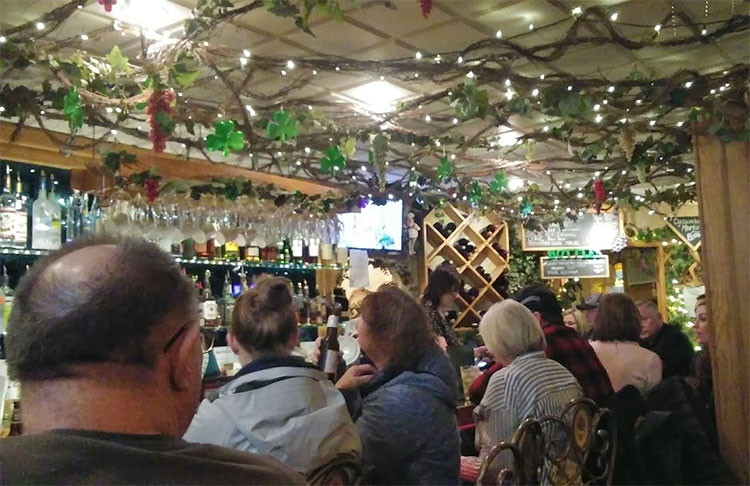 Friday seafood options include a Family Style Fish Fry with AYCE Icelandic cod ($11.95), hand breaded perch ($15.95), poorman's lobster ($14.95), jumbo shrimp ($22.95), and a seafood platter with jumbo shrimp, perch, cod, and poorman's lobster ($21.95). The AYCE comes with both french fries and homemade pancakes, while the others come with a choice of potato. I knew from the start I was going to have the AYCE, and I stopped looking at the menu when I spotted homemade potato pancakes, not even realizing I would be getting fries as well. While ordering I was informed I could also have fries, and I acceded. As if AYCE fish wouldn't be enough, I tacked on a cup of chowder ($2.95).
I was brought a basket with four pieces of swirled dark rye bread, and ate two with my chowder. The chowder had large potato chunks and a respectable amount of clam and celery. It also had a little bit of spice to it, and primed me up well for the fish fry. As I was finishing it up, my server returned and said, "Let me just get you set up here," as she set down small bowls of coleslaw, tartar, and applesauce; a dish with four lemon slices; a syrup dispenser; and a jar of ketchup. The thing about family style fish frys is they are oftentimes still served to you like you are with a family, even if you don't bring one. At least this is usually the case with the sides. This allows you to eat directly out of the bread basket, eat the coleslaw right out of the bowl, and dunk your fish right into the tartar sauce.
Moments later, the main attraction arrived. Two potato pancakes were layered on top of the french fries. The pancakes were some of the smallest I've seen, being about the size of silver dollar pancakes. And it may be trite to say something is as flat as a pancake, especially if it is, well, a pancake, but that was what I encountered here. They held together well, and were mealy, not stringy, with a great overall texture, and a mild, satisfying flavor. I know I've disparaged many a crinkle cut fry before, but the fries really weren't that bad.
The pieces of cod, of which I was given six, were small and almost cube-like, but did have some variation to their size. The morsels were of modest quality, and were very moist, almost being on the verge of being too much so. They were beer battered, and didn't knock you over with flavor, but were above average and very good. Being that the pieces were so small, I could completely submerge them into the tartar sauce bowl. There wasn't anything noticeably remarkable about the tartar besides the abundance of it, but it was satisfactory. The coleslaw was very juicy, and unique in that it was both very sweet and had a large amount of black pepper in it. The contrasting flavors really brought the slaw to life and made it memorable.
When my server asked if I wanted more of anything, I said I'd take more fish. "More pancakes, too?" she replied. For some reason it hadn't dawned on me that pancakes were part of the family-style package. I assented to the offer and was brought six more pieces of fish and four more pancakes. As I slowly ate what was left on my plate and fullness approached, a sense of calm and contentedness that had eluded me all day settled in. Although I was still alone, the loneliness had dissipated. As I watched families eat together, a feeling that all was going to be okay enveloped me.
I hadn't anticipated getting double the amount of potato pancakes I had first received, as well as a second full order of fish, and I just couldn't finish it all. My server said they usually didn't wrap up AYCE orders for people to take home, but said she could anyway, if I wanted her to. There were three pieces of fish left. "I just can't let the fish go to waste," I said, and she boxed them up.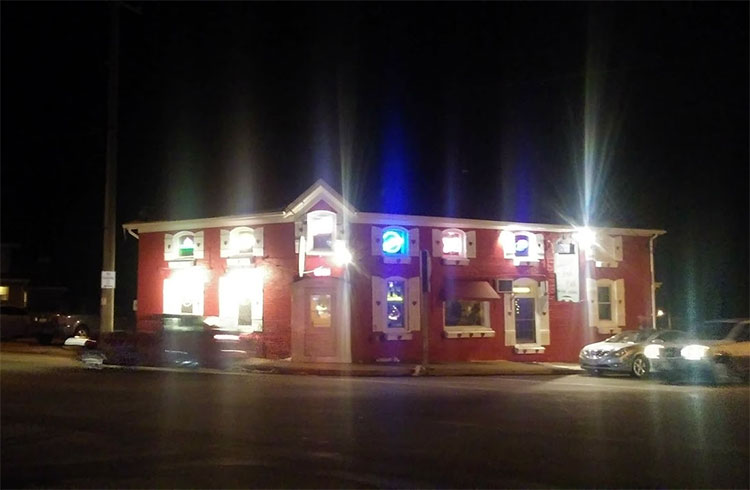 I had gone to the crossroads as a dejected man, but walked away from them cleansed by beer batter and fish. I even had a few pieces of fish to take with me in case the blues returned. If you find yourself on the road and feeling down, get off the main road and look for the crossroads of a small town. You won't have to give up your soul to get yourself right—you'll only have to hand over a little bit of cash.
Takeaways: I went to the crossroads and had a fish fry; historic building in an unincorporated community; welcoming supper club vibe, although the the wine theme was a little over the top; great deal for what you get with the AYCE; it's family style but if you don't bring a family you just get seated quicker and can eat the sweet and peppery coleslaw right out of the family-style bowl; almost everything is homemade; you can get fries and pancakes at the same time; fish and pancakes were both above average; good service; Jim Widmer got a fish fry here in 1998. Not familiar with Widmer's story? Get ready to be inspired. Most of the places I've been to so far this year were close to being good enough to be "recommended," and while a few things at the Little Red Inn could be tweaked, I think they deserve the tag. RECOMMENDED.