Though the 2017 Milwaukee Brewers are unabashedly rebuilding, the young and exciting team is over the .500 mark through the season's first 35 games. Eric Thames is breaking franchise records with his colossal dongs, the stable of young pitchers are exceeding expectations, and the largely unproven crop of touted prospects currently has the Brewers above the reigning World Series champion Chicago Cubs in the standings. Still, there's always more players can learn—about both baseball and life.
Prior to the start of the season, we presented some useful tips from the 1988 and 1989 Milwaukee Brewers squads, taken from the back of those baseball cards law enforcement officers gave to kids. Helpful as that player insight was, the 1991 team is probably a better source for insight about what to do. That team finished 83-79, which was the penultimate time the Brewers would finish with a winning record until finally breaking the slump in 2007. Conversely, the '91 team has some unsavory aspects that range from pitcher Julio Machado killing a woman during a roadside dispute after the season, beloved outfielder Darryl Hamilton being murdered by his girlfriend in 2015, and Gary Sheffield.
Even so, more than 25 years later, these police-issued cards remain a treasure trove of useful information about how to avoid drugs and gangs, the correct way to cross the street, why school is important, and when you should snitch to the cops (spoiler: always). As you enjoy the surprising play of the modern Brew Crew, look back at some of the helpful lessons bestowed by the 1991 Brewers…or whomever actually wrote them, since lots of the 1988 and 1989 advice is repeated word for word and attributed to different players.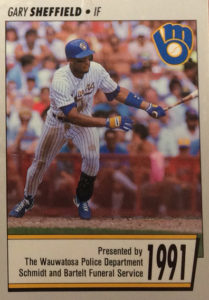 Gary Sheffield — Infielder
"Help your family, schoolmates, and teachers when asked. They will respect you for it."
Ted Higuera — Pitcher

"Respect the property of your friends and neighbors and they will respect you."
Jamie Navarro — Pitcher
"Pick the right friends to be your teammates. Check out the Boys & Girls Club and Scouting, or get involved in Park & Recreation Department activities. That's where the winners are. Gang members are losers."
Greg Vaughn — Outfielder
"When prescribed by a doctor, drugs can help you, but drugs or pills bought on the street can hurt or even kill you. Never accept drugs or pills from anyone except your doctor. If someone offers them to you, just say no!"
B.J. Surhoff — Catcher
"Kids should practice safety every day at school and when playing. Streets, construction sites, and vacant buildings are dangerous and unsafe. Don't play there. Use your park, school yard, or gymnasium and play it safe."
Willie Randolph — Infielder
"Call it what you want, pot, grass, crack, speed, angel dust, or coke—it's dangerous stuff that can hurt you and even kill. If you're approached, just say no and then call your local police or tell your parents."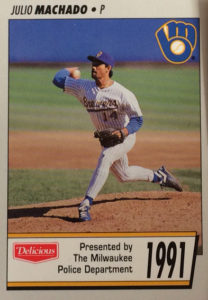 Julio Machado* — Pitcher
"Your police or sheriff's department can give you good advice and information that will make your home more secure."
* Machado served 12 years in a Venezuelan prison for fatally shooting a woman in 1991.
Candy Maldonado — Outfielder
"Minors should never drink. Alcoholic beverages can make you sick and overdoses can kill. Stay away from alcohol and those who use it. You'll want to perform at your best in sports, school, or at work. You can't perform at your best if you are a drinker."
Bill Spiers — Infielder
"A hit-and-run on the street is not fun and it makes the wrong things happen. It's just plain stupid. Vandalism is wrong. It's a crime and a waste of money. Respect the law and the property of others. Be a responsible person in your neighborhood. Don't hit-and-run on the streets."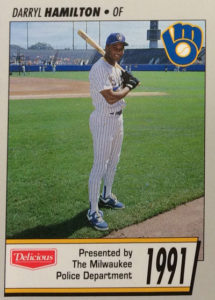 Darryl Hamilton — Outfielder
"You can be a scout for the police in your neighborhood. You can help prevent crime by being their eyes and ears. Call the police immediately if you see or hear anything unusual or suspicious."
Chris Bosio — Pitcher
"Everyone is placed in a position where they can steal and many are tempted to do it. Taking the property of others is wrong and illegal. When the opportunity to steal comes, walk away. Remember sooner or later everyone gets caught."
Tom Trebelhorn — Manager
"When your parents or teachers discipline you or offer constructive criticism, treat it as a learning experience that will help you improve and mature."
Bill Wegman — Pitcher
"Many Wisconsin cities have curfew laws for young people. Help your local police officer protect you by obeying your curfew. Kids that stay out late only get in trouble."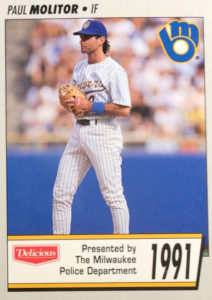 Paul Molitor — Infielder
"Do you think loud talk and swearing impresses people? If you do, you're wrong. Baseball players impress their teammates and fans by action, not words. You can impress your family and friends by working hard at school and at home. Show them what you can do and you'll earn respect."
Rick Dempsey — Catcher
"You can't run away from problems in life. Sooner or later you'll be caught in a rundown and tagged out. Don't run away, ask for help."
Greg Brock — Infielder
"You can help your neighbors by watching and observing activity in your neighborhood. Report unusual situations to the police such as: Strangers trying to enter neighbors homes or cars. Abandoned cars on your street. Broken windows."
Dale Sveum — Infielder
"If you act as a baby sitter, be sure you're prepared for emergencies. Always know where the parents can be reached and make sure your parents know where you are. Keep emergency phone number for fire and police nearby, and always keep doors locked. Never open the door for strangers."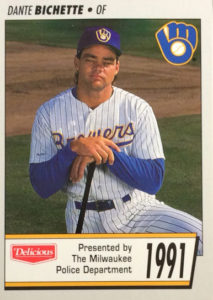 Dante Bichette — Outfielder
"Athletics are a great outlet for energy, but they're not a substitute for education. Stay in school, study hard, and learn. If you don't make it to the big leagues, you'll be prepared for life after baseball. If you don't make it, you'll be ready to go to work in a big league job."
Mark Lee — Pitcher
"You may not succeed at everything, but you have to keep on trying. Don't give up! If you keep trying and think positive, you too will succeed."
Jim Gantner — Infielder
"Teamwork is important to make neighborhoods a safe place to live. You can help by working with your neighbors and watching for things like strange cars or broken windows. Notify the police when you see something suspicious."
Kevin Brown — Pitcher
"Only cross the street at a corner and look both ways. Cross with the traffic lights, don't jaywalk. Don't play in the street and never, never hitchhike. Obey the rules and you'll find they're good for you and will keep you out of trouble."
Chuck Crim — Pitcher
"Everyone doesn't have the God given talent to play baseball. Whatever your talents are, work hard at developing them. Attend school regularly and study hard. Everyone can't be a big league ballplayer, but you can get a good job with a good education."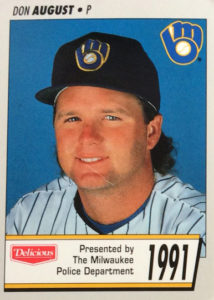 Don August — Pitcher
"Your teammates are your family, your teachers, and your local police officers. They want to be your friends. Take advantage of their friendship and ask them for advice when needed. They'll work with you, help you, and be the friends you need to succeed in life."
Robin Yount — Outfielder
"Just as baseball players use special equipment for safety, bike riders do too. We use a light and reflectors for night riding and obey the rules of the road. Play it safe! Practice bike safety to avoid injuries. Our family does."
Franklin Stubbs — Infielder
"Problems must be faced right away otherwise they just get worse. If you are a runaway or know someone who is and needs help, call the Police Department wherever you are or Youth Aid Division in Milwaukee at 935-7400; Pathfinders at 271-1560; or Walkers Point at 647-8200. They can help you."