Is it over already? Yep, after 15 days, countless films, and one long weekend to let it all soak in, the 2017 Milwaukee Film Festival is officially in the books. It was another terrific year for the fest (maybe the best yet?), and one that will stick in our cinema-addled brains as we patiently tick off the days until the 2018 installment. Here are just a few of the many, many standout moments from the gone-but-not-forgotten MFF2017.
Opening Night Party
The new location for MFF's Opening Night Party, Good City Brewing, proved to be a perfect mix of old and new. The neon-drenched tent out back—stuffed with people, drinks, and music from Abby Jeanne and Storm Chaser—harkened back to the swank Discovery World parties of yesteryear, while the ground and rooftop action was a more manageable version of recent Kenilworth Building soirees. We drank a lot. We apparently ended up at Cactus Club later in the night. Huh. Hobnobbing with the hobnobbers was never this fun.
Another year, another memorable sponsor trailer
At this point in the fest, the sponsor trailer has become a full-blown point of discussion. What will the music be? How will logos be displayed? Will it be good? You've got to hand it to the fine folks at Milwaukee Film for continuing to take a necessary vehicle to acknowledge its supporters to interesting territory each year. This year's sponsor trailer (or should we say "trailers"?) might have been the best yet, as Abby Jeanne, GGOOLLDD, and Space Raft scored different versions, each with a different ending. Which song would play this time around? Would the tattoo shop customer wind up with the tattoo artist or the creepy guy behind the counter? Would it be in black and white or in color? All those variations and the trailer's unique concept helped MFF thank sponsors and hold the attention of audiences…at least until the next trailer where someone from Milwaukee Record demanded moviegoers challenge themselves.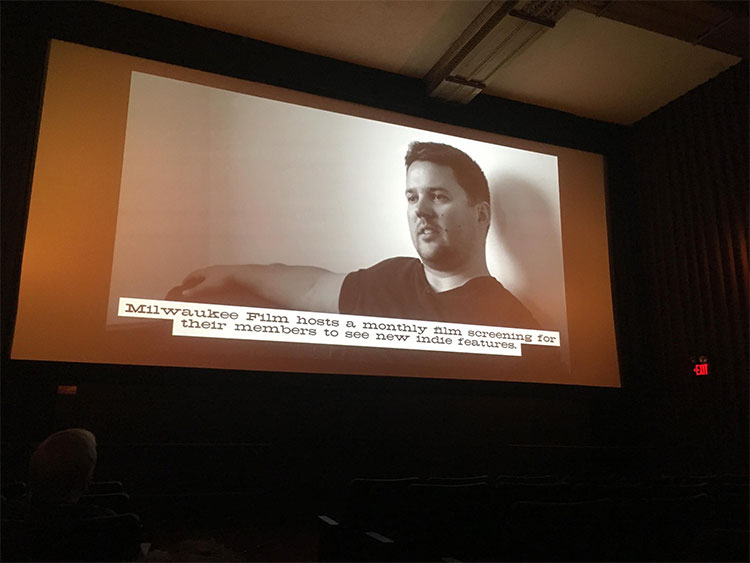 Centerpiece Film: The Blood Is At The Doorstep
The first local screening of the festival's Centerpiece Film illustrated the wonderful documentary's importance, as Oriental Theatre was filled to capacity, including family members from various Milwaukee area families who have lost family members to police and vigilante violence. Despite the heavy subject matter and the lack of resolution for what's become a national epidemic, the theater was filled with an air of optimism and positivity, as Dontre Hamilton's family answered questions after the screening, then presented director Erik Ljung with a The Blood Is At The Doorstep jean jacket.
Lucky
What a way to go out: The incomparable Harry Dean Stanton died this past September at the age of 91, leaving behind a memorable role in the new Twin Peaks and a starring role in Lucky as his last on-screen performances. The latter finds the veteran character actor as the lonely-but-content Lucky living in a lonely-but-content desert town, doing his daily exercises, running his daily errands, stopping off at the local bar, and occasionally talking to pal Howard (David Lynch) about a missing tortoise. A nasty fall (but an otherwise clean bill of health) leads to a sweet and warmly observed exploration of What It's All About. Some clunky philosophical dialogue is easily forgiven as director John Carroll Lynch finds moments of grace in morning walks and unexpected friendships, and as Stanton gives everything he's got. Also, Stanton's Alien co-star Tom Skerritt shows up, which is great.
There Will Be Bowling 2: Electric Boogaloo
Here's what you missed if you missed out on our second annual MFF bowling tournament at Landmark Lanes: four teams of bowlers bowling three games in hopes of toppling the not-so-mighty Milwaukee Record team, lots of beer, lots of goofy prizes, and lots of fun. Team "Boner" ended up winning the whole shebang, besting our in-house team by a whopping 205 pins. Team "Raiders," team "Get Some," and the Milwaukee Film team all put in fine efforts, too. Thanks to Landmark for having us, Milwaukee Film for giving us an excuse to bowl, and to everyone that showed up!
Purple Rain
Good lord, Purple Rain is a crazy film. There's Prince (as "The Kid") at the height of his powers, looking amazing and blazing through unstoppable performances of "Let's Go Crazy," "Darling Nikki," and more. There's Apollonia Kotero (as "Apollonia") looking gorgeous and diving into what she thinks are the purifying waters of Lake Minnetonka. But there's also Morris Day And The Time, Morris Day ordering a flunky to literally toss a woman in a Dumpster, Prince acting like a total dick, domestic violence, more domestic violence, overheated melodrama, and that part where Prince "sprays" the audience with his "guitar." It's 100-percent Prince, 100-percent '80s, and 100-percent glorious. Seeing it on the big screen was something else.
Found Footage Festival: After Dark
Hosts Joe Pickett and Nick Prueher joked often that this, their first appearance at the Milwaukee Film Festival, would be their last appearance at the Milwaukee Film Festival. Only time will tell, but the majority of the crowd did laugh through the entirety of the show, even when they were cringing or covering their eyes. This show's batch of clips included highlights such as the VERY REAL birth of a 1960s baby in the back of a car, some seriously shocking wound images, naked fisherwomen, lots of singing and dancing, and something featuring Rue McClanahan and a bunch of cats.
Shorts: The Best Damn F*#@ing Midnight Program Ever. Sh*t
Did the first screening of this year's collection of midnight shorts sell out? Yes, yes it did. (Okay, it was in the Oriental's small side theater, but still.) Was it an inherently uneven but ultimately worthwhile mix of sex, violence, and a demented Red Lobster commercial? You bet your f*#@ing a** it was. Opener The Robbery was a single-shot wonder complete with a hilarious ending, Mister Popular was The Texas Chain Saw Massacre meets high school, the animated Pussy was downright adorable, the Milwaukee-produced Pharma Lab Training Video 1 was over-the-top hilarious, and closer Ghosting The Party involved a guy jizzing all over a Halloween party. The best bit, however, was the aforementioned Red Lobster commercial from hell, Great Choice. Here's where it starts (but absolutely does not end up).
Manlife
This long-burning documentary from Milwaukee director Ryan Sarnowski answers a long-burning Milwaukee question: What was the deal with that old "University of Lawsonomy" sign on the side of I-94? Turns out it was the last outpost of a Scientology-esque philosophy/religion/economic system created in the 1930s by aviation pioneer Alfred Lawson, and kept alive by its last remaining disciple, 90-year-old Merle Hayden. There's a lot of story to tell here, and Sarnowski and company do an admirable job of whittling it down into a coherent narrative—albeit one that focuses more on the travails of Merle and his partner Betty, and one that ends around 2011.
Don't Break Down: A Film About Jawbreaker
One part biography of an influential and under-appreciated punk band, and one part examination of exactly what went wrong, Don't Break Down—behind the strength of revealing interviews and an amazing archive of footage from the studio and tours—proves to be a meaningful extended look at Jawbreaker, a trio that was but a momentary blip in mainstream consciousness, but meant so much to a select few. A small-but-passionate audience took in a Sunday night Avalon screening during the fest's opening weekend, and director Tim Irwin and Milwaukee-based co-producer Dan Didier (who received an ovation when his name came up in the credits) stuck around for a Q&A to help give even more clarity to the background of a band whose past and internal turmoil remain such a mystery…even though Don't Break Down helped clear up some of the confusion about exactly why Jawbreaker called it quits when they did.
Shorts: Date Night
These eight shorts offered a nice variety of touching moments and irreverent humor, and two of our favorites landed on opposite ends of that spectrum. The first of which (Nothing Ever Really Ends) is a Norwegian film about a couple who spend three consecutive New Year's Eves hosting wonderful parties while also considering going their separate directions. Very intimate and emotional. The second favorite (It's Been Like A Year) is a quick raunchy comedy about an encounter between a lonely man, a female prostitute, and her distracting male employee. Kind of intimate, a little emotional, gross, and hilarious.
The Ornithologist
"A queer retelling of the story of St. Anthony" only scratches the surface of this stunning, lovely, and confounding film from João Pedro Rodrigues. After his kayak capsizes, Fernando, the titular ornithologist, embarks on a hallucinatory journey that involves deadly Chinese backpackers, mysterious pagan revelers, a man named Jesus, and nude women hunters on horseback. To say more would spoil it, though Googling a picture of the film's director will help in navigating the ending. Every frame is a wonder, every moment unforgettable.
Pecking Order
Remember the first time you saw Best In Show, and then the subsequent year when you loved real-life fancy-pants American dog shows and their quirky contestants? That, but replace "fancy-pants American dog shows" with "regular-pants New Zealand poultry shows." Pecking Order documents the lead-up to New Zealand's 2015 National Poultry Show. It introduces you to a number of chicken breeders and gives you access to contentious meetings wherein the future of chicken breeding is discussed. There are tense moments, there are laughs, there are prizes, and there are like nine billion breeds of chickens.
"Bird Day" at Avalon
It turns out the October 4 Pecking Order screening was merely one of a flock-load of avian-themed screenings programmers selected for the Avalon that Wednesday. Noticing the abundance of winged film focuses, some MFF staffers declared it to be "Bird Day" at the Bay View theater. By day's end, Avalon would host screenings of Carpinteros (a.k.a. Woodpeckers), the aforementioned The Ornithologist, and the aforementioned Pecking Order, before ending on an arresting piece of avian animation called Birdboy. The the bleak and desolated piece of post-apocalyptic animation wasn't the most uplifting end to an otherwise goofy day of bird-themed programming, but the (perhaps accidental?) fowl foursome was a quirky and welcomed means of spicing up a Wednesday at the festival's midway point.
A Gray State
A Gray State tells the story of a US Army veteran and filmmaker, David Crowley, whose major film production (called Gray State) was cut short when he and his family were killed in their home. We went in expecting politics, and there is that, but there is so much more. This documentary is a response to the theory that Crowley and his family were assassinated because Crowley's film was to depict a violent struggle between American citizens and a corrupt US government. Through video clips and interviews, the film offers an intimate look at the Crowley family and the mental illness that appears to have ultimately destroyed them. A very powerful film about a very sad story.
Kid Shorts: Size Small
These 13 (mostly animated) short films clocked in at 54 minutes, and were perfect for little ones' attention spans. The Pits was an adorable puppet piece about a pear looking for its better half, The Pocket Man was a colorful and playful tale with a heartwarming ending, and Cloudberry trusted kids' emotional intelligence with a bittersweet story of a girl and a wolf. (Also, the toddler audience at the screening we attended was more well-behaved than most adult audiences we encounter at the multiplex.)
The Dark Crystal
Jim Henson and Frank Oz's 1982 fantasy-adventure is an almost unbelievable triumph of pre-CGI creativity, craftsmanship, and animatronic puppetry. But good lord, what an aggressively dark and ugly adventure it is at times. The first 15-minute stretch alone (complete with endless voice-over exposition) is basically a bunch of prehistoric birds (the "Skeksis") screeching at each other. Things lighten a bit with the introduction of Jen the "Gelfling," but oof. Anyway, Henson and Oz were/are geniuses, no one makes them like this anymore, those Landstriders are second only to Return To Oz's Wheelers in the "terrifying '80s stuff" department, and seeing this on the big screen at the Oriental was a hoot.
Infinity Baby
Set in a semi-futuristic world where the titular "Infinity Baby" business finds homes for infants that cannot age, the black and white film (both in terms of color and metaphor) skillfully balances bone-dry humor, witty dialogue, and an impressive cast featuring Keiran Culkin, Nick Offerman, Megan Mullally, Martin Star, and an underutilized Stephen Root. Almost as rewarding as the 75-minute absurdist comedy was the roughly 15-minute post-screening Q&A session with Starr and director Bob Byington, who both offered some humorous and interesting insight on occasion, but more often dodged thoughtful responses and critiqued questions from a packed house in Oriental's secondary theater. Whether they're good or bad (we couldn't tell which applied here), the opportunity to speak with or listen to those involved with a film helps make this burgeoning festival even more special.
Schumann's Bar Talks
If you're not familiar with Charles Schumann (we weren't, either), he is the 76-year-old proprietor of Schumann's Bar in Munich, and the author of the widely cited cocktail recipe guide, Schumann's Bar Book. He is also a handsome and long-haired boxer who wears bright blue suits and apparently speaks every language on Earth. Over the course of this documentary, Schumann visits bartender buddies in places like Paris, New York, Havana, and Tokyo to chat about recipes, fun stories, and bar culture in general. It's a very fun watch, especially with a nice gin gimlet.
Stop Making Sense dance party. Again.
A Milwaukee Film Festival wouldn't be complete without a screening/dance party of Jonathan Demme's 1984 Talking Heads concert film, Stop Making Sense. What can be said about the film at this point? It's pretty much perfect, capturing David Byrne (So young! So thin!) and the Talking Heads at their absolute creative peak. It opens with "Psycho Killer." It's got "Burning Down The House," "Life During Wartime," "What A Day That Was," and "Take Me To The River." Byrne dances with a lamp. Byrne wears that big suit. Hell, even the Tom Tom Club song is great. Like previous years, we didn't even bother taking a seat for this one—we just joined our pals and danced in the aisles from start to finish. Oh, and former Brewers pitcher John Axford was there, which was cool. What a film festival that was.