The Brewers are rebuilding. As the organization is being overhauled from top to bottom and underperforming fan favorites are being shown the door to make room for promising pieces for what looks to be a bright future, the team still needs to play games now. With any luck, the 2017 Brewers will be remembered as a six-month stint of encouraging baseball played by men who are amassing experience in low-pressure situations before better days in Milwaukee.
This Brewers team shares some similarities with the Brewers of the late '80s. Then, the organization was more than five seasons removed from a memorable playoff run. Though the 1988 and 1989 clubs would both finish .500 or better, they paled in comparison to the 1982 team that won the American League pennant. It was clear that more memorable times were on the horizon. The 1992 Brewers would win 92 games. Still, the '88 and '89 Brewers meant something.
On paper, these two teams will go down as above average-yet-unspectacular squads in the franchise's history. There were a few Brewers greats, not to mention the wealth of Brewers pretty goods, on the roster. And dammit, the players on these forgotten teams had something to say! Even when imparted by members of so-so teams, the wisdom of these players will live on forever, at least on the back of baseball cards law enforcement officers gave to kids. The lessons range from encouraging the use of clean language to more than a few cards that tell kids to snitch to the police. Here are some useful life tips from the 1988 and 1989 Milwaukee Brewers.
Ted Higuera — Pitcher
"Teamwork is important to make neighborhoods a safe place to live. You can help by working with your neighbors and watching for things like strange cars or broken windows. Notify the police when you see something suspicious."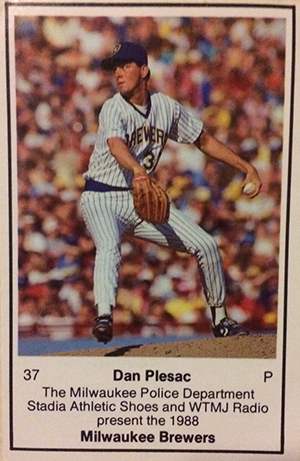 Dan Plesac — Pitcher
"When riding your bike, come to the right side of the street, stop for all stop signs and red lights, and never ride doubles. Bike riders should obey all traffic rules, just as automobile drivers do."
Mike Felder — Outfielder
"Don't walk away. Help your family, schoolmates, and teachers when asked. They will respect you for it."
Ernest Riles — Infielder
"Respect each others property and never mess with someone else's equipment."
Steve Kiefer — Infielder
"Whatever your talents are, work hard at developing them. Attend school regularly and study hard. Everyone can't be a big league ballplayer, but you can get a good job with a good education."
Dave Stapleton — Pitcher
"Some kids think loud talk and swearing impresses people, but they're wrong. Baseball players impress their teammates and fans by action, not words. You can impress your family and friends by working hard at school and at home. Show them what you can do and you'll earn respect."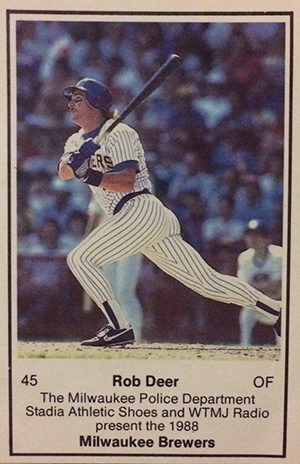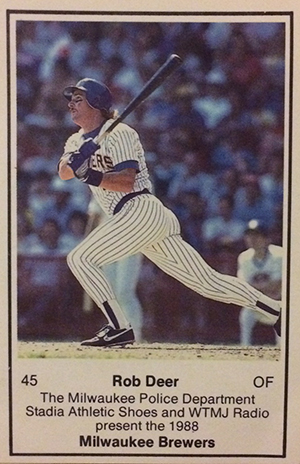 Rob Deer — Outfielder
"Kids should practice safety every day at school and when playing. Streets, construction sites, and vacant buildings are dangerous and unsafe. Don't play there. Use your park, school yard, or gymnasium and play it safe."
Tom Trebelhorn — Manager
"When your parents or teachers discipline you or offer constructive criticism, treat it as a learning experience that will help you improve and mature."
Dave Engle — Catcher
"If you act as a baby sitter, be sure you're prepared for emergencies. Always know where the parents can be reached and make sure your parents know where you are. Keep emergency phone number for fire and police nearby, and always keep doors locked. Never open the door for strangers."
Glenn Braggs — Outfielder
"Only cross the street at a corner and look both ways. Cross with traffic lights and don't jaywalk. Don't play in the streets and never, never hitchhike. Obey the rules and you'll find they're good for you and they'll keep you out of trouble."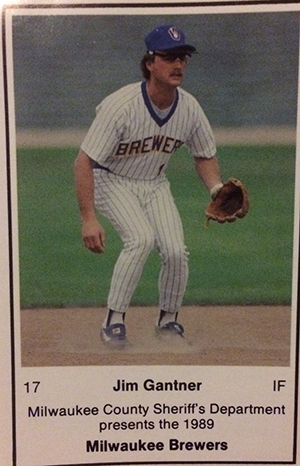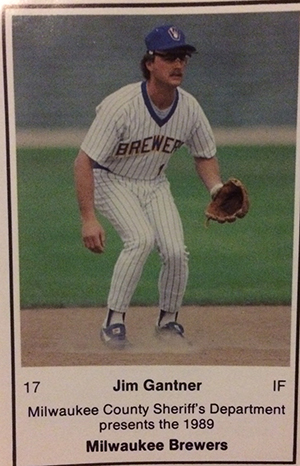 Jim Gantner — Infielder
"Your teammates are your family, your teachers, and your local police officers. They want to be your friends. Take advantage of their friendship and ask them for advice when needed. They'll work with you, help you, and be the friends you need to succeed in life."
B.J. Surhoff — Catcher
"Athletics are a great outlet for energy, but they're not a substitute for education. Stay in school, study hard, and learn. If you don't make it to the big leagues, you'll be prepared for life after baseball. If you don't make it, you'll be ready to go to work in a big league job."
Odell Jones — Pitcher
"Everyone is placed in a position where they can steal and many are tempted to do it. Taking the property of others is wrong and illegal. When the opportunity to steal comes, walk away. Remember sooner or later everyone gets caught."
Juan Nieves — Pitcher
"Friends are very important to us, but they must be chosen wisely. Don't make friends with trouble makers and law breakers. They will drag you into trouble with them. Stick with the good kids and you will be respected in your neighborhood."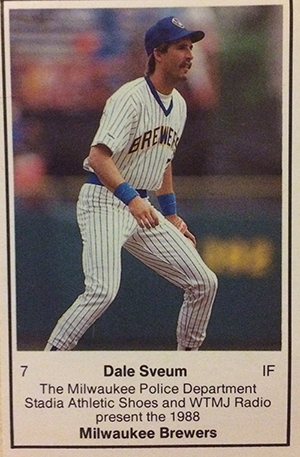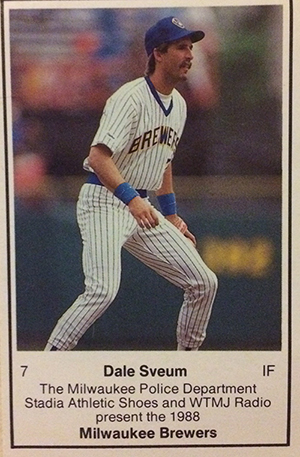 Dale Sveum — Infielder
"When we leave our homes, we take steps to protect them while we're gone. We make sure all doors and windows are locked and leave lights on. We also notify police and friends we can trust to watch the house."
Chris Bosio — Pitcher
"You can be a scout for the police in your neighborhood. You can help prevent crime by being their eyes and ears. Call the police immediately if you see or hear anything unusual or suspicious."
Robin Yount — Outfielder
"Just as baseball players use special equipment for safety, bike riders do too. We use a light and reflectors for night riding and obey the rules of the road. Play it safe! Practice bike safety to avoid injuries. Our family does."