Add another one to the list. Following in the footsteps of Bel Air Cantina, Pizza Man, Red Dot, Hue, Camp Bar, and (soon) Benji's Deli on the well-worn path of suburban expansion, Lucky Joe's Alchemy & Eatery (1427 Underwood Ave., 414-399-7499) opened in Wauwatosa last week. Before his craft cocktail establishment became the latest fiscally-fruitful feather plucked from Shorewood or Milwaukee proper to be placed in the cap of its cash-flush northwesterly neighbor, Lee Guk made a name for himself in Walker's Point as the co-owner of Lucky Joe's Tiki Room, a great island alcove in the shadow of an industrial relic. Reportedly intended to be a second Joe's with the "Tiki Room" suffix, Guk decided to pivot the bar's focus upon learning a different—and, astonishingly, flagship—tiki bar will be opening in 'Tosa. Rather, Alchemy & Eatery will eschew island music, fluorescent red lighting, and keepsake shark mugs to place focus on bringing handcrafted spirits, simple dishes, and ambiance to Wauwatosa's valley business district. Uncharacteristically unsure what to expect from a new Wauwatosa twist on a Milwaukee classic, we wasted little time trying our luck at Lucky Joe's Alchemy & Eatery.
The space: We arrived around 9 p.m., and almost missed it the first time around. After lucking upon a spot right outside the entrance, we entered the dark establishment and took immediate notice of 1.) the classic black and white checkered floor, 2.) a wallpaper pattern reminiscent of the shirt Zach Braff wore at that party (and matching wallpaper) in Garden State, and 3.) two chandeliers. From there, we quickly took note of the massive collection of bottles behind the bar and the apron-adorning barkeeps shaking spirits in the foreground. With a capacity under 50, we were actually taken by how small the bar was. The bar itself seats about 10. A small grouping of cozy wooden booths lines Lucky Joe's northern wall, and a couple tables are situated against the entrance-adjacent windows. Save for two spacious U-shaped booths beside the kitchen and restrooms in back, all seating is relegated to the front of the house. Somewhat working against the bygone-era-watering hole motif was the (comparably) modern house music. It wasn't "uncomfortably watch flappers dance on a stage to Nelly at Bugsy's Back Alley Speakeasy" weird, but strange nonetheless to sip a carefully created new take on a classic cocktail while the subtle sounds of Justin Timberlake played in the background. That's small potatoes, though.
The service: Upon taking a load off in one of the wall side booths, our server, Sara, came by with some drink lists. She rattled off the night's drink specials ($5 Brandy Old Fashioned, $5 house wine, $1 off all beers) and left us to navigate the intense house cocktail menu, even in its partial/soft-open form. Throughout the experience, she was pleasant and attentive, and—working for a place built to facilitate quiet conversation over a great drink—she made sure her presence was sparse. Only feet away, the bartenders seemed upbeat and jovial.
Milwaukee Record's drink: Having gazed at the drink list online before our 19-minute trip to 'Tosa, we came prepared for a difficult decision. Always a sucker for a good pun, the "Super Gintendo" ($10) was the original frontrunner, but we found that was not yet available. Instead, we settled for the second best bit of wordplay (not to mention the most intriguing option we saw), the "Rye Tye" ($9). Essentially, it's a Mai Tai with rye whiskey subbed in for rum served in a skull mug with a fresh orchid decorative accent. Our first sip brought the expected chest burn we've come to know and love (and hate the next morning) from the rye. With our taste buds now calibrated, all subsequent slugs were unexpectedly great…like the whiskey sour of the gods. We forced ourselves to sip it slowly on account of the combination of its price and, well, it was really stiff and we had to drive back home from fucking Wauwatosa. We'd also count the sample of our guest's brand old fashioned among the upper tier we've tried in recent memory.
Adding to the 17 house cocktails (most of which, unfortunately, don't employ puns) was an extensive array of house wines, and 32 bottled beers that included tasty options from Central Waters, Deschutes, Surly, and Karben 4. The "Eatery" portion of Lucky Joe's full moniker is supplied by meats, cheeses, and picked greens on hand to graze upon between sips. Sundays also feature an "Eat What You Are Given" brunch starting at 10 a.m.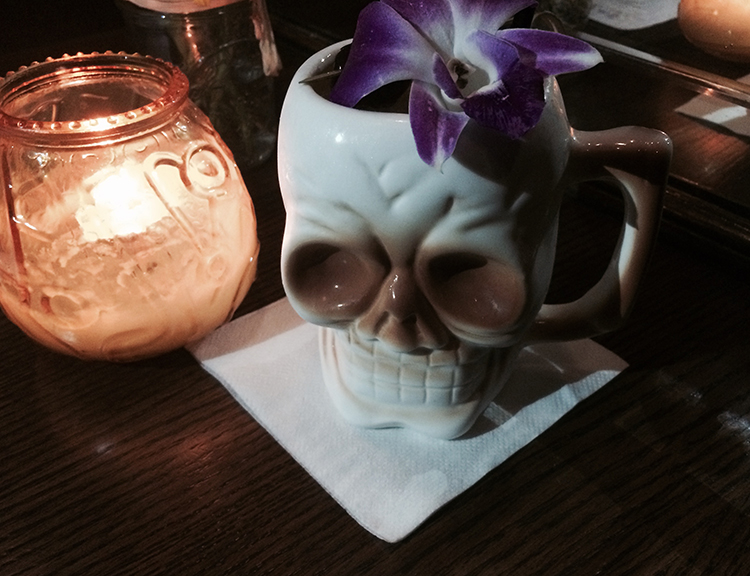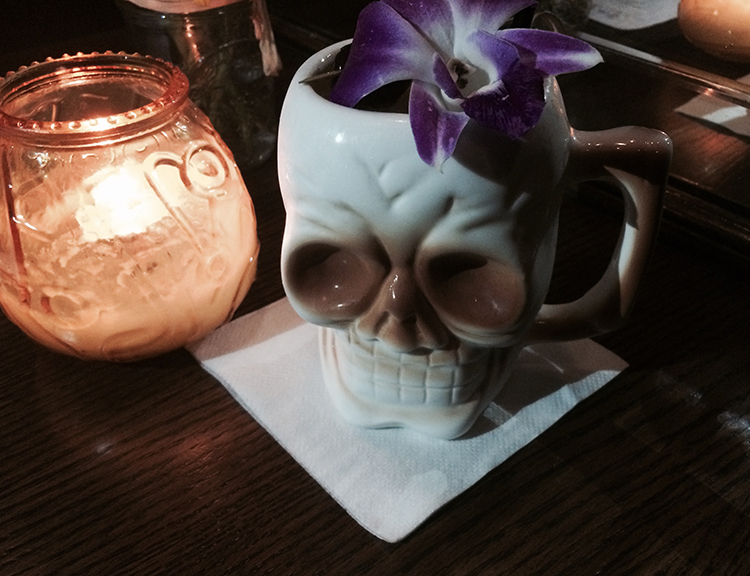 The verdict: Unlike the countless other true-to-form recreations of successful Milwaukee eating/drinking establishments 'Tosa is trotting out an an alarming pace, Lucky Joe's Alchemy & Eatery took what its sister site did best and brought it to a different customer base under an utterly different (but not forced) theme. If we find ourselves in the area—probably when Philly Way 'Tosa or Purple Door's inevitable suburban version occurs—we'll certainly be back.