Caleb Westphal hasn't missed a Friday fish fry since 2013. Follow along with his never-ending adventures here. This week: Pistol Pete's.
As my waitress returned with my receipt, I held up my almost-empty pint glass and studied the image of the Yosemite Sam-looking character with a bushy red mustache on it. "Is Pistol Pete a real person?" I asked, noticing that the Yosemite character wasn't holding pistols or wearing a cowboy hat, but had a pizza in one hand, a beer in the other, and was wearing a toque. Indeed, Pistol Pete was real, she said, and he was working in the kitchen. "He kind of looks like that too," I was told. "Big mustache. Mullet."
Pistol Pete's Pizza and Neighborhood Grill—or a restaurant with some variation of this name—has been serving up pizza, Italian fare, and much more at their location on Lisbon Road in Brookfield since 1998. (16755 W. Lisbon Rd., 262-790-9701.) It was then that Peter, along with his father Salvatore and sister Margaret, opened up for business. At the time, they also operated Pistol Pete's Pub and Grill on Main Street in Merton. The new location had previously been home to Brass' Hi-Fi Lounge for 35 years. It had opened on the day that John F. Kennedy died, and had been known for its lake perch fish frys.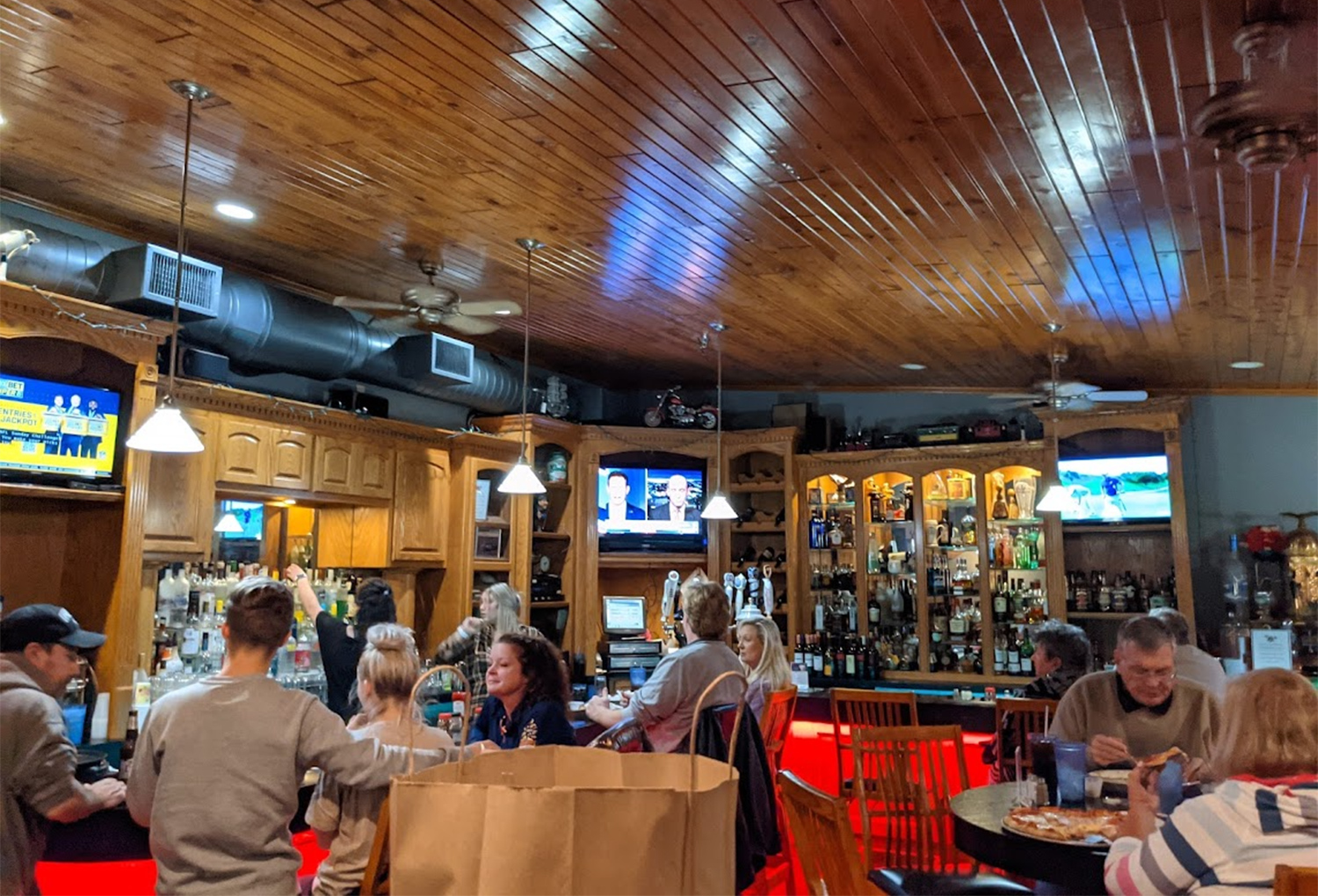 I arrived shortly after 5 p.m., walked into the mostly empty banquet hall, and followed the arrow on the "front dining room" sign until I arrived at a host stand in the main bar area, where people were standing around waiting for their carryout orders. I was promptly seated in one of the high-backed booths towards the front end of the dining room and given a menu. An Old Fashioned was in my hands not too much longer after that. Last week's drink might have been defined by its fruit, but this week's drink was neither garnished nor muddled, being strictly business—brandy business, that is. Okay, soda was present, and possibly some type of mix, too.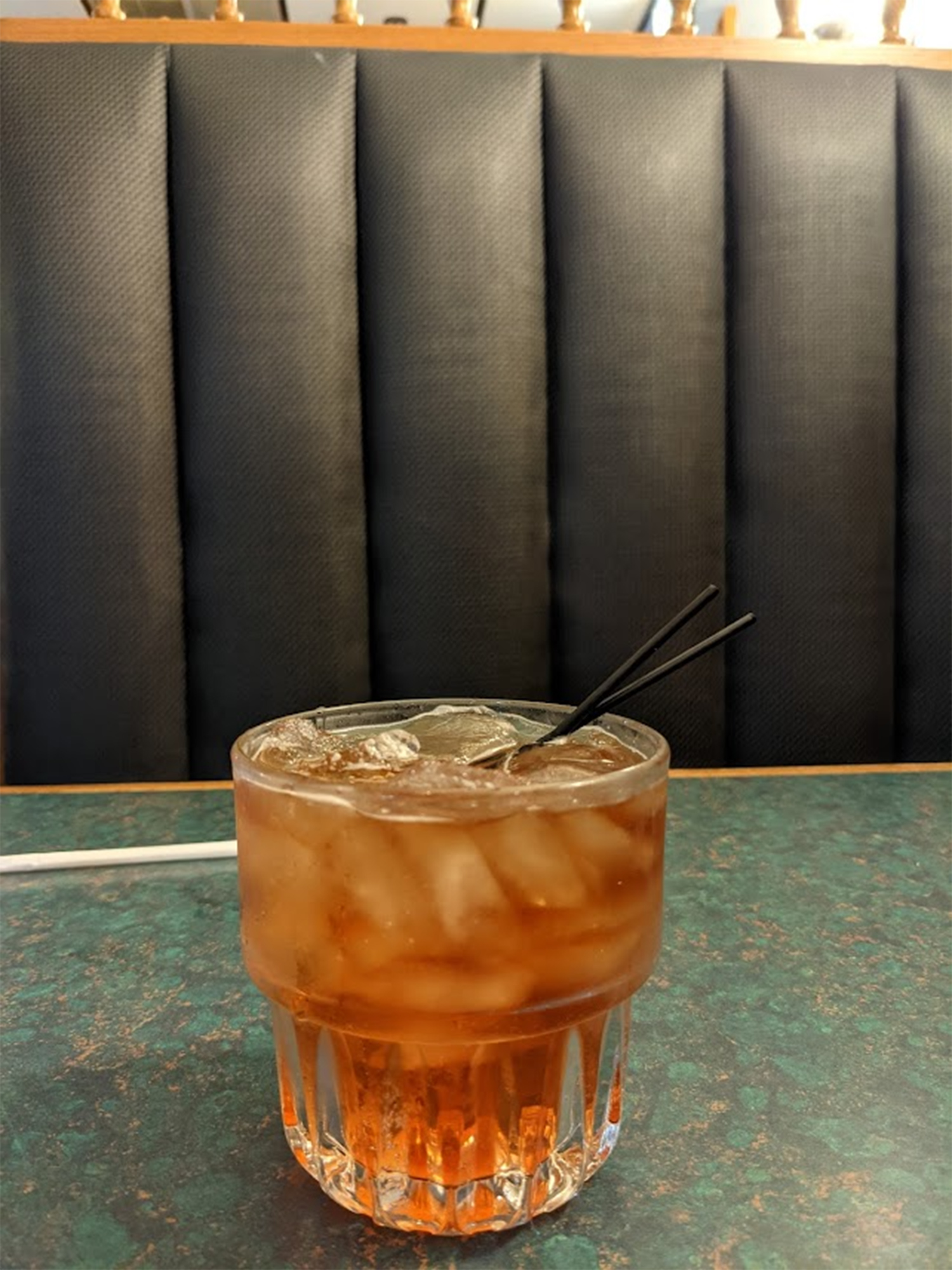 The Friday fish fry specials at Pistol Pete's are cod ($13.95/three piece or $15.95/five piece) or perch ($14.95/ three piece or $16.95/five piece), either beer battered or with Italian breading. Additional pieces are $2. Broiled cod ($14.95) is also available. Potato choices are french fries, homemade potato pancakes, or chips, and a baked potato can be substituted for an upcharge. Pistol Pete's also offers a fried lake perch sandwich with fries ($12.95). The soups of the day on Friday were clam chowder and lobster bisque ($3.50/cup or $4.50/bowl).
I ordered a five piece cod meal and asked if I could have some of both the beer battered and Italian breaded cod. Nope, I was told I had to pick one! Since I was at an Italian restaurant, I decided to go with the Italian breading. I also chose the potato pancakes and added a cup of clam chowder. Yes, I order both of these almost every Friday. No, I am not ashamed.
But the clam chowder was not clam chowder. "Wait a minute, that's not clam!" I thought, after taking my first bite. First I found some imitation crab, then I found some tiny shrimp, and then I found some clam. This was seafood chowder! It was very, very creamy, as well as hearty and filling.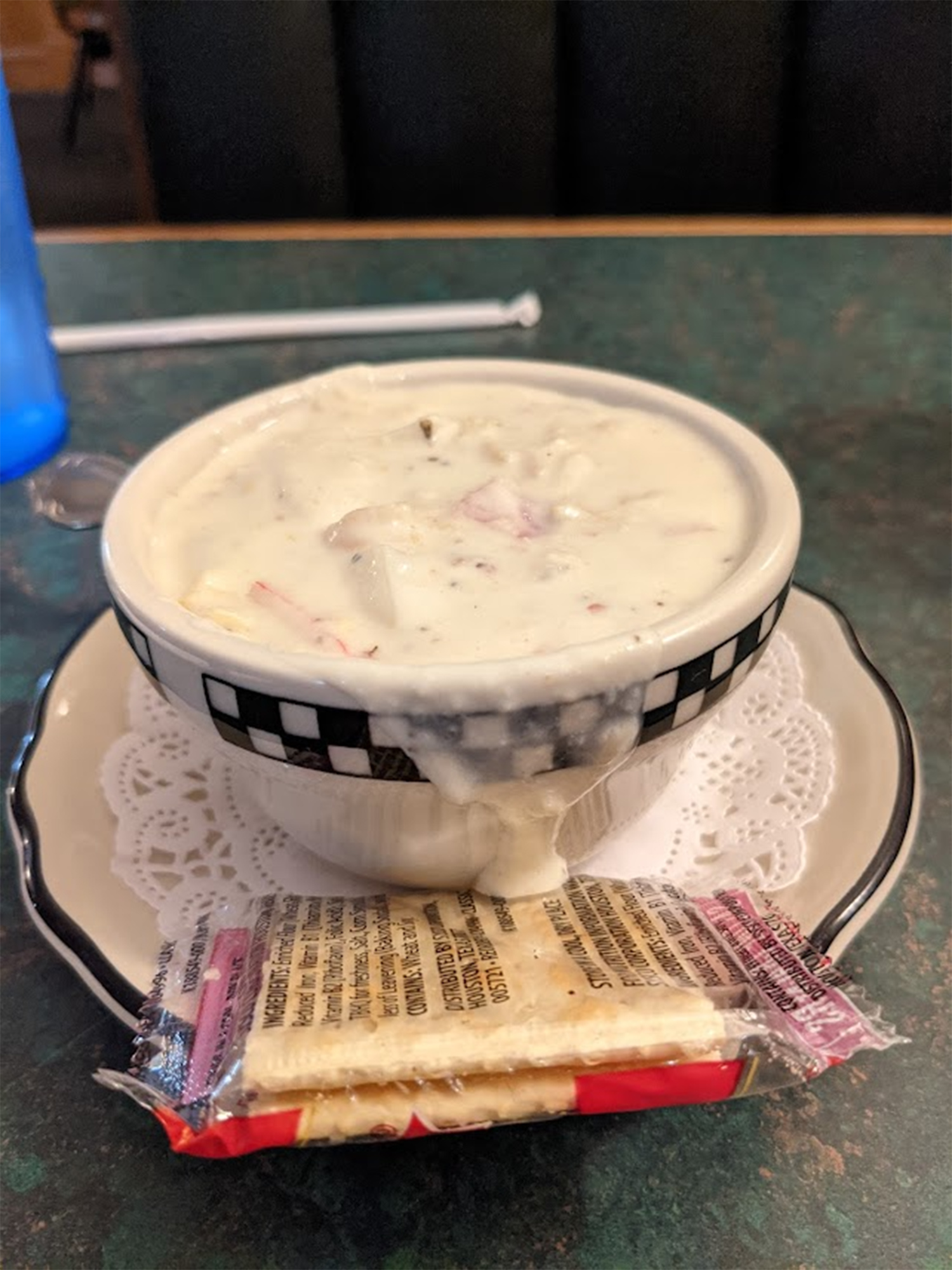 The kitchen door I was seated near never seemed to stop swinging, and a hustle and bustle permeated the room as the workers ran back and forth with food and drinks, seldom pausing for a moment of rest. Moving past while on another mission, my waitress noticed my drink was gone and took my order for another. She apparently succeeded in passing the order on to another worker, and within minutes I had a beer. How about that? Now all I needed was my…
Fish fry! It wasn't much longer and that arrived as well. The perfect amount of breading was on the cod—it wasn't too thick or thin, and it held to the fish well. I couldn't pinpoint what seasonings were used, but it seemed likely oregano and basil were in the mix. The flavor wasn't as robust as I had expected, but it still was a bit of a twist from the norm, and the cod it covered was meaty and fresh. The tartar was thick and creamy, but didn't quite do it for me when it came to flavor. Maybe it was a little too relish-heavy, or it could have been something else. The somewhat neutral-flavored fish could have been lifted with a zippy tartar, but instead the symbiosis between the two felt kind of flat.
The hockey-puck pancakes were cooked to a near-perfect presentation, with a pleasant flavor and pillowy interior. In contrast, the coleslaw was sharp. It was made up almost entirely of green cabbage, except for the carrot chunks that were unearthed intermittently, like hidden eggs on Easter morning. Finally, there was a thick slice of marbled rye. It might not have passed for artisanal, but it certainly wasn't the basic bag rye that they've been giving you at your church's annual chili lunch for the past 40 years.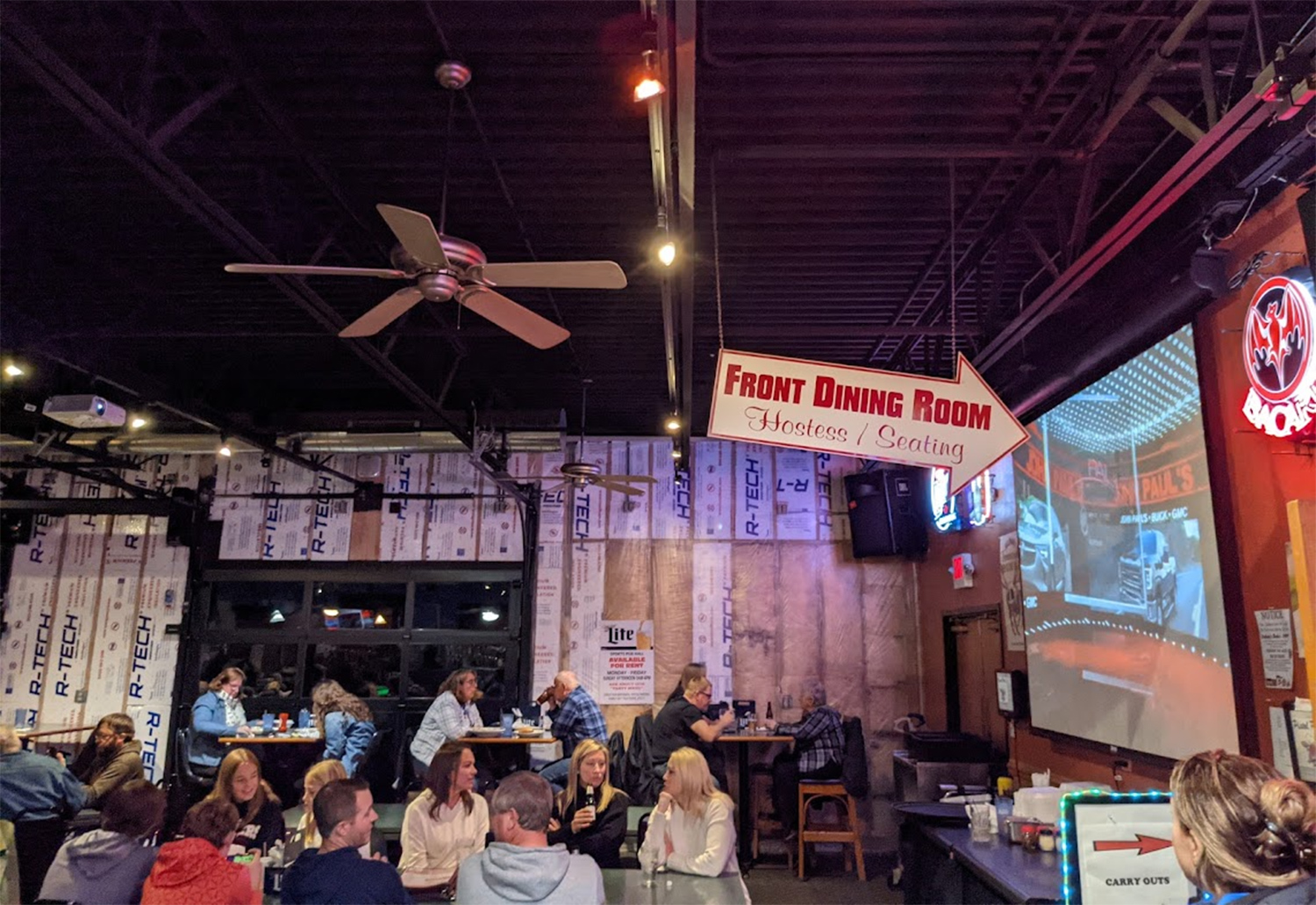 "I'm gonna make it!" is not only what I tell myself on a daily basis while attempting to crawl through this hellscape of modern life, it's also what I told my waitress when she asked if I needed a box for my last piece of fish. And make it I did. And then I contemplated the last swigs of beer in my pint glass as my waitress brought me my receipt.
Takeways: Hold the fruit, pour the brandy; the clam chowder was seafood chowder, but I loved it just the same; beer batter or Italian breading, but you can't have both; breading held nicely on the cod; there were some seasonings in the breading, but they weren't overpowering; high quality cod fillets; I wanted to like the tartar, but I really didn't; pleasant pancakes; sharp slaw; yes, they do have an autographed picture of Kid Rock in a display case.
Exclusive articles, podcasts, and more. Support Milwaukee Record on Patreon.
---
RELATED ARTICLES