In A-side/B-side, two Milwaukee Record writers tackle various city issues in an informal, crosstalk style. Insults are hurled, feelings are hurt, and everyone learns something in the end. Maybe.
Nick Olig: Tyler, I realize maybe it's not the wisest move to make a case against someone who represents Milwaukee on a site that has "Milwaukee" in its name, but here we are. I'm about to vouch for a non-Brewer to be given a big, shiny trophy—and worse, he plays for a rival team. And while I'm not going to incite the saddest one-man riot this world has ever seen if Christian Yelich wins National League MVP honors—because he's an outstanding player and I'm bad at rioting—I believe there's a baseball virtuoso who's been slightly more outstanding this season: Chicago Cubs infielder Javier Baez.
I'm a Cubs fan, everyone, because free will happens, and when I was a kid watching WGN back in the day, one of my favorite cartoon characters was Harry Caray. But in addition to my Cubs bias, I've formed a cogent, objective…ish argument for Baez over Yelich.
At the plate, Baez has a slim lead in countable stats like home runs (34 to 33) and RBI (111 to 104). The percentage stats are different, though. Yelich has a distinct edge in batting average (.321 to Baez's .293) as well as OPS (.978 to .891). The Brewer leads the league in both categories, and as many lingo-savvy baseball fans will confirm, the stat that best measures the overall value of a hitter is most likely OPS (on-base plus slugging percentage). So, did I just destroy my case by owning up to the OPS thing? Shit, I hope not!
And I'll go a step further than hoping by stating that Baez still has unmatched value not only because he's a premier slugger, but also due to his superhuman defense and knack for running the bases. At shortstop, second base or third base, Baez has a combination of range, quickness, dexterity, instincts, IQ, and an arm that makes him an unrivaled talent in the field. In addition to his clout at the plate, his skills on D have prevented a great number of runs from scoring on his team. It's common for a corner outfielder such as Yelich to lead the league in OPS, but infielders like Baez are at a higher premium.
El Mago (that's his nickname, get over it!) has also revolutionized base-running, in part because of the bait-and-switch technique he uses with his hands to avoid getting tagged during a head-first slide. Baez has pioneered a cool trick that's being emulated league-wide, and just like in the field, his awareness on the bases puts him at the MLB genius level. Both All-Stars impact games in a variety of ways, but between hitting, defense, and base-running, I'm saying it's advantage Baez in two of those three areas, making him (slightly) more deserving of MVP hardware. Tyler, on behalf of the city and the team you love more dearly than Chicago and the Cubs, I'll bet you disagree.
Tyler Maas: Hey, I watched my fair share of Cubs broadcasts on WGN back in the day (hell yeah, Tuffy Rhodes!), but when the Brewers moved to the National League, my young brain instantly filed the Cubs into the "rival" category. Before I make my case for Christian Yelich, let's take a moment to appreciate that both our preferred franchises are officially in the postseason and that—though young when compared to the generations-long grudge your fanbase has held against St. Louis—this rivalry has become something special.
Okay, that's enough time. Fuck the Cubs and, no, Javier Baez should not be the National League MVP. Though he's having a pretty amazing year and, yes, he's doing so while bouncing around the infield, Baez's MVP case seems largely rooted in the fact that he basically came out of nowhere this season to finally put up the numbers Cubs fans have been waiting to see from him for years. After stints in and out of the minors and a couple years undershooting expectations on the 25-man roster, the highly-anticipated prospect is finally putting it together and, in doing so, is giving a team that was already stacked and a perennial competitor lately an extra push. For that, he has my vote for Comeback Player Of The Year for sure. However, quirky baserunning and putting up gaudy numbers on a team loaded with top prospects and notable free agents does not an MVP make.
Meanwhile, Christian Yelich—along with other outfield acquisition Lorenzo Cain and a lockdown bullpen—is the difference-maker that's quickly propelled Milwaukee from middling young team on the upswing to bonafide contender in less than a season's time. With three games left in the season, Yelich, too, is having a career year. His .321 average is tops in the NL. He's also in the top 10 in home runs (trailing Baez by one), RBI (yeah, also behind Baez there), second in runs scored, third in hits, and behind Baez by four total bases. Yelich also leads the league in slugging percentage and OBP. Presently, both players are tied for 11th in steals (with 21 apiece). It's also worth noting that Yelich has just two fielding errors to Baez's 16, which seems to work against your claims regarding Baez's defensive mastery.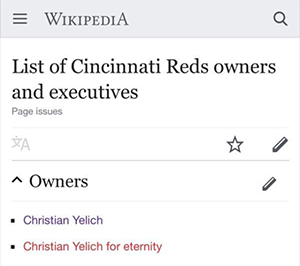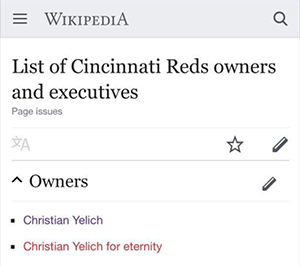 Almost as important as the stats he's put up all season long is what Yelich has done in the most important moments down the stretch. The 26-year-old outfielder has been especially spectacular when Milwaukee's season was on the line. He walked five (FIVE!!!) times in Wednesday's playoff-clinching win in St. Louis. The night before, he clubbed six RBI against the Cardinals. Along the way, he penned an inspiring call to action that's asking Milwaukee fans to step up. Oh yeah, and he hit for the cycle twice against Cincinnati within a one-month window. He literally owns the Reds. Plus, Browns quarterback Baker Mayfield publicly endorsed Yelich for MVP at a press conference after leading Cleveland to its first win in 500 years. I forget…what up-and-coming quarterbacks are backing Baez in this heated race?
Looking at Baez's stats during this crucial stretch, he's hit just .276 in his last seven games, with one homer and a scant four RBI. When it truly matters, he's struggled. Yet the Cubs are hanging on. Over the same seven-game span, the Brewers outfielder hit .417 (.588 OBP!), with two home runs and 11 RBI. Without Yelich's presence, especially down the stretch, it's safe to say Milwaukee wouldn't be in the playoffs this season, nor would they suddenly be in the mix for the division. Surely, neither of us are going to change our mind. But is there anything I'm missing here, either about Baez's MVP candidacy or flaws in Yelich that I may be overlooking?
Nick: I see your "frick the Cubs" remark, Tyler. And I raise you an angry, shaky fist. Okay, look. I didn't mean to blow a gasket, but as a Cubs fan, I've never trash talked comments like "Brewers frig off" or "More like Boooo-ers" or any garbage like that.
And another great point I'd like to make is that the Cubs would be more screwed without Baez than Crew would be without Milwaukee's favorite Pete Davidson impersonator. The Cubs hold a slim one-game lead, and they've dealt with injuries to key players all season long. Former NL MVP Kris Bryant has missed over a third of the 2018 season with an injured shoulder and has managed just 12 homers. The extremely rich and extremely injured Yu Darvish pitched his last inning of the year in May. Closer Brandon Morrow has been shut down since July. Plus, we've heard the news about shortstop Addison Russell—yikes and cringes. Where would the Cubs be minus Baez? Are they even a Wild Card team?
Now, I don't blame you for joyfully cackling like a supervillain at the horrid start of the Darvish deal (6 yrs/$126M), and I'm not saying the 2016 World Series champs deserve a violin solo, but I maintain that the Brewers have consistently boasted a better supporting cast of hitters to surround Yelich. Including Baez, the Cubs fielded three All-Stars (Bryant, Rizzo, and Zobrist not among them), while Yelich was one of five Crew members deemed NL elites.
In order to win 90-plus games, the Cubs have needed Baez to produce a monster season more so than the Brewers and Yelich—who's had a cushier spot in the lineup hitting amidst Cain, Jesus Aguilar, and Travis Shaw, all mashing consistently. So, are you gonna agree that Baez is slightly more vital to his team's success because Yelich has actually enjoyed stronger protection in the lineup? Or am I gonna lose my shit again and angrily shake my fist a picture of you to settle this?
Tyler: We've thrown a lot of stats at each other so far, and we've both speculated our fair share, too. It's clear we each feel strongly about our preferred player, and we're both finding ways to negate another player's mastery in the process. If only baseball had a way of evaluating a player's worth in a clear and inarguable manner that didn't take salary, circumstance, and other intangibles into account. Oh shit! They actually have that! It's called Wins Above Replacement. WAR quite literally determines a player's value, so that seems like the stat worth visiting here. When taking every stat into account, Baez's WAR is a pretty outstanding 6.3—good for third among National League position players. The two players above him in this definitive category are Cain and, yep, Yelich. Both Brewers have a 7.0 WAR. Moreover, Yelich leads the NL in Offensive WAR with a solid 6.7 figure.
To me, it's simple. By leading many significant statistical categories, barely trailing Baez in other rankings, playing his best baseball when the season is on the line, and literally adding seven wins to his team's record with his prowess this season, Christian Yelich is the 2018 National League MVP. At least so far. These next three games are going to help determine a lot about the division, the postseason breakdown and—who knows, if either Yelich or Baez absolutely go on a tear or struggle—maybe even decide who wins MVP. It's going to be a fun weekend!