Over the last three-plus years, we've listed seven patios that make you feel like you're not in Milwaukee, 16 quintessential Milwaukee patios, then 13 more goddamn patios. After that, we rounded up another 15 patios. Last spring, we wrote about 18 more patios for some reason. Then, we chased it with 18 additional patios last August because nothing matters. Finally, we wrote about 13 more patios because, well, why not?
As local dining and brewing experience their heyday, the city's patio scene is also thriving. With a little more than a month of summer left, there's still plenty of patio time ahead. So yeah, here's some more of that sweet, sweet patio content you crave for reasons we still can't quite fathom. Fifteen more patios, coming your way!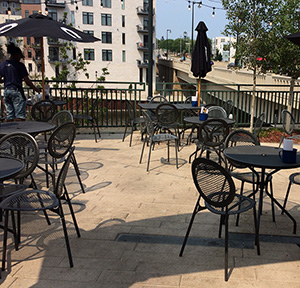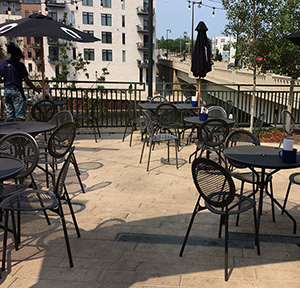 1. Bel Air Cantina (Milwaukee)
Remember that week in April when Milwaukee Bucks superstar Giannis Antetokounmpo wasn't able to be immediately seated at Bel Air Cantina after winning a playoff game? God, we're glad that whole thing has blown over. BUT had that occurred a few months later, the whole thing probably would've never even happened.
You see, when it gets warm out, Bel Air's flagship location can host roughly double the diners as it can in winter by way of its patio. Well, its patios—plural. There are more than a dozen tables outside the restaurant to let you enjoy your tacos with ample legroom. Even if you're a seven-footer.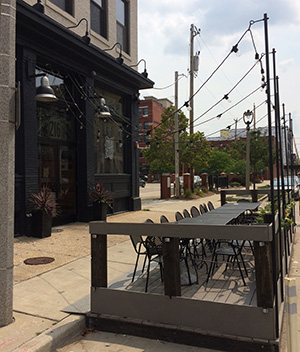 2. Black Sheep
As you might've noticed in previous installments, Walker's Point has quite a few patios. If none of the others are up to snuff or if you're just seeking some more spots to take a load off in the neighborhood, consider heading over to Black Sheep.
The bar and restaurant has a few tables and light posts on a small plot of planks that's nestled beside the curb on bustling 2nd Street. If you like what Shaker's is doing with its patio, you'll probably like what's happening over at Black Sheep. No, it isn't exactly the biggest patio out there, but when the weather is nice, it still beats eating or drinking indoors.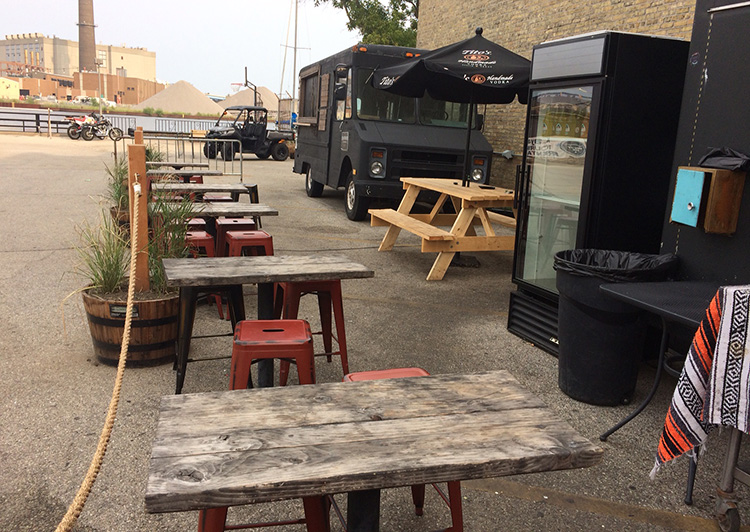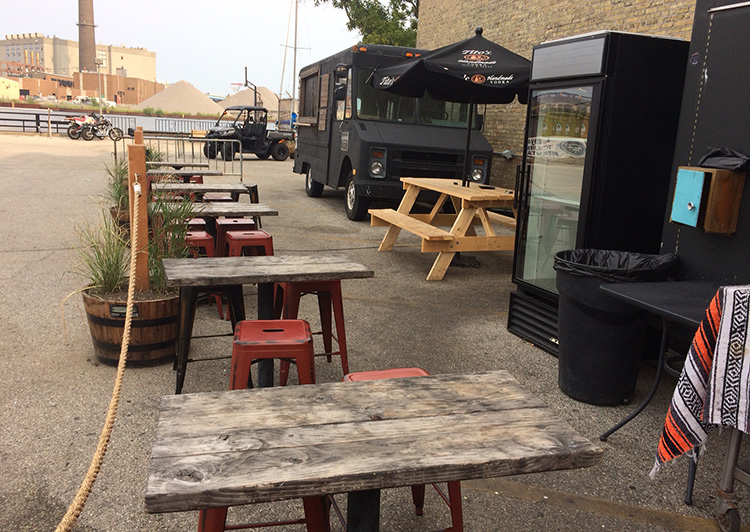 3. Boone & Crockett
When Boone & Crockett relocated to Walker's Point in April, their capacity increased considerably and they got a ton of space outside for patio seating. Not even counting their adjoining Cooperage events space and a shared gravel side yard that can host outdoor affairs, Boone just finished its roped-in side patio. It has a long line of picnic tables (not pictured) and other tables situated against the building and in front of the permanent Taco Moto and Hawthorne Coffee trucks.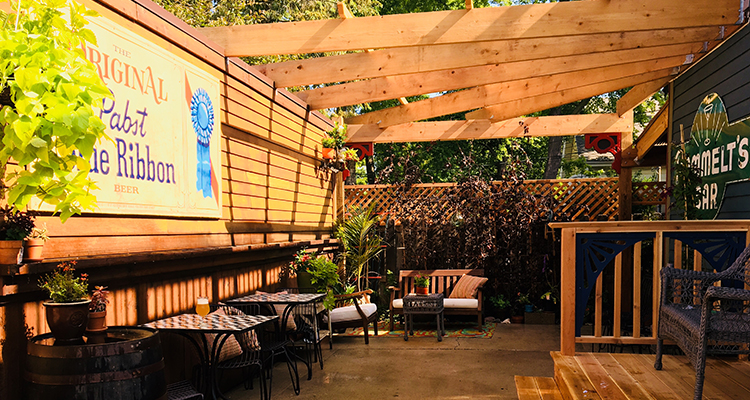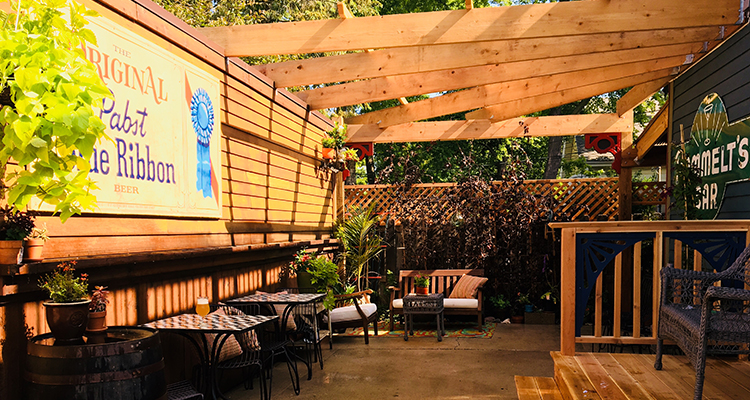 4. Burnhearts
Last month, a week after another Pabst Street Party, Burnhearts christened its new patio. The space, a project that was 10 years in the making, is a cozy enclave that's nestled between the bar (with a newly-installed rear door) and Burnhearts' storage garage. The L-shaped patio has seating for 20-25 people, along with covered standing room. There's a stylish gate that was designed and built by JR's Welding & Fabrication, and a stunning floral mural that was painted by artist/Burnhearts bartender Mic Makalinao. Burnhearts' new patio is open from 3 p.m. to midnight every day.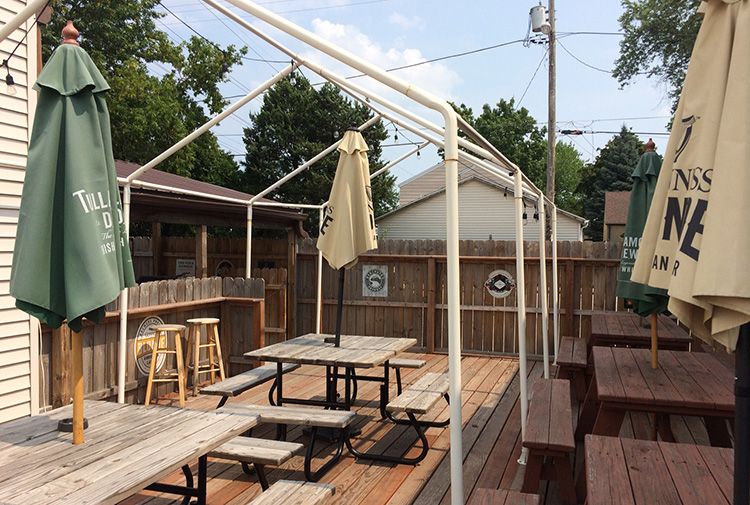 5. Campbell's Irish Pub
In 2014, we broke news that Bar Rescue would be using its infallible tactics of serving sliders and overly complicated Smirnoff Vodka shaker cocktails to save not one, but two Milwaukee bars. The first one, Y-Not III, was turned into a '70s-themed bar called Nick's House, and it closed for good 18 months after its episode aired. The second bar featured, Packy's Irish Pub, became Campbell's Irish Pub and, despite claims that the made-for-TV transformation totally worked, the bar was put up for sale. One amenity neither shown on the reality show nor in the real estate listing is Campbell's patio. The rear deck has picnic table, a tent for coverage in colder months, and has all Packy's signs affixed to a wall for decoration…or to have on hand if they decide to rebrand.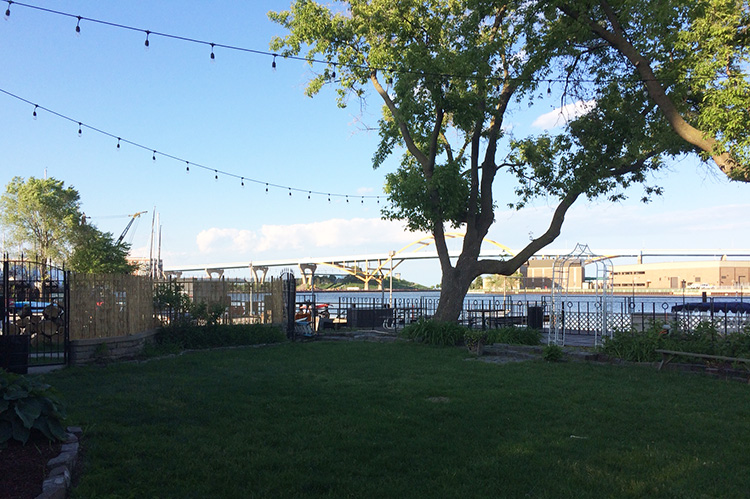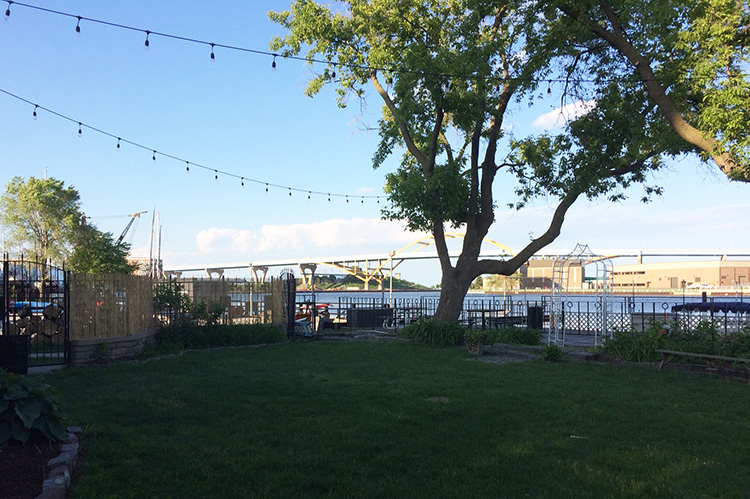 6. The Cooperage
As mentioned above, The Cooperage is the new Boone & Crockett-affiliated events space. Adding to the 296-capacity interior are two sprawling patios. One (above) is suited for ceremonies and waterfront R&R and the other is made for smoking, getting some fresh air, or outdoor events. Both are great.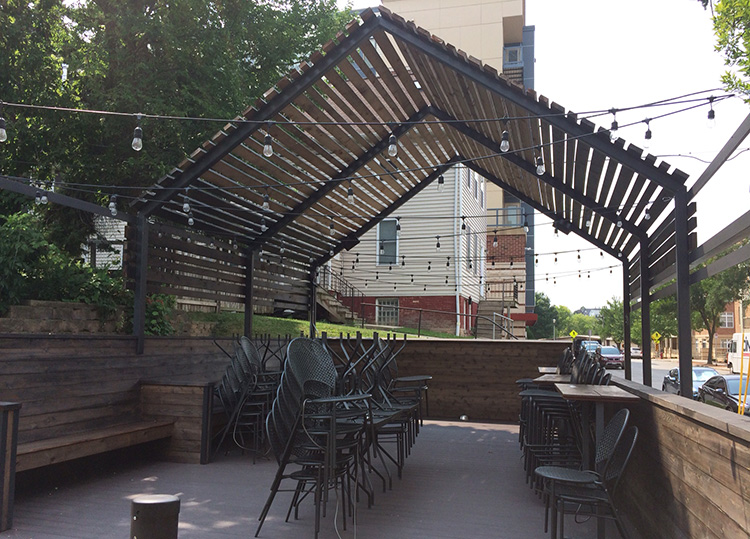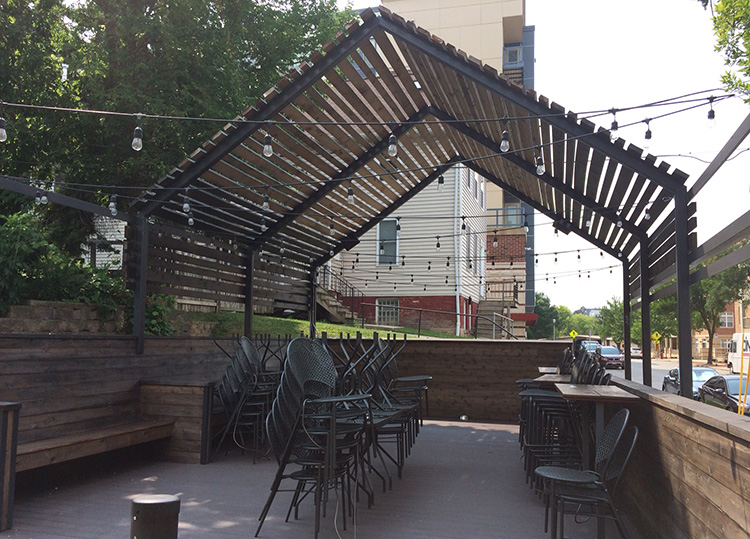 7. Finks
Since opening more than five years ago, Finks has established itself as an excellent East Side beer bar and pinball mainstay. Recently, Finks added a gorgeous outdoor space to considerably up the quaint bar's seating capabilities. The newly-paved and partially-covered plot has wooden benches, room for a cluster of tables and chairs, and offers a nice glimpse of the activity on the corner of Kane and Humboldt.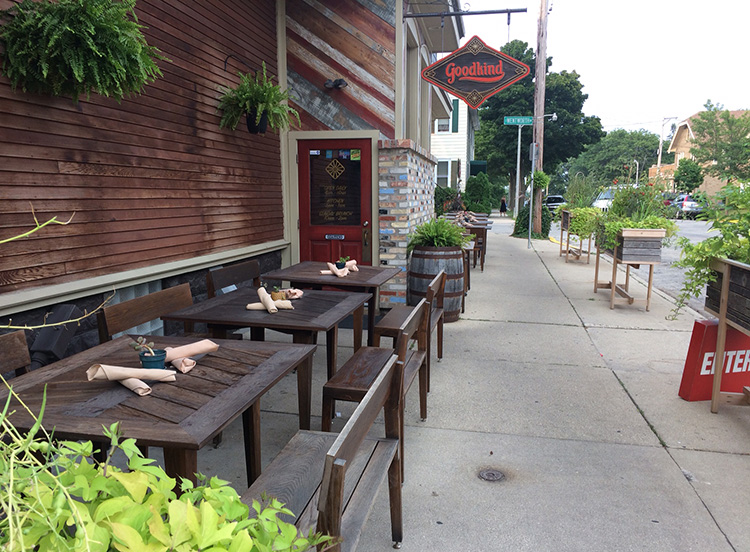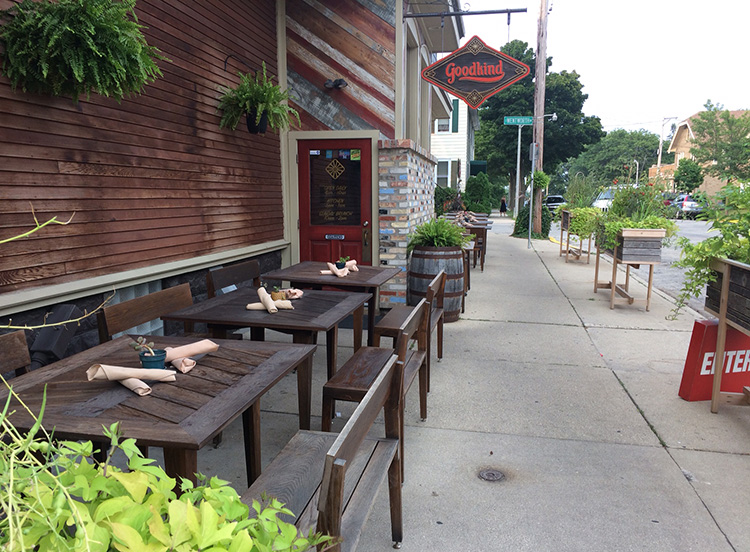 8. Goodkind
Late last summer, following more than three years of prosperity in Milwaukee fine dining, Goodkind decided to spread the delicious things happening under its roof to the concrete outside the restaurant. Local woodworker Christopher Brooks and co-owner/head mixologist Katie Rose built the amazing tables and benches that line the buisness' southern side by hand. Add brand new planter boxes, decorative bourbon barrels, and the soothing serenity of a quiet segment of Bay View and you have yourself one damn fine patio.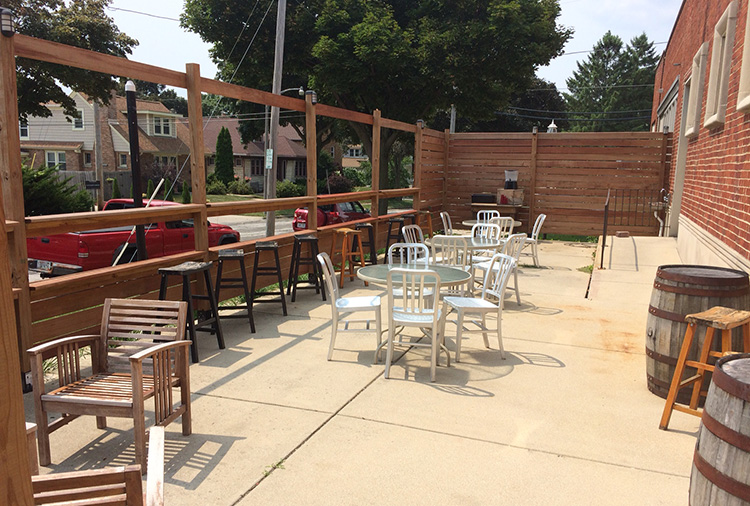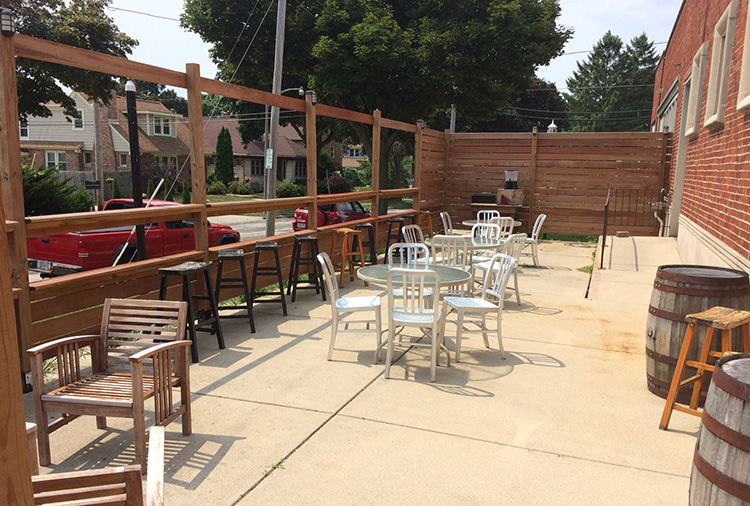 9. Hawthorne Coffee Roasters
Since opening its cafe and roastery on the South Side, Hawthorne has taken many forms. A portion of the property was the proving ground for the first iteration of Iron Grate. Later, Taco Moto's Mitch Ciohon occasionally held burger pop-ups there. Along the way, Alcoholmanac magazine had its office there for a spell. Currently, the Press food truck holds Waffle Sundays there. In short, there's a lot happening at Hawthorne. Thus, it made perfect sense for the business to start utilizing the paved and elevated side deck for patio seating. With a few tables, some stools, and a couple chairs on hand, there's room to enjoy a latte, a cocktail, and eat anything from burger to waffles to barbecue outside.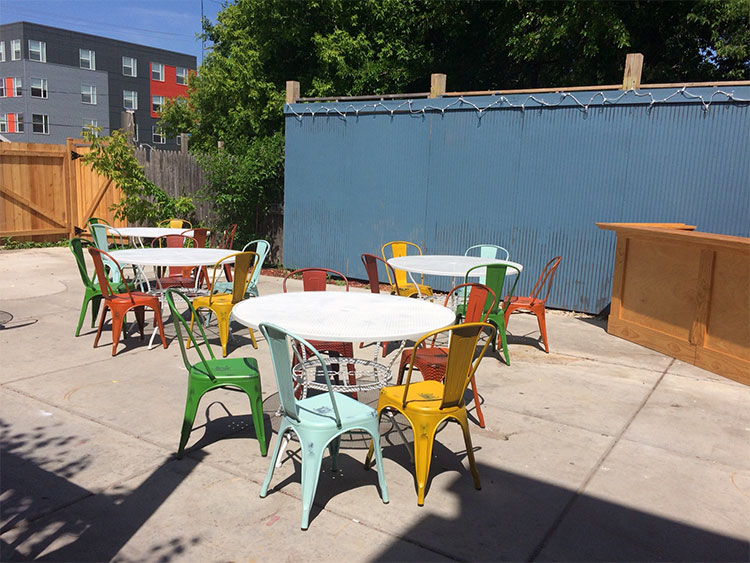 10. Lost Whale
When Lost Whale took over the original location of Boone & Crockett, they also inherited Boone's awesome rear patio space. There's a secondary bar outside that specializes in canned beer, shots, and simple cocktails. Elevated patio seating on a deck and the stage will be rented out for special events and private parties. There's also an array of tables that are open to the public at all times. The new bar also serves food outside by bringing in local food trucks. Iron Grate BBQ will occupy the space for the rest of this summer. Lost Whale plans to cycle in food vendors seasonally.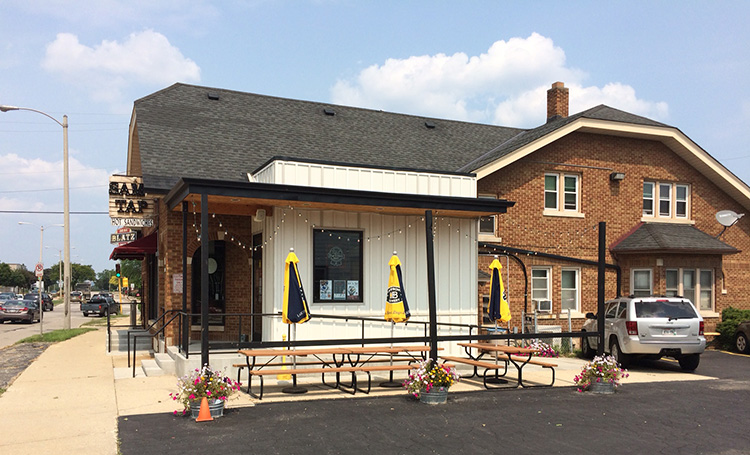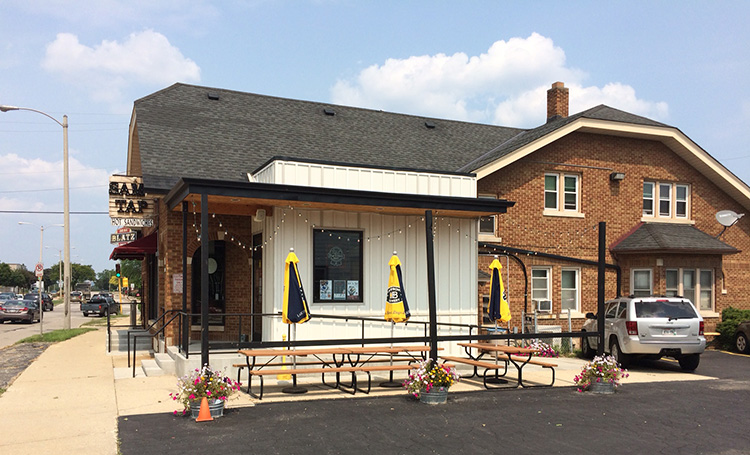 11. Sam's Tap
Last June, Sam's Tap opened on the corner of Oklahoma and Chase. Since quietly opening on the edge of Bay View, the bar has evolved and improved, both inside and out. This year, Sam's welcomed its first full spring and summer with its small-but-cozy parking lot patio that has a couple tables, potted plants, and strings of lights.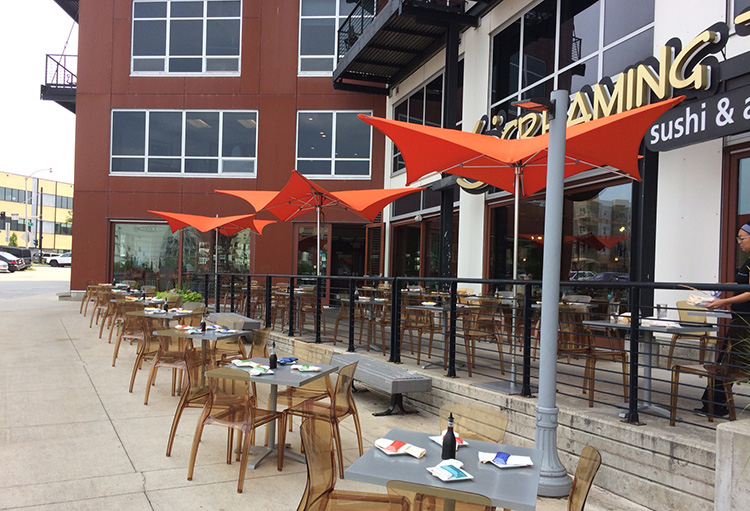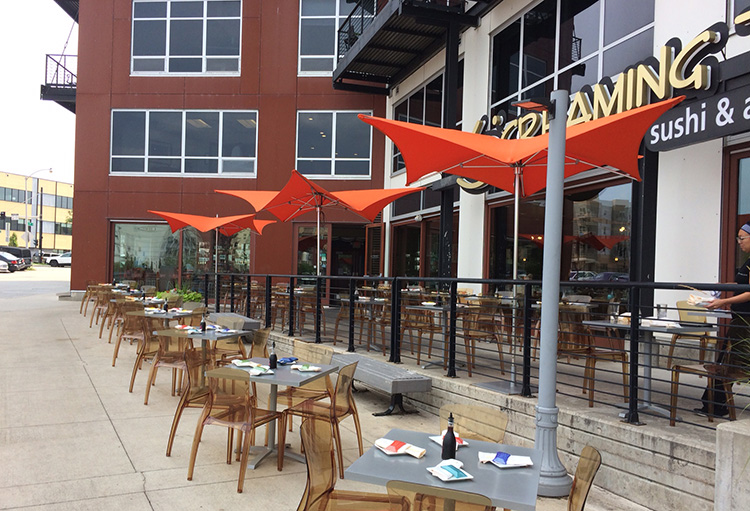 12. Screaming Tuna
The sleek style that Screaming Tuna is known for extends out to the Third Ward sushi bar's patio. Diners can get a glimpse of the river and the neighborhood's metropolitan feel at one of the numerous umbrella-covered tables that run the length of the restaurant.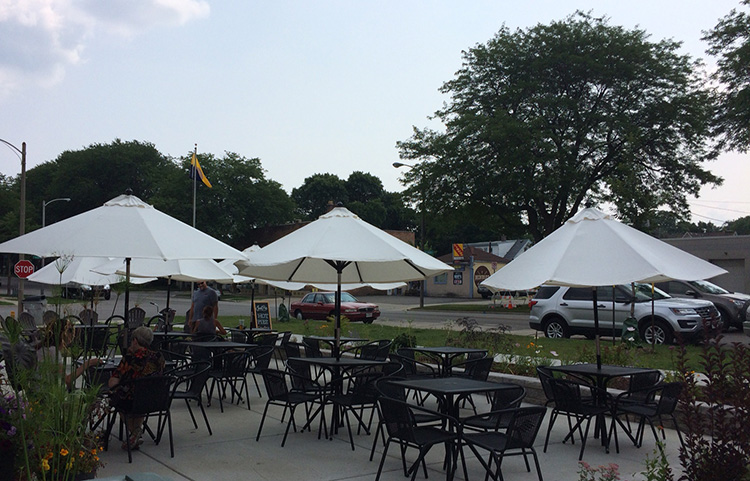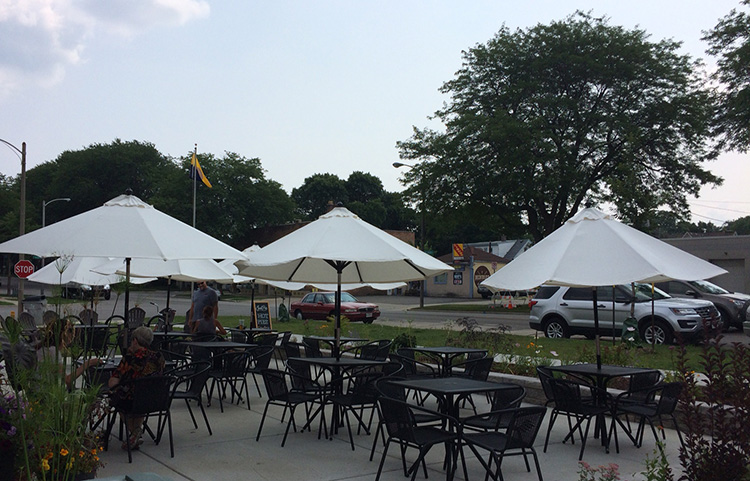 13. SmallPie
Bay View didn't just get a little sweeter with the newly-opened SmallPie; it also got an awesome little patio in the process. The renovated garage property was repaved and had grass planted to make for a comfortable setting to eat hand pies and enjoy ice cream or local cocktails. If the 10 tables are taken, there are also a few lawn chairs among the potted plants.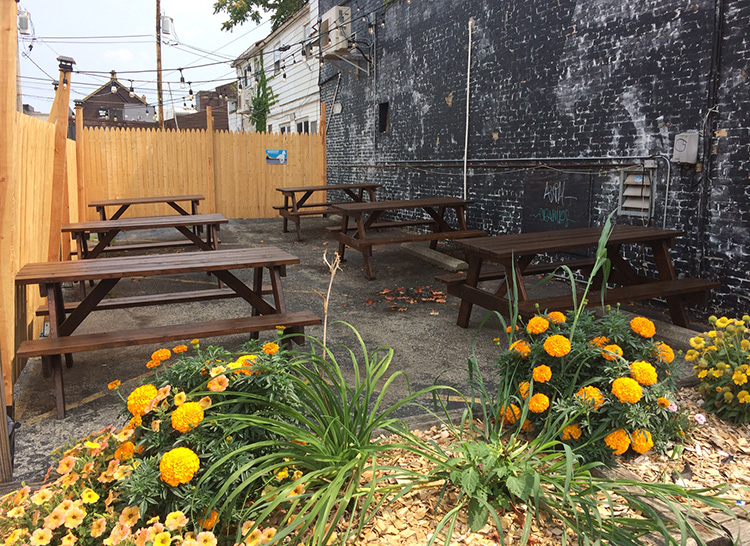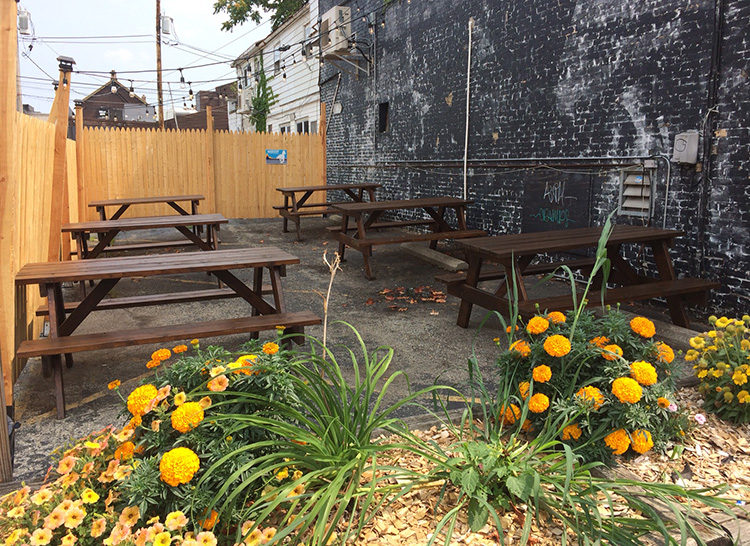 14. Snack Boys
Snack Boys' interior might suggest an '80s-era cocktail lounge that'd be a Miami Vice location scout's dream, but its side patio seems to be all about comfort and relaxation. Flanked by fencing and flowers, diners and drinkers can take a break from the pink neon glow on one of the six picnic tables situated beside the restaurant.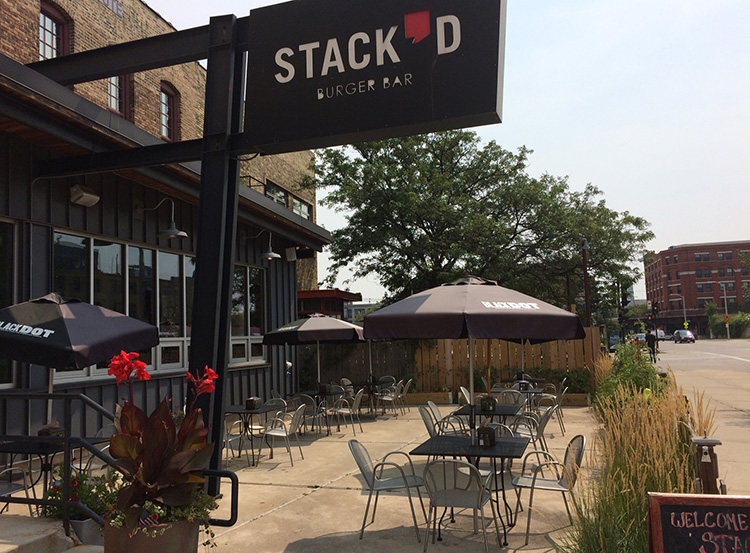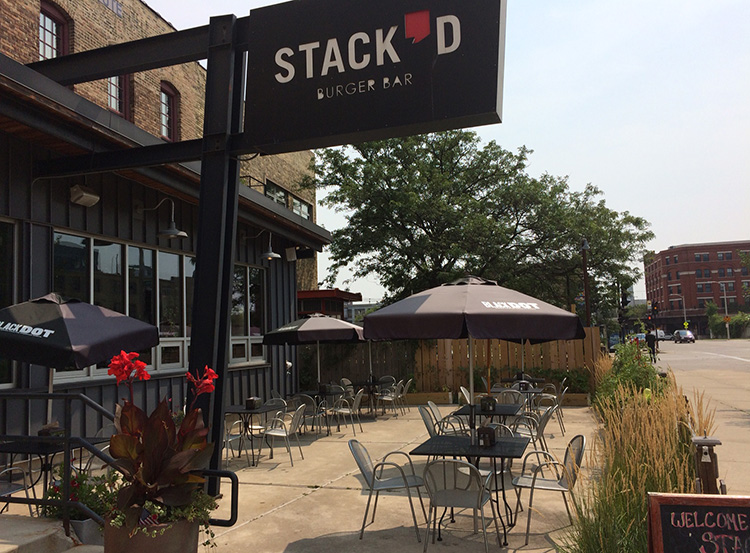 15. Stack'd
Last but not least, we come to Stack'd. The long-tenured burger bar has quietly thrived on a high-turnover corner in Milwaukee's Fifth Ward, and it was an early local adopter of the concept of patio seating. The patio at Stack'd is no longer as fancy as some of its contemporaries, but it—with eight covered four-tops and a sidewalk partition provided by plant life—is a perfectly comfy spot to enjoy a burger and a beer.