If we Milwaukeeans seem overly patio-happy come springtime, can we really be blamed? The weather finally starts to get its shit together, the previous 8,000 years of winter begin to fade away, and the only thing on our minds is enjoying some goddamn food and drinks in the open air for a change. And while there are likely hundreds of spaces that could qualify as Milwaukee patios (some of which make you feel like you're not in Milwaukee at all), there are those that have that extra, you know, Milwaukee-ness. Here are 16 of them.
1. 42 Ale House
Okay, so maybe it isn't ideal to begin our tour of "quintessential Milwaukee patios" with the one and only establishment that isn't technically within the city limits. However, the expansive St. Francis patio—just a few hundred yards south of the Milwaukee border—absolutely warrants inclusion. Set to be re-opened by the first week of May (if not sooner), 42 Ale House's large, L-shaped courtyard has seating and square footage for about 75 patrons. A new sound system is being installed this week. Given the property's saintly suburban location, the geek bar is only allowed three "loud days" to host live acts on its outdoor stage, but to get around the rules, a headphone rave is in the works.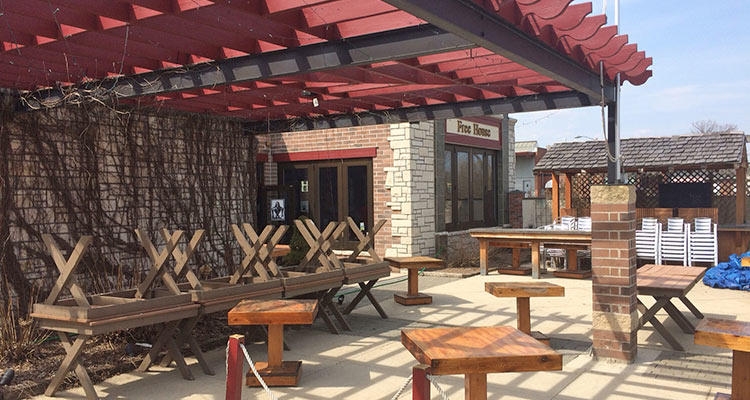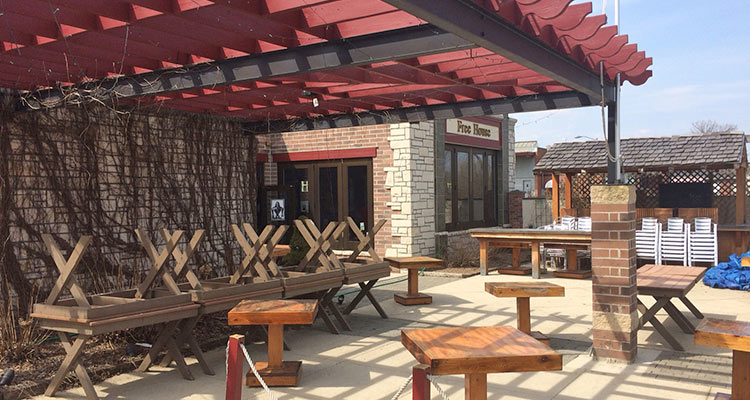 2. The Backyard
You know a business' patio game is on point when the bar is named in its honor. After replacing Telluride about five years ago, The Backyard made sure to take advantage of its exterior in ways in its pre-smoking-ban predecessor never did. Besides the vast eponymous parcel of grass with various yard games strewn about it, The Backyard has ample lawn furniture, an outdoor television, and a few grills on hand where patrons can bring and grill their own food. Dog lovers take note: canines are absolutely welcome to share in the outdoor fun.
3. Boone & Crockett
It's been a long and crazy ride for Boone & Crockett, but the finish line is finally in sight. Last year, Boone's food truck partner, Gypsy Taco, was scammed out of more than $11,000 by a shady out-of-state contractor. Meanwhile, the cocktail lounge (that is literally next door to The Backyard, actually) decided to rebuild its patio stage. On May 1, both the gourmet taco truck and the new and improved patio will be in full swing in the bar's backyard, as Dead Soldiers, Cavewives, and DJ James Freshluggage will be on hand to help formally re-open both Boone amenities in grand fashion. In lieu of photos of a partially finished patio, Boone & Crockett was kind enough to provide us with these blueprints.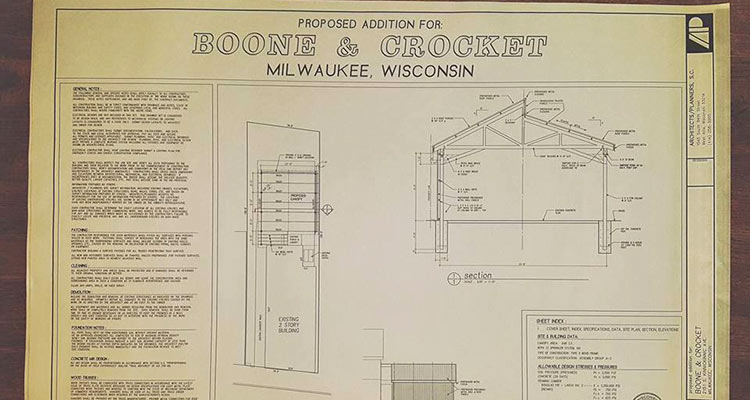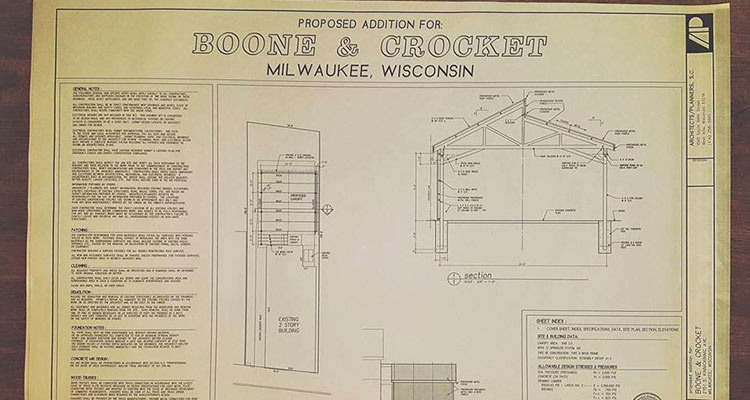 4. Cafe Benelux
Downtown Milwaukee and the Third Ward are currently going through changes—and what better place to gaze upon those changes and scarf down some Lowlands Group food than the rooftop patio of Cafe Benelux? The Third Ward corner restaurant offers a perfect bird's-eye-view of the hip and happening neighborhood with none of the cool-kid requirements usually associated with downtown rooftop parties.
5. Casablanca
Casablanca's second-story patio isn't just a patio—it's practically a monument unto itself. The recent-ish addition to the Middle Eastern eatery may seem large for the relatively modest charms of Brady Street, but that's part of its appeal. Go big or go back to 6th St. (Casablanca's former location).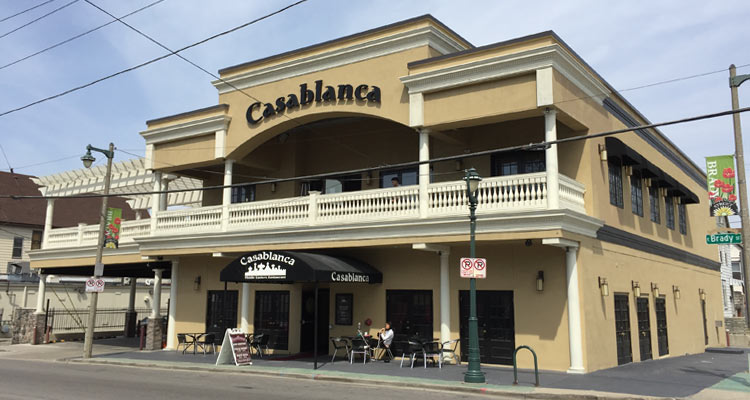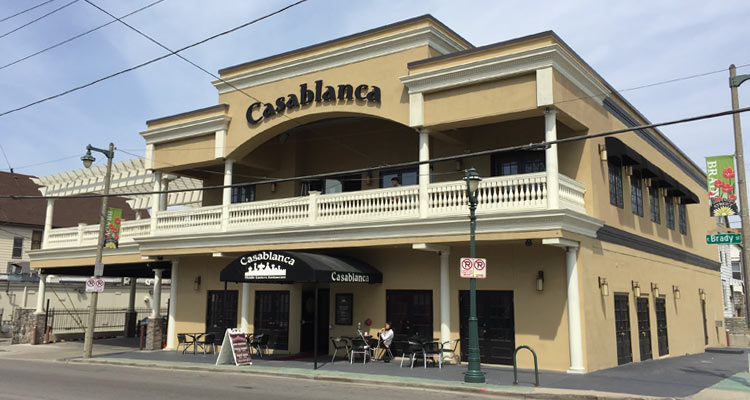 6. Company Brewing
Last spring, when Company Brewing took occupancy in the Center Street property that once served as home to Onopa Brewing Company and then Stonefly, the brewery and restaurant inherited a solid patio. With about a year under its belt now, expect Company to take advantage of its sizable and fenced-in slab of concrete that's nestled beside one of Riverwest's most bustling causeways.
7. Honeypie
Roughly half the weekends of the year, Honeypie is packed tight with prospective brunch customers and pie enthusiasts waiting for some of the Kinnickinnic Avenue restaurant's limited interior real estate. While the food is well worth putting your name on the dreaded list, a period spanning from spring through the entirety of summer brings about more seating and an opportunity to dine and drink outside in the (mostly) fenced-in rear patio. Be it for a pre-Chill On The Hill bite to eat or a satisfying breakfast in the soothing summer sun, Honeypie should be on your relaxation radar from now to early October.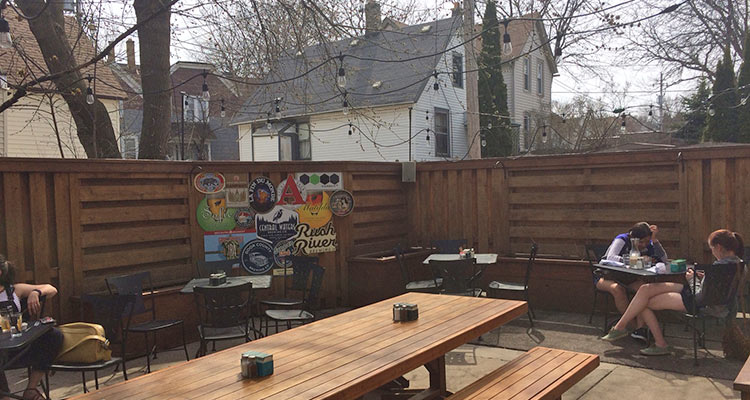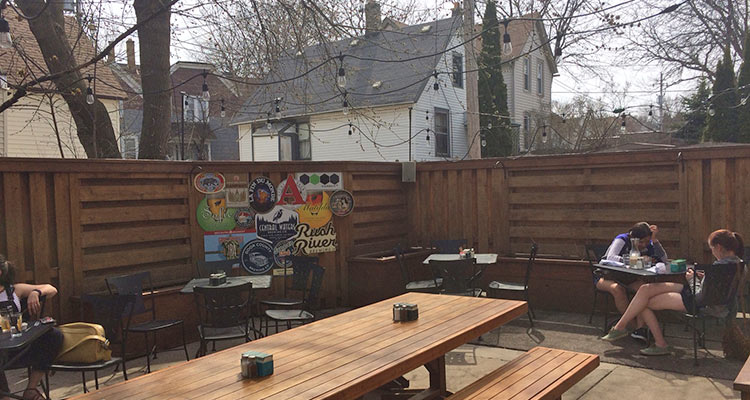 8. Milwaukee Ale House
Known for hosting cover bands and slinging fried food in the heart of the Third Ward, Milwaukee Ale House isn't usually our cup of tea. Fortunately, the weather allows a respite from the sights and sounds contained within the brewpub's four walls by letting patrons sip Milwaukee Brewing Company brews on the Riverwalk.
9. Oscar's Pub & Grill
If Oscar's "Big O" isn't the best burger in Milwaukee, it's damn close. The only thing better than savoring one of the city's most delicious slabs of meat is doing so in the fresh air on Oscar's rear deck that offers a distinct glimpse of Milwaukee's downtown from an uncommon angle for most patio folk.
10. Pizza Man
The entire second floor of the Downer Ave. Pizza Man is something to write home about, what with its retractable roof and tons of natural light and all. But, weather permitting, there's no better place to enjoy the offerings of the iconic Milwaukee establishment than on the outdoor patio. Pizza Man has only been in its new digs since 2013, but it already feels like a neighborhood staple.
11. Romans' Pub
Sitting within spitting distance of St. Francis, Romans' Pub, with its impressive collection of rare and delicious beers, is a bar Milwaukee is quick to claim. The one knock on it is the neighborhood pub's lacking size. In winter, Romans' side yard is tented to serve as a smoker's getaway. In warmer months, though, the tenting is packed away to make way for a quaint beer garden that makes space for a few more beer aficionados to enjoy one of the city's most respected bars.
12. Steny's
Whether visited before boarding a shuttle to Miller Park or Summerfest, after a brewery tour or as a means of mustering some liquid courage to hop on a pedal tavern for some reason, many tourists and Milwaukee residents alike will wind up at Steny's at some point in the next few months. If the bar gets too loud, crowded, or steamy, remember the longstanding Walker's Point stalwart has a spacious side yard for your lounging pleasure.
13. Stubby's
Though it has a more-than-respectable draft beer selection and a solid menu complete with tasty bar fare (including brunch…BRUNCH, PEOPLE!), Stubby's often seems to get overlooked in favor of some of its Humboldt Bridge-adjacent dining and drinking brethren. It's a shame, since—while we're on the subject of overlooks—the East Side establishment has a tremendous view. The lengthy deck looms high above the Milwaukee River, so high that the water below can seem vaguely clean to customers. In all, the view is almost gorgeous enough to help people forget owners classify Stubby's as a "Gastrogrub" for some reason.
14. Sugar Maple
To anyone residing anywhere near Bay View, Sugar Maple is regarded as one of the city's best beer bars. It's a classy hangout and, occasionally, even an unlikely punk rock venue. But holy shit is the place dark. As temperatures rise and the daylight hours increase, you can have your fancy craft beer and see it too out on the bar's cozy rear patio, complete with a select few picnic tables.
15. The Vanguard
Last Saturday, The Vanguard and Surly partnered on an event that doubled as the grand re-opening of the Bay View sausage bastion's back patio. Last year, the Vanguard's inaugural summer in business brought an abbreviated bottle bar and limited draft cocktails to a behind-restaurant patio, along with monthly "Grill Communication" events heightened by limited-time sausages and rotating themes. Expect more of the same between now and the end of the summer, as Milwaukeeans now have more square footage in which to BE SOMEBODY.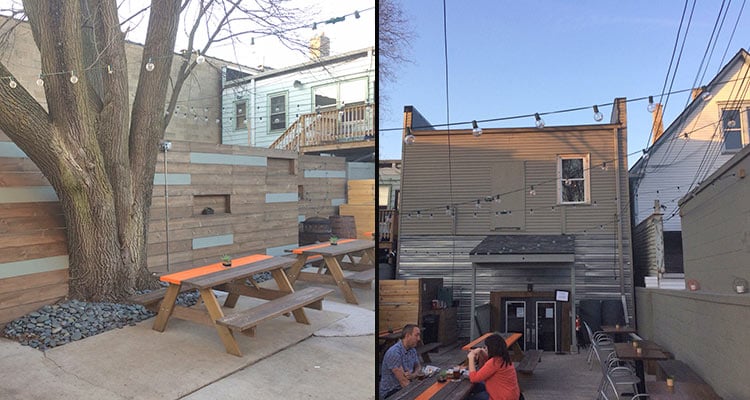 16. Wolf Peach
Is there an outdoor patio that offers a better view of Milwaukee than the outdoor patio of Wolf Peach? Probably not. Even better, the two-tiered wonder doubles as a 1,000+ square-foot urban garden that supplies the restaurant with much of its produce. Even better than that, the patio is attached to Wolf Peach, one of the city's best restaurants.