What more can we say at this point? Patios are great and everybody seems to love them. Over the last two years, we've listed seven patios that make you feel like you're not in Milwaukee, 16 quintessential Milwaukee patios, then 13 more goddamn patios. We've blurbed 36 local patios already, but believe it or not, we've found more. With summer drawing to a close, here are 15 more Milwaukee patios for your eating, drinking, and sitting pleasure. Holy shit! Patios.
1. Balzac
Balzac is a prime place to wine, dine, and sit outside. When the warmer months roll around, the Brady Street-adjacent bar's capacity doubles, thanks to a small patch of sidewalk seats and, even better, a vast rear patio that offers some shade or tons of sun, and a front row glimpse into the neighborhood's activity.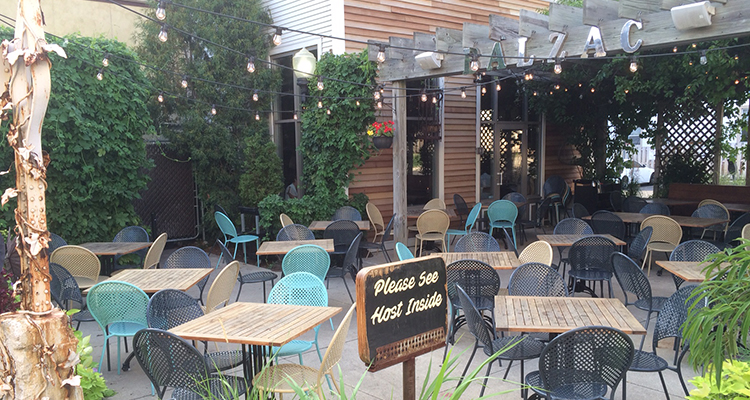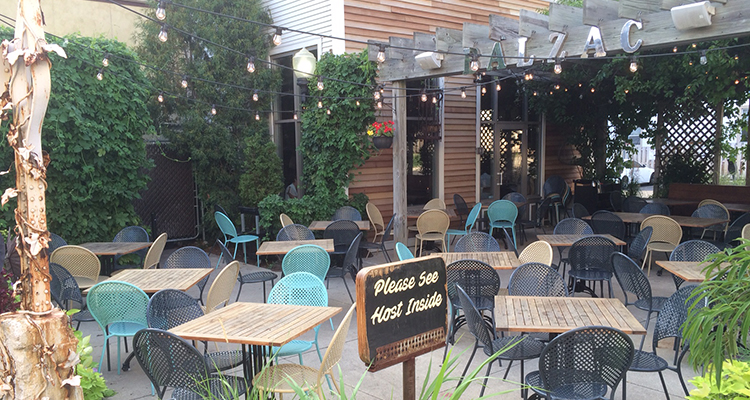 2. Beerline Cafe
Beerline Cafe isn't just one of the best vegetarian and vegan joints in Milwaukee, not to mention on a very short list of the most environmentally sustainable restaurants in all of Wisconsin. The year-old eatery is also home to a cozy cluster of lawn umbrellas, chairs, and just over half a dozen tables on a concrete patch on the corner of Commerce and Weil streets.
3. Cafe Centraal
Just look at this.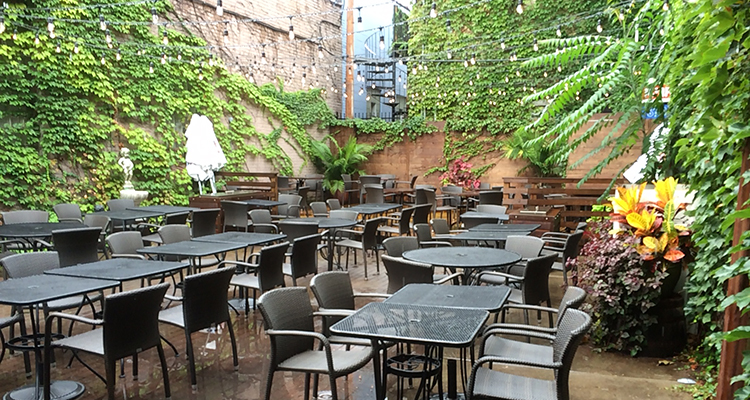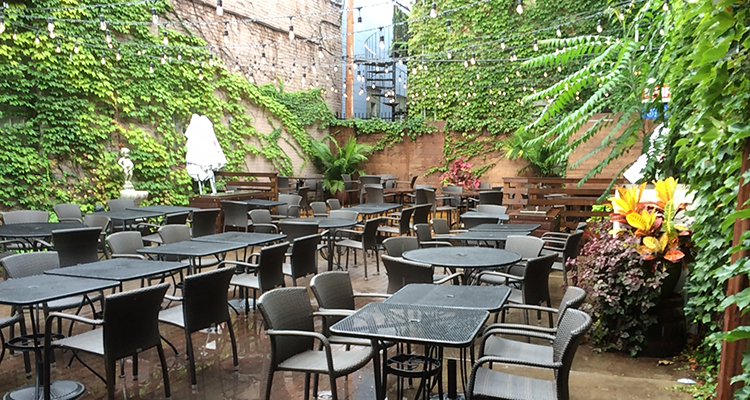 4. Cafe Corazon (Bay View)
Between the sterling reputation the restaurant's Riverwest flagship fashioned one amazing burrito at a time, and the extensive work done to get the second location's interior in pristine condition, Bay View's Cafe Corazon offshoot is off to a hell of a start in its first few months in business. If the excellent food and welcoming atmosphere aren't enough to bring you in, perhaps the gorgeous rear courtyard will bring you out. Surrounded by stone facades, treated wood, flora, and Mexican-inspired murals, the 10-table, 40-seat patio is a quaint place to feast and sip while getting away from the hustle, bustle, and street noise of Kinnickinnic Avenue.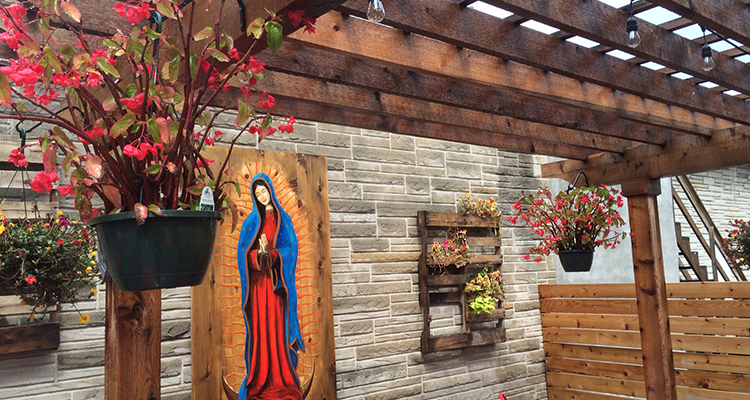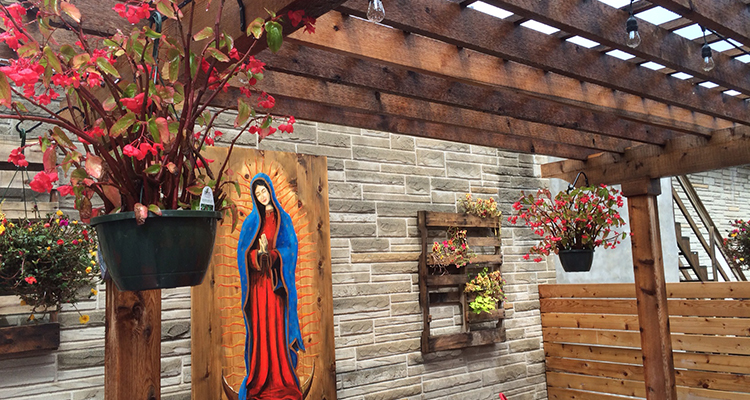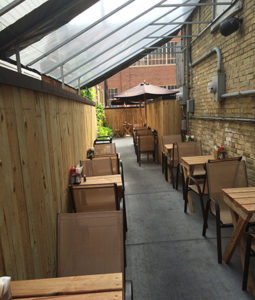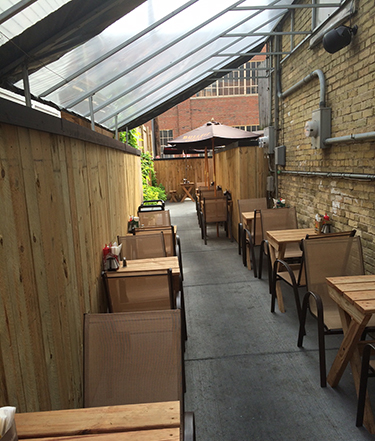 5. Camino
It's amazing Camino is capable of hosting an impressive selection of 20 tap beers and cranking out both the variety and caliber of food it does—not to mention having classic arcade and pinball machines!—in such a small space. As more people have become hip to this diminutive demigod of Walker's Point drinking and dining, Camino has needed to expand to offer more seating.
Though we have no idea what Camino will do when winter arrives, the bar and grill has nearly doubled its capacity in spring, summer, and early autumn months by gussying up its alleyway, transforming it into a shaded and secluded side yard that's rife with two-tops.
6. Camp Bar (Third Ward)
A few months ago, Camp Bar added a third (and a Third Ward) site to its ever-growing wilderness bar empire. It's quickly established itself as an accessible—at least by Third Ward standards—spot to grab a drink near the Summerfest grounds. If slats of log cabin wood and taxidermy aren't exactly your thing, fear not. Camp extends to the (actual) great outdoors as well, with a long deck nestled against the Menomonee Street curb.
7. Drink Wisconsinbly Pub
Speaking of theme bars, Drink Wisconsinbly, as the name suggests, sticks pretty passionately to the Badger State motif…at least until it comes to the patio. Tiki torches light the small-but-serviceable island-inspired enclave tucked into a pocket of National Avenue.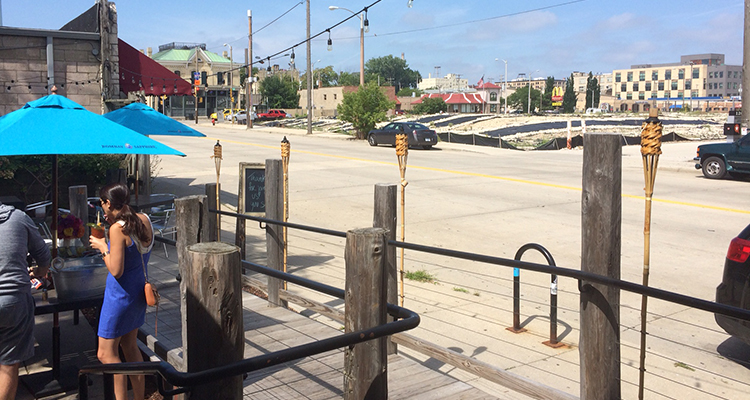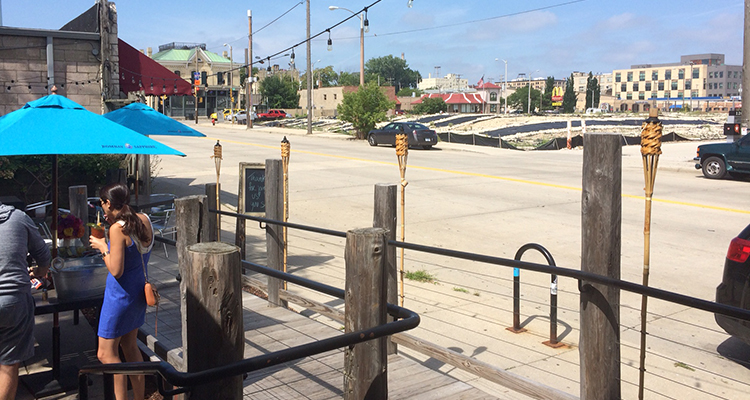 8. Gee Willickers
On the corner of Dousman Street exists a Riverwest gem. The decades-old tavern might not seem like much from the outside, but Gee Willickers shines inside, with a friendly staff, cheap drinks, and an incredible jukebox full of mixes made by the bar's owner. Oh yeah, there's also a patio…kind of, featuring one table and some plastic lawn chairs behind a chain link fence. It's not ideal, but this is our fourth patio list! What do you want from us? Even without amazing outdoor seating, Gee Willickers is worth a visit.
9. Guanajuato
Sure, Cafe Corazon might be the new kid in the neighborhood, but there's a reason GTO has thrived in Bay View for ages, and should continue to do so for years to come. After outgrowing its first site (the current home of Hello Falafel), Guanajuato Mexican Restaurant recently took root in the still-too-small building three doors down from its old stomping grounds. Yeah, it continues to be cramped in less temperate months, but the brick patio in GTO's rear grants customers some reprieve in spring and summer to the tune of about 15 two- and four-top tables. Compared to many of the other places on this list, the scenery may not be picturesque, but the food more than makes up for it.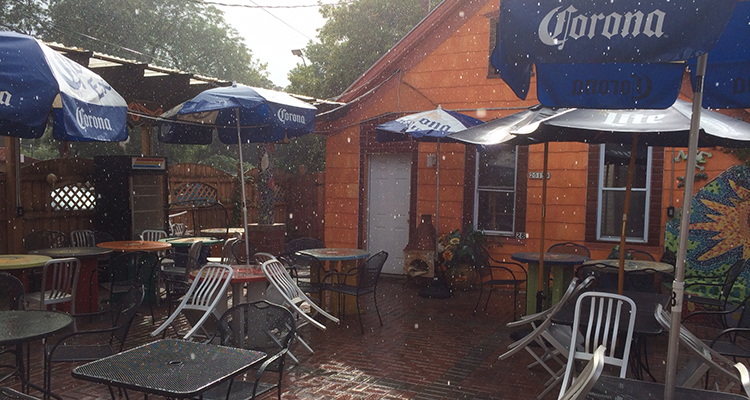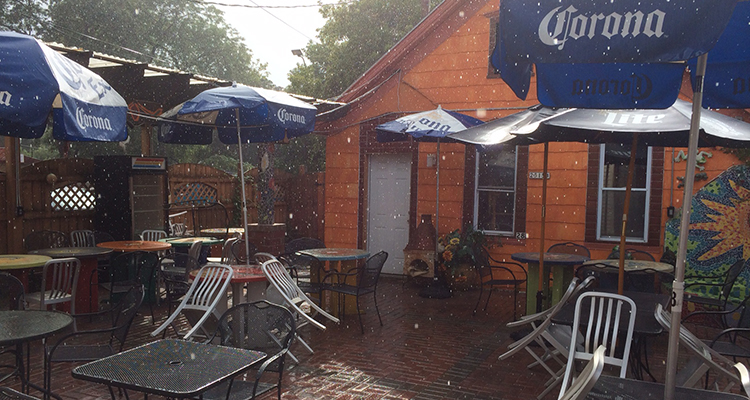 10. Iron Horse Hotel
Sure, it's the hotel your parents and well-to-do friends splurge to stay at when they visit you, but us commoners are still welcome to imbibe at Iron Horse's swanky bar, and, yep, we're even permitted to sip a cocktail or two on the immaculate patio. After you take a load off with some tourist-priced libations, make the short walk to Conejito's to offset the cost with some cheap-as-shit tacos.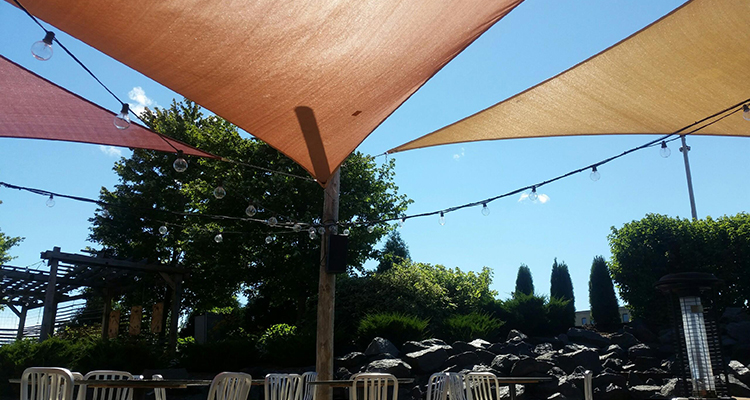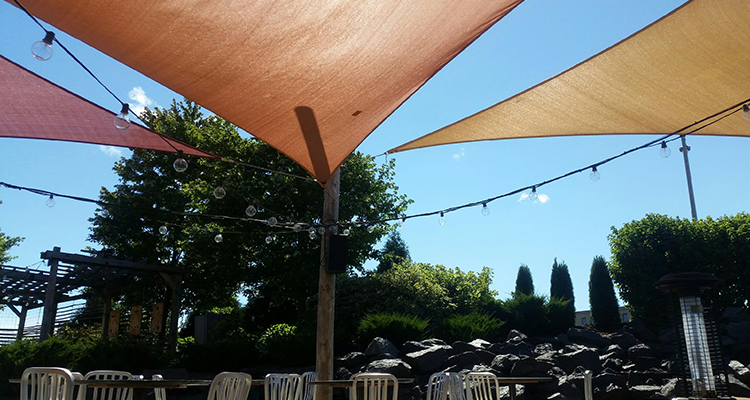 11. Mad Planet
Once the cover is paid and a sweat is worked up on the dance floor, Mad Planet patrons can cool off, smoke a cig, and ease into a quiet conversation in the club's partially covered, all-seasons patio. Mad Planet's menagerie of tables and benches offers customers a break from the rowdiness within for a few minutes between bands or DJ sets.
12. Nomad World Pub
Following its "favela" experiment in 2014, Nomad World Pub took some time to reset, cleared (to quote owner Mike Eitel) "various design problems, cost issues, and ultimately a stalemate with zoning conflicts," and finally found a lasting and less controversial way to expand its business outdoors. In early June, Nomad transformed a vacant lot behind the bar that Eitel owned into a biergarten, replete with enough banners, bulbs, plant life, and televisions to cement the Brady Street establishment atop the list of Milwaukee soccer bars.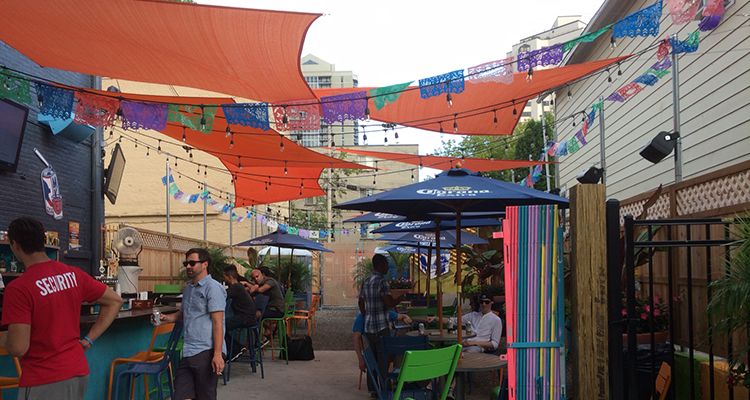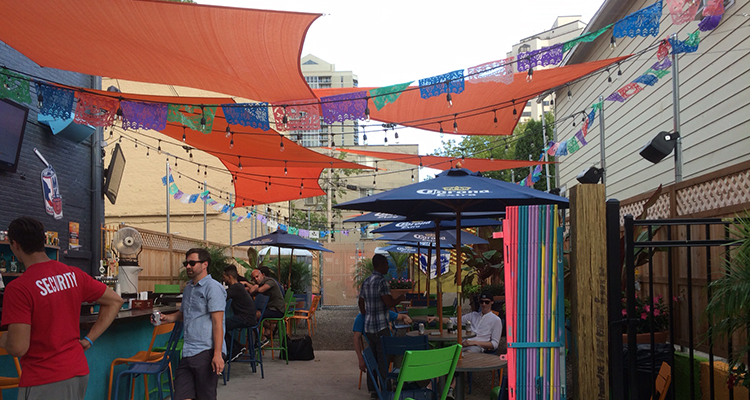 13. Odd Duck
Everyone loves Odd Duck, and sometimes that shows. When the Bay View restaurant's interior is (justifiably) packed with gourmands nearly every night, there might be an escape from the wait in the form of Odd Duck's rear patio. Like the small plate establishment's menu, it's subtle in its greatness, but something you'll find yourself returning to time after time.
14. Shakers Cigar Bar
Shakers is quick to hinge its identity on being haunted, almost (okay, certainly) to the point of annoyance. While the inside might loom with the ghosts of departed Milwaukeeans and absolutely the scent of cigars from generations ago, Shakers allows patrons to escape the smoke and the specters on the longstanding establishment's new 2nd Street patio, complete with limited seating on a sidewalk-mounted deck.
15. Trocadero
Potted plants, wicker chairs, umbrellas, and a motherfucking fountain! Trocadero's bi-level brick patio is a fenced-in oasis located just a few blocks off Brady Street. It offers an incomparable view…of incoming luxury apartment complexes. Still, it's nice enough to almost make you ignore the encroaching apartments blighting the atmosphere.