For whatever reason, Milwaukee can't seem to get enough patios. Maybe the fact that more than half the year is spent hunkered indoors, waiting out the cold, gray, and altogether shitty conditions outside. Perhaps it's our region's collective appreciation of eating, drinking, and lounging outdoors. It's likely a combination of the two. Earlier this year, we showed you 16 quintessential Milwaukee patios. That post came about a year after we hipped you to seven patios that make you feel like you're not in Milwaukee. Surely, there couldn't possibly be any more patios to write about. Right?
Guess again, jerks! With about a month of summer left, we found a new batch of enclosed outdoor spaces to eat, drink, lounge, and play games. Ranging from a microbrewery yard, a gay bar with fire pits and lawn furniture, an Irish pub with a kiddie pool and four square court, a partially enclosed Indian hookah lounge, and a suburban courtyard that once hosted a Public Enemy concert, there are still plenty of patios to post about. Here's 13 of them.
1. Black Husky Brewing
Haven't been to Black Husky Brewing yet? Well, the Pembine, Wisconsin ex-pat isn't only one of Milwaukee's best new microbreweries, it's also home to Riverwest's newest patio. Before entering the brewery, customers must pass through a quaint, fenced-in gravel courtyard with plastic lawn furniture that looks out on the activity of Locust Street.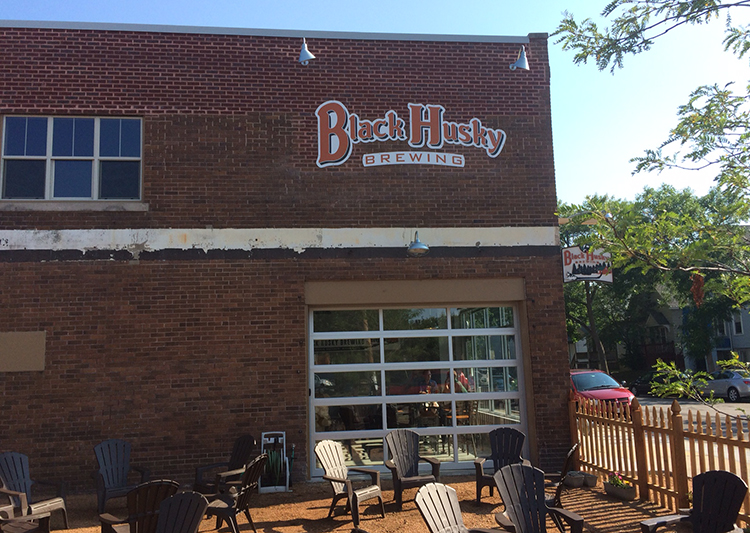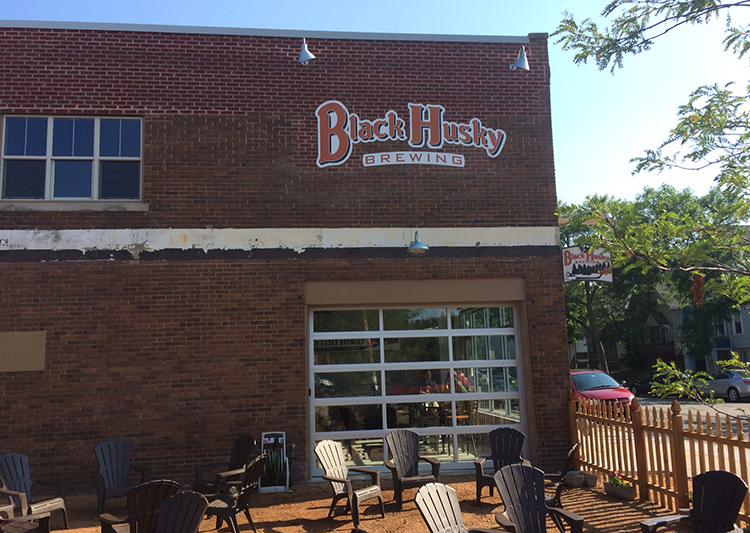 2. Cafe India Bar & Grill
Unlike the other establishments listed here and on our previous lists, the Bay View-based establishment is an Indian restaurant, though the business does have "Bar & Grill" in its name. Also unlike the rest of those featured, Cafe India's patio is enclosed. While that blocks out the rays in summer, it's heated when the temperatures dip and fall and winter, while also doubling as a hookah bar.
3. Champion's Pub
Tucked away on a dead end block of Bartlett Avenue, Champion's Pub has quietly thrived on the East Side for 60 years. Adding to the longstanding neighborhood bar's welcoming feel are amenities like shuffleboard, games, and a spacious enclosed yard that offers patrons ample seating, a kiddie pool (see cover image), and equipment to facilitate bag toss, tetherball, and four square games.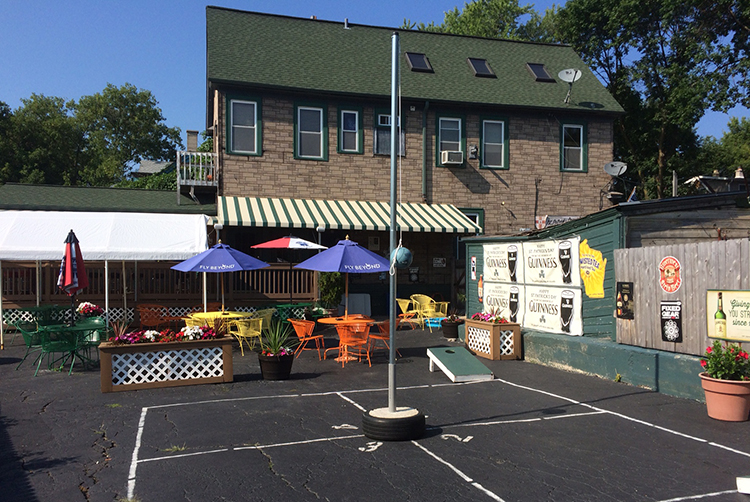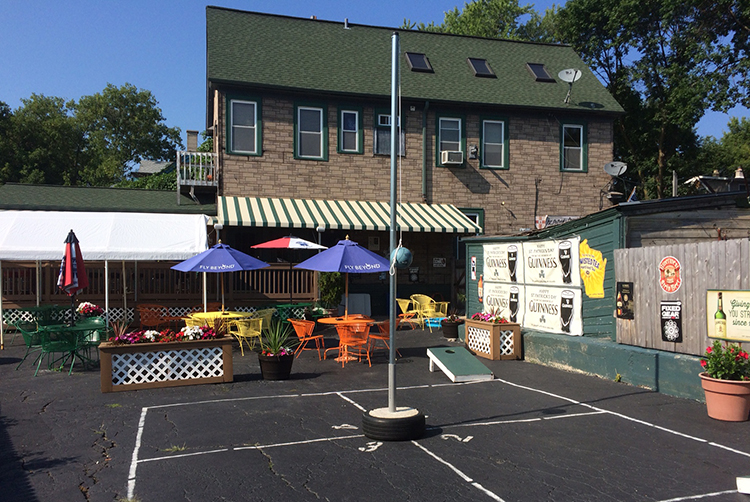 4. C-Viche
Not only is Kinnickinnic Avenue newcomer C-Viche adding to Bay View's already sterling culinary reputation with its accessible take on authentic Peruvian cuisine, it's also boosting the neighborhood's patio presence with the bar and restaurant's just-installed deck. Attached to the south side of C-Viche, the fenced-in enclosure adds about 10 tables to the mix when the climate allows. After your meal, continue the patio tour down KK at Cafe India, The Backyard, and Boone & Crockett, which are all just yards away.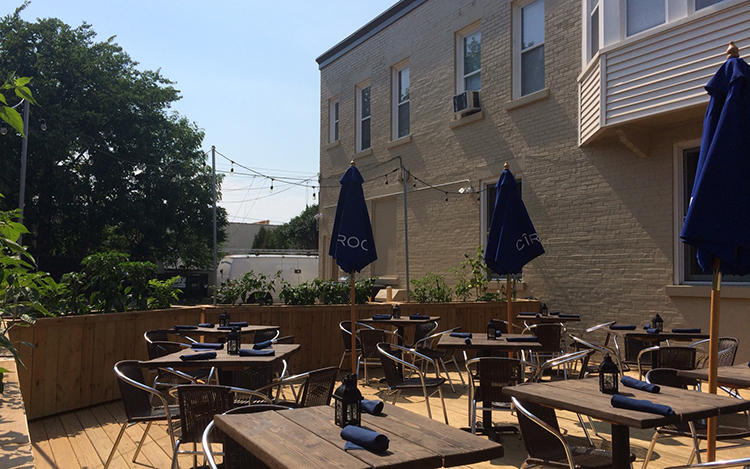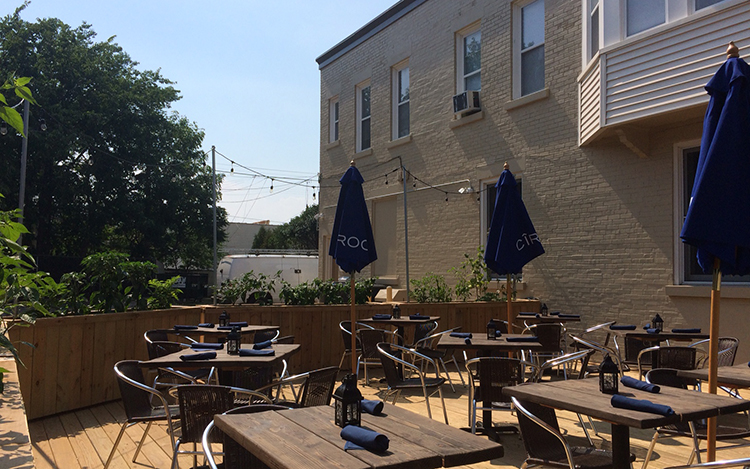 5. The Garage
Somewhat recently, The Garage took on a significant renovation project that increased the size (and changed the shape) of it bar and gussied up the restaurant's patio space. In warm weather months, The Garage's square footage more-than doubles, by way of its spacious Arlington Place yard that's outfitted with a cluster of tables and a secondary bar to alleviate congestion inside when the place gets busy.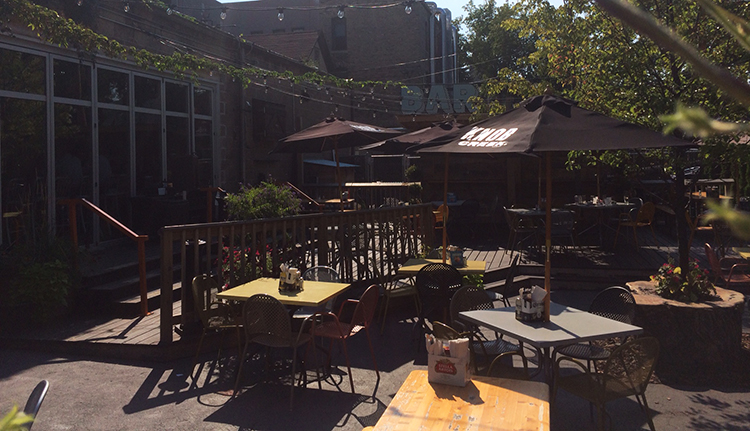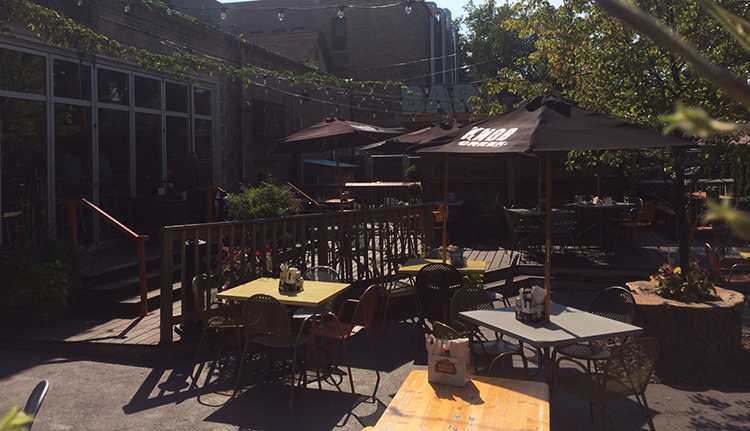 6. G. Groppi Food Market (Louie's Coop)
High-end Bay View shop G. Groppi Food Market is one of the few grocery stores in Milwaukee where customers can purchase food and alcohol during the same transaction. To narrow things down even more, Groppi is on the even shorter list of Milwaukee markets with a bar inside. Between the deli and liquor sections sits Louie's Coop, a small makeshift bar that seats 10 or so patrons. In warmer months, Louie's Coop extends to a cozy Wentworth Avenue-facing patio nestled against some homes. Certainly, the market bar and the patio exist with the hope of inspiring a subsequent purchase, but both could theoretically serve as a places to get blotto. Who knows, maybe after enough pinot noir in Louie's Coop, the grocery prices won't seem so bad.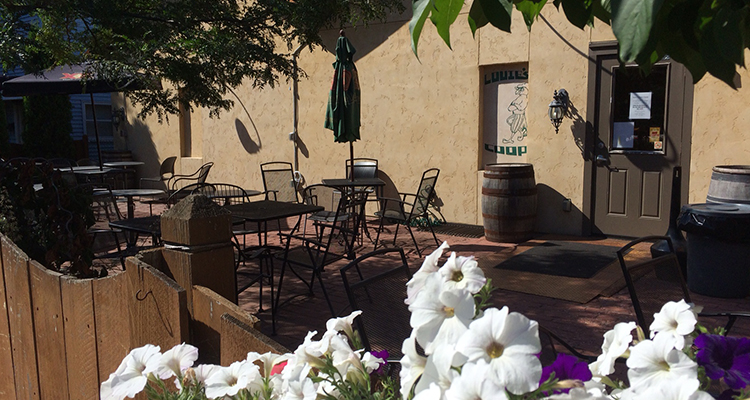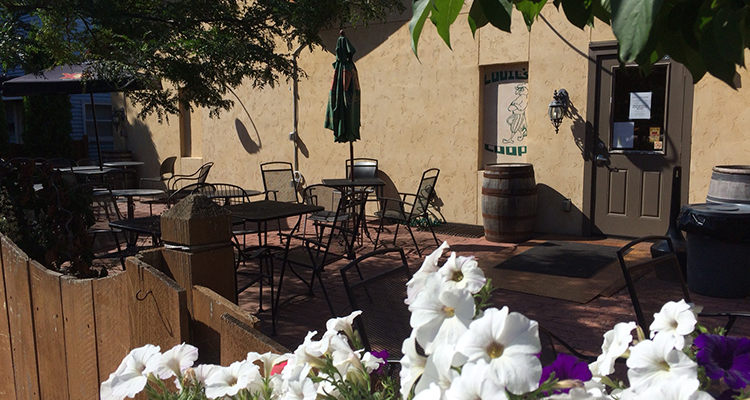 7. Karma Bar & Grill
Karma wears a lot of caps. The Ogden Avenue sports bar also has an extensive menu, hosts regional musicians and comedians in its basement lounge, and even offers patrons a place to take a load off outside. Sure, the elevated and partially covered patio faces the parking lots of a grocery store and a myriad of national restaurant chains, but when you're sipping a drink between bites of a specialty burger, you can look out at those stressed-out, poorly-fed masses and be happy you aren't them.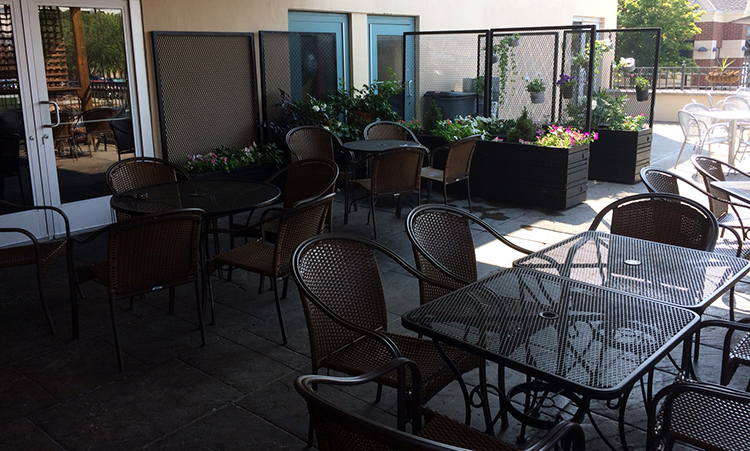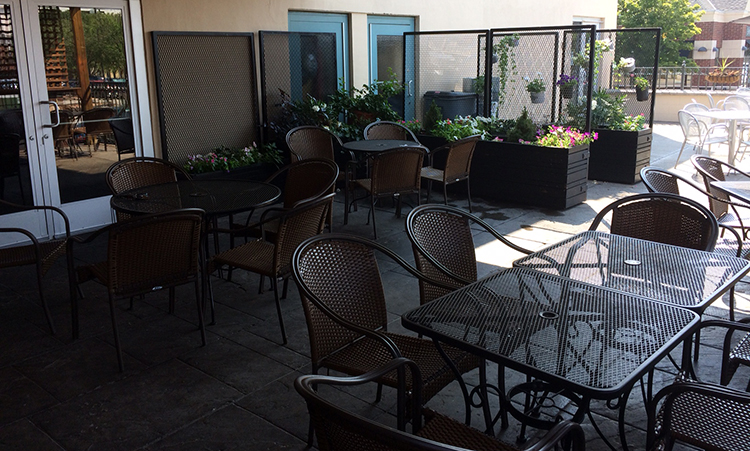 8. Kruz
During our Gay Bar Crawl last September, we walked past a horse stable and under two railroad bridges to Kruz, a tiny and dark joint that was nothing special inside. However, it was home to one of Milwaukee's best patios, gay bar or otherwise. It features comfortable lawn furniture, heaters, and gas fireplaces. An added bonus: the drinks are really cheap.
9. O'Lydia's
Walker's Point favorite, O'Lydia's has it all. Prompt shuttle service, Reuben rolls, two indoor bars, and if the mood so strikes, a rear patio. Take a load off in a parcel of concrete facing Water Street. A word of warning: every so often, the serenity is interrupted by the deafening screech of a train that runs beside the bar.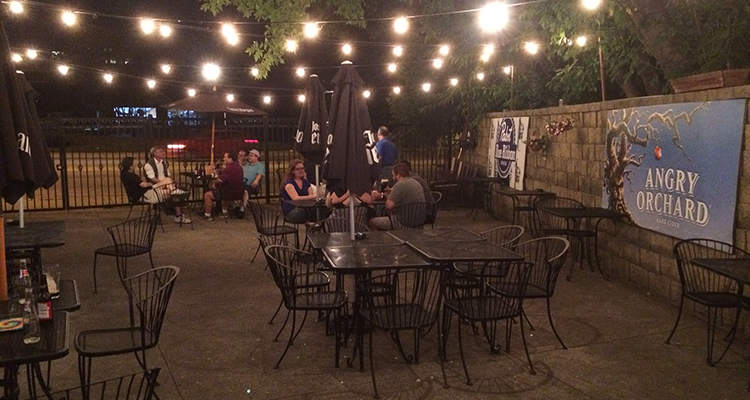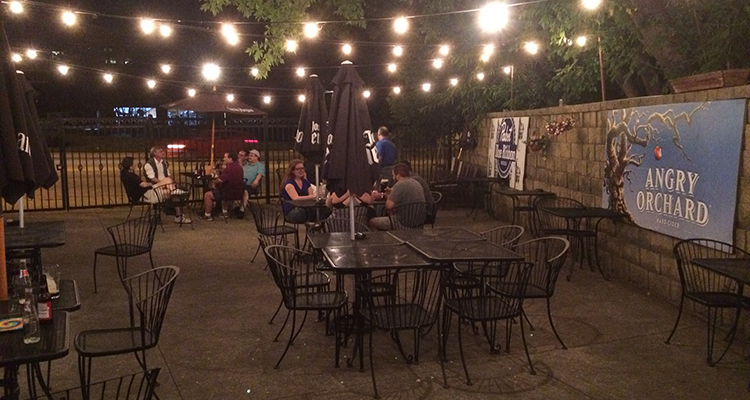 10. Paddy's Pub
Don't confuse Milwaukee's Paddy's Pub for the similarly-named site that hosted so many of The Gang's misguided adventures on It's Always Sunny in Philadelphia. No, this secluded East Side cottage doesn't specialize in milksteak and abysmal service with a side of occasionally entertaining danger. Rather, the vanguard of Milwaukee Irish pubs offers patrons a comfortable place to tip a pint, especially compared to many of its far rowdier neighbors. Inside, the gorgeous upper level hosts free live music (usually of the Gaelic variety), but the real appeal of Paddy's is in its pristine stone courtyard that's outfitted with ample seating, ivy and other plant life, and a respite from the looming luxury apartments and franchise dining surrounding this North Avenue-adjacent treasure.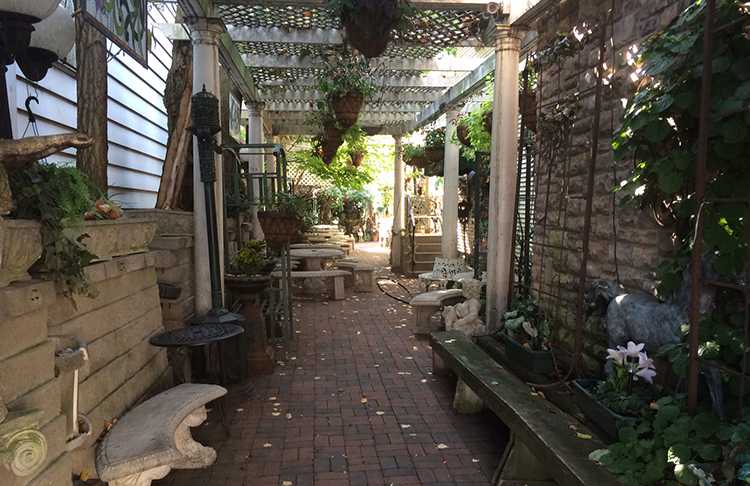 11. Red Dot (Wauwatosa)
Sure, this bar and restaurant is actually in Wauwatosa, but the original Red Dot recently shuttered its East Side location in order to focus on its suburban satellite. The second (and now only) Red Dot should fare better than its discontinued sister site on account of being located on a bustling portion of North Avenue in 'Tosa and having a parcel of concrete where customers can enjoy great food, cool beverages, and surprise Public Enemy concerts.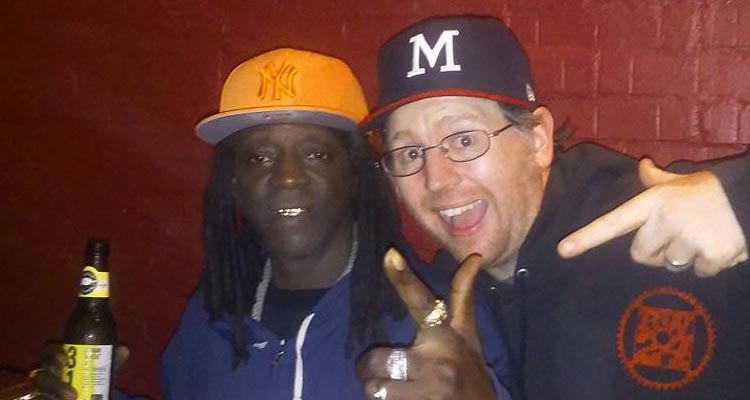 12. Uptowner
Best known for cheep beer, occasional live music, pinball, and being one of Milwaukee's oldest bars still in existence, Riverwest favorite The Uptowner also has a small, character-laden patio with partial shade, modest seating and, for some reason, a basketball hoop where "The Beautiful People" can get some air from time to time.
13. Von Trier
Depending on who you ask, bars on and around North Avenue might be in trouble. That said, Von Trier—with its traditional German fare, a more-than-respectable beer selection, and classic patio—seems to be virtually recession-proof, given Milwaukee's affinity for all three of those things. With a propane fire pit, limited seating, tent covering, and walled-in protection from college-aged hooligans, Von Trier's beer garden is nothing astounding, but it does the job. Like Von Trier itself, though, it's a place you'll find yourself returning to again and again.