Some of you are in a serious relationship, or at least involved in a budding romance. Others are happily (or perhaps miserably) single. No matter where your love life lands, the same thing holds abundantly true for everyone: you need to go out and do something—anything!—on Valentine's weekend. Since this V-Day proper lands on a Tuesday, there are actually two weekends to celebrate yours truly…or avoid being alone. Of course, there are also a bunch of things happening on V-Day itself.
Allow Milwaukee Record to serve as your cherubic guide to celebrating and/or escaping this Hallmark holiday with some suggestions of stuff to do. Get ready for comedy shows, concerts, classic film screenings, beer releases, trivia, and more!
Saturday, February 11
Punk Rock Rummage Sale: Valentine's Edition
It's a special Valentine's Edition of the Punk Rock Rummage Sale. From 11 a.m. to 4 p.m., more than 15 local vendors will be selling music, books, apparel, jewelry, '80s and '90s era "antiques" and more at Promises. There's also a special focus on vintage vinyl this time around. Speaking of vinyl, five local DJs will each spin records for an hour of this V-Day edition of Punk Rock Rummage.
'Breakfast At Tiffany's' @ Avalon Theater
What about Breakfast At Tiffany's? I think I remember the film. And as I recall, I think we both kind of liked it. Anyway, now that we got that reference out of the way, we should let you know Avalon Theater in Bay View will be screening the classic 1961 film Breakfast At Tiffany's at 12:30 p.m. on Saturday, February 11.
Sunday, February 12
SUPER BOWL, BAYBEEEEEEEEE!
Monday, February 13
Filthy As Fuck: Valentine's Day Eve Trivia @ Company Brewing
Gear up for Valentine's Day with "Filthy As Fuck" Trivia at Company Brewing on V-Day Eve. Prepare for some "raunchy ass questions" that are really, really hard.
Tuesday, February 14
Box Of Chocolates Flight Night @ Indeed Brewing Company
Instead of getting that special someone a boring old box of chocolates for yet another year, bring them to Indeed Brewing Company to try the Walker's Point taproom's boozy take on Valentine's Day treats. Indeed's "Box Of Chocolates Flight Night" features four candy-themed riffs of beers from its existing arsenal. This event will also double as the release of the brewery's downright lovely Coconut Macaroon Cream Ale.
Valentine's Day Celebration @ Lakefront Brewery
Getting married for the first, second, or third time? Tired of getting married at churches, courthouses, or tastefully restored barns? Then why not get married at Milwaukee's famous Lakefront Brewery! On Valentine's Day! Yes, Lakefront is offering "lovely, quaint, yet professional [ceremonies] for those interested in tying the knot." A "practiced, ordained tour guide" will handle the officiant duties, and couples can have beers in hand when they say "I do."
Lonely Hearts Honky Tonk @ Circle-A Cafe
We could write a few sentences telling you why this show will rule…or we could just show you the amazing lineup of Milwaukee artists on this bill. Wow, this is going to be a good one.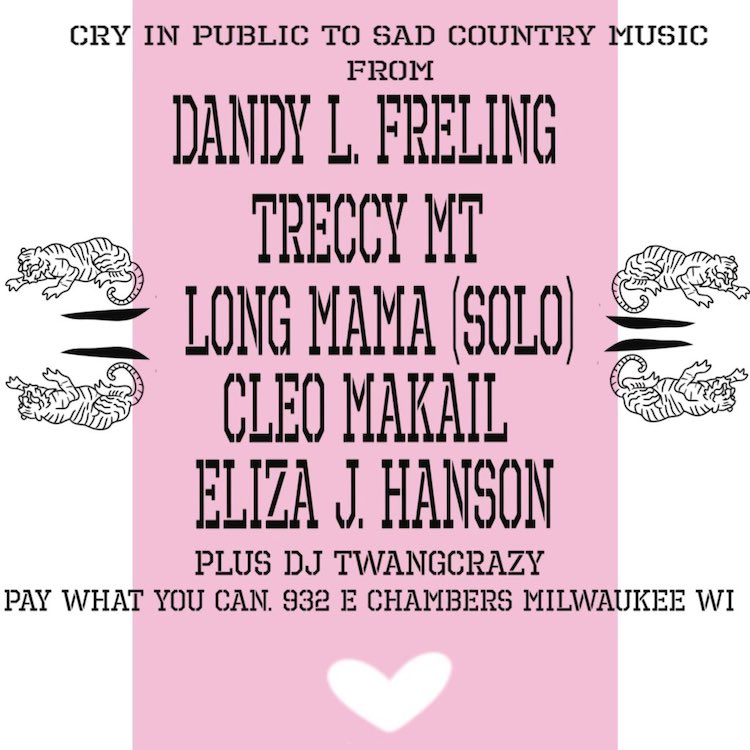 Valentine's Day Show @ Cactus Club
Laughentine's Day with Jeff Dye @ Milwaukee Improv
Friday, February 17
The Galentine Show @ ComedySportz
A few days after the holiday itself, ComedySportz will host a benefit show for The Benedict Center that will find "Milwaukee's best gal pals" performing Valentine's Day-themed improv. There will also be music by Dora Diamond. Come have some laughs and help a worthy local organization. And if you'd like to go the extra mile, show organizers will be collecting personal hygiene products for the Benedict Center, so feel free to bring any of the following: Travel size hygiene kits, feminine protection items, hair brushes, body wash, dental hygiene items, body lotion, and socks.
Saturday, February 18
Post-Valentine's Day Love-Fest with 5 Card Studs @ Anodyne's Walker's Point Roastery
Want more post-Valentine's Day fun? Leave that to 5 Card Studs, Milwaukee's premier "Las Vegas-styled revue" act. Hear the Studs' take on golden AM radio favorites and other hits that span the decades at Anodyne's Walker's Point Roastery during the "Post-Valentine's Day Love-Fest" on Saturday, February 18.