More than a dozen protest marches took to the streets of Milwaukee on Saturday and Sunday. Once again, the protests were a unified cry against the murder of George Floyd by Minneapolis police, as well as the institutional racism that contributed to Floyd's murder. The weekend marked the ninth and tenth consecutive days of peaceful Milwaukee protests.
Milwaukee Bucks players made their presence felt on both days, with superstar Giannis Antetokounmpo and others handing out water to protesters on Saturday. Milwaukee Record contributor Juan Miguel Martinez has more on that scene:
The 27th Street viaduct unfurls confidently, almost self-aware of its status as a piece of Milwaukee engineering. It bridges the North and South side. It has long been symbolic of the segregation in this city, and has been home to many marches that promote black and brown unity.

I have gone to a few protests in my day, and felt specifically called to this one because of that very symbolism and history. I was in the company of at least 300 people, some in cars and some on bikes, but most on foot.

We move, the Menomonee Valley opening up on our left beyond the rusty chain link barrier. We stop at about the halfway point of the bridge. There are trucks with people on the beds, handing out waters and snacks. The guy that gives me my water looks like Brook Lopez. I say to someone next to me, "Hey this guy looks like Brook Lopez…" It is a slightly older couple, who nod enthusiastically. The woman says "That's him," and the man says, "There goes Giannis right there," and points at the other truck.

Sure enough, there is all 6'11" of the Greek Freak standing next to his wife who is swaddling their infant son. Oh shit, I'm hanging with the Bucks right now. I had no idea they were going to be here. Frank Nitty talks a little bit about what made Giannis want to join the march and hands him the bullhorn. I am able to make out what is now his quote on Facebook: "I want my son to grow up here, with no hate in his heart."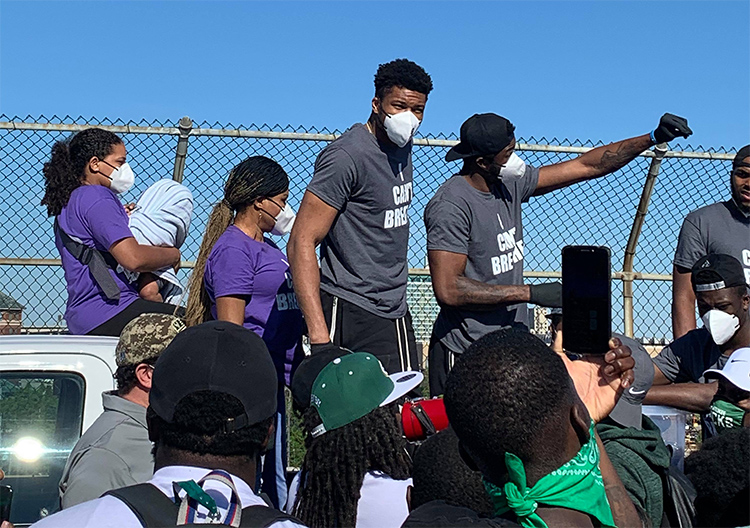 The Bucks also organized a march on Sunday. Milwaukee Record missed the action at Fiserv Forum, but caught up with a group of protesters near the Milwaukee School of Engineering. Here's the next 34 minutes of that march. We stopped streaming around the time someone brought pizza for the women and children, near Prospect and Brady.
From there it was down the hill to Lincoln Memorial Drive…
— Matt Wild (@ByMattWild) June 7, 2020
And a peaceful walk to the Milwaukee Art Museum…
Meeting of the marches pic.twitter.com/9fSuNFojry

— Matt Wild (@ByMattWild) June 7, 2020
Outside of MAM, at least three separate marches met up: the Fiserv march, a Pride march, and an accessible march. Also, we spotted Milwaukee protest organizer Frank Nitty on the back of a truck next to Spider-Man.
The three marches eventually joined forces and marched together…
Multiple marches, including an accessible march, come together pic.twitter.com/B5hjxT97vd

— Matt Wild (@ByMattWild) June 7, 2020
And made their way to the corner of Wisconsin and Water…
Water Street pic.twitter.com/1XAU0GkiSS

— Matt Wild (@ByMattWild) June 7, 2020
We hopped on a bus and headed home at this point. On the way, we read about the Urban Milwaukee office fire (please support them by becoming a member) and that fucking lady in Shorewood.
Here are more pictures from Sunday, all from photographer Meg Strobel: