Every year, Summerfest brings close to a million people to Henry Maier Festival Park. With the 11-day festival's attendance equaling roughly one-sixth of the state's population, parking anywhere in the vicinity of Summerfest is virtually impossible, and the few private spots that are available are expensive as hell. To account for the lack of space and in effort to boost business, local bars, restaurants, and hotels throughout Milwaukee and the surrounding suburbs offer patrons shuttle buses to get to and from Summerfest. While these free shuttles are a handy service to people wanting safe transport to the Big Gig and back, they could—at least in theory—also be a dirt cheap way to see the city.
Wednesday afternoon, I boarded a bar's shuttle bus bound for Summerfest. When I got to the grounds, I got on a different bar's shuttle. Then I just kept doing that, tipping a dollar for every ride I took. Over the course of eight-plus hours, I enjoyed rare craft beer in Greenfield, had a meeting downtown, strolled the Riverwalk, dined in Bay View, took a shot in St. Francis, shopped on Brady Street, relaxed with a latte and a paper in Walker's Point, and happened upon a bunch of interesting people (and some lame ones, too).
Jumping from bus to bus, I saw the city and covered close to 50 miles in the process, all for just $12. Instead of spending a moment at the festival, I used Summerfest shuttles as my personal taxi service. Here's how I did it.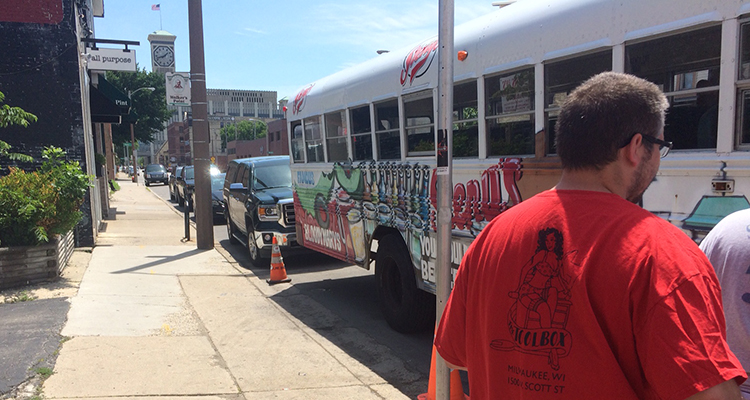 1. Steny's to Summerfest
After confirming that Steny's shuttle service started at 1 p.m., and also noticing the bar's multi-bus fleet in previous years, I figured the Walker's Point mainstay was as good a place as any to begin this misguided sojourn. I arrived at 1:18 p.m., allegedly moments after the first shuttle departed. No big deal. In all honesty, I wasn't exactly in a rush to start riding buses. I took a seat and broke a $20 with a 22-ounce Miller Lite ($4.50), asking for all ones in return to account for tips throughout the day. By 1:46, I was on a white Steny's school bus that was partially full. We got to the grounds at 1:52 and, just like that, leg one of my 13-part journey was in the books.
2. Summerfest to Mo's Irish Pub
The short delay at Steny's was actually kind of refreshing because I honestly didn't know how many bars offered shuttles at 1. For a moment, I was worried buses would be few and far between until 4. My concerns were dispelled within five minutes when the Mo's Irish Pub short bus pulled up and let off four people. I boarded it and was the only passenger on my seven-minute drive to the downtown pub. I figured my tip made up for my lack of Mo's patronage, so I walked down to The Underground Collaborative in the child-friendly basement of the Grand Avenue Mall to see if Milwaukee Comedy Festival co-founder Matt Kemple was around. He was! So we had a beer in his office and finalized our sponsorship deal for next month's fest.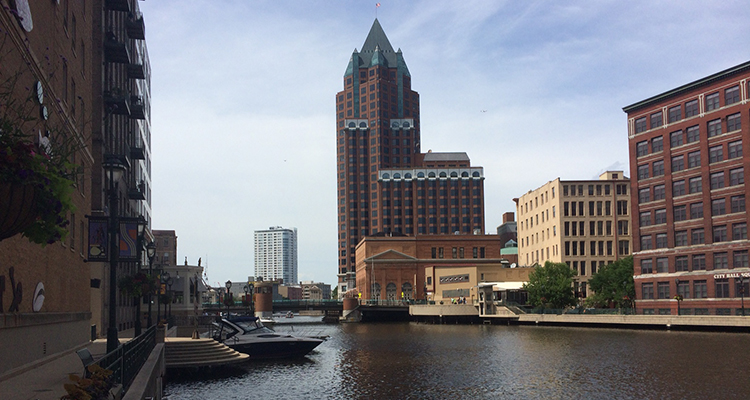 After a nice half-hour chat, he had to get to a Fringe Festival meeting and I had to get to another shuttle, so we strolled down the Riverwalk and enjoyed the sunny day…not inside a muggy bus.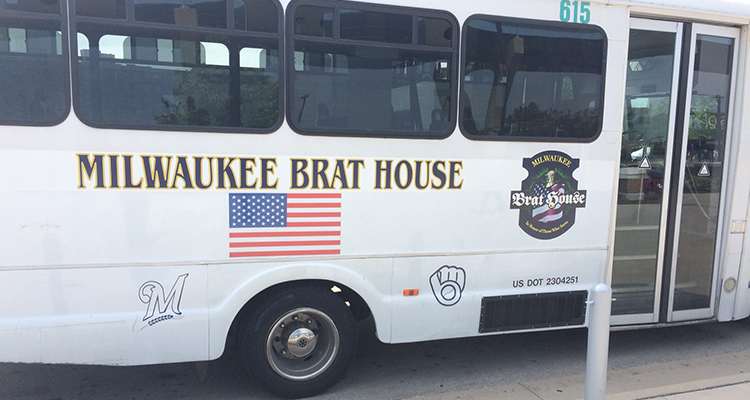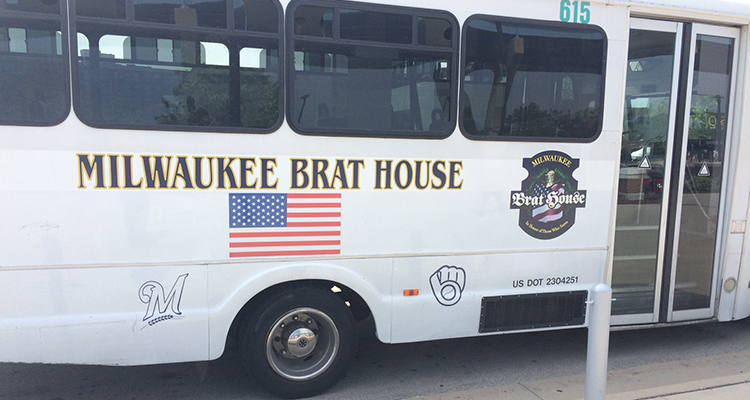 3. Milwaukee Brat House to Summerfest
Thanks to a handy OnMilwaukee shuttle guide (thanks, guys!), I learned that a cluster of bars on Old World Third Street had buses running all day, so I opted for one of the closest and most tolerable locations, Milwaukee Brat House, for my next ride. A woman working told me shuttles ran every half hour or so, and one was expected back in 20 minutes. Since Brat House required a purchase to grant festers a wristband to ride (and since it was happy hour), I ordered a mug of Pabst ($3) and was given two of them. I killed time watching a soccer match and was shocked to witness a goal. I never knew that was something that could actually happen in soccer.
In time, the short bus parked out front and I joined a small-but-lively group of what I took to be out-of-towners in their late 40s or early 50s. "This is Bertha," our driver said in reference to the bus. "She runs on positive energy." The driver touted the beer, sugary malt beverages, and shots available for purchase (from him, while driving) during our projected 10-minute trip. "I'm a great multi-tasker," he said before blaring Michael Jackson's "Man In The Mirror" that threw my 10 fellow riders into a frenzy. "In the words of Rodney Dangerfield, 'We're all getting laid tonight!'" one rider/Caddyshack semi-fan misquoted. I turned up my headphones, put on my sunglasses, and closed my eyes as the driver reminded customers the plastic liquor bottles he was selling wouldn't set off metal detectors at the gates. Journey's "Any Way You Want It" began to play.
4. Summerfest to O'Lydia's
Following that regrettable leg of the trip, I figured I needed to be more selective. I sat in the shade of a tree near a festival gate and let the bus for Jersey's (a bar on the south side) come and go, thought better of boarding the mini van bound for Paulie's in West Allis, and skipped The Bottle's school bus headed for that no-man's land between Walker's Point and Bay View. After some deliberation, I settled for a small blue bus emblazoned with the O'Lydia's logo. That bar was only a mile away, but what the fuck? I boarded, then went inside the bar to have a $3 Lakefront IPA and watch the Brewers surge for a four-run third inning.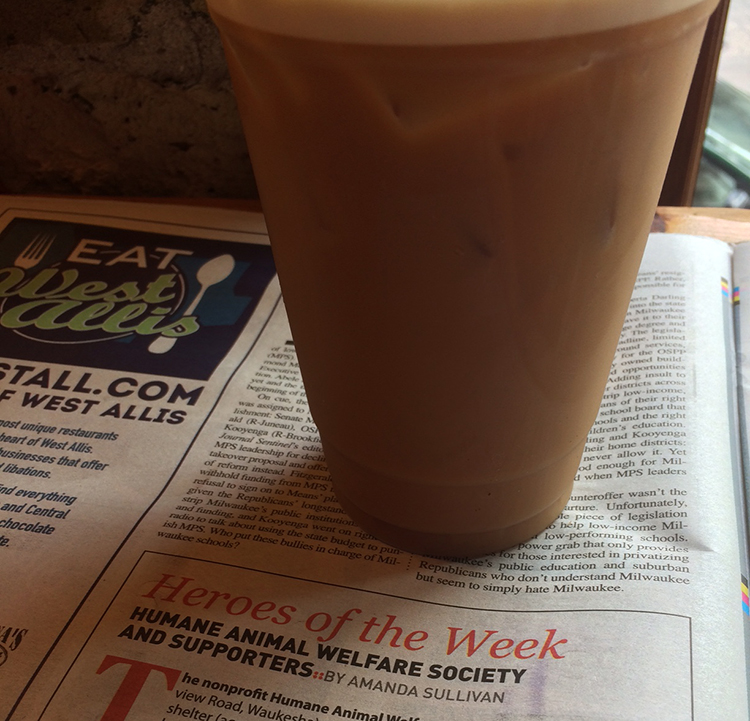 Between innings, I looked online to see what nearby bars had shuttles running. Besides Steny's and O'Lydia's, nothing really got rolling until 5, meaning I had some time to kill. Instead of having another beer, I took a short walk to Anodyne's Walker's Point Roastery to enjoy a Nutty Pedestrian and catch up on this week's heroes or whatever.
5. O'Lydia's to Summerfest
I didn't feel like waiting for Fat Daddy's to open, so I just walked back to O'Lydia's and got on the same bus. "Back for more?" the driver asked. Sure. This time around, I was joined by 15 or so people who seemed excited to see Def Leppard.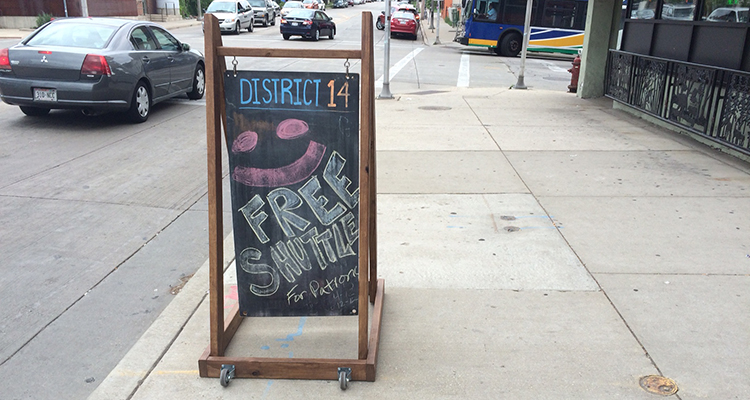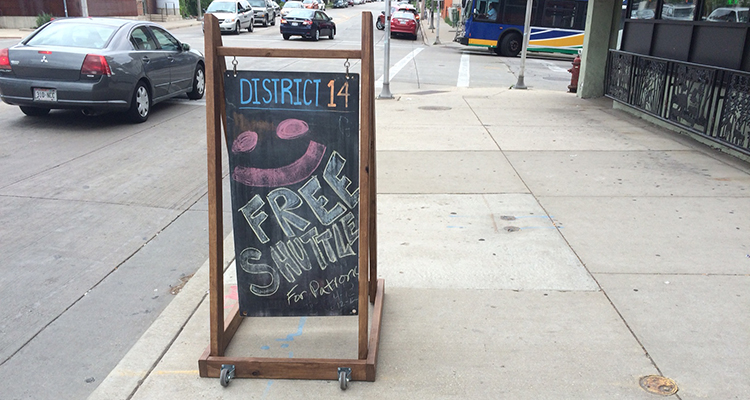 6. Summerfest to District 14 Brewery And Pub
Following that misstep that cost me an hour just a mile from the grounds, I wanted to dodge another nearby establishment and tack on some miles. However, with it being rush hour, there was a dearth of buses from suburban bars. Eventually, I decided to get on a Bay View-bound bus funded by The Backyard, Boone & Crockett, Revel, and District 14. I got on and was met with an inquiry from the driver, who looked at me with puzzlement. "Where are you going?" he asked. "Uh," I started, shocked with my first hint of opposition, "Um, D-14, I guess." I apparently passed the test. I tipped a buck to be the only rider on a school bus back to Bay View. I exited and walked to nearby Hello Falafel. More like "Good Buy Falafel," am I right?! (Sorry.) There, I saw occasional Milwaukee Record contributor Kevin Mueller and his wife Catherine. Kevin didn't spill any of his falafel on him. David Begel would be proud.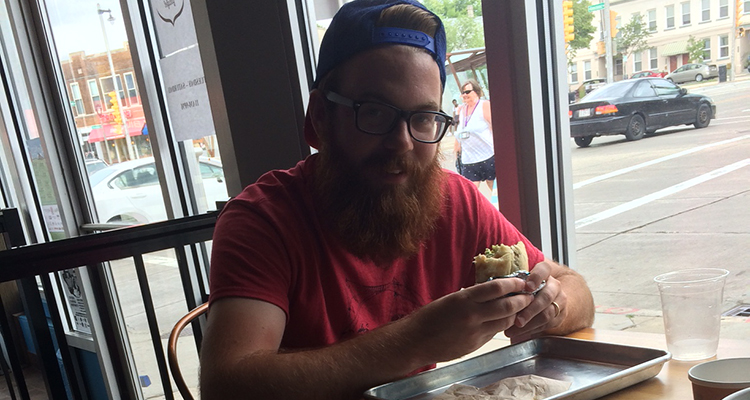 7. The Tonic Tavern to Redbar (St. Francis)
Full on falafel and, admittedly, not in a rush to get back on a bus, I missed The Stone's "Rolling Stone" by about a block, so I backtracked to Tonic Tavern, where I proceeded to order a High Life ($2) and shoot the shit with Ricky Ramirez from Population Control until the shuttle Tonic shares with The Newport, Highbury, Frank's Power Plant, and Redbar stopped outside. Ramirez warned me the bus would circle back around to stop across the street at Highbury in 15-20 minutes, but I was seeing Red(bar) and got on anyway.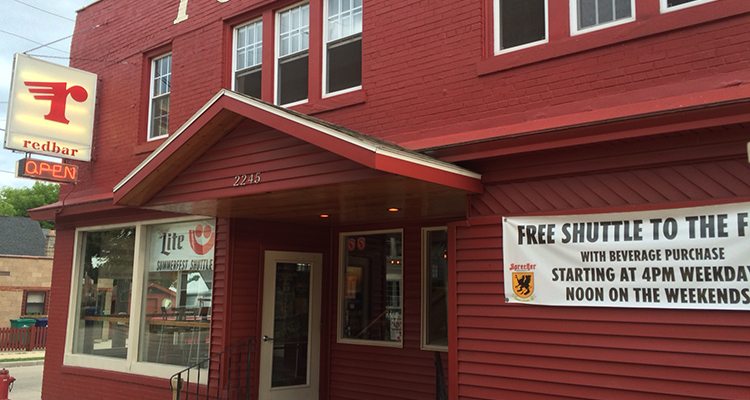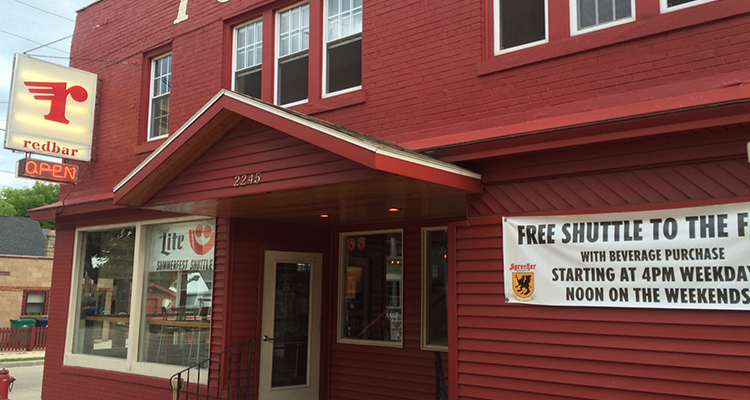 8. Redbar (St. Francis) to Summerfest
Once again, I was the only passenger on the 2.5-mile jaunt to the St. Francis bar. Not wanting to wait an hour until the bus rolled around again, and knowing I didn't have much time, I quickly used the bathroom and ordered a shot. In my haste, I forgot to tip a dollar (which I pledged to do every time I got off a bus). Still, I quickly reboarded the same bus, endured a loud drunken conversation between two mothers who boarded at Frank's and decided to sit directly behind me, then tipped when we got to the now-packed row of vehicles outside the Summerfest grounds.
9. Summerfest to Nomad World Pub
I paced back and forth down shuttle row, debating where I would go with my few remaining trips. The stupidity of this endeavor had set in hours ago. There was still time to forget this self-assigned joyless ride. "Should I go into Summerfest and see some bands?" I pondered. Suddenly, I overheard a cover band playing Nirvana's "Smells Like Teen Spirit." To quote the band, "Never mind." Maybe this bus thing wasn't so bad after all. Finally, I settled on a shuttle shared by Nomad, Malone's Club Brady, Hi Hat, and Garage. Dope Folks co-owner John Kuester walked off that same bus and asked me what I was there to see. "The shuttles," I said, embarrassed.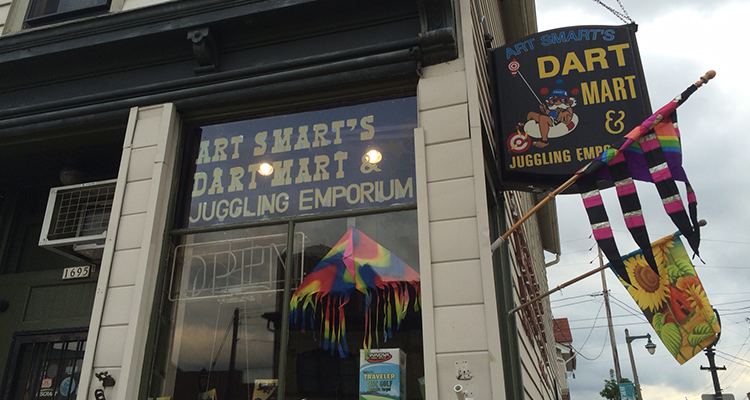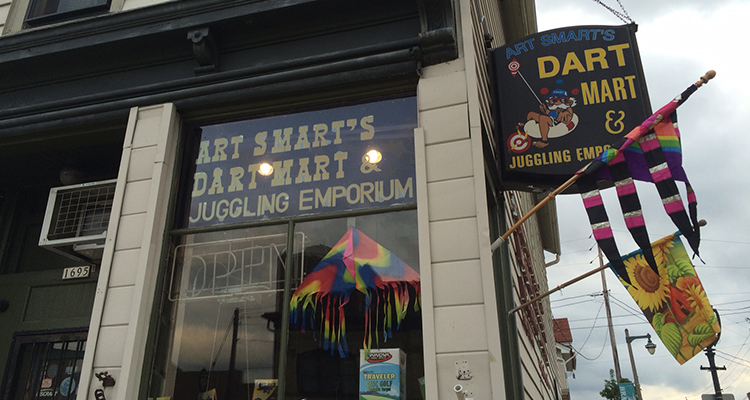 Instead of going into any of the bars, I opted to get off at Nomad and walk to nearby Exclusive Company to browse their used DVD selection. Mr. 3000 was on sale for $2.99. Not worth it. Since this was a day of new experiences, I tried to go to Art Smart's Dart Mart & Juggling Emporium. Alas, it was closed.
10. Jack's American Pub to Summerfest
I made my way east down Brady and back toward Jack's American Pub, a place I knew had tons of shuttles. I got on an empty bus and sipped a now-warm can of sparking water I had just remembered I packed. Soon, I was joined by a small group of men and women, each younger and more attractive than the last. They were excited to go to Summerfest. They had their whole lives ahead of them. I was a sweaty 30-something en route to the Summerfest grounds for the fifth time in six hours, and drinking a hot LaCroix I pulled from my backpack. Though this was the exact opposite situation as the Brat House bus, I did the same thing: sat silent, turned up my music, put on sunglasses, and waited for this experience to end.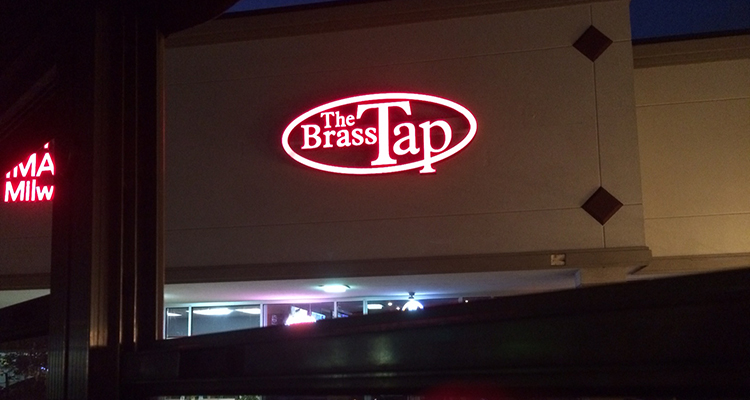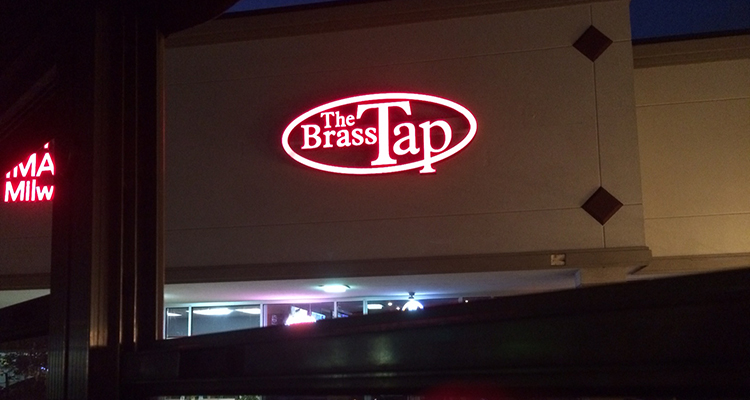 11. Summerfest to The Brass Tap (Greenfield)
Was this story falling apart, or was I? If I was going to waste my entire day on buses for the sake of clicks, I had to step it up. I decided I would get on a bus bound for The Brass Tap, a bar off 76th about 11 miles away in Greenfield. Would I be stranded in the suburbs, alone in a bar where nobody knew I was? On the cusp of my seventh hour doing this, did I even care?
12. The Brass Tap (Greenfield) to Summerfest
After ordering a delicious Americano Stout from Stone Brewing (which just hit Wisconsin soil!), I asked when the shuttle would return. It would be an hour. Maybe longer. I had a lot of time to think, so I did. What the fuck am I doing with my life? How many more times can I do shit like this? Why was I charged sales tax at a bar? How many times would SportsCenter replay the same footage of Dwyane Wade? Meanwhile, attentive bartenders tried to make conversation with me, unaware I was on assignment and not (just) a pathetic loner weirdo. I continued to crane my neck in the direction of where the shuttle dropped me off before ordering a MobCraft grapefruit gose to help kill the time and dull my senses. Blink-182's "Los Angeles" played in the background. This was hell. I wished I was in Los Angeles. I wished I was home.
13. Summerfest to Steny's
Some 80 minutes after my arrival, The Brass Tap bus returned with no passengers. It left with none. Basically, it went there and back for no reason. It was the second most pointless shuttle-related thing I could think of at the moment. Moreover, I was the only person to board this time around, too. "You're back!" the driver said, offering his hand for a high-five. "We're off to see the wizard!" he exclaimed. Not unlike Dorothy in The Wizard Of Oz, I had embarked on an unthinkably strange journey to faraway and unfamiliar places. Unlike Dorothy, I hadn't been dreaming. Unless nightmares count as dreams.
I was fortunate to quickly nab a Steny's shuttle back to my car. On the ride home, it felt kind of strange to be in the driver's seat after spending so long on buses. I started the day excited I'd found a clever loophole to score cheap transportation around town. I ended it fully aware why nobody has tried this before.