In case you haven't heard, the ramen is coming. Red Light Ramen made the move from after-hours Ardent offshoot to full-time East Side destination in 2016. Kawa Ramen and Sushi is expected to take over the former Winchester space in the coming months. Artisan Ramen is eyeing a spot downtown. In Milwaukee, there's never been a better time to slurp down legit (and pricier) versions of the un-killable starving-college-student mainstay.
Then there's Yokohama (1932 E Kenilworth Pl., 414-763-6570), yet another East Side ramen joint that recently set up shop in the former Yield space. Owned and operated by StandEatDrink Hospitality (Bodegon, Hotel Madrid, Jake's Deli, Movida), the new venture was born out of a pilgrimage to its namesake city in Japan. According to Yokohama's website:
Recently, the team at StandEatDrink Hospitality traveled to Yokohama, Japan where we learned the story of ramen founder Ozaki Kenichi. In 1910, this former customs agent from Yokohama, opened the first known Ramen shop in the Asakusa district of Old Tokyo. After numerous bowls of deliciousness and unable to part ways with the story or the ramen, we thought, "we have to take this home."
Now, having officially arrived, how does Yokohama fare in a city that seems to have caught the ramen bug? And how does it fit in with a neighborhood that seems to be actively ditching dive-y college bars in favor of luxury apartments and upscale restaurants? We channeled our inner Spike Spiegel to find out.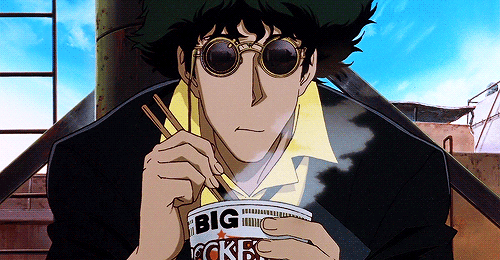 The space: Yokohama is all about levels. Step inside the Kenilworth doors—past an elevated patio, past a two-booth street-level "parklet" patio—and you're greeted by a bar/karaoke space on your right, and a upper-level dining area to your left. Once ensconced in that dining area—all blonde wood and dim lighting—you can choose from the usual assortment of booths and tables, plus bar-level seating or low-slung "noodle bar" stools. The latter seems perfect for tucking into a bowl of ramen solo, though it does result in the peculiar feeling that the bartenders and servers are looming high above you, Andy Kaufman talk show-style.
More than anything, the revamped space gives off a distinctly "downtown" vibe. Yeah, Kurosawa's Seven Samurai may be playing on the flatscreen TVs, but Busta Rhymes (!) is blasting over the sound system. The bar/karaoke stage oozes with late-night drinking spot potential. Servers sport shirts that say things like "One Hot Momofuker." Gone is Yield's seven nation army of '90s and '00s dorm room posters; in its place is an aesthetic that marries club with candlelit cuisine.
Milwaukee Record's food/drinks: Even the most obstinate curmudgeon knows the kind of ramen being served at restaurants today isn't the same kind of salty, 8,000-packs-for-$1 ramen your average college student lives and dies by. This is the real deal, and Yokohama does it right. The restaurant's signature dish, The Momofuker ($13), comes complete with chicken stock, red miso, kimchi, nori, scallions, and a halved egg. Ours was delicious: fresh, spicy, and perfect with the submerged strip of pork. Three levels of heat are available (those levels again!), and though we went with level 1 (a ghost pepper incident at a WMSE Rockabilly Chili scarred us for life), we kind of wished we had taken the plunge on a 2 or 3. A little more kick seems like just the thing.
There's more to Yokohama than just noodles. Fried chicken wings ($9) and straight-up burgers ($9) are also available. We tried the latter, opting for a regular old bread bun instead of the house-made ramen variety (the menu correctly guessed we were "noodled out"). We also chose to go it alone without fries or a side salad ($2). The burger, perhaps a bit surprisingly, was just as excellent as the ramen: plump, perfectly done, and not too gut-busting. Visiting one of Milwaukee's many new ramen joints solely for a hamburger isn't out of the question.
Finally, a nice Sake Sangria ($7 for one, or $12 for a coconut built for two) made us wish we were chilling outside on one of the patios, the pleasures of Black Cat Alley, the Kenilworth building, and Ma Fischer's a mere stone's throw away.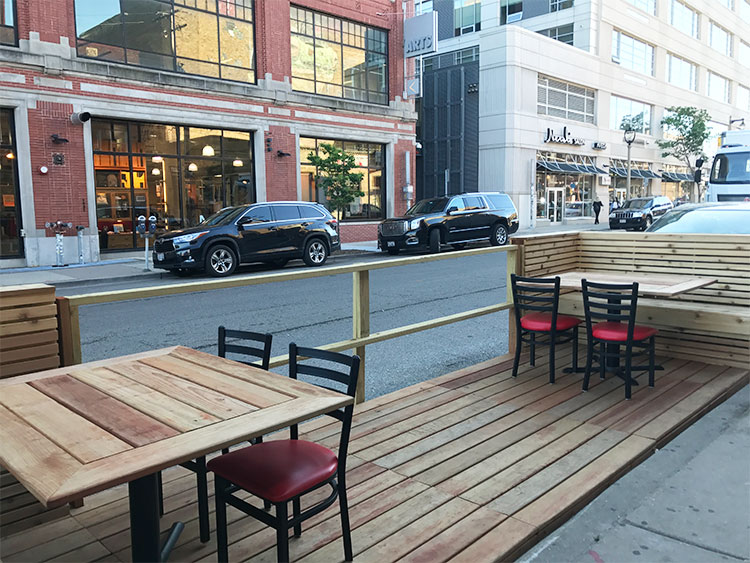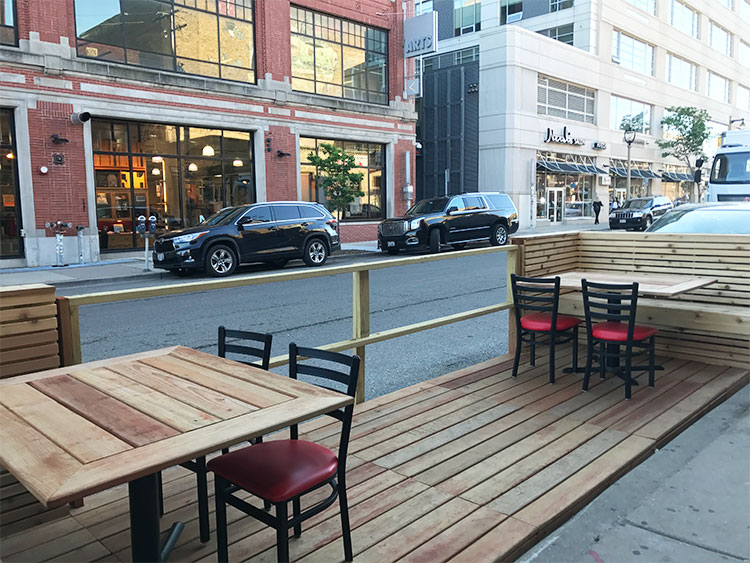 The verdict: The East Side is changing, and Yokohama is at the forefront of that change. Does the restaurant take the neighborhood to a "new level"? Yes. Is that level a place the East Side really wants to go? Time will tell. As with any new business, it's up to the neighborhood to make Yokohama its own. In this particular case, it should be embraced.