Since opening in September 2016, the East Side's Black Cat Alley has seen its fair share of controversy. Adam Stoner's "Devontay"—which depicted a black man in an orange prison jumpsuit—immediately came under fire for its subject matter and for the color of its artist (white). One year later, in September 2017, the mural made news again when it was used as a backdrop for a Milwaukee Magazine fashion shoot. A few months later, it was vandalized. A few days later, it was removed completely, and was eventually replaced with, um, this: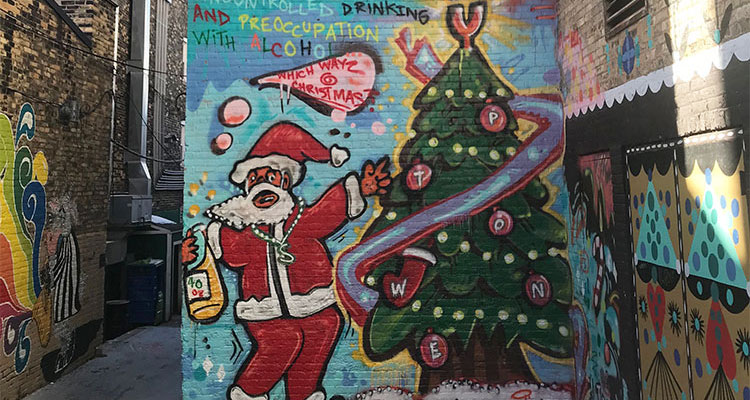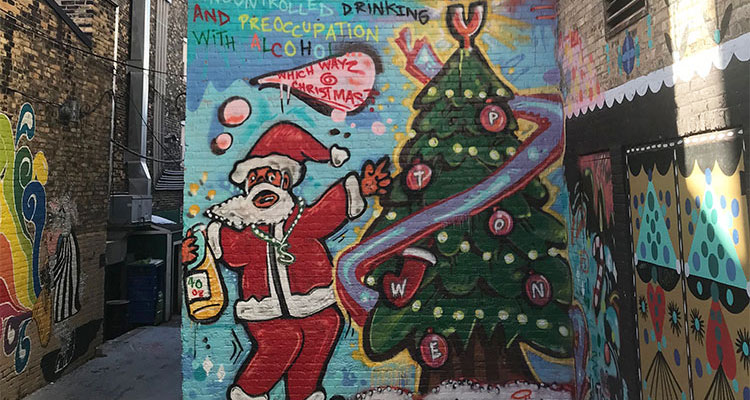 Now, the East Side BID has issued a Call for Artists to create a new Black Cat Alley mural on the former "Devontay"/Bad Santa space. Want to leave your mark on Milwaukee? Now you can. Here's that Call, followed by a press release.
1: April Mural
Overview: The East Side BID is looking for an Artist or a group of Artists to paint a new mural for Black Cat Alley, to be unveiled in April of 2018. There is no theme specified, but the committee is looking for artworks that inspire and delight and that add to the current collection of public murals in a positive way. The large, vertical mural will be located on the north wall of Black Cat Alley, and the dimensions are 12 feet (w) x 34 feet (h).
Requirements: The competition is open to any Milwaukee area Artist(s) over 18 years old. (Artists who have previously made work for Black Cat Alley are ineligible.) All submitting Artists or Crews must have access to a working studio in which to complete the artwork on poly fabric, which must be painted by hand and later installed onsite by the East Side BID. The 400ft2 of special fabric, as well as a stipend for acrylic paint and primer, will be furnished and delivered to the Artist's location.
Selection process: Each Artist or Crew may present only one proposal, with a color sketch of the proposed design made to scale and proportions of the final wall. A committee will review the submissions and select a winner based on artistic merit, message and originality of design.
Timeline: Deadline for submission is Friday, March 9, 2018. Winner(s) will be announced on Thursday, March 15, and the Artist or Crew will have approximately one month to complete the work, which will be installed the weekend of April 21-22, 2018. Artists must ensure that their work/personal schedules allow for availability.
Final Selection: The winning Artist or Crew will receive an honorarium of $2,000, and supplies and installation will be provided.
HOW TO APPLY: Please visit http://wallpapered.city/submissions and complete the online form at the bottom of the page. This form works best on a computer browser, rather than mobile devices. You will be asked to provide a color sketch of your concept as well as three representative images of your previous work.
Black Cat Alley to Release April Mural
The East Side BID will sponsor a new public artwork

(MILWAUKEE, WI) – On April 20-21, the public will be invited to view the unveiling of a new mural in Black Cat Alley. The East Side Business Improvement District (BID), in cooperation with Wallpapered City, a local agency specializing in public art, has issued a Call for Artists inviting any Wisconsin-based artists over the age of 18 to submit their designs.

The new mural will be installed on a north-facing segment of the back wall of the Oriental Theater, near the intersection of Kenilworth and Prospect Avenues. It will appear in the place of a previous mural by Adam Stoner entitled "Devontay," which was defaced in 2017. The new mural will be created using a method pioneered by Mural Arts Philadelphia in which a poly-woven fabric will be painted in studio, and applied to the brick using a permanent varnish.

"As far as we know, this will be the first mural of its kind in Milwaukee," says Program Director Stacey Williams-Ng. "We have been researching ways to continue our work in the Alley so that the artworks are lasting, vibrant and respectful of the historic buildings they live on."

Kristin Godfrey, Executive Director of the East Side BID, adds "We are planning many installations throughout the year, hoping to attract more visitors to the neighborhood and its businesses. Adding and celebrating new artworks in Black Cat Alley just adds value to the whole community."

According to the Call for Artists released today by the East Side BID, the deadline for submissions is March 9, 2018. The winning Artist or Crew will receive an honorarium of $2,000 plus materials. A committee of jurors will review the submissions in March, and select a winner based on artistic merit, message and originality of design.