Back in 2012, the Pabst Theater Group and Historic Milwaukee joined forces for a series of panel discussions featuring notable Milwaukeeans—developers, artists, someone from NEWaukee—holding forth on notable Milwaukee issues. "Remarkable Milwaukee" and "Envisioning the Seen" promised real talk and big ideas, yet frequently devolved into vague chatter and crowd-pleasing sloganeering. Five years later, a new series of panel discussions—this time from the Pabst, WUWM, and Milwaukee Magazine—has been launched: Monday night at The Back Room @ Colectivo, the first two-topic installment of MilMag Live! found a new group of notable Milwaukeeans discussing "Insiders/Outsiders" and the "Creative Class on the Brink." The results were intriguing, sometimes exasperating, and unexpectedly telling.
MilMag Live! takes its inspiration from the magazine's January "Conversation Issue," which pairs local notables and asks them to, well, have a conversation. Monday's live event—featuring many of the participants from the print feature—proved a bit more conventional. WUWM's Mitch Teich and Milwaukee Magazine's Carole Nicksin moderated the first topic, "Insiders/Outsiders." It featured:
High school student D'Naya Collins
Chef Heather Terhune
Rob Henken, president of the Public Policy Forum
Alderman Nik Kovac
Milwaukee historian John Gurda
Maudwella Kirkendoll, chief operating officer of Community Advocates
Amidst jokes about the Packers, thoughts about bubblers, and a bizarre digression on the superiority of Chicago ice cubes (big-city artisanal ice is a thing, folks), some interesting points were made. Kovac mused on Milwaukee's ever-changing image—especially over the last 15-20 years—and how more young people were choosing to stay in the city. Gurda talked about Milwaukee's growing Latino population and how it was leading to a "diffusion of power." Heneken worried about the "catch 22" of celebrating Milwaukee's "small town" feel while continually working to transform the city into something larger. Terhune spoke about her initial misgivings about moving to Milwaukee from Chicago. And she talked about those Chicago ice cubes.
But the most resonant thoughts came from the panel's two black members, Kirkendoll and Collins. Put simply, their views on Milwaukee—and what it means to be an "insider" or "outsider"—stood in stark contrast with the other panelists' views. Not that any of those panelists were tone-deaf to the divide, but it was jarring to hear Kirkendoll explain how black professionals were leaving the city because of a lack of opportunity, only to have Terhune claim, moments later, that Milwaukee was a place where you can "do anything you want." Likewise, Collins' claims that Milwaukee wasn't the most accommodating place for black teenagers were at odds with others' repeated claims of "Midwestern Nice." Kirkendoll's revelation that three of his friends had been murdered since New Year's Eve was chilling. Collins admitted she would not be staying in the city after graduating high school.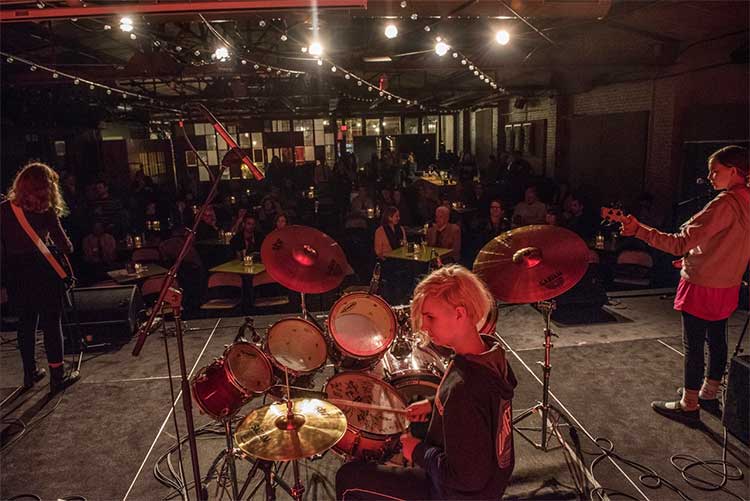 Following a short set from Negative/Positive, a second panel convened to discuss the "Creative Class on the Brink." Moderated by WUWM's Bonnie North and Milwaukee Magazine's Claire Hanan, it included:
Chad Bauman, managing director of the Milwaukee Repertory Theater
Artist Reggie Baylor
Designer Linda Marcus
Stylist Bjorn Nasett
Musician Kiran Vee (Q The Sun)
The dominant theme of this discussion was the lack of a financial infrastructure to support Milwaukee artists. All panelists agreed that the city was home to staggering talent, but that that talent needed to get paid. Marcus spoke about shopping local. Nasett urged more support for underground artists. Baylor discussed the Milwaukee art community's need for better branding, and how art should be supported and treated like a sports team. Bauman explained how almost all financial support for Milwaukee fine arts comes from private donors. Vee wondered if the music scene's insularity contributed to a hesitation of paying up to see local talent. The night ended with a vague call of "Let's do this!"
Not that the event was a wash. Proceeds from the $10 tickets went to the Wisconsin Freedom of Information Council, and the conversations were largely insightful and worthwhile. But the unanswered question of what it means to be a Milwaukeean—regardless of birthplace or length of time spent here—hung heavy over the proceedings. Perhaps it's a discussion worth revisiting when MilMag Live! returns to Colectivo next month.