By all accounts, it's a great time to be gay in America. It took far too long and required incalculable amounts of pain, hardship, and opposition to get here (and there's still so much work to be done), but now people of any sexuality can get married, visit partners in the hospital, and even become scout leaders. However, if there's one unfortunate byproduct of the exponential progress made in LGBT rights in this country lately, it's that the overwhelming support of modern society could serve to threaten the sheer existence of one very specific type of business. Gay bars are in trouble.
For decades in the U.S., and for more than 45 years in Milwaukee, gay bars have existed as a (relative) safe haven from a largely intolerant society. Customers could feel at ease when mingling with any patron with little fear of violence, humiliation, judgement, or reproach. These watering holes existed as one of the few public places in an otherwise harsh world where gay and straight people alike could, simply stated, be themselves. Now, as the world's collective acceptance and understanding grows, the number of and need for gay bars are starting to shrink. As recently as 15 years ago, Milwaukee boasted close to 20 gay bars, which is an especially impressive sum for a city of its size. Today, only nine remain. Within the next (likely even more progressive) five years, who knows how many will feel the need to carry on as true blue gay bars? Recently, Hybrid Lounge dropped its gay bar classification and, instead, considers itself to be an LGBT-friendly bar—a.k.a. "A bar in 2015."
As a means of documenting the current state of the city's gay bars, a threatened relic of darker times, I wanted to drink at every single Milwaukee gay bar in a single night. With the help of Jacob Bach, my fast friend, local gay icon, and host of the Yeah, Bro podcast, I mapped out a plan of action and set aside a Friday night to spend with him on what's affectionately called "The Fruit Loop." After nine bars, eight hours, a handful of new friends, and too many drinks to count, this straight man completed his first gay bar crawl. Here is my story.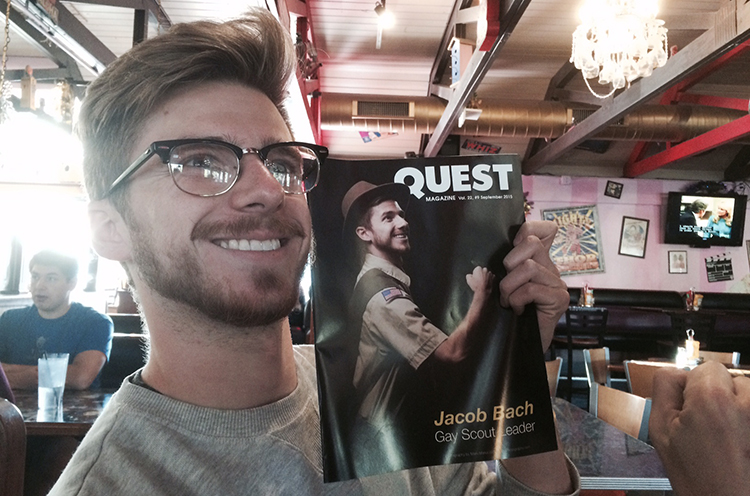 Hamburger Mary's
Figuring we needed food in our system before setting out on a night predicated on drinking a lot, Jacob and I decided on a 5:30 meeting time at Hamburger Mary's, one of just two local gay bars not in Walker's Point. I walked there, officially eliminating driving from the equation. Having eaten at Mary's five or six times before, I had questioned whether this national burger franchise "counted" as a gay bar, but my gay sherpa insisted it did, though much of the clientele isn't gay. No matter, I started slow with a Pabst tallboy and continued my night of empty calories with a Barbra-Q Bacon Chzburger and fries. The bacon cheeseburger was irresponsibly slathered with BBQ sauce, mayonnaise, and a soggy onion ring. I made quick-yet-messy work of it as virtually every employee walked up to our booth and shot the shit with Jacob, who was on the cover of the Quest Magazine copies stacked in the restaurant's entrance. All in all, it was an average meal and a perfectly fine way to start a night that promised more excitement.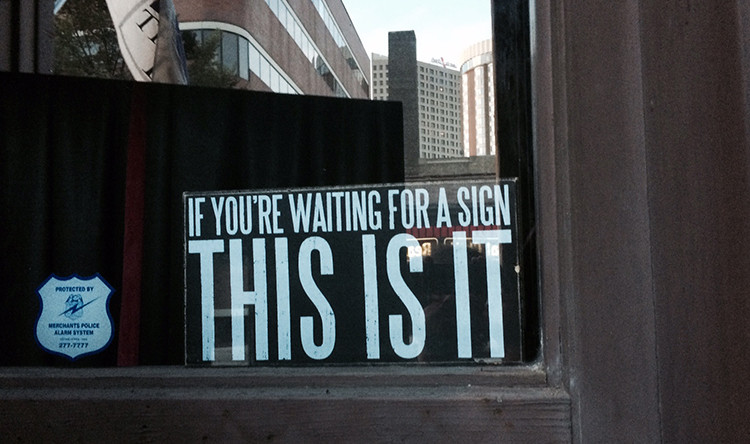 This Is It
With most of one Riverwest Stein in his system, Jacob was an ideal designated driver to the only other non-Walker's Point bar on our evening's itinerary. With a rather nondescript façade, This Is It (nicknamed "Tits") is a relatively hidden gem buried in the oh-so-douchey confines of Cathedral Square. With carpeted walls, lots of mirrors, and a dim lounge-like feel, the wide corridor of a tavern was virtually untouched by time. As it turned out, we showed up in the middle of This Is It's insane Friday special: three-for-one tap beer and rail mixers from 5-9 p.m.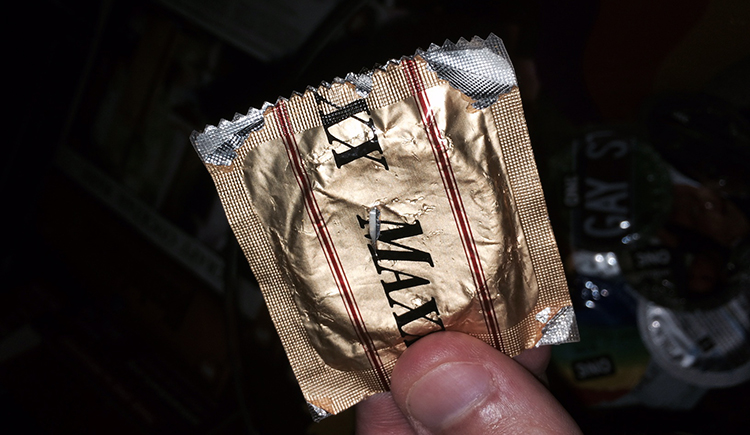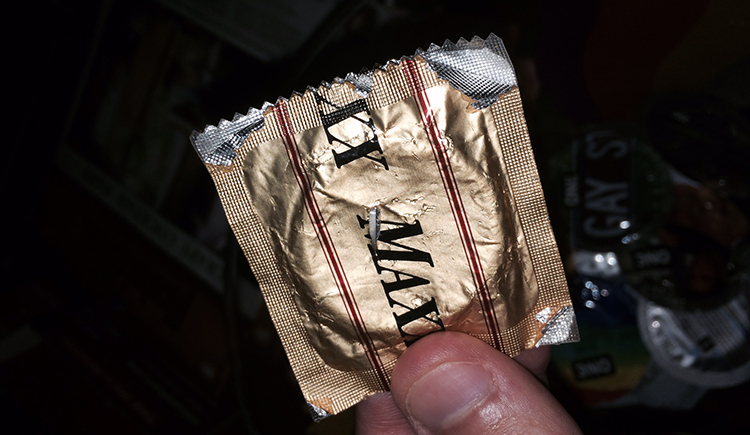 As I had my first of three pints of Riverwest Stein there, I took stock of my surroundings. The customer base in the half-full bar was about 80-85 percent male, ranging from early 20s to mid- to late-70s in age. Almost everyone seemed to know everyone. Jacob called it "Gay Cheers." I could see that. There were more Quest Magazines with Jacob on the cover. Next to the periodicals was a bowl of condoms. Some of them seemed to have been in there a while.
Beyond being one of the cheapest places to drink in Milwaukee, I'd soon learn that This Is It is also the city's oldest gay bar. I was introduced to co-owner George Schneider, the first gay owner in the storied establishment's long history. He told me that This Is It opened in 1968, shortly before the gay rights movement. He said at that time, most customers discreetly entered through the rear entrance for fear of judgement and violence. With law enforcement peering in on a regular basis and the occasional brick being hurled at the business, This Is It's window is incredibly small. Within 90 minutes, I got an interesting history lesson, three Riverwest Steins for a total of $4.50 (plus tip), and a new inclusion on my list of my top three favorite downtown bars. Near the end of our trip, Jacob's friend/ex/Yeah, Bro assistant Jak met up with us and had Jacob's last drink so he could drive to his parking spot for the night, ComedySportz (where Jacob works). We had to continue our journey, but that won't be the last time I'll go to This Is It.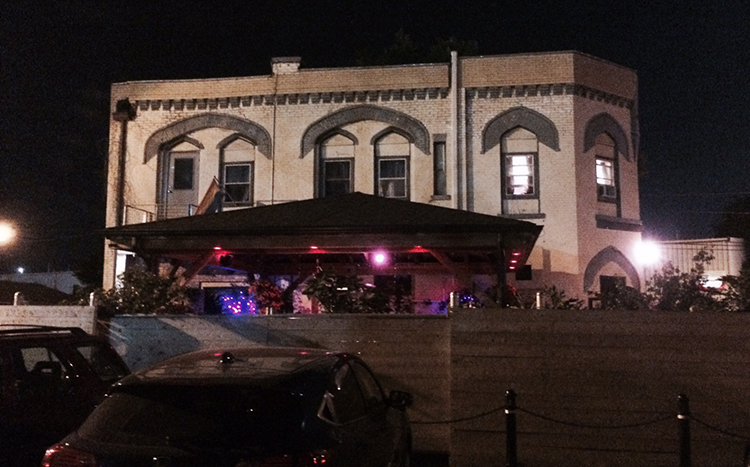 Kruz
Jacob, Jak, and I reconvened in the ComedySportz lot and began our walking tour of The Fruit Loop by going past a horse stable and walking under two railroad bridges. At one point, Jacob and Jak raced up what I estimated to be a 35-foot stone wall with ape-like climbing expertise. Eventually, we arrived at Kruz. Needing a jolt, I risked judgement and ordered a tall vodka and Red Bull. I bought Jacob and Jak both Spotted Cow (which was present at virtually ever bar we went to) for a total of $10. Damn. Gay bars are cheap. Beyond playing pool, ordering drinks, or without a doubt having a bunch of people see your dick while peeing in the barely obscured trough urinal, there's little reason to spend much time in the long and narrow, harbor-adjacent bar. The true appeal of Kruz is outside. There's a great patio, comfortable furniture, heaters, and outdoor fireplaces, around which groups almost exclusively composed of men were gathered.
Those men could be broken into two very different camps: dudes in their early 20s and guys who were middle-aged or older. I would not have been surprised to learn I was the only guy in his 30s on the property. Jacob and Jak considered Kruz to be a "Daddy Bar" where older men came to pick up young guys (or "sugar babies") and where young guys scouted financially secure or attractive older men. Eventually, Tyler, another former boyfriend and current friend of Jacob's, joined our group. I was already the least attractive person in our pack. Now I was the least attractive Tyler, and by quite a wide margin. Together, we sat around a fire pit and discussed age differentials within both the straight and gay communities. I saw a great deal of similarities. Occasionally, an older guy would slink over to talk to my good-looking, 20-something companions, only to have their advances rebuffed. We finished our drink and moved to the next stop.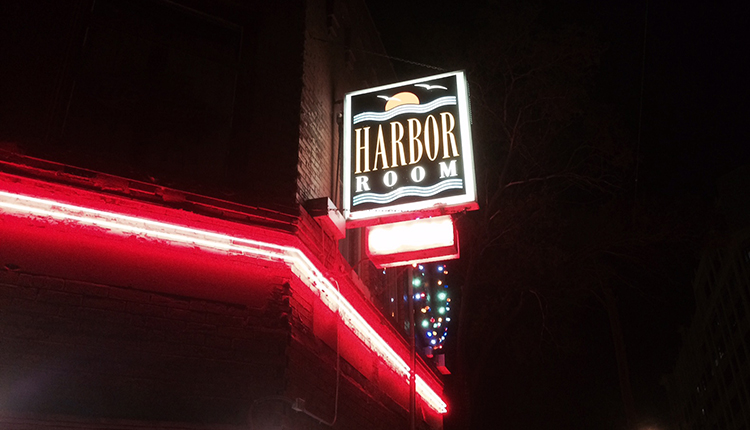 Harbor Room
Harbor Room was far and away the standout stop of the night. With its pleasant sign and ever-present holiday decor, it was a place just off 1st Street on Greenfield Avenue that I'd passed hundreds of times and never thought about once. I'll never forget it again. After getting our reasonably priced pints of Spotted Cow and taking turns jokingly posing in a metallic X-shaped bondage device, I was almost instantly approached by Mister Harbor Room himself, a friendly, harness- and leather-clad man who went by the name DJ. We exchanged pleasantries and I told him why I was at the bar. The he pulled out his phone and asked if we wanted to see something. Of course we did.
As Hot Tyler, Jacob, and I looked at the screen (and Jak looked away), DJ scrolled through a photo album that showed him being tortured, having a rope tied around his balls yanked, being suffocated by…other guys in pretty graphic ways, and enough dick pics to make Brett Favre blush. As DJ scrolled on, Jacob rattled off different kinks and asked whether Mister Harbor Room was into them. Eventually, Jacob asked about piss play. "I love water sports," DJ said. "If any of you have to go, just let me know." Now on my sixth drink in three hours, I never had to pee less in my life. "Is there anything you say 'no' to?" Jacob asked, as the list grew exceedingly more intense. "Women," DJ quipped. Around then, Jak handed me my half-full pint and told me to chug because we were leaving immediately. As I was finishing, Jacob was yanking a leather strap attached to DJ's testicles, hard.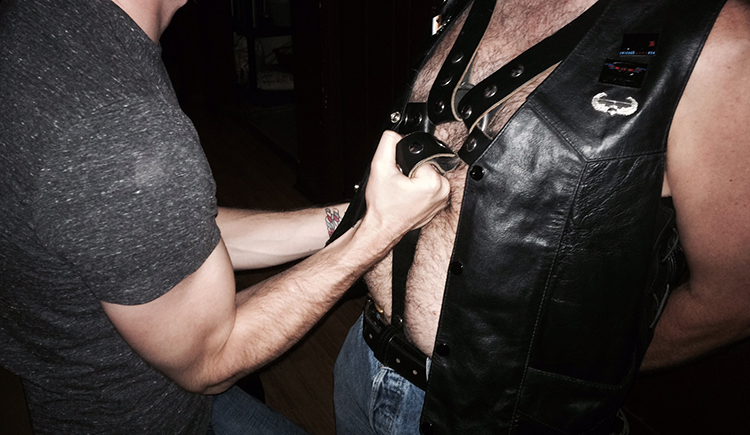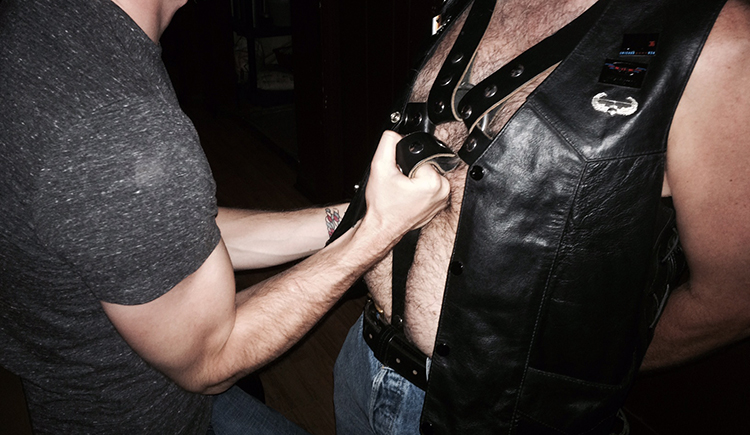 Harbor Room wasn't my type of place…like at all, but I'm actually really happy I went there. I can't say DJ and I have much in common, but I have to admit I was taken with how open and secure with himself he was. Still, I had to respectfully decline his parting offer to insert a metal rod into my urethra. Buy a guy a drink first.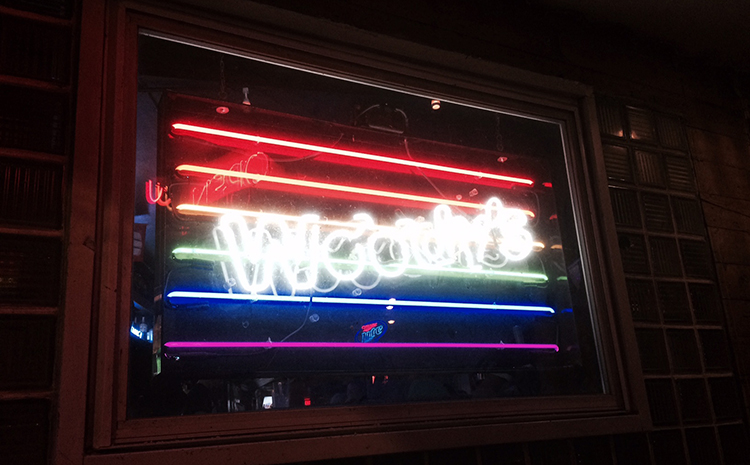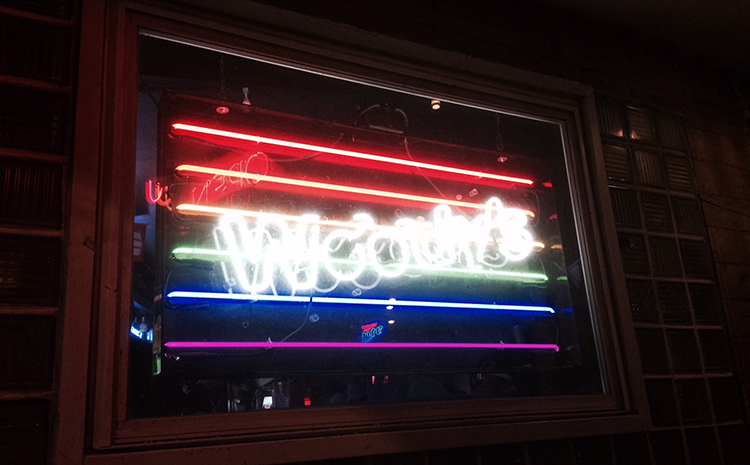 Woody's
After Harbor Room, anything seemed tame, but Woody's was an especially easygoing place. If you've driven far enough south on 2nd Street, you've surely seen the shitty building exterior with a rainbow neon sign. It's somehow even shittier inside, but in the best way. It knows what it is and embraces it. The spacious bar was fairly empty for a Friday night after 9. Some guys watched a college football game at the bar. Others played air hockey and darts in the back. We nursed $2 mugs of Miller Lite and revisited the things we'd just witnessed. I bought a round of shots to fuel our longest between-bar walk of the night.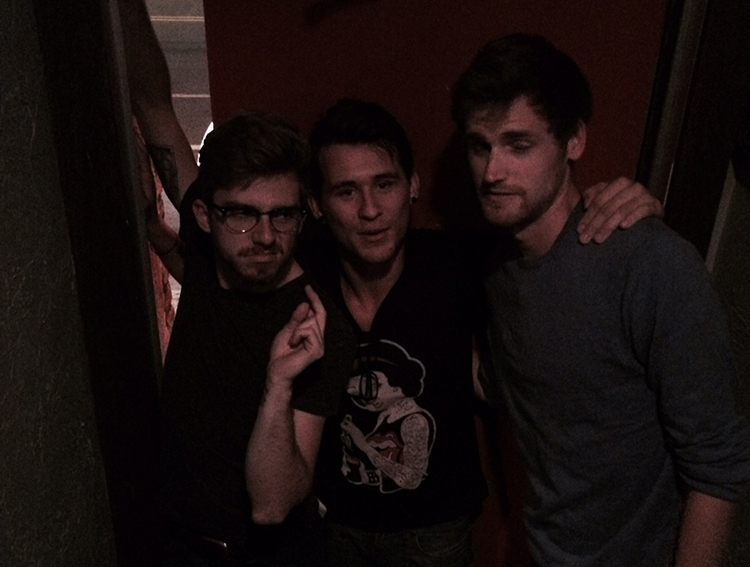 Fluid
To be honest, we were in and out of Fluid within five minutes. Clearly, this wasn't a favorite of any of my guides. It was a small and fairly plain bar, if my alcohol-addled memory serves. For sake of speed, we took a shot of what I was told was "something fruity with Red Bull in it" and walked across the street. Things were starting to go downhill.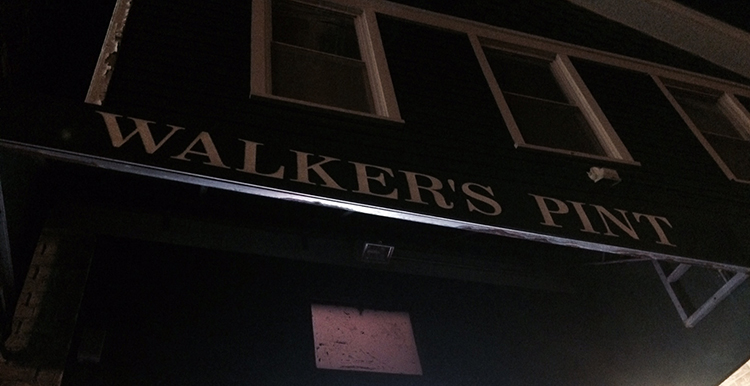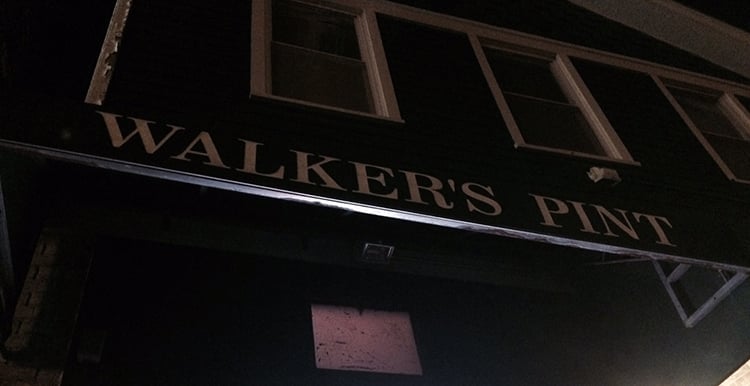 Walker's Pint
Originally, Walker's Pint was left off Jacob's master list. Being a lesbian bar, he said he kept forgetting it. Much like how I "forget" the Third Ward exists when deciding where I want to eat, drink or hang out, he seemed to be avoiding it, but we needed to run the gamut. We'd come too far to stop here. I'm really glad we did. The two women working were exceptionally nice. Walker's Pint easily had the best service of the night, and the $8 domestic pitcher price didn't hurt. In many ways, it was just your average townie bar. I liked it. Hot Tyler bought another round of shots. Things were getting rough.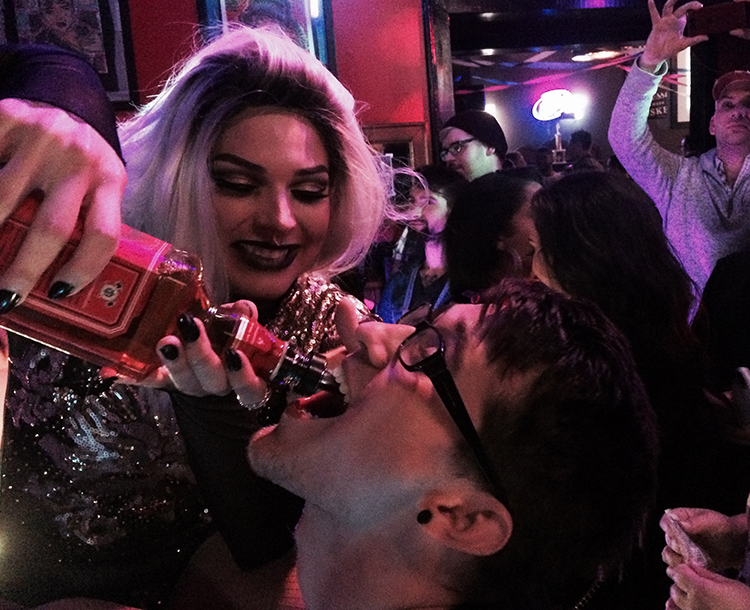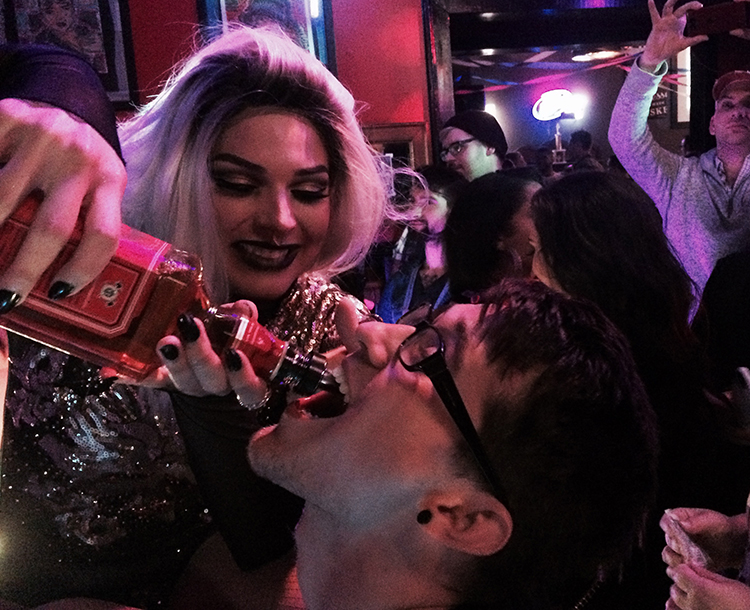 D.I.X.
To my surprise, D.I.X. was a gay bar! Crazy, right? Sitting on the corner of 1st and National, it's not just a gay bar, it's a gayborhood hub. Friday was no different, as the bar was hosting a drag show. D.I.X.'s two main rooms were jam packed with men and women there for the show. The previous shots began to pile up by this point, but the parts of the drag show I remember were entertaining. I know there's a picture of me posing next to a performer, but I don't want to see how I looked at that point. Eventually, Jak and I worked our way to the front and one performer poured impossibly large shots of cinnamon whiskey down our throats. I almost barfed. Jacob, Jak, and a guy named Matt proceeded to have what seemed like a friendly fight on the sidewalk outside D.I.X.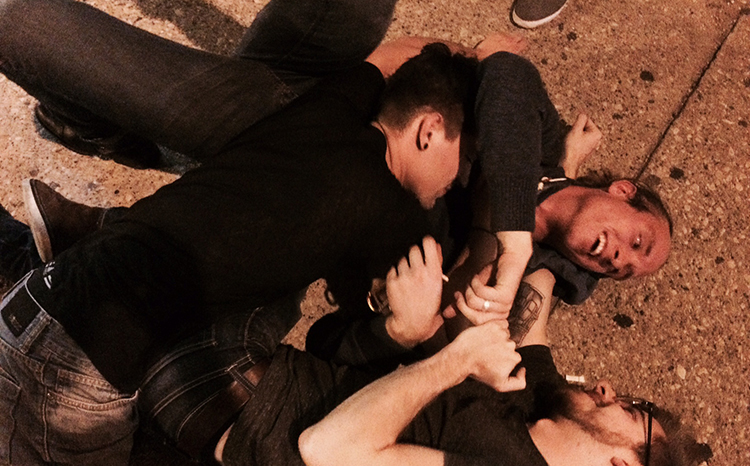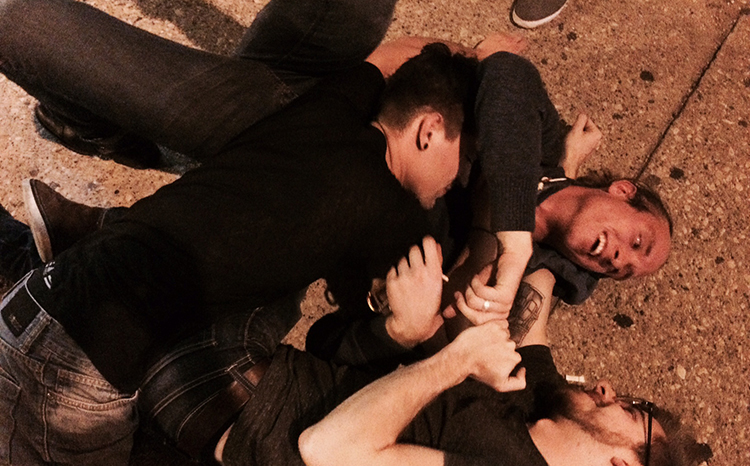 La Cage
It'd be unfair to review La Cage because I wasn't there. Physically, yes, I was. But mentally, I was only present to mistakenly walk onto the dance floor during a drag show, profusely apologize for doing that while being angrily scolded, drink a High Life, say….something (?) to some straight friends I bumped into there, dance with one of said straight friends in a cage, and leave without saying goodbye to anyone so I could stumble to the nearby gyro place to eat and miss my Uber home. In my dark mahogany brown-out state, I miraculously got another Uber before I checked out. I woke up on my couch five hours later with one shoe on.
In an age of unprecedented acceptance, I honestly don't know the future of gay bars, but after the single gayest night of my life, I hope they—a diverse group of establishments that are welcoming to all, including exceptionally drunk straight dudes—don't go extinct. Until we meet again, Fruit Loop, it's been fun.