"Es que tu comes pura maciza, wey" ("It's because you only order the lean meat, dude") is something I overhear at Carnitas Machetes (2000 S. 8th St., 414-389-9254), where I am waiting in line to get my two pounds of carnitas. It is a table full of young paisas, who all have bowls of consomé in front of them. I presume they are hung over, their Chivas hats pulled down low, a faint hint of cologne wafting from their direction. I also assume the mamalonas (decked-out pickup trucks, usually Tundras or F-150s) parked outside belong to them. One of them complains about his meat being dry, but that is a common occurrence in carnitas, especially when you only order the lean, white meat. There is nothing even the most professional carnicero can do to prevent this—lean meat doesn't take to the cooking process of carnitas too well.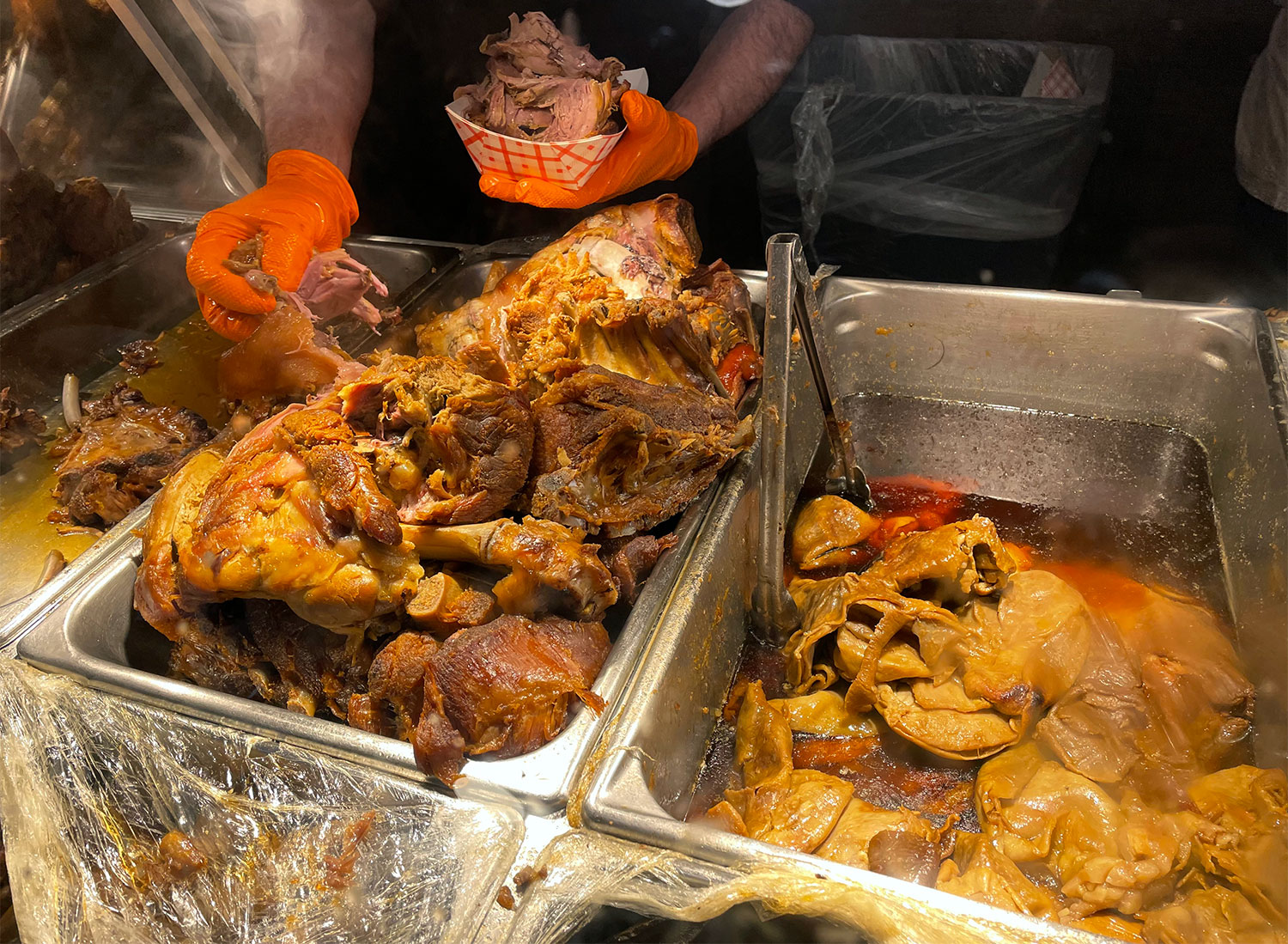 Cooking carnitas is a process that is very involved and takes a long time to perfect. Every part of the pig is chopped up and thrown into a giant copper pot that sits above a makeshift burner hooked up to a propane tank, usually in a backyard. The meat is slowly roasted in lard, where it renders itself crispy on the top and juicy in the middle. The lard is seasoned with spices that most chefs keep secret, but two of the ingredients that never fail are Coca-Cola and orange rinds. There are some purists who don't use either of these, saying that the entrañas (organ meat) lends itself to the easier parts to eat, like the maciza, which comes from the shoulder.
Carnitas Machetes is on 8th and Rogers, a street that is tucked away behind the Basilica of St. Josaphat, overlooking I-94 on the outer fringe of Lincoln Village, which in its day was known as the downtown hub of immigrant ingenuity in Milwaukee. The place is run by a family from San José Casas Caídas, Jalisco, a state known for its carnita culture. San José is a small town in the center of Jalisco, where farming accounts for most of the labor. Milwaukee's south side has been home to a lot of Mexican culture, and Jalisciences account for a major part of it, introducing dishes like carne en su jugo, and singers like Vicente Fernández into the cultural unconscious. The center of Jalisco accounts for a lot of the more niche dishes. It is a coastal state and is home to many gringo vacation spots, such as Puerto Vallarta.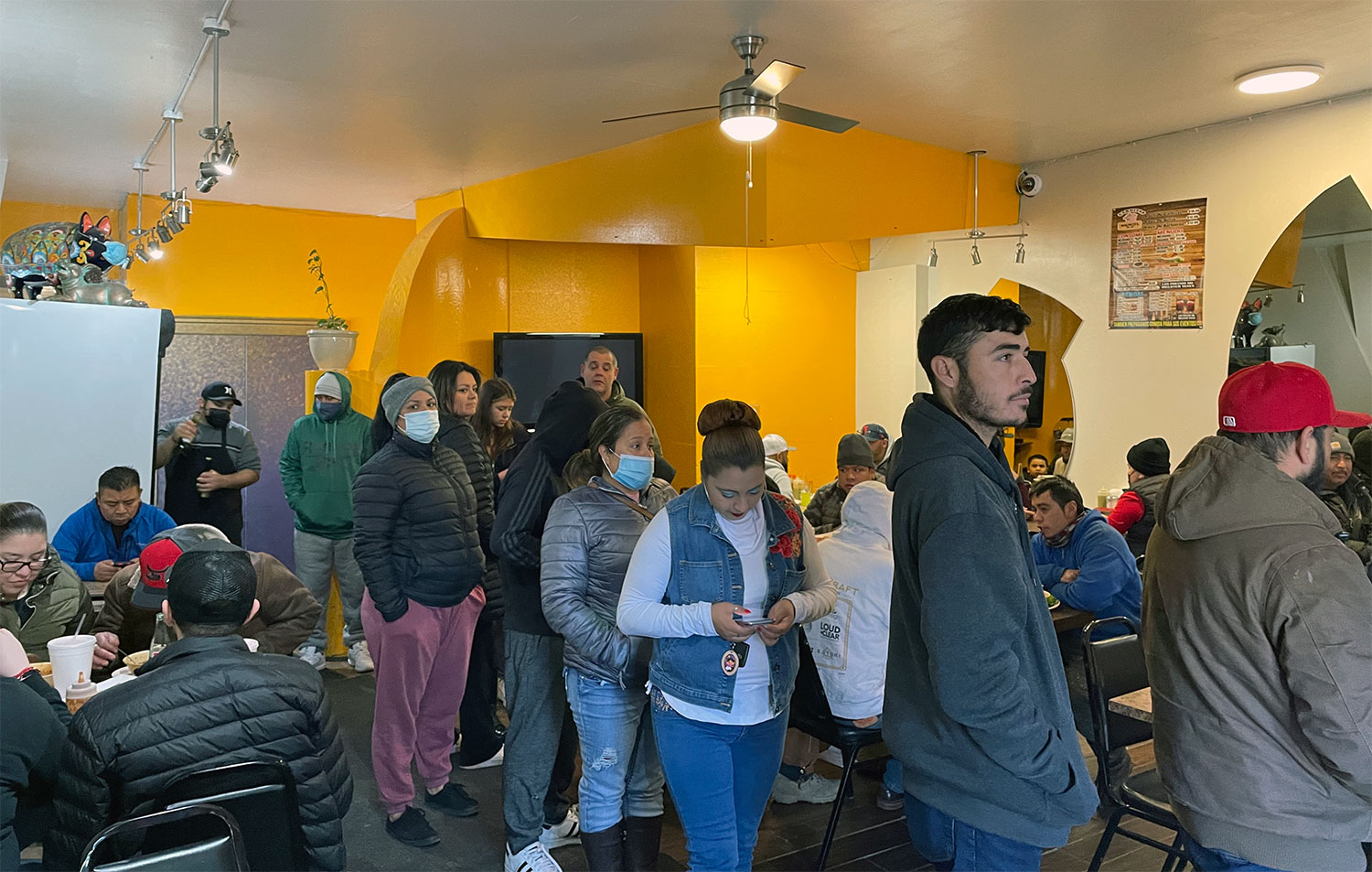 The scene at Machetes on a Sunday morning is hectic. It is 12:30 p.m., and Catholic mass all over the city has let out and everyone from churchgoers to hungover youngsters are lining up in a single file line that snakes outside into 15-degree February Milwaukee. The deli counter is set up at the front of the restaurant, and you can hear the faint sounds of a live mariachi band playing in the back somewhere. The line, once inside, causes you to stand next to folks who are having a sit-down meal, and you can't help but feel a little awkward. The feeling of being at a market in Jalisco is definitely there, and the owners of Machetes have cultivated that feeling. It is not out of nostalgia—it is out of doing what works.
The carnitas are chopped up with the restaurant's namesake—a machete—and then placed in a box that is wrapped with white butcher paper. I decide to not make the same mistake as the dude at the table behind me, so I order with cueritos. I also order handmade tortillas, because I refuse to buy from El Milagro, which I am boycotting in solidarity with the striking workers in Chicago. The salsas are made in-house and are in an old Coca-Cola refrigerator next to the deli. They compliment the maciza quite well.
Machetes is a place that has to be visited. From the trucks blasting Chalino outside to the shouted orders leaning over the counter, it doesn't get more mercado (Mexican market) than this.
Exclusive articles, podcasts, and more. Support Milwaukee Record on Patreon.
---
RELATED ARTICLES