A few months ago, rumors flew that popular SPIKE TV reality-ish show Bar Rescue was searching for a Milwaukee bar in need of a makeover. The city buzzed with shaker-cocktail-infused excitement. Then, on Monday, we broke the news that longtime East Side dive Y-Not III (1854 E Kenilworth Pl., 414-224-9668) would be the lucky recipient of host Jon Taffer's basic-cable benevolence, as well as his plaintive cries to "SHUT IT DOWN!" Following a "stress test" on Tuesday, Y-Not III celebrated its grand reopening last night…as a '70s-themed bar called Nick's House. I showed up for the taping, waited three hours to get in, and left after five minutes. This is my thrilling report.
I arrived around 7 p.m., and was informed by Bar Rescue staff that the newly minted House of Nick (that would be owner Nick DePalma) wouldn't be open until 9. Oh, and that I'd have to head over to the School Yard and sign a release form. Okay. Over at the "Yard," I watched the Packers begin their glorious humiliation of the Vikings and waited for the elusive forms to show up. Finally, at 8 p.m., a trio of staff members began the laborious process of helping hammered Packers fans sign their forms, produce their IDs, and get their pictures taken while holding both. I weaseled my way to the front of the line like a seasoned pro, and was delighted when the woman in charge jotted down my appearance on my form: "glasses, shaggy hair, black hoodie." ID and completed form in hand, I gleefully smiled for the camera and signed away my identity to a show that regularly thinks adding turkey sliders to a bar's menu is a brilliant idea.
There was another small detail: colored wristbands. Over game-related noise and the School Yard's deafening sound system, a producer explained that two different wristbands would be used, and that I would have to wait until my color was called before heading over to Y-Nick III. Fearing the worst, I compared the wristbands of the attractive women in the bar to those of the schlubs wearing Donald Driver jerseys. Sure enough, the wristbands on the ladies tended to be hot pink. Happily, so was mine, because oops!
From there, time passed slowly. The Packers kept kicking the shit out of the Vikings, and the School Yard kept blaring "Bang The Drum All Day." Touchdown shots began to feel like work. Then, around 9:30 p.m., the announcement was made: everyone with pink wristbands needed to report to the sidewalk across the street from Nick's House III. I was thrilled. Taffer was so close I could feel his spittle lightly spotting my face like so much morning dew.
Once I lined up across the street, it was time to…wait for another hour. I studied the bar's "groovy" new sign. I checked Facebook as my friends made cracks about the sign. (DJ Hostettler: "Nick's House was filmed live in front of a studio audience.") I studied the bar's new exterior paint job, all tan, yellow, and orange. I tried to tolerate the throng of boorish fellow wannabe patrons surrounding me as they yelled "SHUT IT DOWN" every 10 seconds and cheered for a guy delivering ice. I spotted a crewmember wearing a fake Afro, and a group of women wearing rollerskates, tube socks, and short-shorts. I suddenly knew where this was headed. I wondered what the fuck I was doing with my life. I waited.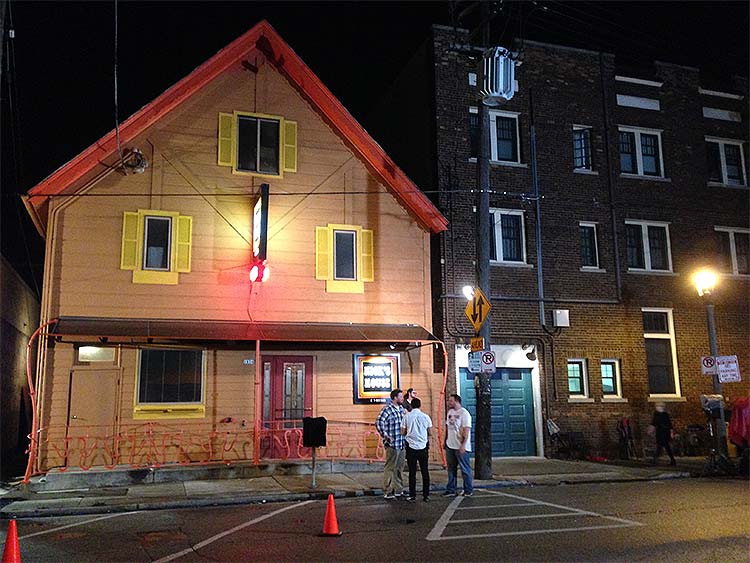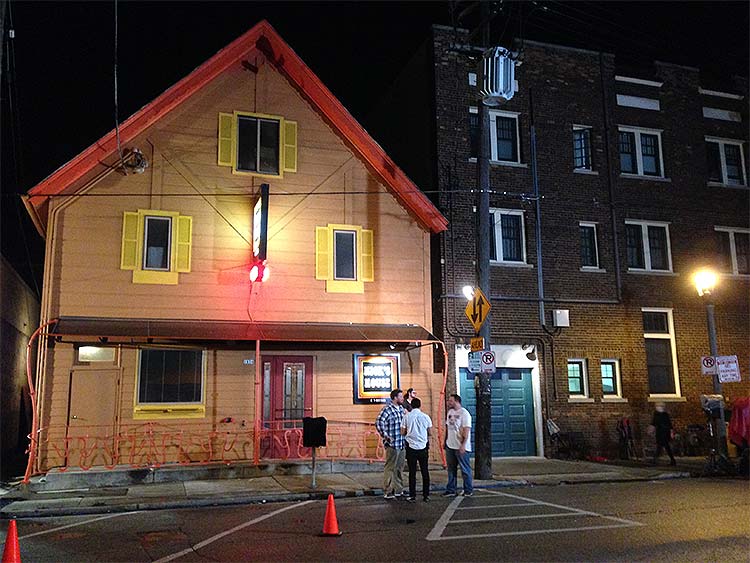 Finally, things started to happen. Taffer showed up and soaked in a hero's welcome before quickly disappearing inside. (More shouts of "SHUT IT DOWN!") A producer asked us to refrain from taking pictures or shooting video in the bar, and explained that looking directly in the camera was strictly forbidden. Also forbidden: talking or approaching Taffer, who was enthusiastically described as an "amazing person and a generous man." Okay. No matter—my time was drawing near. I was almost ready to see the game-changing wonders of a three-day television makeover.
Except not. Even though my group was the first to be called, and even though we had been waiting outside for an hour, we were suddenly usurped by a crew of suspiciously attractive women. Ringers, obviously, since no one wearing a mini skirt and four-inch heels has stepped within 100 yards of Y-Not III in years. Nevertheless, these TV-friendly folks were quickly ushered across the street and lined up outside the bar. Like watching those "Flash Pass" assholes at Great America jump ahead of you in line, it stung. Everyone on our side of the street fumed.
But then something weird happened: a large group of us was brought across the street and stationed halfway down the block. Minutes later, the sub-group we were in was whisked away and deposited in the "sexy line." No explanation given. Not wanting to look a gift horse in the mouth, I politely waited amongst the beautiful people while everyone across the street continued to fume. The Beans & Barley folks taking their smoke breaks shook their heads in disgust.
Following a bizarre street demo from the group of scantily clad rollergirls, Taffer reappeared, and, wouldn't you know it, began yelling at us. Something to the effect of "THIS IS A LABOR OF LOVE SO DON'T RUIN IT! YOU'RE HERE AS CUSTOMERS! DO NOT HIGH-FIVE ME! DO NOT TALK TO ME! HELP US PRESERVE THE REALITY OF THE SITUATION! THANK YOU!" He ducked back inside. My line began to move. Suddenly, I was in.
So. Nick's House, formerly Y-Not III. (The full text of the sign reads "Nick's House. A Y-Not Bar.") It's a '70s-themed bar. And by '70s-themed bar I mean a really, really, really over-the-top '70s-themed bar. My first impression: The downstairs is all earth tones, kitschy lighting, kitschy wallpaper, and kitschy furniture. Gone are the velvet Captain Kirk and Big Bird paintings; in their places are beanbags and shag carpeting. Upstairs is even more of a retro riot: vintage couches and tables, a fake fireplace, a bunch of bellbottom stuff on the walls. A giant "Mustache Rides" thing in the corner. More "mustache" gags on the men's bathroom. Like Bar Rescue and Taffer himself, it's far from subtle.
Fearing the wrath of the Taff-man, I followed his shouted instructions and refrained from snapping any photos. But I did make off with a list of the night's "Far Out Cocktails," which should give you a pretty good idea of what Nick's House is all about: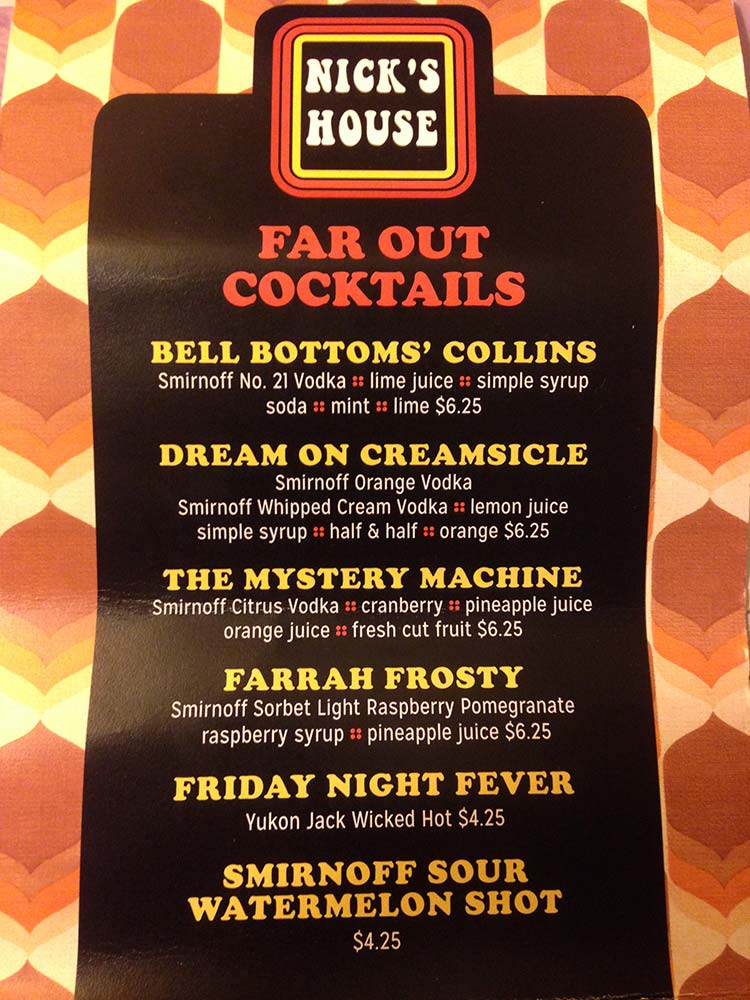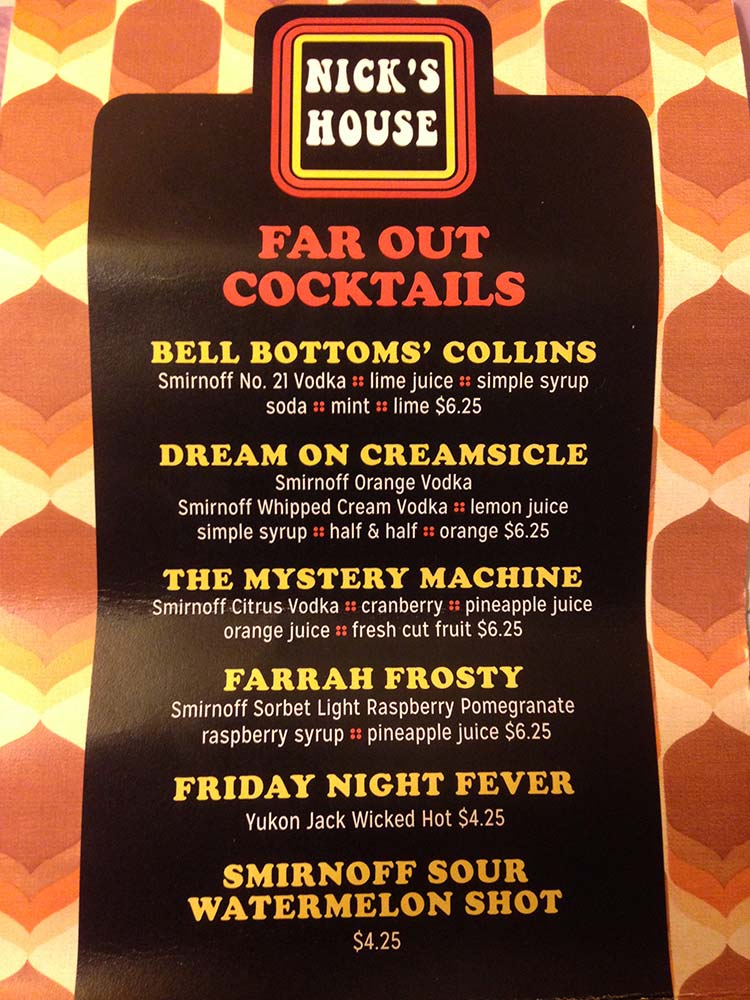 And that was that. After waiting for three hours and not ordering a drink, I left. Why? Maybe it was because I suddenly missed the Y-Not III. Maybe it was because the thought of another dive bar disappearing from the Milwaukee landscape was kind of depressing. Maybe it was because the '70s theme was so overpowering, and seemed so at odds with a hoped-for clientele that was likely born in the '90s. Maybe it was because I was tired, and the prospect of appearing on a show I'd watched twice in my life wasn't all that exciting. But what do I know? Nick DePalma seemed pleased, and his staff seemed pleased. I wish them the best of luck.
Oh wait, I know: It was totally because I was hoping for turkey sliders.
Exclusive articles, podcasts, and more. Support Milwaukee Record on Patreon.
---
RELATED ARTICLES
• Nick's House / Y-Not III has been demolished
• Bar Rescue can't rescue Nick's House from Bar Rescue